Internet is a big open space, but there are so many restrictions being imposed on it by various government regulations and agencies. There isn't much room left for one to explore the internet with complete freedom.
While access to the internet is reducing continuously, there has been a significant increase in data collection and monitoring by agencies and institutions.
VPNs are the best tool that netizens have got at their disposal at the moment to fight these two devils on the internet. A VPN encrypts your online internet traffic and routes it through secure channels, making it difficult for others to know what you are doing on the internet and keeps you anonymous as well.
With a virtual private network, you can open yourself to a more open internet, and enjoy more freedom. While a full-fledged VPN application helps you counter these problems all guns blazing, one may not always need such extreme measures.
A lot of VPN services provide browser add-ons or extension to take care of minor restrictions and firewalls. These add-ons are not equivalent to full-fledged VPN services, and we will discuss this more in later parts of this article.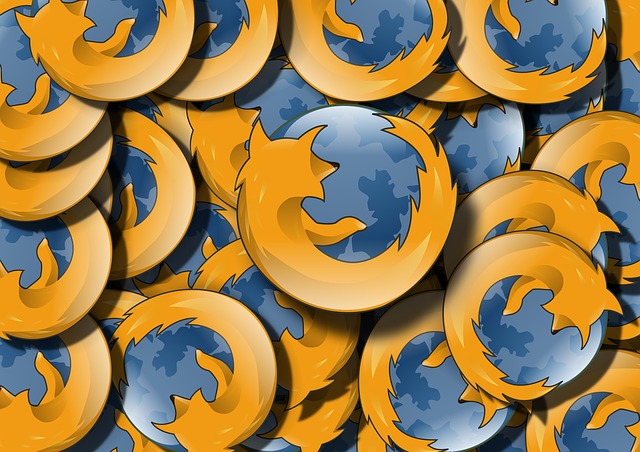 Firefox is among the most preferred web browsers after Chrome, and there is no doubt that a lot of people would be interested in finding out suitable VPN add-ons for Firefox.
In this article, we will inspect all the aspects of a VPN add-on and discuss a bit about why use them on Firefox instead of Chrome, as well.
But, let us first list out our top recommendations for VPN add-ons for Firefox. These add-ons are not in any particular order. If you want to know how we came about choosing these add-ons, then you can refer later sections of the review.
Our recommendations
1. Hotspot Shield
More Info: Read Review | Sign Up Free Trial!
Hotspot Shield has got one of the sweetest VPN add-on deals for both Firefox as well as Chrome. It allows users to use their free extension without any signing-in formalities, which makes it extremely convenient for a lot of users.
There are no limits on the time period or the bandwidth when it comes to using the free version of the extension. The only way they limit you is by the server locations.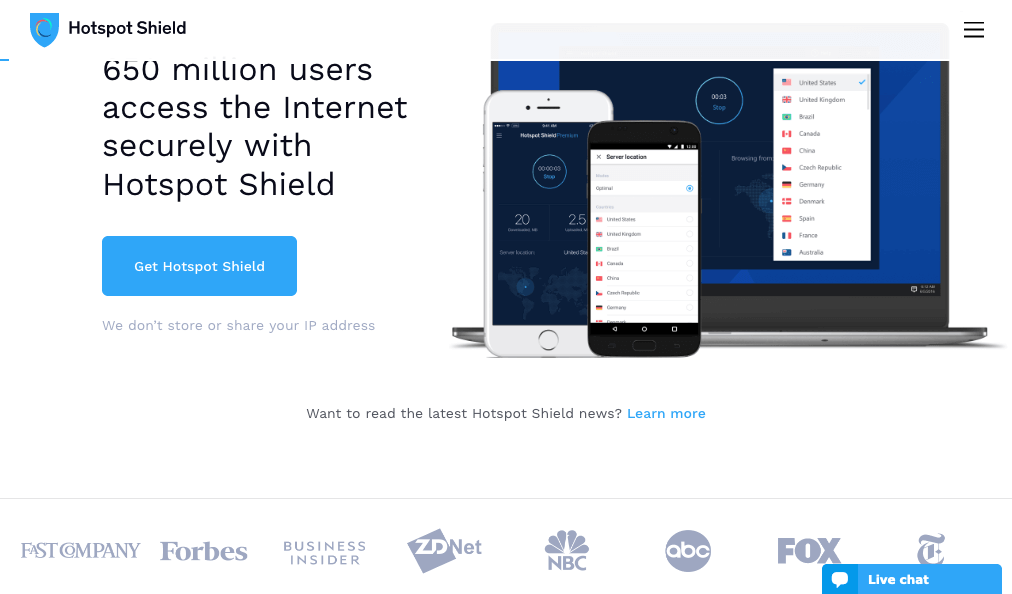 On the free version, you get a limited number of server locations, making it a bit difficult for one to have the best of browsing experience. The free servers also face some issues because of higher traffic density. The only option to get rid of such issues is by subscribing to the service.
Hotspot Shield's browser extension comes with some additional benefits. It will prevent the annoying ads from popping up on your screen now and then and helps keep the malware out of the device as well.
There is an adblocker, cookie blocker, WebRTC blocker, and a few more impressive features. With Hotspot Shield, you can be sure that your location will not be exposed so easily, and you will not face any hard time trying to get across the regional restrictions.
There is no data logging on this extension, which makes it one of the ideal choices for users.
2. CyberGhost
More Info: Read Review | Visit Website
CyberGhost is another one of the prominent VPN services which provide a VPN extension on Firefox for absolutely free. There are a lot of advantages of using an add-on from one of the popular services.
The apparent advantage is that you can trust them to not mess around with your online activity information. These people follow a strict no-logs policy which allows you to not worry a lot about your privacy.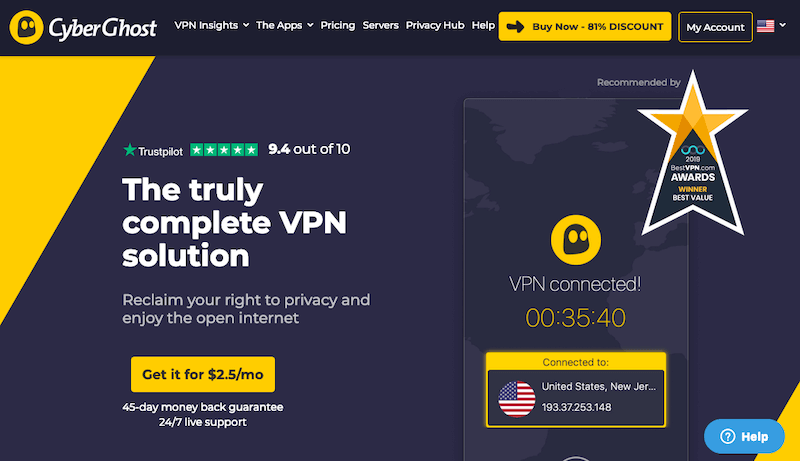 The extension is simple enough to install and use. All you need to do is add the extension on Firefox, and you will be able to redirect your online traffic through external servers. It will allow you to get across regional online restrictions and give you access to a more open internet.
They do not put any limit on the volume of data you browse through the extension. However, you get only a limited number of server location options compared to the number of server location options available on the CyberGhost VPN application.
All that one needs to do on this application is to select a server location and turn on the extension. There are no complicated setting options or the hassle of signing up before using the add-on.
3. ExpressVPN
More Info: Read Review | Visit Website
Unlike most VPN browser extensions, ExpressVPN extension for Firefox can neither be used free of cost, nor it can be used as a standalone item. You need a subscription to use ExpressVPN browser extension, and you need to have the application installed on your device as well.
There are some significant benefits of these strict guidelines for the browser. The ExpressVPN browser add-on for Firefox is among the most secure ones out there. It helps you remain anonymous, allows you to access restricted content and sites, and keeps your information private.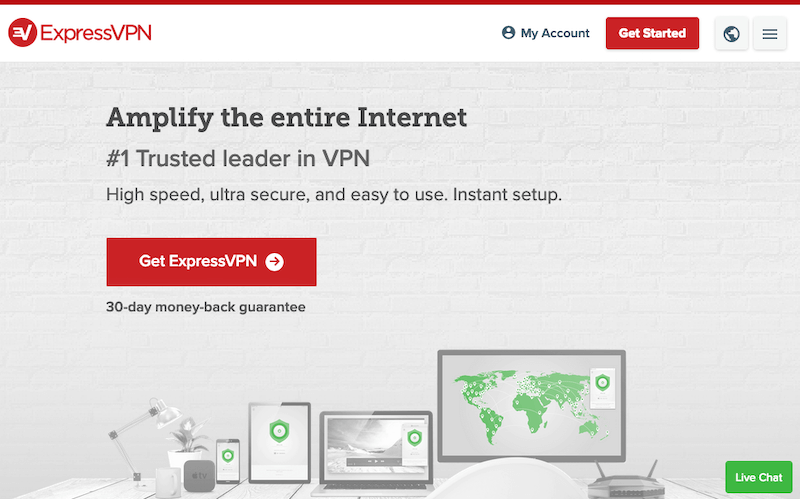 With this extension, you will get most of the features of an actual VPN application. It will keep your device data safe when you connect to open networks such as public Wi-Fis.
You will even get the kill-switch feature which is not common on browser extensions. It will stop your internet traffic if you somehow disconnect from the VPN network.
ExpressVPN's browser extension is more beefed up in terms of security, privacy, and other functional features when compared to other ones available on Firefox.
4. Windscribe
More Info: Read Review | Visit Website
Windscribe is next in our list of impressive VPN extensions. You have the options to use this add-on with or without signing up.
If you use it without signing up, then you will have a bandwidth limit of only 2GB, whereas if your sign-up, you can extend the limit to up to 10 GB per month.
It comes with a lot of impressive features such as cruise control and copy link. Under the cruise control mode, the extension automatically redirects your internet traffic to one of their servers if you come across any blocked content or site.
It is an efficient way to ensure that you do not compromise with the browsing experience if not needed. You can also manually connect to servers if you want to mask your IP address and location.
The extension will get you around restrictions without much of an issue. You do not get a load of server options when using the service for free, which is not a surprise at all. You can always go for a subscription to get more connectivity options.
The best part about using Windscribe is that it helps keep your data safe. They do not log your data or share it with other parties.
5. SurfShark
More Info: Read Review | Visit Website
When we reviewed SurfShark, the best thing we noticed about it was the speed. It managed to impress us with higher speeds for the secure connection.
The same trend continues when you get a browser extension for SurfShark on Firefox. Who knew Fox and Shark would go so well together.
Firefox is heavier when compared to Chrome. It demands more processing capabilities from a device. Adding a heavy extension on top of it would not be a great idea. SurfShark provides you with just the right blend of speed and security for Firefox.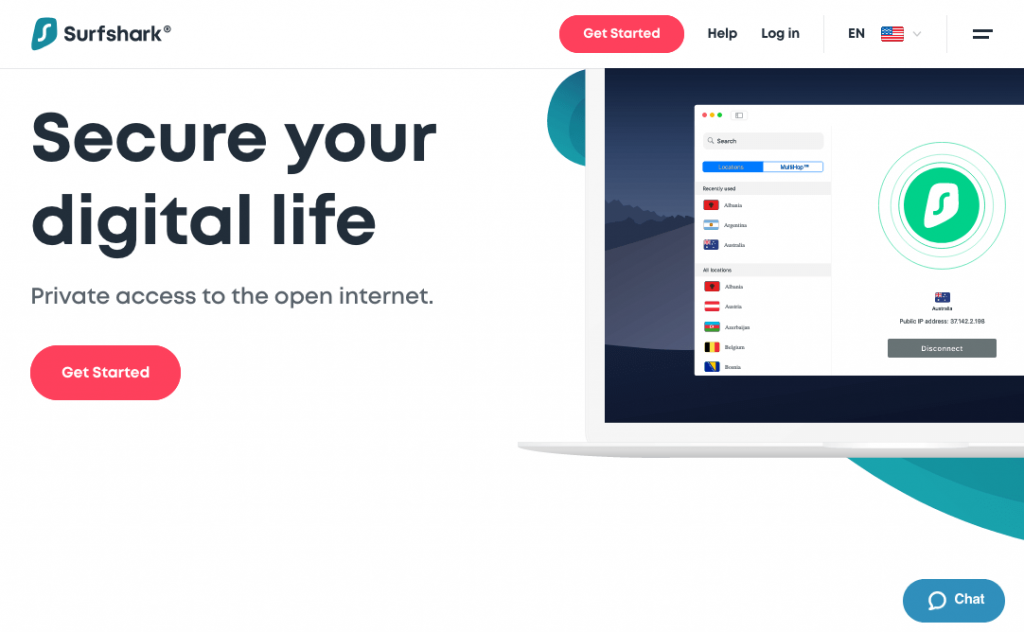 They have strict policies against data logging, which is the essential attribute of any VPN application. There are plenty of server options which will let you get across regional restrictions with ease.
The speed you get with this add-on will encourage you to use it even while indulging in activities which require better internet speeds. It is an ideal choice if you wish to stream some restricted content at better resolution.
Other benefits of having SurfShark on Firefox is that it will help you block ads, malware, and trackers from your browser. You can simply turn on the CleanWeb feature on the extension and enjoy an uninterrupted browsing experience.
VPN add-ons are not the same as VPN applications
Before you get excited about installing VPN extensions on your browser and start visiting websites which you don't visit in general, let us warn you about the possible repercussions of such an action.
One should not doubt that VPN applications and these browser add-ons are not the same things. They may have a lot in common, but there is a lot which classifies them apart as well.
Most VPN extensions that you will use on a browser will be nothing but proxy services. A proxy redirects your online traffic through a server to mask your actual IP address as the IP address of that server. This is how it helps you remain anonymous on the internet.
If your goal is to bypass a geo-restriction, then you need to ensure that the server is located at a place where the content is not restricted, and you should not have much problem in getting through the firewall.
A VPN application also does almost the same thing to your online traffic, but there are few more processes on top of it to makes sure all the holes are clogged.
A VPN application encrypts your internet traffic data before redirecting it to other servers. The encryption does not allow any possible snoopers to make out what you are doing on the internet.
Encryptions come in various types. While going through the documentation of a VPN add-on, you may find the service provider claiming to encrypt your online traffic. But you may also find that they are not specific about the kind of encryption that the add-on provides.
On the other side, VPN applications proudly tell about the specifics of encryption they provide. This difference should be enough to indicate that encryptions available on most of the VPN add-ons are not as robust as the ones available on VPN applications.
If it is just for the namesake, then all the websites with HTTPS in their URL are also encrypting the traffic. Virtual private networks provide military-grade encryptions such as AES 256-bit and AES 128-bit. These encryptions are virtually impossible to breach.
If there is a VPN add-on which provides some strong encryption, you can definitely expect it to be specific about it. But since most of them are glorified proxy services, you should not have any high expectations.
Apart from encryption, another primary feature of VPN application missing on proxy services are the secure tunnels through which they route user's internet traffic from his device to their servers and vice-versa.
These tunnels or protocols do not allow third parties to intercept your traffic and know what you are doing on the internet. It gets difficult for anyone to make out what websites you are visiting, allowing you to access a more open internet.
You do not get such security perks on a VPN add-on in general. They simply route your internet traffic to their servers and help you mask your IP address and get across geo restrictions or fool some local servers.
We realize that we haven't painted a very pretty picture of VPN add-ons so far. But our job is to familiarize you with reality, and we are proud of being good at our job.
Talking of reality, it is a fact that a lot of people still use these add-ons on their browsers. And there are a few good reasons for that. Even though VPN add-ons are not as good as VPN applications, they come with a set of benefits.
The primary advantage being the ability to mask your IP address and get across online restrictions. One can use them to get across the campus firewall to access restricted websites, connect to better game servers, watch content restricted for the region, etc.
Unlike VPN applications, these add-ons do not slow down the internet speed by such considerable margins and allow one to indulge in activities which require better internet speeds such as gaming and streaming.
These extensions do not demand much of the processing power of your device as well. The applications involve heavy encryptions, which engage some of your device's computing abilities leaving lesser for other actions.
With a VPN add-on, you can go about doing all your regular tasks without affecting your internet speed or slowing down your device.
Why you should not go for free VPN add-ons
We live in a materialistic society, and you simply cannot expect others to do you a favor for no reason. Even if it appears as if you are getting something for free, remember that there is always a price to pay.
It brings us to the curious case of free VPN add-ons that you will encounter on the add-ons page of Firefox.
Users feel delighted whenever they come across a supposedly free service. As a user, you may feel elated since there is no upfront cost to pay, but the actual barter does not involve money in this case.
Different services may have different motives behind providing a VPN proxy extension for free to users. Some may do it to promote the actual VPN application. They may provide you all the services for a limited period and then ask for payment if you want to keep using the product after the trial period.
Some may put a cap on some of the features and offer to remove the limitations once you subscribe to their service. Some may provide an extremely dull version of the add-on with the option of making things better when you pay them a fee.
When a service provider uses one of such tactics, it is easier for one to comprehend how do they get to enjoy the service for free.
However, there are a few free VPN add-ons with no limit on either the time or the features available on service. These are generally the most appealing since there are no limits, and these can also be the most harmful as well when it comes to privacy.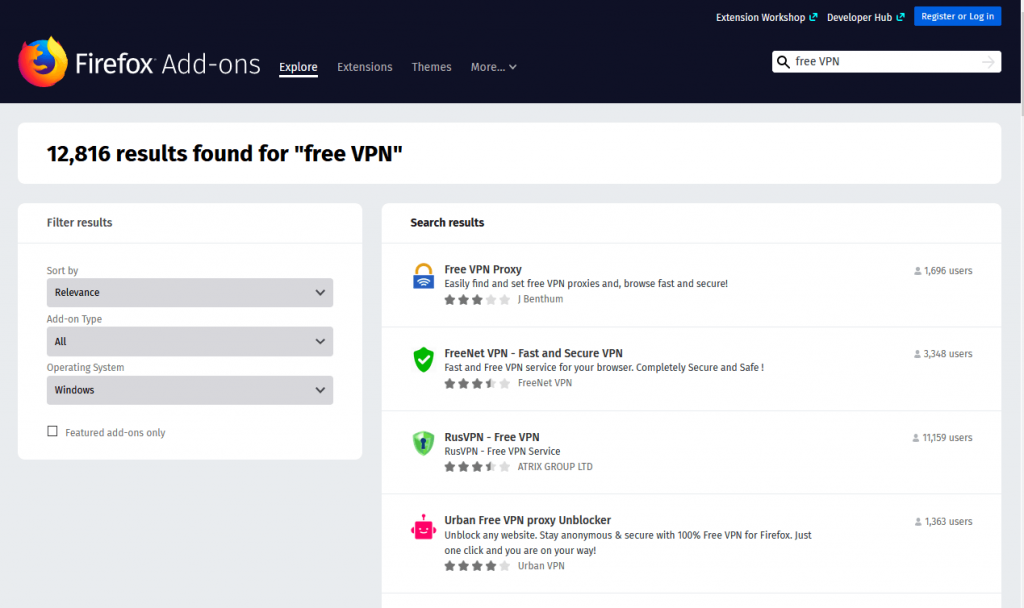 These services don't charge you any money, but they make up for the expenses by using your online data. When you install such an extension, you allow it to control of your online traffic. They redirect your traffic through their servers and keep a log of your activities.
They can sell all the information about your online activity to anyone who agrees to pay a good amount for it. Online traffic data has got very valuable in this day and age of online trends. One can easily leverage this information to have a great deal of success with online campaigns.
The service provider may not trade your personal data, but the collective data transferred through servers. But the fact that they store your data and trade it around beats the whole purpose of using a VPN extension at one place.
There is also no assurance that they will not sell your personal data at opportune moments.
If you value your data at all and do not enjoy the idea of someone else getting a hold of it, then you should always stay away from these free VPN browser extensions.
However, if you are using the add-on for not much sensitive activities, then you can use the free ones without any hesitation.
Why Firefox VPN when there are so many on Chrome
Chrome has an undisputed monopoly when it comes to internet browsers. More than half of the netizens prefer it as their first choice when it comes to browsers.
There are a lot of reasons which justify Chrome being on top of browser hierarchy, but there are some apparent drawbacks of using this light and fast browser as well. Google owns chrome, and this Silicon Valley giant appears in the news now and then with issues related to how they handle user's data.
It has reminded a lot of users that they knowingly or unknowingly let this company access their personal information and do whatever they want. And perhaps, this is the only reason that there are other internet browsers in the market with some significant user base.
Mozilla Firefox is the second name that comes to everyone's mind when browser extensions are discussed. It is an open source software with nothing to hide from its users. You can see how Firefox handles your online information and be satisfied with it not being used against you.
Chrome does not use your data in such a way that it works against you, but there is no doubt that it uses it. Remember how you are bombarded with advertisements of those sneakers you checked out on the internet a few days ago. You will find it on every website you visit.
It is because of Google's vast presence on the internet. They are the ones who tell the companies that you checked out those pair of sneakers, and then they will be the ones who will ensure that you come across that sneaker advertisement on every website you visit. And no points for guessing, yes, they get paid for the ads.
The selective advertisements may prove beneficial for users in some cases, but most of the times, it will end up burning a hole in your pocket.
With Firefox, you will not have to worry about such a use of your personal information against you.
Users prefer Chrome because it is light and fast, but Firefox is not so much behind that one cannot consider using it. The advantages of using Firefox outweigh the disadvantages quite easily if you factor in privacy. After all, it is not easy to put a price on your privacy.
Since Chrome is so much popular, it is apparent that most VPN services strive to ensure they have a browser extension for Chrome before any other browser. But you may be surprised to discover that most of these VPN services provide an add-on for Firefox as well.
It doesn't come as much of a surprise as one can expect users to be concerned about their privacy if they are using VPN applications.
So, it should not be much difficult of a task for anyone to find a suitable VPN add-on for Firefox.
Choosing the best VPN add-on for Firefox
Selecting a suitable add-on for your browser is a critical decision as it will affect your privacy and online freedom. You need to ensure that it provides you with enough privacy and security while keeping things easy enough to let you enjoy a more open internet.
Let us go through some of the things you need to keep in mind before deciding upon a VPN add-on for Firefox.
If you are already subscribed to a VPN service and they happen to have a browser extension for Firefox, then it is a no brainer that you are much better off with that extension. There is no need to invest in other ones or take unnecessary risks by installing free VPN extensions on your browser.
For VPN extensions, your primary concern should be what is the service provider doing with your online data. The last thing you would want while using such an extension is to let your data get into wrong hands.
We had one complete section of this article pointing towards how you can end up jeopardizing your privacy by choosing the incorrect VPN extension.
There are a few things you can do to ensure you don't end up with the wrong VPN extension. If it a free extension, try to find out what is there for the service provider to achieve in this deal where you get a free VPN extension.
If it is neither a promotional stunt nor a capped version of the service, then you have every reason to believe that they are doing it for consumer's online data.
You can examine their privacy policies to make sure they clearly state that they do not store or sell any information about your online activities. You can also go through the description of browser extension available on the add-on page.
Some service providers blatantly testify that they store information about your online activities when you use their extension.
Once you are sure of privacy, you need to take care of security. As we mentioned earlier, most VPN extensions are nothing but proxy services, and they do not encrypt your online traffic.
But that is not the case with all the VPN browser extensions available out there. Some provide a security cover to users. There may be some extensions which work only when the VPN application is installed on the device. In such a case, the extension acts as a switch for the main application and provides you with all the benefits of a VPN application.
If you are able to get your hands on a VPN add-on which provides some sort of security cover over your online activities, then you should give more preference to it rather than going for some trivial advantages such as ad blocking and cookie monitoring. There are a lot of add-ons available for such functions anyway.
Now that you have taken care of privacy and security, you can go about investigating into stuff which affects performance and user experience.
If possible, you should check how many server locations are available under the service. These server locations will tell you a lot about the ability of the service to get through geo-restrictions. If you have some specific goals like you want to watch a sports event being telecast in Australia, then you will want to make sure they have servers in that region.
Usually, speed is not a huge concern when it comes to VPN add-ons. However, it varies from one service to another. So, if you are going to be using the extension for an activity in which the internet speed matters, such as gaming and streaming, then you would want to look for an extension which does not have a significant impact on the speed.
Finally, you can sort add-ons by the additional features they provide. It can be ad blocking, protection from malware, cookie monitoring, and so on. These small features will help you have a much pleasant experience while surfing the internet.