Pros
Mullvad is known for the high anonymity that it provides to its every user. That's the attribute that no other VPN provider would be having. Other VPN providers would be at least knowing your E-mail ID, but in the case of Mullvad, no such information is asked or stored.
As they are not asking for any personal information, and directed towards complete anonymity, they also follow complete "No Logging Policy."
A completely simple user interface that allows everyone to take advantage of VPN technology without putting much thought about the configuration.
They use OpenVPN protocol which is considered as the best VPN protocol. Also, it is provided with two different types which are TCP and UDP.
Mullvad also allows altering the MTU size.
You can also use the features such as Split Tunneling, and Port Forwarding which are not provided in the application but are visible in its guide.
Cons
The company is headquartered at one of the 14 Eyes countries, and hence, they are bound by the surveillance agreement. However, if the government ask them to track a person's data, there is no way to do that as they do not have any personal information about any of the user.
They have servers all around the world, but still, they need to enhance it as right now, it only covers 30+ countries.
Overview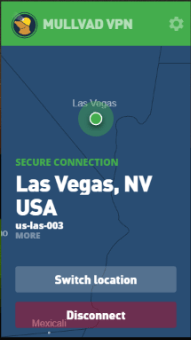 Mullvad, headquartered at Sweden is owned by Amagicom AB, and it is considered as one of the most reliable application when it comes to privacy and anonymity. However, we have tried our best to find out if there are any loopholes in the privacy policy of Mullvad. We read about different policies and tried to catch if any contradictions exist. If you are worried about your online privacy and thinking of placing faith in Mullvad, you must go through this review which would help you to have a stable decision.
When it comes to speed, features and customer support, Mullvad would have made attempts like any other VPN provider. But, when it comes to anonymity, as soon as you start dealing with the application, your anonymity is taken very seriously above most of the VPN providers.
Complete Anonymity
So, how this complete anonymity exists? Whenever you make an account for accessing any VPN client, you always need to provide them some information such as username and e-mail address. In the case of Mullvad, this identity-related data is not required at all.
The procedure is as simple as feeling sleepy at the workplace. You just need to add the captcha, and as soon as it is proved that you are a human, a sixteen-digit account number appears on your screen. It's free for the next three hours, and till that time, you need to make payment using various payment options that they provide. So, they won't be knowing any information about you. That's true, but what if they record any data of our activity. You can go through the cookie policy to have a look over that.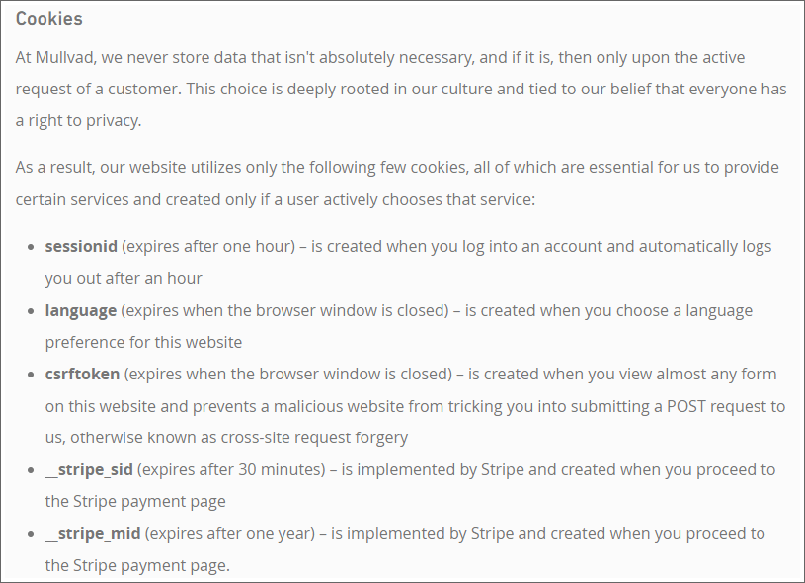 That's easy and anonymous at the same time. If you wish not to share even the bank details, then they also allow payment via cash and cryptocurrencies.
However, initially, we were not sure about the complete anonymity and were extremely curious if they are logging our data in any way. That's why we studied the privacy policy and refund policy completely to make sure if there are statements are hundred percent correct or just a mere play of words.
Detail Study of Privacy and Refund Policy
They have mentioned the data which they do not log in, and we were satisfied with it. However, we were curious about the data they save: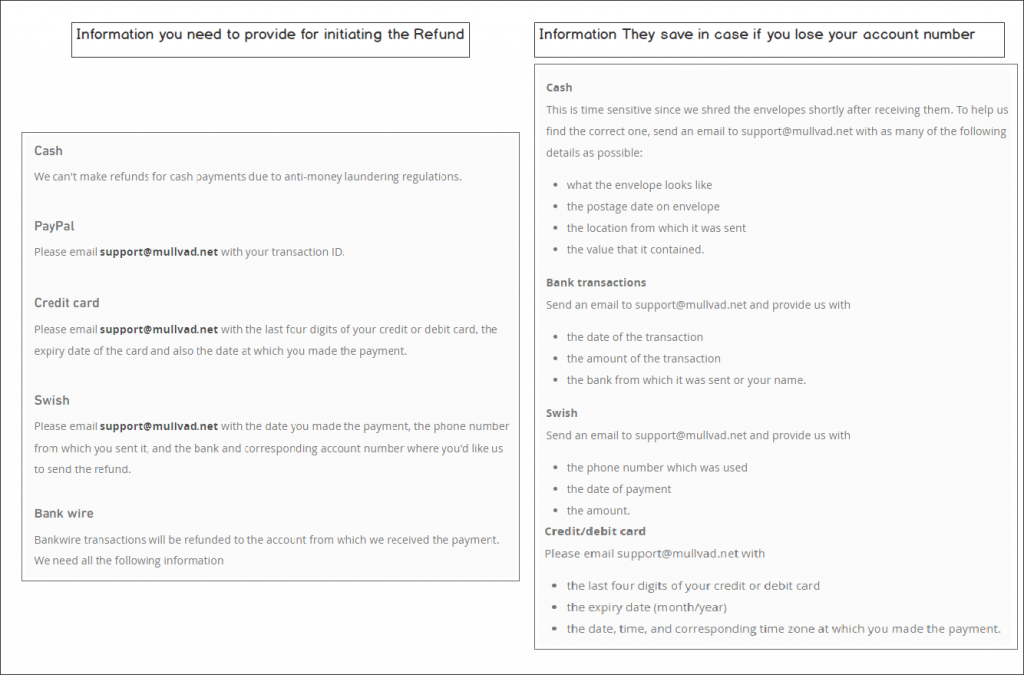 One can read in the privacy policy that says that Mullvad saves certain payment related details which are different for different payment methods. For cash, they save payment, account number, amount, currency and time stamp. For bitcoin, they also log bitcoin address information. For payment done via Stripe and Swish, they keep their respective request IDs in their database. Paypal is the most insecure transaction in Mullvad's case and requires preserving your transaction ID and e-mail Id.
This question arises that if they are not saving any logs, why these all details are there in the database. Well, this question is obvious, and answering this is required the most. This may make Mullvad look suspicious, but they do it because of the refund policy or if you lose the Mullvad account number.
However, if you lose your Mullvad account number, you need to e-mail them the details they have asked in the image above, to get back the account number. Though you may lose anonymity by providing e-mail; you can always contact them through a fake e-mail address for this purpose.
Now it's clear that Mullvad only keeps a hold on few details, and not any logs at all. We checked the cookies also that what data about us is getting saved while we are visiting the website, but there was nothing suspicious, and that confirms that you can be completely anonymous if you use Mullvad. However, this is not the only feature on which the quality of a VPN provider depends, and we need to discuss every aspect by which a proper review of the product could be provided.
A Requirement of More Servers
There are servers all over the world, but in only 30+ countries, and that's why not all the users experience good connectivity and speed.
Let's have a look at their server placement: In total there are thirty-six countries where their servers are located. Out of these thirty-six countries, twenty-eight are European countries, three countries are from Asia, two countries are of North America, two from Oceania, and one-one each from Africa and South America. Even if in Asia, servers are distributed among three countries, the total number of server locations is only eight, and this is not even half of the server locations, that the U.S.A has. The scenario for Oceania users is also not that great. They have only five server locations, four located at Australia, and one at New Zeeland. Africa and South America are completely out of the picture with just one-one server location.
However, if you are a user from Europe or North America, then this won't cause much trouble to you because of the immense number of servers around the continent. Especially for United States, Netherlands, United Kingdom, Sweden and Germany, this VPN provider could be considered above many other VPN providers regarding the number of servers which directly affects the speed and connectivity.
When you first start the application, it gets connected with Sweden's server which is set as by default. However, you won't experience a high speed if the distance is more. We tried to manually connect with the closest server (because that was the only option) to attain the optimum speed. However, there may be a possibility to receive a high speed even if you connect with a server that is farther in comparison of the geographically closest server. Because of this reason, the best way to connect with the fastest server is to search manually, and a test speed of it. Next time when turn on the application, you will get connected with that server with a click.
Preferences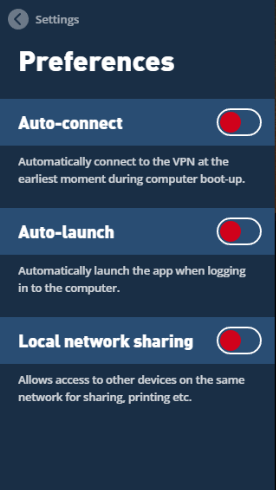 Let's have a look at the inbuilt features of the application. The preferences option doesn't contain many settings, but it only allows you to set the preference that when you wish to connect with VPN. You can choose that if you wish to connect with it as soon as the system starts setting up for you or when you log in to your system. You can restrict the other devices which are sharing the same network. These may be very minute features but still, required to maintain a user control with simplicity. So, we appreciate the addition of these features in every client.
Advanced Setting
Again, not many features to discover, still whatever we explored here was useful. Use can control their data from IPv6, and it's your choice to encrypt it or not. They only provide OpenVPN protocol, but with rendering somewhat flexibility regarding preferring high speed or high security.
This is possible due to the option of TCP and UDP OpenVPN protocol which you can select according to your requirement. You are also allowed to adjust the MTU packets which you should do if you are experiencing connectivity issue or low speed. They also have many other features which are not visible in the application, but they work in the background such as the Kill Switch. They do not offer the Kill Switch option in their settings, but it is there, and one can't turn it off. Every time it disconnects or reconnects it blocks all the Internet data to save the data leakage. Some of the features can be additionally added by logging in to the account.
Features That You Can Control Through the Online Account
If you are already using Mullvad, you will know that there are not many features present in the client. However, you can add more features through the online account. This is one more criterion where they have shown their smartness. They kept their clients simple to make the application user-friendly, and at the same time allowed one to add features through the online account to provide control over the application. You can find these features in the guides option on the Mullvad website. These features have also widened the area of use of Mullvad. These features include port forwarding, split tunneling, using the SOCKS5 key, using it with BitTorrent, and adding an extra layer of anonymity with Tor.
Connection Time Analysis
| Trial No. | Time Taken to Establish a Connection (Seconds) |
| --- | --- |
| 1 | 5.42 |
| 2 | 9.97 |
| 3 | 5.85 |
| 4 | 10.16 |
| 5 | 5.59 |
| 6 | 12.66 |
| 7 | 14.86 |
| 8 | 6.33 |
| 9 | 7.42 |
| 10 | 4.34 |
| Average Time in Seconds | 8.26 |
As we have already discussed, by default, Mullvad gets connected with Sweden's server, and connection time analysis has been done for the server connected by default. If you look carefully, you will notice that the range from shortest to the longest time period is approximately 10 seconds which is higher than many of the VPN providers, and it's not good. However, this won't make much difference, but if the range increases, it will certainly cause instability. We tried to connect it with other servers also which were geographically closer to us, and application got connected with the VPN in a few seconds. Connecting with geographically closer servers provides faster and more stable connectivity.
Speed Test
Again, due to the lack of recommended server or automatic connection with the best server, we don't even know if we have taken the speed test for the fastest server or not, for our location. It is obvious that we can't connect with every server that Mullvad provides, and in this case, we selected a few based on most popular servers, and the servers which are closer to our location. In this speed test, we have covered four continents: Asia, Australia, North America, and Europe. However, we neglected South America and Africa as this is what the Mullvad is doing. They only have one-one server location in each continent as thus, they aren't that important.
With the speed test we realized that connecting with the default server is not the best choice, and you must manually connect with the closest geographical server as it will provide you the best speed (Generally, but not always). We had experienced a high speed in comparison of other servers when we connected our system with Singapore server, which is the closest geographical server. We experienced a reduction of just 6.62% percent in this case. This was followed by the United States server and the reason behind this immense number of server locations. So, if you don't experience a good speed even if you connect with the closest server, try connecting to the United States server, and you will surely receive a relatively good speed.
However, the result for Australian server was disappointing but expected as it was at a huge distance, and there are just five server locations in the whole Oceania continent. You can also try connecting to Netherlands and Germany as they also have many server locations, and may provide good speed.
Security
It's not just anonymous, but also a completely secure VPN provider offering AES encryption with the 256-bit key. Also, they only offer OpenVPN protocol as it is the most secure one, and doesn't allow anyone to alter it for strict security. However, it comes with UDP and TCP option, and slight user control is provided to balance speed and security according to requirement. They own DNS servers and thus, there is no change of third-party involvement in this case.
User Interface and User Experience
They have succeeded in delivering what they have planned to deliver: A user-friendly application. They have provided an amazingly simple design beating ZenMate which we thought to be the simplest. The power behind this design is hidden in the online account and the background of the application.
There are many features that a VPN provider needs to offer as this makes the user interface complicated. The solution to it that Mullvad offered was to provide these features in the background, and not giving unrequired control to the user. For example, there is an inbuilt kill switch in Mullvad that runs in the background, but you can't turn it off. The second solution was to establish all the features such as port forwarding, split tunneling, etc. through guides for the one who wishes to utilize them.
Here, the user experience could be said completely different from the one which the other VPN providers offer. "No log policy" is fully trustable, and no information of yours receives a place in their database. That helps to provide a completely anonymous user experience, and when it used with tor (as they allow it), anonymity reaches to another level. Apart from anonymity, speed and connectivity are very good if you connect with the right server. Mullvad renders an easy to use, and smooth user interface like the one which user would expect from any VPN provider.
Platform
When it comes to the number of platforms that Mullvad provide all platforms that are appropriate for Mullvad's utilization. It's sure that you can download it for Windows, Linux, MacOS, Android, and iOS. Other than that, a few more platforms such as Qubes OS, Qubes OS 4 are offered. They are also available for a limited number of routers: Merlin, Tomato DD-WRT, Asus, OpenWrt, and pfSense. However, we have not found any download links for browser extension and aren't sure if they are available.
Customer Support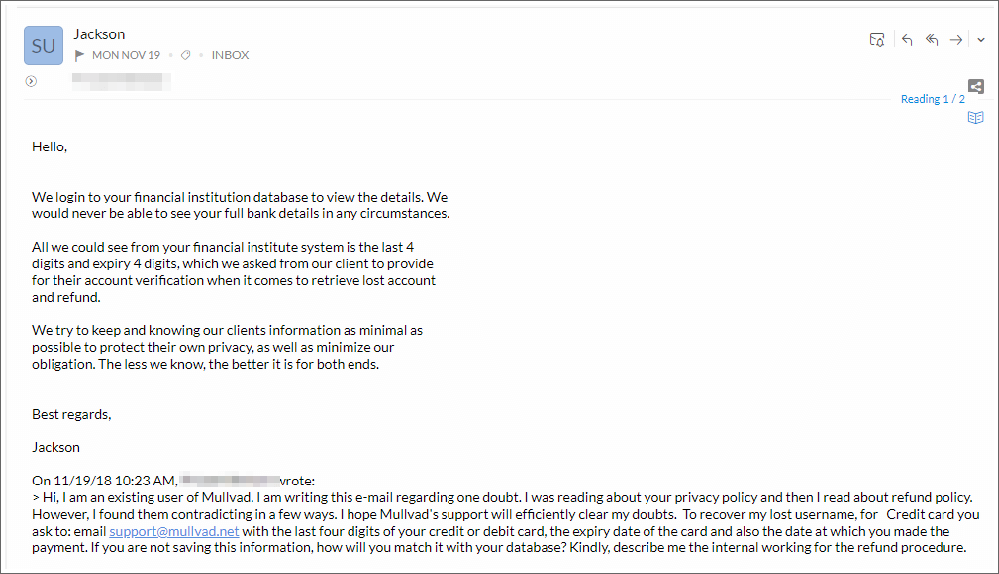 They do not offer a Live Chat system, nor any ticket generation. Maybe, they are trying to be anonymous from their side also. But, when the application offers something unique, it comes with the responsibility to keep a watch that how people are using it. Maybe, if the information gets lost or if their anonymous account number generation creates any kind of confusion, one can't reach them instantly.
Contacting them for every query, huge or small, is required to be sent through e-mail. You can accept a reply on the very same day after ten hours. In our case, we e-mailed them in the morning 10:30 AM about some confusion between the Refund policy and the privacy policy to which they replied to us in the evening at 5:30 PM. The answer was relevant and elaborated providing 100% satisfaction. Although, the reply was useful if the time they take for the reply could be reduced then it could improve the quality of the customer support.
Conclusion
Mullvad is the best VPN provider when it comes anonymity, but it should not be confused between security. However, they provide world-class encryption with OpenVPN so, it's not questionable, but at the same time, not special also. When it comes to speed, they need to improve for Asia, Australia, South America, and Africa. However, they provide a very good speed for North America and Europe. Adding a live chat would be a great option because people would need assistance for a lot of reasons.
When it comes to user interface, platform, and features, Mullvad renders a complete satisfaction making it a "value for money" product. If you are a person wishing to access the Internet with complete anonymity, Mullvad is the best option.