Pros
Simple User Interface with fewer configurations makes it an "easy to use" VPN provider.
With Status Panel, you can have a track of downloading and uploading speed.
The "Kill Switch" option saves the data leakage if the VPN goes down unexpectedly.
"DNS leak Protection" helps to make sure that DNS requests are sent through a secure tunnel.
Different protocol selections are available with different ports.
Cons
Not many configurations are available so, it does not allow the user to make changes according to his requirements, but then perhaps it's for maintaining the simplicity.
Servers can't be sorted or filtered out in any way, and one has to select the server manually.
It may show error sometimes while you try to connect with it. However, reconnecting could solve the issue.
Website: Visit Website
Overview
| Quick Overview | |
| --- | --- |
| Protocols | OpenVPN and L2TP |
| Platforms | Android, iOS, Windows, Mac, Linux |
| Jurisdiction | Seychelles |
| Logging | No Logs |
| Encryption | AES 256-bit |
| Connections | Up To 5 Connections |
| Locations | 34 Countries |
| Servers | 164 |
| Netflix/P2P | P2P Available |
| Payment Options | PayPal, Credit Card, Bitcoin, Cryptocurrencies, PaymentWall |
| Support Options | Support Ticket |
| Pricing From | $ 2.88/mo Billed For 24 Months |
| Guarantee | No Guarantee |
| Free Trial | 3 Day Free Trial |
| Website | Visit Website |
Trust.Zone is a virtual private network service provided by Trusted Solutions Ltd, an Internet security company based in Seychelles, East Africa. The primary objective of this service is to help the users to avoid any type of ISP monitoring and make them completely anonymous while performing online activities. Also, it provides the users with the necessary security protection features to keep them safe from any hacker attacks and cyber threats. With a simple user interface and "action on click" Trust.Zone is one of the most user-friendly VPN providers.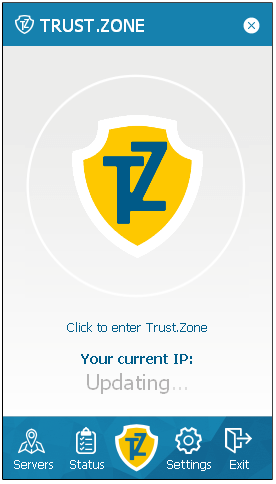 Hundred plus Servers in Eighty Three Zones
Establishing 138 servers all over the world isn't an easy task, but if such a network of connect has been established, the sincerity towards the security could be concluded easily. They are placing their servers smartly, and have already covered most of the parts of North America, Europe and Australia. Some more servers are required in Asia and after that, only few more servers in South America would be needed as the user base is not huge in this continent.
The Affordable VPN Service That Offers Unlimited Bandwidth
The first thing that you will notice about Trust.Zone is that this VPN service is quite affordable for the features that it offers. So, this is a very good service to use if you are on a budget, and don't want to spend too much money on a virtual private connection. Moreover, it offers unlimited bandwidth which allows you to consume any type of content on the internet as much as you want.
Kill Switch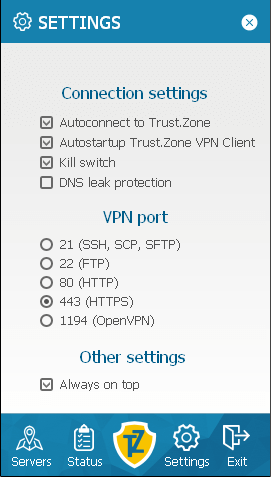 The Kill Switch is one of the main features that Trust.Zone provides. It is required to stop the Internet traffic when any failure takes place in VPN connection while you are using internet. In the absence of kill Switch, if you are visiting any restricted website or using Netflix from another location, and the VPN clientstops working without your knowledge, it will notify your ISP. Because of this reason, Kill Switch must be essentially implemented in every VPN and that's what Trust.zone has done.
DNS Leak Protection
DNS leakage can cause the complete failure of using VPN. DNS leak protection makes sure that Trust.Zone DNS server remains visible instead of your ISP's DNS server. It ensures that every DNS request you make gets encrypted by the VPN provider and then goes through a secure tunnel.
No Logging and No Restricted P2P Traffic
The good thing about Trust.Zone is that it doesn't keep any logs of your online activity, meaning that even the service provider doesn't know what you are doing online, despite the fact that you using their private connection. This is because this company is not bound by the restrictive government rules that require them to follow any data retention laws, so the users are safe in this regard. Also, it provides the unrestricted P2P traffic in case you want to use your private connection for torrent or P2P sharing, which might not be possible if you use other similar services.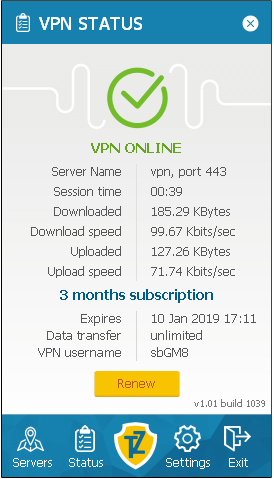 Status Panel
The Status Panel is Trust.Zone's unique attribute that shows the status of the data transfer, and its related specifications. It shows the server name, port, and protocol selected for establishing the connection. Below that, you could check the downloading and uploading speed by which it's possible to compare that for which port you are getting the maximum speed. That is a feature that helps to make the user experience better and efficient.
Connection Time Analysis
This aspect helps to determine the stability of the application, and shows that how fast the application could establish the connection. We have performed it for every VPN provider, and some has shown us unexpected results by making a connection instantly. However, this depends upon various factors, especially the distance between your location and the server.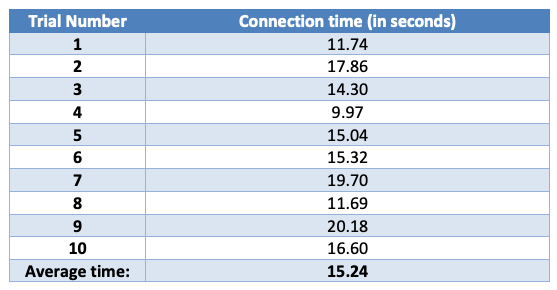 With the response time ranging from 9.97 seconds (shortest) and 20.18 (longest), Trust.Zone shows a reliable connection time. However, few times it has shown an error that "client is unable to connect with the virtual private network." For that time, we need to remove it from "Task Manager," after which it was working fine.
Speed Test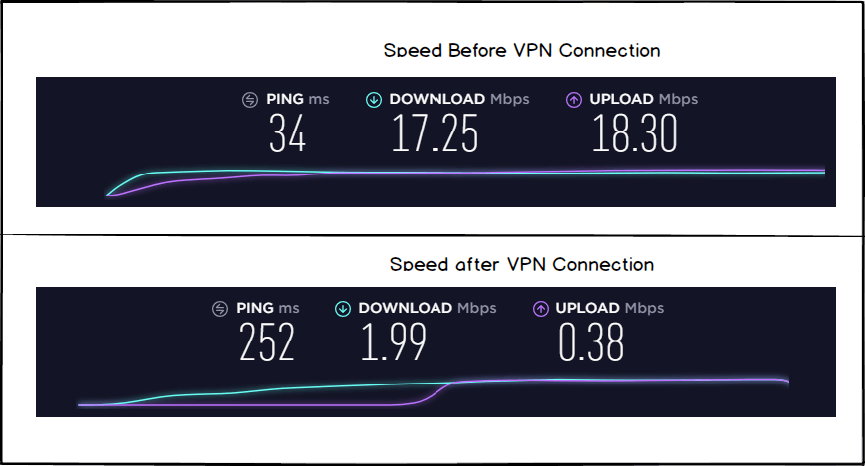 When results of speed test were compared, we were little disappointed as the downloading speed of 17. 25 Mbps and the uploading speed of 18.30 Mbps were reduced to 1.99 Mbps and 0.38 Mbps respectively.
This shows that Trust.Zone is not the perfect option for uploading the content but still browsing could be done efficiently. Also, you can stream good quality videos with speed established after VPN connection.
Again, it depends upon the location. For example, if you are living in Canada, you won't experience such decrement because of multiple servers.
Security
Trust.Zone uses AES encryption with a 256-bit key which is known to be the most powerful encryption that can't be broken by brute force.
When it comes to protocol, they have the availability of OpenVPN protocol which is the most secure one. It doesn't offer any PPTP protocol because this protocol is known to be vulnerable to many hacker attacks. In addition, you can go to the settings option, and select the protocol according to your requirement. With multiple encryption protocols that provider offers, it could be ensured that you always use the one that is safe and secure for your online activity.
They issue daily "warrant canary" on their website that protects Trust.Zone customers in case if the law asks for activity logs and about the searches. For the proof of their "No Log" policy, you can visit: https://trust.zone/canary or have a look here:

Platforms
From one account, you can establish three connections simultaneously which is justifying for the prize that Trust.Zone offers.
You can download it for your Windows PC, Android, MacOS, and iOS. The exclusive part is it also renders a client for Linux which is a platform that is not covered by every VPN provider.
The installation and sign up are as easy as turning on the virtual private network connection with a click. Go to their website, and download it according to your operating system, signup by choosing a plan and here you go.
User Interface and User Experience
You would not get a simpler VPN provider, and it's most useful for the buyers who know the requirement of the VPN but don't want to put their mind in configuring it. It's easy to use, and easy to explore.
Within a few minutes, you will get familiar with the complete working of the application, and how to use it beneficially. The user experience could be improved by adding some more required features such as Ad-Blocker and Split Tunneling. Also, the connection error is a big disappointment when it comes to user experience. However, with few improvements, this problem could be removed, and a better application could be offered.
Customer Support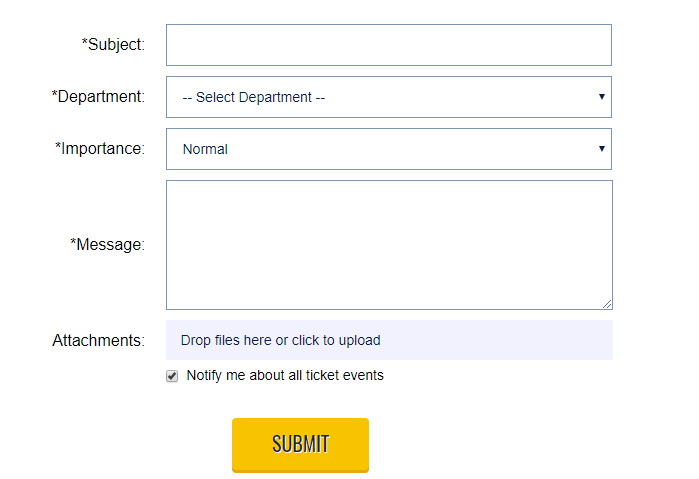 They don't have any live chat support, and E-mail support is also not available for all the time. It is only available from Monday to Friday from 6:00 AM to 4:00 PM GMT +0. Because of this, you can't expect an immediate response. So, if you are a person who highly depends upon the customer support for every issue, Trust.Zone might not be a good open.
However, they provide a complete set of FAQs which nearly solves all the issues that a customer could face while using Trust.Zone application. These FAQs cover every segment where a customer would need help. They also provide a complete process of Troubleshooting which can help the customers to get the connection sorted without anyone's help.
Conclusion
Trust.Zone renders a secure connection with easy to use interface perfect for people who don't want to drown in technology, but wish to use VPN for their privacy concern. The number of servers is already 138 covering all the major countries all over the world. It helps to keep your network connection private so that you can browse the internet privately and anonymously, bypassing all government censorship and restrictions. However, Trust.Zone could be improved in terms of speed and features. And if it takes the measure of improvement, it may beat the VPN provider also.