Pros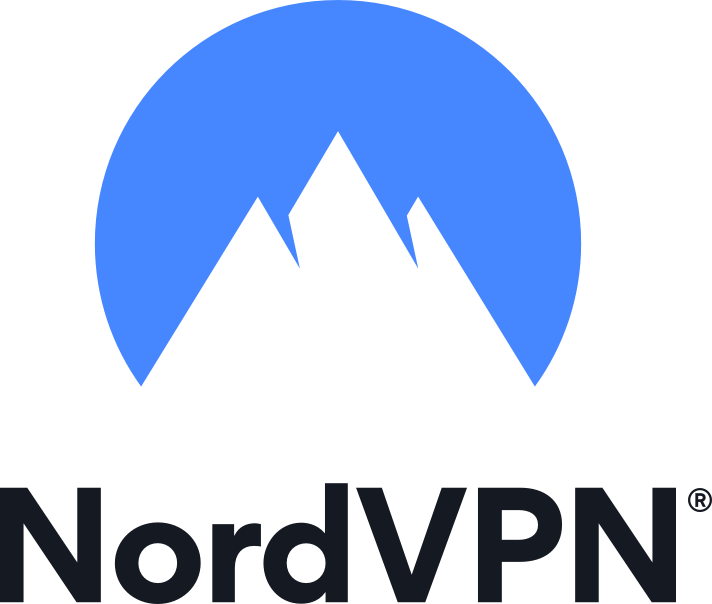 Huge Server Network: There are five thousand plus server locations right across the globe by which they have covered most of the countries where VPN users are present. Such a vast server network ensures a reasonable speed as the distance won't be a troubling factor.
Onion over VPN Servers: There are optimized servers which you can use with Tor to access .onion services.
Double VPN for Extra Security: Whenever we connect to the VPN, our data travels through one server, but in case of double VPN, it goes from one server to another server, and then reaches to the destination. It may slow down the speed, but still increase the security.
P2P Optimized Servers: P2P optimized servers help the user to conduct efficient file sharing. Using NordVPN, you can connect automatically connect to the server which is most efficient for your location.
CyberSec for secure browsing: This is a unique attribute that other VPN clients lack. It is not related to the VPN directly. However, it safeguards privacy by blocking ads and stopping the entry of malicious content in the system.
Client Behavior Settings: You can select when you want NordVPN to connect the system to the VPN, after that, it will automatically establish the connection. It saves the manual work of establishing a connection every time you start the system or application. A few more features are present related to the functioning of the client.
Application Kill Switch: A separate "Kill Switch" option for "applications" so that the programs which you want remain connected to the Internet won't stop working if the VPN unexpectedly stops functioning.
Choose the Fastest Server of Particular Country: Servers can be filtered for a specific country which provides you with an option of connecting to the fastest server whose content you wish to access.
Best Customer Support: NordVPN's customer support team is highly courteous, and they always reply to our queries with all the required information. The live chat is consistent, and you will never need to wait for a long time to interact with them.
Availability of Obfuscated Servers: These servers are added to the application so that users can hide the use of VPN. By connecting to these servers, your data will disguise as the regular VPN traffic.
Cons
No Browser Extension for Safari: They do not provide an extension for Safari, but anyway, there are multiple options such as Chrome and Firefox. If you wish to use a VPN while browsing through Safari, you can download the NordVPN app, and establish a virtual private connection through it.
Split Tunneling Feature missing: Split Tunneling feature isn't available, but through live chat, we are informed that they are working on making it possible for different platforms, and it will be added soon.
Only OpenVPN protocol present: They do not support any protocol other than OpenVPN. However, they told us that for other protocols, you would use NordVPN on third-party applications.
Overview
NordVPN, born in 2012, is now serving more than one million people who are concerned about their privacy.
| Quick Overview | |
| --- | --- |
| Protocols | IKEv2, IPSec, OpenVPN, PPTP, SSTP |
| Platforms | Windows, Mac, Linux, iOS, Android, Browsers (Chrome, Firefox), Smart TV |
| Jurisdiction | Panama |
| Logging | No |
| Encryption | AES-256 |
| Connections | Upto 6 |
| Locations | 62 Countries |
| Servers | 5400+ |
| Netflix/P2P | Yes |
| Payment Options | Credit Cards, Crypto Currencies (Bitcoin, Etherium, Ripple), Alipay, Ideal, GiroPay, Sofort |
| Support Options | Email, Chat |
| Pricing From | $2.99 (Billed Annually) |
| Guarantee | 30-day |
| Free Trial | 7 Days |
| Website | www.nordvpn.com |
There are more than five thousand servers all over the world, and that means it has established one server for every two hundred people.
This shows the sincerity towards the commitment of providing data security as they are offering it without compromising with the speed. The company is located in Panama City, Panama, and holds the aim of providing free and open internet to everyone.
Because of the location, we can trust the jurisdiction as Panama is not one of the 'Fourteen Eyes' and no strict data retention laws are present in the country.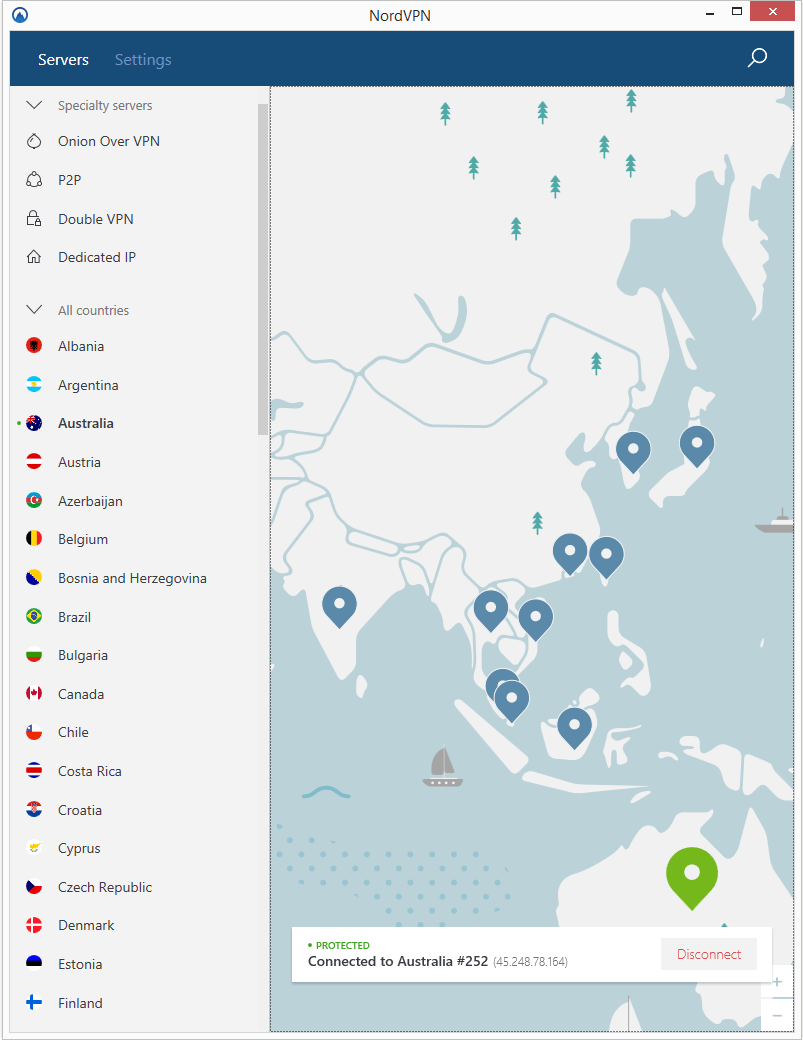 If it were one of the Fourteen Eyes, the government could ask the company to provide data about the citizens.
NordVPN claims to believe that the Internet practice must be free from censorship and surveillance, and that's the reason they strive to develop their VPN clients with top-notch-quality.
There are a few features which aren't present yet that could be because of security reasons or else that particular element is still in the development stage.
Five Thousand plus server Locations
Five thousand is a huge number when it comes to the server. There are approximately two hundred countries in this world, so even if you divide it evenly; it comes to twenty-five servers per country.
However, NordVPN only has its servers in sixty-three countries covering every continent except Antarctica, and yes, they only have servers in South Africa when we talk about Africa.
The reason is that their user base lies mostly in Europe and America.
In Europe, it has 2263 servers, and In America (North and South), it has 2356 server locations.
Also, countries like Australia, Singapore, and Japan are provided with an immense number of servers.
Because of this, NordVPN can easily commit a high speed as the distribution of their servers is done effectively.
Also, the countries like the USA, Canada, Japan, the UK, and the Netherlands have the data which can't be accessible from locations outside the country, and the number of users who use NordVPN for accessing the data of these countries is enormous.
To stabilize the colossal traffic, they have placed an immense number of servers, and that's why no one will ever experience any speed related issues.
If we look in detail, 2236 European servers are placed in thirty-eight countries. However, out of these thirty-eight countries, only five countries have Obfuscated servers, and so they always have a high load.
But the good part is if you wish to use P2P servers then you can select any European country as they all have P2P optimized servers.
Double VPN is also present, but only for five countries in Europe and two countries in North America.
In North America, the highest number of servers are present in the United States which is nearly two thousand.
Server from every category is present here, but still, you won't find any Onion servers here.
But when it comes to Onion over VPN servers, there is none in any continent other than Europe. Even in Europe, it is present in two countries: the Netherlands and Switzerland.
If we move towards Asia, most of the servers are located in the southeastern part. Here you will find Obfuscated servers in Japan, Hong Kong, and Singapore only.
In total, there are two hundred plus servers in Asia which is a good number to handle whole Asian userbase.
They have focused on Oceania also by adding two hundred plus servers. However, servers are only added in Australia and New Zealand here. P2P file sharing is available on the servers of both countries.
In addition to these servers, there are servers in four South American countries, but P2P is only available on Brazilian servers. In total, fifty plus servers are added in this continent, so that every user can get the equal benefit of their service.
The addition of servers is only required in Africa where less than fifty servers are present. However, they keep adding the servers wherever they build a user base.
Servers Optimized for Tor
Users who wish to remain anonymous use the Tor browser. You also get the option of using .onion services through Tor.
While using Tor, you can't expect to get a good speed as it has multiple layers of encryption. However, there is no layer present over the data after it leaves the exit node.
That's why using it with a VPN makes it more secure. But think, after adding one more layer of encryption, it will become slower.
NordVPN provides servers which are optimized for Tor, and if you use these servers with Tor, instead if using the other servers, it may provide you with better speed.
However, Tor optimized servers are only present at two locations which we have discussed in the previous section.
They need to add a few more Tor optimized servers if they wish to avoid speed reduction due to heavy loading.
P2P servers
There are particular servers dedicated to P2P connections. CyberGhost has the same feature but with the other name, "For Torrenting."
As the total number of servers that CyberGhost provides (3000) is less than what NordVPN provides (5100), NordVPN is capable of delivering better speed for P2P connections. It is a feature which you should use for the torrenting purpose.
There is also an option that shows that you can connect to a P2P server of a specific country or else you can get connected to a server which is the fastest for your location all over the world.
Don't forget that this must be only used for downloading purpose, and not for streaming or browsing purpose as speed would be less for these tasks.
For streaming and browsing the the "Quick connect" option works perfectly that you can find on the main screen and connect to the VPN as soon as you click to it.
Two servers for extra security
This feature is provided in the the "Double VPN" option in which if you get connected through NordVPN's client then your data will pass through two different servers before heading towards the destination server.
This provides an extra layer of security, but its drawback is comparatively lower speed than what you get if you are connected to the server of any other category.
This lower speed is due to the extra travel that data faces when it travels from the first server to the second server.
Another limitation is that you can't configure the path of the data. There are pre-defined server combinations provided by NordVPN such as Canada-United States, Netherlands-Russia, etc.
However, if you notice, they have tried to keep a shorter distance between two servers by selecting combinations which are located at a lesser distance in comparison to the other servers.
For example, if they would have chosen one server from Russia and another from South Africa, the speed would be too low, and the performance would decrease. Instead of that, the selection is made for Russia and the Netherlands so that data does not require much traveling.
Adding a new combination is something that is not added yet as it can cause network related issues, and if the wrong combination gets selected speed could be highly decreased.
Dedicated IP Feature
The last option under specialty servers is a "Dedicated IP" option.
So, how it works? Well, it acts as a standard server like any other server provided by NordVPN. But then, there is some special use of this option which is hidden from the users.
When someone connects with the dedicated IP, a static, fixed IP belongs to that person is provided, but to unlock that option you need to pay $5.83 per month.
It will boost up your speed, and if you really don't want any compromise with the Data Transfer performance than it's a worthy purchase for you. On the other hand, if you need only need NordVPN for general use, a premium version would be sufficient.
Enjoy NordVPN from Restricted Locations
NordVPN provides special servers known as Obfuscated servers which are beneficial for the users who are experiencing restricted networks.
However, there is a limited number of Obfuscated servers in the list, and it is also recommended not to use them without NordVPN's customer executive's direction.
It also shows malfunctioning sometimes, and that's why this feature requires more improvement and addition of more servers.
CyberSec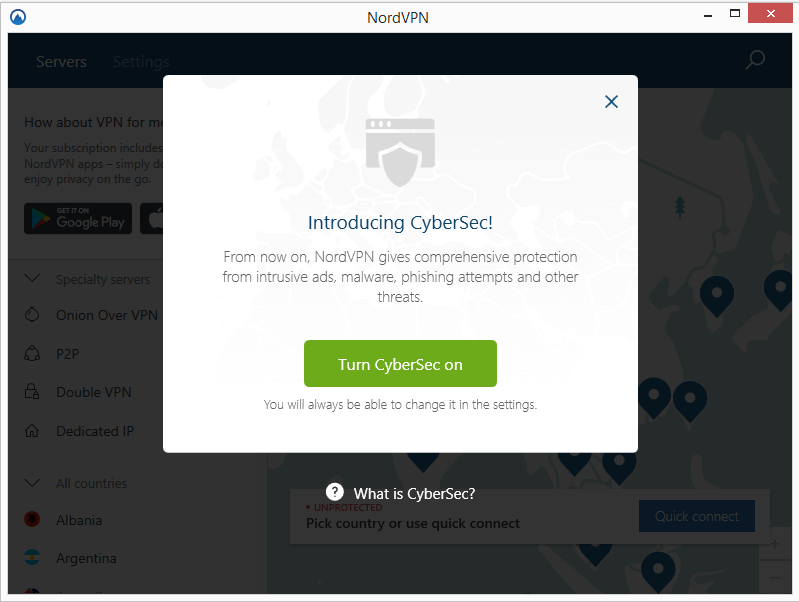 Not all VPN providers offer this feature as it has nothing to do with privacy and security over the virtual private network, but it saves you from malware and also improves your user experience from ad blocking feature.
CyberGhost provides this feature under the heading "Connection Features," and you can configure it differently means you have the option of turning on and off for every feature, but here it is done with one click.
Now, when it comes to efficiency, CyberGhost, ad-blocker only blocks pop up adds, but NordVPN, it saves you from every advert that is blocking your content and occupying any part of the screen.
Obviously, it's not possible to block YouTube ads, but you can rely on NordVPN that in the future, this technology could be embedded with the system as efficiently as their ad-blocker.
The other features save your PC from Malicious websites and unsafe connections. When you wish to visit an unreliable website, CyberSec will not allow you to do that if it finds that the URL isn't safe and can infect your system.
While using it, if you feel that any particular website is perfectly safe, and is not performing any illegal activity, you can directly report it through live chat or email, and your issue will surely be taken into consideration.
Now there is one issue that NordVPN might face when it comes to the use of CyberSec. When you download NordVPN for Android Platform from Google's Play store, then the ad-blocker won't work because of Google's Policy. That was a disappointing new till we found that if someone downloads ".apk" from NordVPN's website, ad-blocker works perfectly. We really appreciate how NordVPN has made attempts to provide as many features as possible.
Connection Options
Now here comes the Auto-Connect feature which you would have seen in pretty much every VPN provider, but what's different about NordVPN?
Four server categories that were already mentioned can be connected automatically. For example, if you have purchased a dedicated IP, and you always wish to get connected with it irrespective of other servers available, then you can directly select that server from the "Auto-Connect" option. If you use NordVPN mostly for torrenting, the auto-connect with P2P server is the best option.
As soon as you start the Windows, you will be connected to NordVPN automatically, and after this, it gets connected to the selected special server. In case, if you don't select any server, then it will connect with the server chosen by "Quick Connect."
Kill Switches for Internet and Applications
The Kill Switch destroys the bridge between the Internet and your system if any malfunction occurs in the application by which it gets disconnected.
It is available for most of the VPNs, but here, it works in two different ways: For internet (through browsers) and for Applications.
We would call it the Kill Switch splitting, and it is beneficial when you need internet to remain connected with some specific apps, but also want to kill the Internet traffic for the rest of the apps.
You can directly select the apps, and a list would be generated. After this, if you turn on the "App Kill Switch," then it will kill the Internet traffic going through that app, and the other apps normally work without any interruption.
Hide your device from LAN
Nord provides a feature that let you hide your computer's identity when you are connected with the Local Area Network by making you Invisible.
It is useful when you are connected with Wi-Fi at the Airport or any coffee shop. Just hide your device from other users sharing the same network to avoid any potential risk of hackers.
Protocol and DNS Settings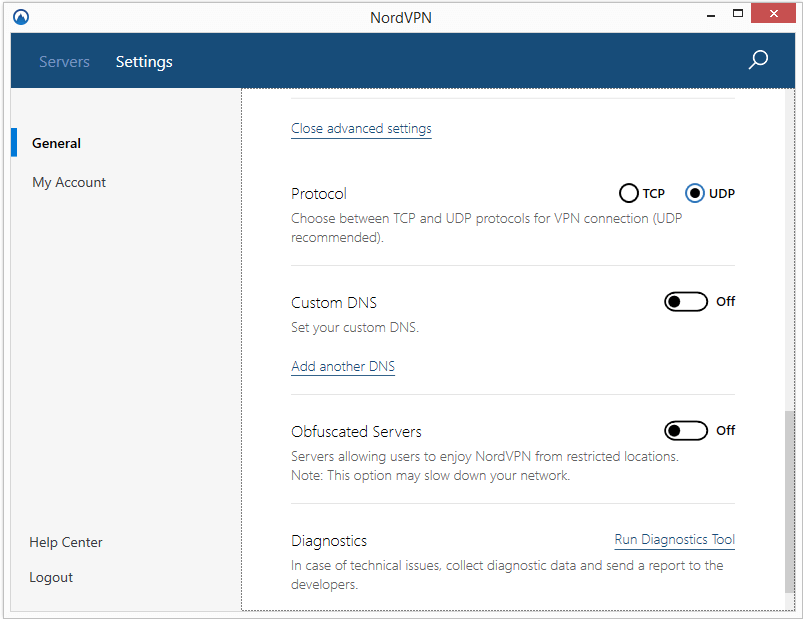 Well, if you are a fan of PPTP or IKEv2 or IPSec protocol, then you may get disappointed. However, if you believe in a more secure protocol such as OpenVPN, then NordVPN is a go for you.
It allows configuration for OpenVPN to some extent and provides the option to select between TCP and UDP OpenVPN Protocol. However, there is no option of port selection even for OpenVPN.
This would have been added to avoid providing complete control to the user as more configurations could affect the functionality of the VPN provider.
ZenMate allows the user to enjoy the complete control of their VPN, but because of it, we had faced issues for multiple times while establishing a VPN connection. On the other hand, NordVPN retains simplicity, and at the same time offers all the required configurations.
NordVPN has their primary and secondary DNS with the addresses: 103.86.96.100 and 103.86.99.100, but if you wish to add custom DNS, you are allowed.
However, it is not required and must be avoided as these third-party DNS services may log your data.
Privacy Policy
As stated in the privacy policy, they do not collect any PII related information. The only information that they store is the email address that you provide while creating an account.
As we have already discussed that the company is located in Panama, and thus, they are no strict data retention laws. Due to this one can trust that they maintain a" No Log Policy."
In addition, you can have a look at the warrant canary which was provided on their website. This ensures that they have not provided their customers' data to any third-party until this date.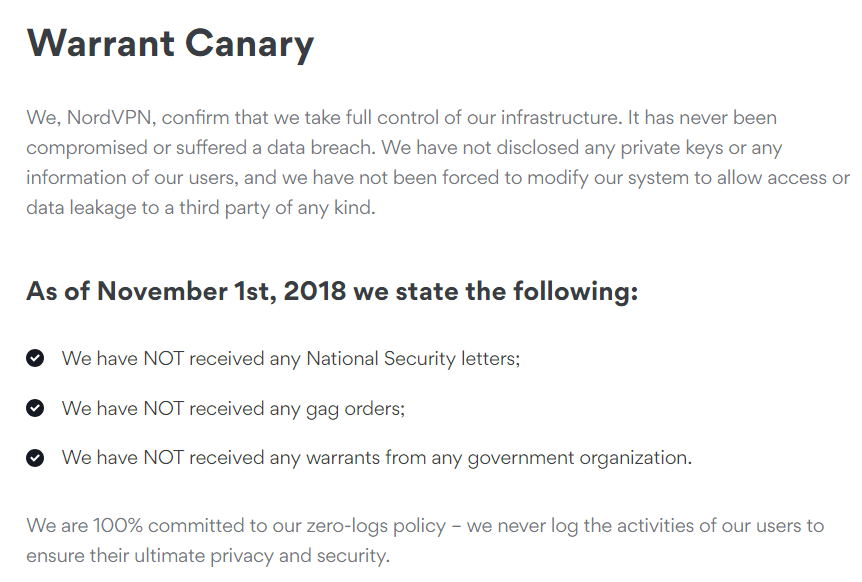 If you are too much concerned about data logging, we must tell you that if you use the website, it will place cookies in the browser. If you want, you can disable it. No other data is stored, and in terms of privacy, NordVPN is an acceptable service provider.
Connection Time Analysis
Trial No. & Type
Quick Connect
P2P Server
Onion Over VPN
Double VPN
Time Taken for Establishing a Connection with
1
14.8
14
15.54
Connection Timed out
2
13.83
12.91
14.37
Connection Timed out
3
13.66
13.41
15.91
Connection Timed out
4
13.95
13.63
15.23
17.88
5
12.69
13.31
15.89
16.88
6
14.18
13.21
14.6
18.66
7
13.52
13.09
14.93
17.41
8
13.85
13.71
14.5
16.55
9
13.77
13.66
14.12
Connection Timed Out
10
13.53
14.25
13.8
Connection Timed Out
Average Time In Seconds
13.78
13.58
14.89
-
Connection Time Analysis for various servers' categories: Quick Connect, P2P server, Onion over Tor and Double VPN has been performed.
We have not performed any connection time analysis for Dedicated IP as it acts as a standard server when you haven't purchased it. So, it's similar to the "Quick Connect" option, but obviously, the servers are different.
The analysis shows that for both "Quick Connect" and "P2P Servers," the time taken is nearly equal, and it is due to the availability of these servers all over the world.
However, when it comes to Onion over Tor, there is a limited number of servers, and because of that, the distance between our location and the fastest server crossed one continent. Still, the average increased by approximately 1 second and that shows the efficiency of their connectivity.
For Double VPN, we have not experienced the same level of connectivity. It is again due to the limited number of servers.
Now, when we tried to connect to the fastest double VPN server pair, it showed us "Connection Timed Out."
The fastest server pair for us was Taiwan-Hong Kong, but we were not able to connect to it even after trying for a minute.
We scrolled the list to find out other servers and tried to connect to a few of them. European pairs were working fine, but when we tried to connect to Canada-United States pair, the same error occurred, so one needs to find out manually that for their specific location which is the best suited Double VPN pair.
We reported this failure to NordVPN, and they asked us to use the "Diagnostics" option which sends reports the errors and failures to the team. This is an efficient way to remove every possible bug, and we appreciate the sincerity of NordVPN towards improvement.
Speed Test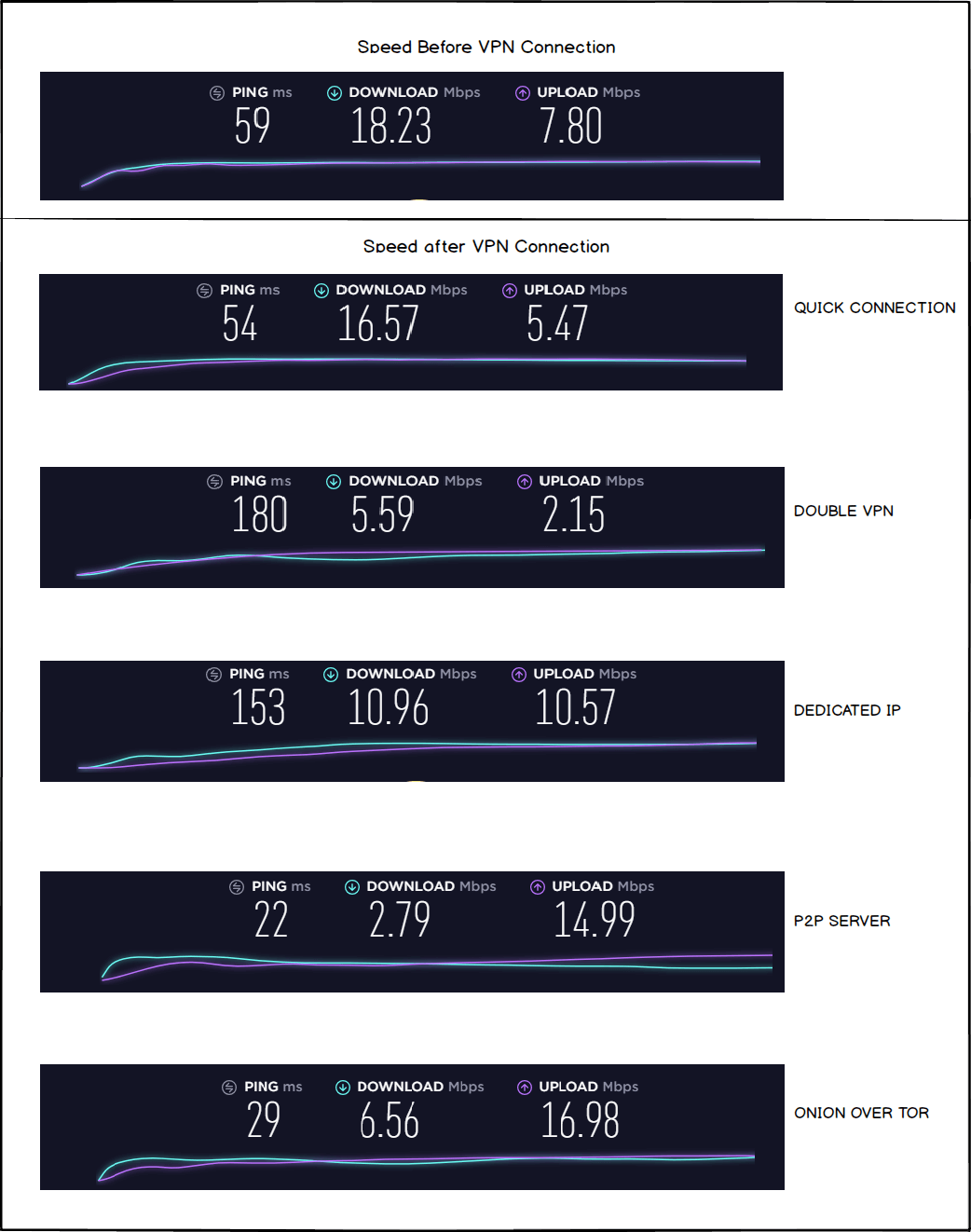 Speed test shows the different downloading and uploading speed when the system is not connected to NordVPN, and when we connected it with Nord VPN.
There were four special types of servers available in addition to one Quick Connect option. We ran a speed test for all the choices, and results were recorded showing the capability of these different types of servers of NordVPN.
Results have not disappointed us, and one can't expect more than what Nord provides.
"Quick Connect" provides a high speed, and it also performs better than other special servers as it finds the fastest server among all the servers.
For "Double VPN," the speed is comparatively lesser because the data passes through two servers one after another.
Also, we tried to connect with the fastest double-pair server available, but then it wasn't not possible to connect with it, so we manually found the closest one, and calculated speed for it.
The servers for "Onion over VPN" will surely show a lower speed, not because of the VPN provider, but because of using Tor along with it.
The fastest server of this category was in Germany for our location. That is the major reason for getting a low speed. We were unable to calculate the speed for it as we were using a browser other than Tor.
For a P2P connection, we faced hard times. We tried to connect it to the fastest server available without custom DNS, and the results were disappointing.
However, from the customer support, we got the knowledge about the implementation of custom DNS which provided us the double speed of what we were getting without custom DNS.
We were already expecting that the dedicated IP option won't show optimum speed as we haven't purchased it. It was acting as a standard server which is provided for Quick Connect.
However, because there was a huge distance between our location and the dedicated IP server, we experienced a low speed. For Europeans, this issue is minimized due to the presence of thousands of servers.
Security
Security is what for which every individual uses a VPN application. Nord uses the highest level of encryption, AES-256-CBC with a 2048bit DH key. For maintaining security, they only allow the user to connect with OpenVPN. However, it is configurable, and one can use TCP or UDP ports.
They provide their DNS servers to remove third-party involvement and stick to "No Log Policy."
The features such as "Internet Kill Switch" and "Application Kill Switch" are very helpful in adding security by removing every possible data leakage.
To save your system from malicious websites, they have implemented CyberSec in their application.
For security, while using public Wi-Fi networks, invisibility to LAN is there. Pretty much, a completely packed data transfer which can't be leaked throughout the process.
If you are still not sure about using it, you can use it with Tor for anonymity along with security, but then it will cost your speed by a significant percentage.
User Interface and User Experience
The "easy to use" interface is developed so that its use could benefit more and more people. The NordVPN's calm color having a map aligned on the left side is an attribute provides a soothing effect to the users.
They have made it phone responsive so that the same functionality could be expected in Android and iOS also.
It is not highly configurable, and thus anyone could use it without getting much worried about changing any of its settings.
The list of servers is key-mark of this application which helps to improve the user experience. Sorting out servers according to preference is much very helpful in fulfilling the user requirements perfectly.
There is one more feature with the name, CyberSec which blocks ads and malware and that's an additional task that it VPN provider provides.
NordVPN not only saves your data by encrypting it but also by saving it by defeating hackers trying to implement malware in your system.
Platforms and Devices
It covers all the major platforms, but it's not available for Safari extension. It's the only platform where one can't find it, but for that, one can download the application and then turn it on. All the data that passes through the browser will automatically get encrypted.
You can connect with Android, MacOS, Windows, and iOS, simultaneously. You get provision for connecting with a total six devices at one time.
However, to save the place of five devices which you could utilize during travel or at coffee shops, you can install the VPN client in the router and then connect every device through it.
Customer Support

While using NordVPN, we came across some doubts such as
Availability of protocols
Functionality of CyberSec
Ad-blockers operation in Android devices
DNS servers' addresses
And a few more.
Before interacting with live chat, you can find out the solutions just by typing the keywords and finding related articles.
If your issue remains unsolved as you don't find any related content, you have the option of email or the live chat.
Live chat provides the elaborated solutions along with examples or else; if they find any suitable article, they will redirect it to you.
If you find any issue, you always have an option of reporting it through "Diagnosis" which is available in the advanced settings. It will send the error and failure report to the developers. It is only recommended if you find no available solution with the help of customer support.
Conclusion
The easiest way to define NordVPN is "Basic along with Classic."
It provides all the required features while keeping the user interface simple and easy to use.
There are top security features, and some of them are not available in most of the VPN applications such as CyberSec and Application Kill Switch.
The sorting of servers is remarkable, and better can't be expected. They provide top protocol with high-grade encryption to secure your data.
The sincerity towards delivering the best customer satisfaction can be proven with speed and well-trained customer executives.
The only issue we faced is for P2P server connection and Double VPN server connection. The speed is slightly lower, but that's completely acceptable as it also depends on many of the other factors irrespective of VPN provider.
Also, you can use quick connect which renders speed comparable to the speed before VPN connection.
All in all, we find NordVPN as one fo the best VPN so far, but many improvements which are still in their way such as more platforms and better speed.