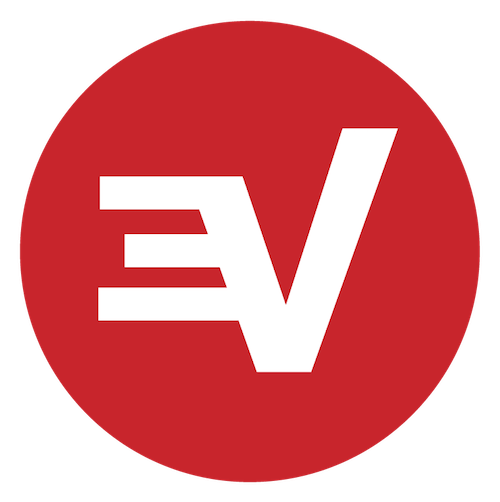 Pros
ExpressVPN provides 148 server locations worldwide established in 94 different countries. It provides the opportunity of accessing the content that's available at a particular location only.
It is available for all platforms and also provides chrome and Firefox extension.
It provides high speed in comparison of other VPNs, and the speed test feature provides the real-time speed for all the active servers.
It also provides a kill-switch facility that stops all internet traffic if VPN stops unexpectedly.
Various types of protocols can be used with ExpressVPN according to the requirement.
Cons
Without service pack 1, network lock and split tunneling features can't be used. Though, its download option is directly provided in the application.
One subscription can only be used in up to 3 devices simultaneously, but it's pretty much what's required. If you install it in a router, it will get connected to every device which is connected to the router.
It doesn't have any free trial version, and you can only download it after completing the payment. However, if you aren't satisfied with the application, you can take advantage of ExpressVPN's 30 days money back guaranty.
Overview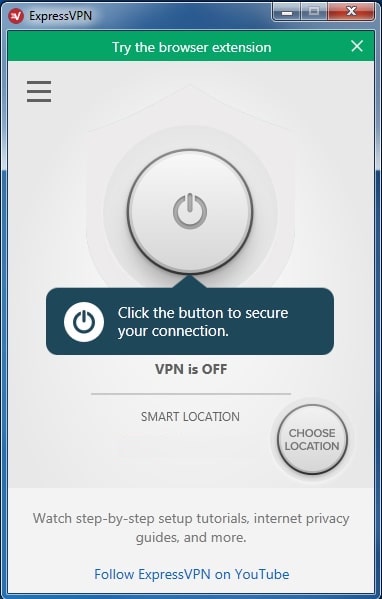 ExpressVPN is a virtual private network service based in the offshore location of British Virgin Islands. Due to its location, the users of this service are guaranteed to have the fastest and most secure virtual private connection without worrying about any government data retention laws. This service provides an anonymous and secure VPN connection without any data logs or connection logs, with top-notch security features available to protect the online privacy of the users.
As soon as you make your payment, they provide you a key and a link by which you can download and sign in with an email and paste that key as the password. It provides fast service, and the provider doesn't keep you waiting for the link and the key. It's easy to use interface, and a provision of various features of security, anonymity, and speed are some of the most focused elements of the application.
Choosing Location According to Requirement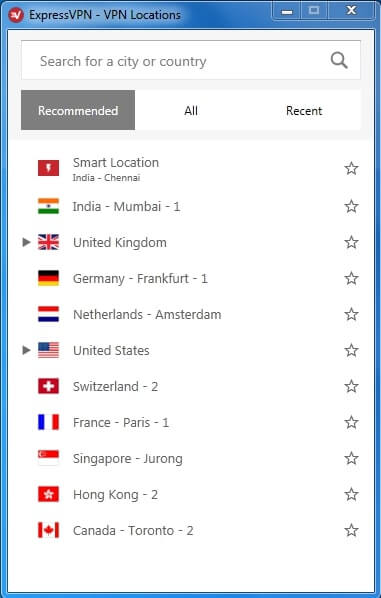 Unlike other similar services that only offer a few server locations even for their premium VPN subscription, ExpressVPN offers 148 server locations that are scattered throughout all continents worldwide. You can find servers that are based on Europe, Asia Pacific, America, Africa, Australia, and the Middle-East countries. When you click on the choose location button, then three different tabs will appear titled with "Recommended," "All" and "Recent."
This division is more helpful than you can realize. While using the application, the recommended server option provides you the option for the fastest available server with least traffic. The list of all servers let you have access to the server of the countries for particular content is not available worldwide but only for that location. And if you find an appropriate link it and use it gets saved in the recent server. The only hard work you need to do is to find the appropriate server initially according to the required content.
Speed Test For All the Servers: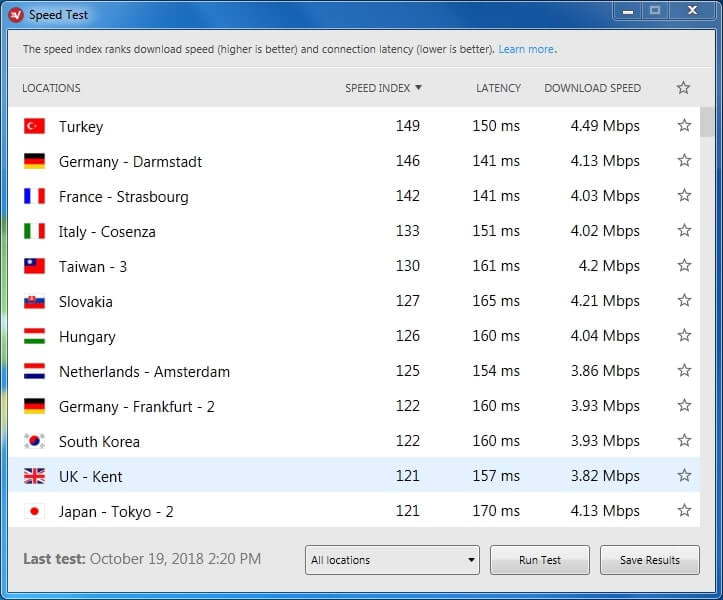 Speed test is the best way that experimentally provides real-time data about the speed of various servers. You can directly click on the hamburger button ≡ provided on the top left corner of the screen.
Some of the servers show "error," or "cancel" when speed test is done, but that's a temporary issue. When we ran the speed test again, error with only one server location was repeated. Speed test provides you the result that which connection would be the fastest for you and that's how ExpressVPN allows you to use its service without compromising with the speed. If you need to unblock the content of a specific country, you can select one of the servers that have the fastest speed among all the servers of that country.
No Connection Logs or Activity Logs
The basic requirement of a VPN is not to allow any third party to read the data but if activity logs are stored, then using that VPN becomes useless. ExpressVPN has this positive feature in which they claim that they do not store any personal information. If you go to the advance options of this VPN, you will find that what it stores is crash reports, speed tests and whether VPN connection attempt succeeds or not. This is probably for the improvement of the app, but even after that, it's optional that you want to share these details or not. It keeps you permanently anonymous whenever you get connected with it.
Many other VPN services, on the other hand, need to hand over their user data as a requirement to comply with the rules of their respective government. As a result, most of them need to log the users' data while using the private connection. However, it is not so for this virtual private network service.
Kill Switch
Every application has its weaknesses and it is there in ExpressVPN also. Like, every other software, ExpressVPN may stop working unexpectedly, and that issue could be with any other VPN also. How ExpressVPN solves this issue is important. The implementation of kill-switch is the solution. Whenever any malfunction occurs, the internet traffic is stopped immediately so that no one can trace the data that you were streaming. Though, for this, you need to install SP1 (Service Pack 1) whose installation button is directly provided below the networking and split tunneling option.
Split Tunneling
The split tunneling feature allows you to split your network connection into two types of connection. The first type is the private connection, and the second type is the regular connection. With this feature, it is possible that you can route some of your internet traffic to use the regular connection while routing other traffic to use the private connection. So, for example, if you want to use your connection for both accessing local websites and watching region-restricted movies, you can split the network connection to use two different connection types at the same time.
Protocol Options: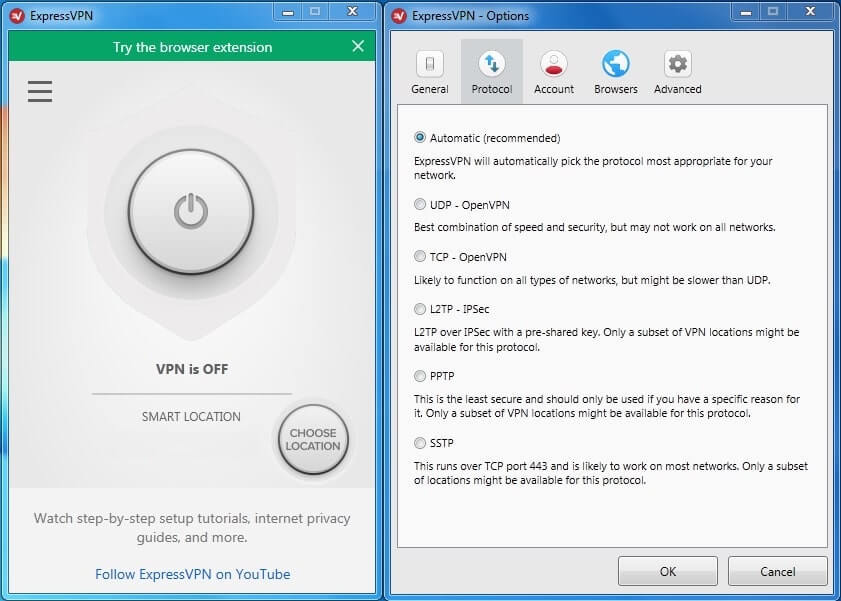 The protocol could be altered according to speed, performance and security requirements. You can change the use of protocol anytime while using this VPN. The only thing is you need to disable the VPN before changing the protocol, and after that, you have manually switch it on. The options provided by ExpressVPN covers all important VPN protocols: UDP-OpenVPN, TCP-OpenVPN, L2TP-IPSec, PPTP, and SSTP. It also has an automatic option which selects the recommended protocol, but it doesn't show which protocol it is selecting, so it's better to choose manually as we already know that OpenVPN serves the best and PPTP isn't a secure one.
Speed Test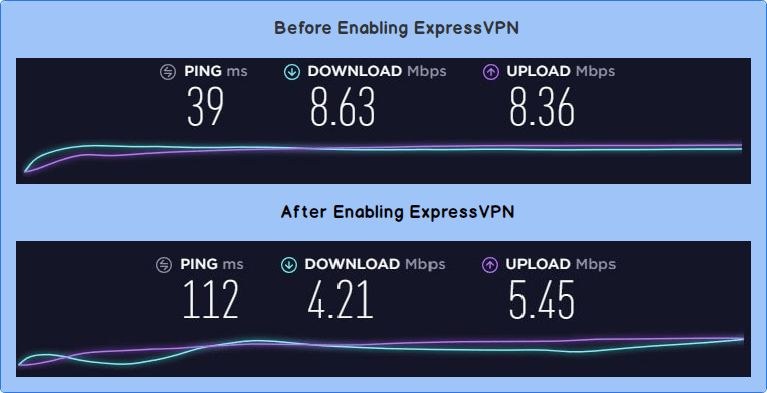 We wanted to have a look that ExpressVPN has done to provide its users the blazing speed which they claim. When we ran the speed test without VPN connection, it was 8.63 Mbps for download speed and 8.36 Mbps for upload speed. After this, we setup a connection with Express VPN, and download speed was reduced to 4.21 Mbps, and upload speed was reduced to 5.45 Mbps. With this speed, one can stream good quality content as it reduces speed, but with that, it also provides blocked content with a secure connection.
With the speed test, you can find out the server with the highest speed, and in that way, you don't need to compromise much with speed also. Still, if you are not worried about the security, ExpressVPN provides the option of connecting with PPTP (not recommended) protocol that provides less security but high speed.
User Interface and User Experience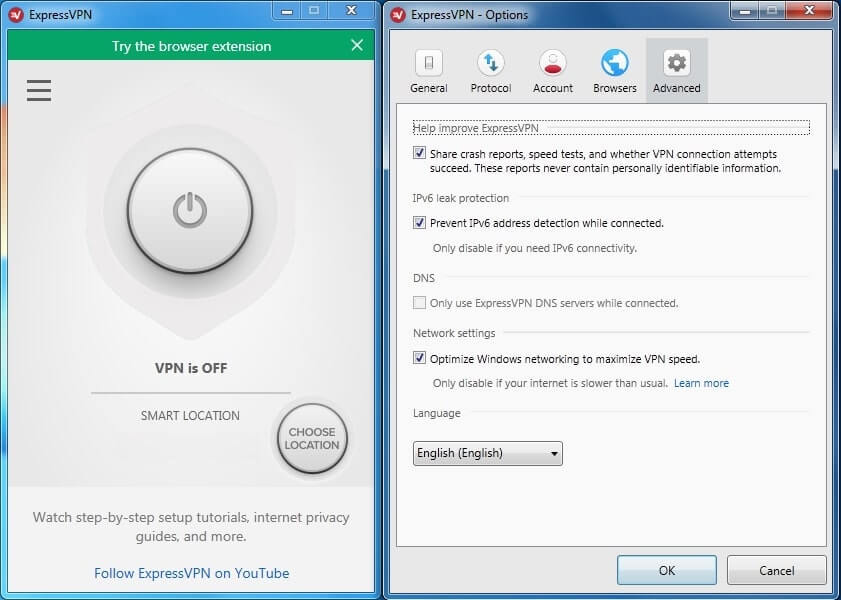 Discovering different options may take a little time, but it will become simple after you start using it on a daily basis. As soon as you open the app, you will find a direct switch that turns on and off VPN without much effort. The 'choose location' button that appears on the bottom right corner is easy to discover. It may take some time to find out about all the options provided such as how you can beneficially use speed test, about split tunneling and some more advanced options. Every option can be reached by clicking on the hamburger button ≡ and discovered one by one.
Security
The best encryption system that you can use on a virtual private connection is the AES (Advanced Encryption Standard) 256-bit connection since it provides the best protection for your network. This helps to keep your data separate from the rest of the rest of the internet and could not be broken by brute force. The U.S. government adopts this encryption system, and it is also recommended by security experts worldwide. One more feature that makes ExpressVPN reliable is its generation of the new key every 60 minutes. Even if the attackers pass somehow compromise your computer or VPN server, they won't be able to get the data of more than one session (60 minutes).
DNS requests also put your privacy at risk, but ExpressVPN has taken care about this issue. It has its private DNS which doesn't allow any third party involvement. It is called the zero-knowledge DNS protection. This is the feature that ensures that the users don't have any DNS leak problem while using this service. This is because each server is covered with its encrypted DNS to ensure that the user's real DNS is not getting leaked. Each encrypted DNS is private for that server only, meaning that if you switch to another server location, you get another encrypted DNS to protect your regular connection.
Platforms Offered:
ExpressVPN covers nearly all the platforms including various mobile devices, tablets, laptops, and desktops. It is also available for wireless routers and provides media streamer for consoles and smart TVs. It provides Brower extension for Chrome, Safari, and Firefox that automatically gets switched on directly with the browser. They don't provide an extension for internet explorer but for that, you can use it from their windows app or browsing another browser would also be a good option. Talking about windows, ExpressVPN doesn't have an app developed for windows phone, but you can configure VPN to it by using manual setup.
However, the number of platforms is limited for one account. It can only be installed in three devices with one account, but if you install in a wireless router, then every device connected with that router automatically gets connected to the VPN.
Customer Support:
The ExpressVPN website is highly informative providing all the details about the software and its service and a detailed description of its working. In addition to that, they also provide guides about the functionality of the app for their users.
In the software itself, the option of "contact support" is provided. You can directly send your query through to support through that, but for a faster reply and instant help, you can go to ExpressVPN's website and find a "Live Chat" option on the bottom right corner of the screen. ExpressVPN's live chat is an interactive medium of contacting the support. They provide a complete explanation to solve your query, and if it doesn't fit in a text box, they will provide proper links that could solve your doubts.
Conclusion
ExpressVPN is a virtual private network service that focuses primarily on speed, anonymity, and security. With this service, users can enjoy complete internet freedom, while protecting their online privacy and security. You can use this VPN service to access any content on the internet without restrictions, and you are protected with various security features such as IP address masking, 256-bit encryption, multiple protocol support, zero-knowledge DNS, split tunneling, and more. It also offers hundreds of server locations worldwide, with each server being optimized for the best speed and performance. You can even check your VPN speed using the built-in speed test feature. All in all, if you want the fastest and most secure VPN connection, this is the one that you need to use.