Pros
Huge Server Network: ExpressVPN provides 148 server locations worldwide established in 94 different countries. It provides the opportunity of accessing the content that's only available at a particular country, i.e., one can assess the local content of the 94 countries where servers are placed.
Available for numerous platforms: ExpressVPN client is available for most of the required platforms. Visiting the application page provided us with the information that the only missing platform is Windows Phone. Still, you have the option to configure some of the selected models manually.
Extensions for Prominent Browsers: ExpressVPN has extensions for all the prominent browser: Chrome, Firefox, and Safari. The only issue is that they have not yet updated the extension for Safari 12.
Inbuilt Speed test: There is an option on the application itself which allows the user to conduct the speed test and latency test for all the servers. It is also possible to perform a speed test for a particular region and recommended servers.
Efficient Kill Switch: Kill Switch is a necessary element of a VPN application. It doesn't allow connecting to the internet when the VPN connection stops without any indication and saves data leakage.
Split Tunneling: There can be some applications for which you don't need VPN layer. However, if we connect them to VPN, data exchange may get slow. To avoid that, ExpressVPN provides you the option to select for which applications for which you don't want to use the VPN.
Proper Division of Server Locations: ExpressVPN has divided the server locations under separate titles which makes it easier for the user to identify the required server. You can select a server location according to the region.
Multiple Protocols: It provides four different protocols which have different security levels. By choosing different protocols speed also differs, and the information about that is itself provided in the protocol window.
Includes IPv6 leak protocol: If you need IPv6 connectivity, then you can disable its detection while you are connected to the internet; otherwise, it automatically detects and restricts the user to visit the site using IPv6.
Zero-Knowledge DNS: They own zero knowledge DNS servers which don't log any information about the websites which anyone visits.
Reliable Live Chat Support: Live chat support helps users with payment as well as technical issues. You can expect fast, elaborated, and useful replies from their support team.
Cons
Requires Server Pack 1: Without service pack 1, network lock and split tunneling features can't be used. Though, its download option is directly provided on the application.
Three Simultaneous Devices: One subscription can only be used in up to 3 devices simultaneously, but it's pretty much what's required. If you install it in a router, it will get connected to every device which is connected to the router.
No Free Trail: It doesn't have any free trial version, and you can only download it after completing the payment. However, if you aren't satisfied with the application, you can take advantage of ExpressVPN's thirty-day money back guaranty.
Official Website: Visit Website
Overview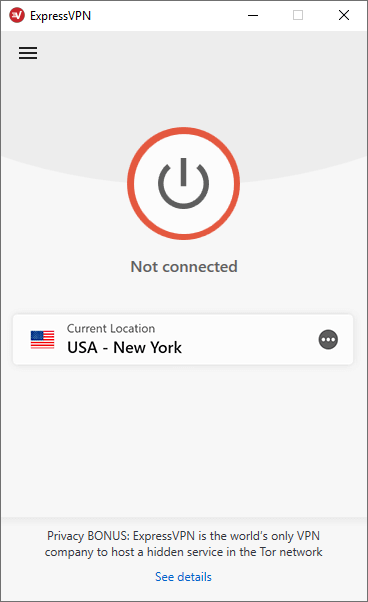 Privacy is a major concern of every individual, and VPN is the key to lock your data safely. With the help of encryption and proxy servers, it becomes impossible to identify the data as well as the source from where it is generated.
However, if the VPN provider keeps logs, then it could be an issue. As these logs can be shared with third-parties and the government. This ruins the whole purpose of using a VPN application.
Therefore, it is necessary to find a trustworthy provider who commits to safeguard your privacy. Besides ExpressVPN, we have also reviewed several other VPN applications out of which NordVPN, CyberGhost, and Astrill seems trustworthy.
Considering the reputation that ExpressVPN has built, we can assume that it would not keep any connection logs. But for discovering reality and converting the assumption into fact, we are going to dig deep into its privacy policy.
ExpressVPN is a virtual private network service based at the British Virgin Islands which is a British overseas territory.
Its location is one of the major factors that push us more to do intense research about logging.
Readers who do not know about the Five Eyes may not know why the location of the company is a prime concern. For readers' knowledge, the United Kingdom is one of the Five Eyes countries that means it conducts surveillance programs on its citizens.
| Quick Overview | |
| --- | --- |
| Protocols | OpenVPN with TCP/UDP, SSTP, L2TP/IPSec, PPTP |
| Platforms | Windows, Mac, LInux, iOS, Android, Chrome, Firefox, Safari, Smart TV, Routers |
| Jurisdiction | British Virgin Islands |
| Logging | No Logs |
| Encryption | AES-256 |
| Connections | Upto 3 |
| Locations | 90+ Countries, 160 Locations |
| Servers | 3000+ |
| Netflix/P2P | Yes |
| Payment Options | Credit Cards, PayPal, Bitcoin, UnionPay, Ideal, Mint, GiroPay, Web Money and more… |
| Support Options | Livechat, Email |
| Pricing From | 8.32/month (Billed Annually) |
| Guarantee | 30 Days |
| Website | Visit Website |
The British Virgin Islands doesn't have any strict data retention laws, but as it is British overseas territory, there are chances that it provides information to the British Government. We will go through the provided data, and let you know if the provider is trustworthy or not, despite its location.
We have taken various other aspects into consideration such as speed, features, platforms, and user interface while writing this review. A perfect VPN application should score high in each aspect to earn an overall high rank.
In our review, with purely unbiased opinions, you will get the complete insight of ExpressVPN. You will come across a few extraordinary points but also find some drawbacks.
A complete balance will lead to a conclusion. However, as we always say, it depends upon the user whether the limitations affect his use of the application or not. That's why the final decision lies in your hand.
Server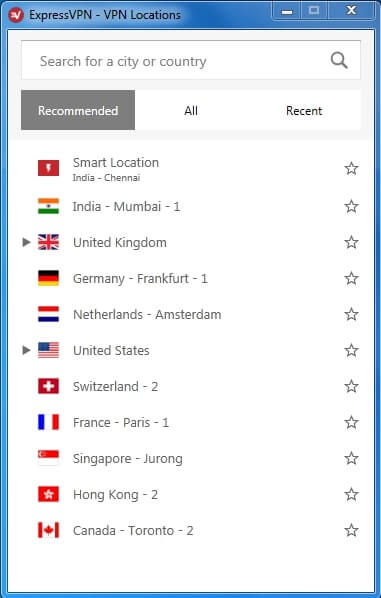 The number of servers is one of the few factors for performance of a VPN application. Aspects such as speed and security have a direct link with the server locations.
First taking security aspect in the discussion, servers are required to be situated at such a place which goes undetectable by the cyber-trackers. ProtonVPN has delivered such an example by placing servers at military bases and unground locations.
Although ExpressVPN's physical security measures may not be as high as ProtonVPN's, we have learned that it is enough to protect individual privacy.
The data centers where servers are stored don't ask the provider to keep any logs. Even if the hackers break through the encryption of storage devices added at the server locations, they wouldn't find any information because of no logging.
The physical server security is up to the mark, and one doesn't need to worry about the data leakage through server centers.
Unlike other similar services that only offer a few server locations even for their premium VPN subscription, ExpressVPN offers 160 plus server locations that are scattered throughout all continents.
You can find servers that are based on Europe, Asia Pacific, Americas, Africa, Australia, and the Middle-East countries, i.e., all over the world. This directly affects the speed experienced by the user after the VPN connection.
The speed depends upon two factors: server density and distance between the server and the user.
As we already know that there are servers in ninety-four countries, it means in most of the cases, the distance between a user and his respective closest server is acceptable.
If we further discuss the server placement, European users enjoy the maximum number of server locations, and thus, high server density. The service provider has placed its servers in nearly fifty European countries.
Out of these fifty countries, eight countries have multiple server locations. This is done to deliver a satisfactory user-server ratio.
However, if you find high traffic on the servers of your country, you can connect to the server location of a neighboring country.
Due to the small size of European countries, it is sufficient for most of the countries even when they add a single server location.
However, the same scenario is not present in North America. The United States and Canada have vast areas and handling all the users through one single location would lead to user dissatisfaction due to low speed.
Therefore, they have added thirty-two server locations in the United States covering the complete area. But for Canada, only four server locations are placed.
This could be because of a lesser number of ExpressVPN users in the country. Because of this, the users living far from the present server locations may experience low speed. If you are a user from Canada, we would suggest you check the speed first after you purchase a plan.
Currently, the number of VPN users in Asia may not be as high as in Europe or America. As we can check on ExpressVPN's website, server data centers exist in twenty-four Asian countries.
With no doubt, there would not be any speed issues for Asian users.
However, the issue can arise while finding the most prominent server location for a specific location. The server location that delivers the fastest speed changes as the location of the user changes.
You don't need to manually find a high-speed server location as ExpressVPN's Smart Connect performs this job for you. All you need to do is to click on the connect button, and it will automatically identify the best server for you.
In case the user wants to identify a specific server location manually, servers are divided according to the region for the ease of use.
When you click on "All Locations," which is present under VPN Locations section, you will find four options: Asia Pacific, Europe, the Americas, and Middle-East and Africa.
When you click an option, list of countries from that region will appear. ExpressVPN searches the needed server effortless by the further expansion that allows the user to connect to the exact location as shown in the image below.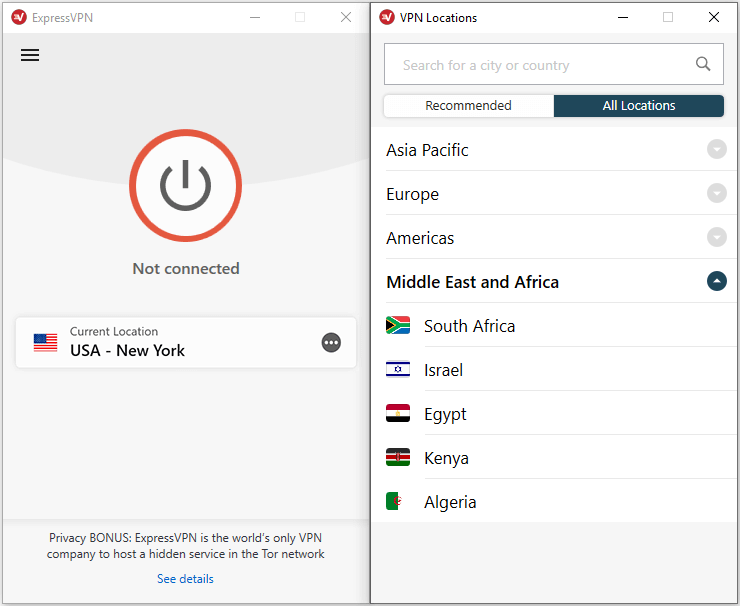 Previously, there was a Choose Location button which has three different tabs titled as "Recommended," "All" and "Recent."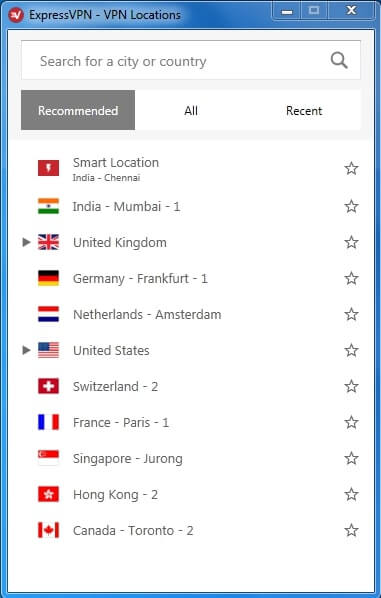 There are some changes in the current User Interface, and now one needs to click on "three dotted buttons" placed next to the server name on the main screen to choose a location. An alternative to this is mentioned above: choosing VPN locations.
The Recent Server section is now placed above the Recommended servers. This division is more helpful than you can realize. PureVPN also has an impressive server filtering which you should check once.
While using the application, the recommended server option provides you the choice to connect to the fastest available server with the least traffic.
The list of all servers let you have access to the particular content which is not available worldwide but only for a particular country. And if you find an appropriate server according to your requirement, it automatically gets saved in the recent server section after you use it.
The only hard work you need to do is to find the appropriate server initially according to the required content.
Inbuilt Speed Test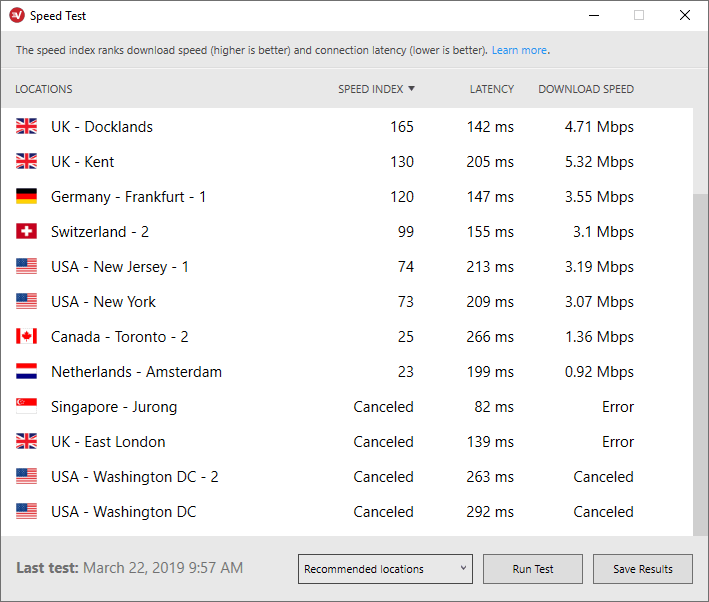 Speed test is the best way that experimentally provides real-time data about the speed of various servers.
You can directly click on the hamburger button ≡ provided on the top left corner of the screen where you will find the speed test option.
You can select, for which servers you wish to run the speed test; you can either choose to run the speed test only for recommended servers or you can select a specific region.
They could have allowed the user to conduct a speed test for servers of a particular country or a specific server all over the world. That would give more flexibility to the user in identifying the ideal server.
If you need to unblock the content of a specific country, you can select one of the servers that have the fastest speed among all the servers of that country.
In addition to speed, it also identifies the latency and speed index.
Some of the servers show "error" or "cancel" when speed test is done, but that's a temporary issue. When we ran the speed test again, error with only one server location was repeated.
Speed test provides you the result- which connection would be the fastest for you, and that's how ExpressVPN allows you to use its service without compromising with the speed.
You don't even need to run the speed test multiple times. It can be saved as a text file which you can use for future reference. In case if your requirement changes, you can change your server by looking at the information present in the text file.
However, it cannot be considered valid for the long run as the server locations' efficiency changes along with the time.
No connection logs
The basic characteristic of a good VPN provider is not allowing any third party to read the data. But if the activity logs are stored, then using that VPN becomes ineffective.
ExpressVPN strongly claims that they do not store any personal information. If you go to the advanced options of this VPN, you will find what it stores is crash reports, speed tests, and whether a VPN connection attempts to succeed or not.
This is probably for the improvement of the app, but even after that, it's optional that you want to share these details or not. It keeps you permanently anonymous whenever you get connected to it.
Many other VPN services, on the other hand, need to hand over the user data as a requirement to comply with the rules of their respective government.
As a result, most of them need to log the users' data while using a private connection.
As we have discussed in the overview section, ExpressVPN comes under the law of the British Virgin Islands (BVI).
The United Kingdom is amongst the Five Eyes, and the British Virgin Islands is a British overseas territory, so one may think that the UK indirectly has somewhat control over the country.
However, while going through the privacy policy, we found that the BVI government works independently, and only the BVI Supreme Court can order a company to reveal customer information.
Hence, one can eliminate the possibility of involvement of any Five Eyes country including the United Kingdom.
Moreover, if the BVI Supreme Court orders ExpressVPN to disclose the information related to a specific user, they can't do it as they do not collect any personally identifiable information.
The only information they store is the traffic volume which is done to avoid abuse of the service. In case if someone's bandwidth usage is more than a thousand users combined, they may track the person.
However, they would still not know what the transferred data consists of.
Kill Switch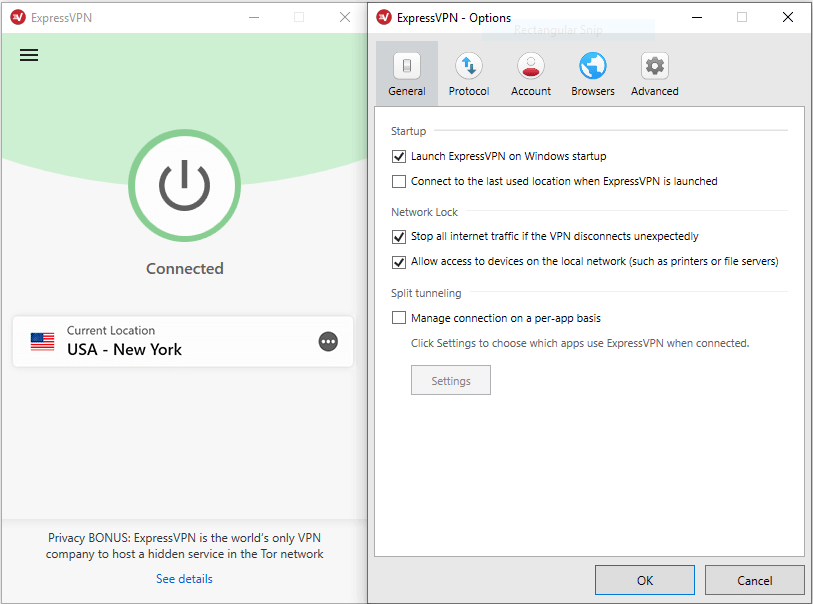 Every application has its weaknesses, and it is there in ExpressVPN also. Like, every other VPN application, ExpressVPN may stop working unexpectedly.
However, the essential part is how the provider solves the issue of data leakage which may occur when the connection drops. The implementation of kill-switch is the solution.
Whenever any malfunction occurs, the internet traffic is stopped immediately so that no one can find out about the online data transfer.
When the VPN connection is established again, it automatically gives way to the data transfer, and the Internet starts functioning normally.
But for this, you need to install SP1 (Service Pack 1) whose installation button is directly provided below the networking and split tunneling option.
Split Tunneling
The split tunneling feature allows you to split your network connection into two types of connections: the first type is the private connection, and the second type is the regular connection.
With this feature, it is possible that you can route some of your internet traffic to use the regular connection while routing the rest of the traffic to use the private connection.
So, for example, if you want to use your connection for both accessing local websites and watching region-restricted movies, you can split the network connection to use two different connection types at the same time.
It is also helpful when you don't require the VPN connection for a few applications and need for others. The applications which perform data transfer under regular connection has higher speed than the ones which are protected by VPN.
So, if there is no need for security for a specific application, there is no need to compromise with the speed. You can either select the applications you don't wish to be protected by the VPN connection or else add the ones which you need to protect.
Protocol options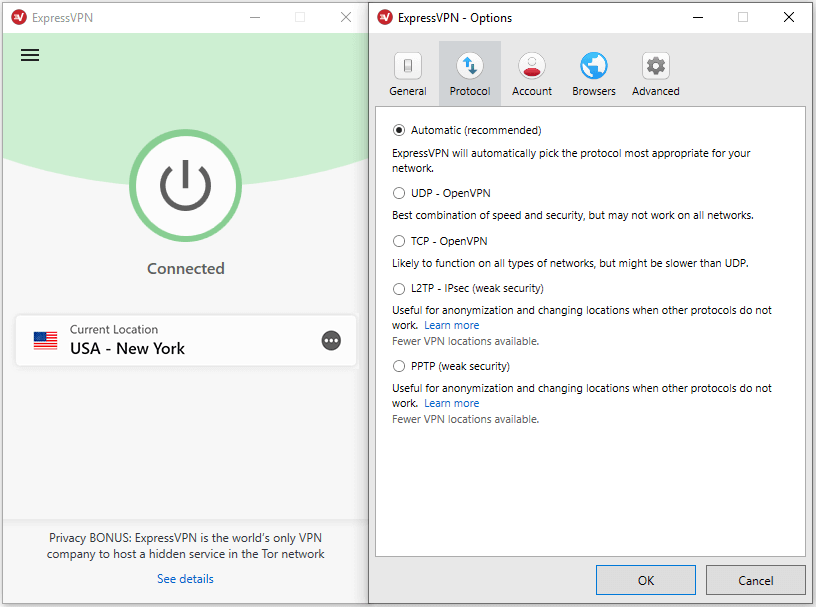 The protocol could be altered according to speed, performance, and security requirements. You can change the use of protocol anytime while using this VPN.
The only thing is you need to disable the VPN before changing the protocol, and after that, you have to switch it on manually.
The options provided by ExpressVPN covers all important VPN protocols: UDP-OpenVPN, TCP-OpenVPN, L2TP-IPSec, PPTP, and SSTP.
It also has an automatic option which selects the recommended protocol, but it doesn't show which protocol it is selecting, so it's better to choose manually as we already know that OpenVPN serves the best and PPTP isn't a secure one.
Have you ever heard about the Chameleon Protocol? You can go through the VyprVPN Review to know more about this feature.
Speed Test
We wanted to have a look that what ExpressVPN has done to provide their users the blazing speed which they claim.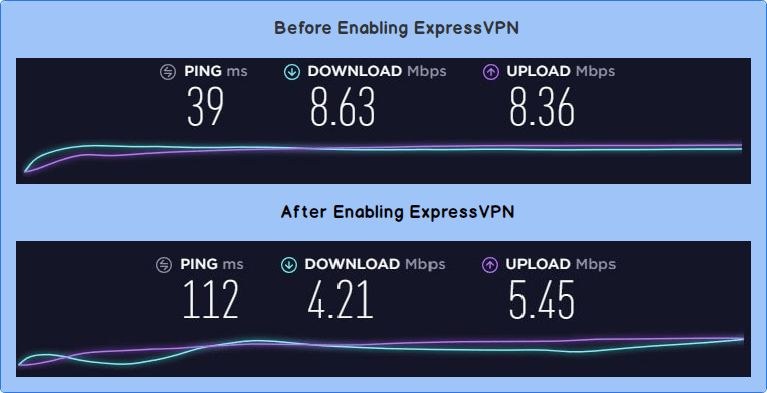 When we ran the speed test without a VPN connection, the speed was 8.63 Mbps for downloading and 8.36 Mbps for uploading. After this, we setup a connection with Express VPN, and download speed was reduced to 4.21 Mbps, and upload speed was reduced to 5.45 Mbps.
With this speed, one can stream content of acceptable quality.
From the speed test, you can find out the server having the highest speed, and in that way, you don't need to compromise much with speed.
If you are not worried about the security, ExpressVPN provides the option of connecting with PPTP (not recommended) protocol that provides lesser security but higher speed.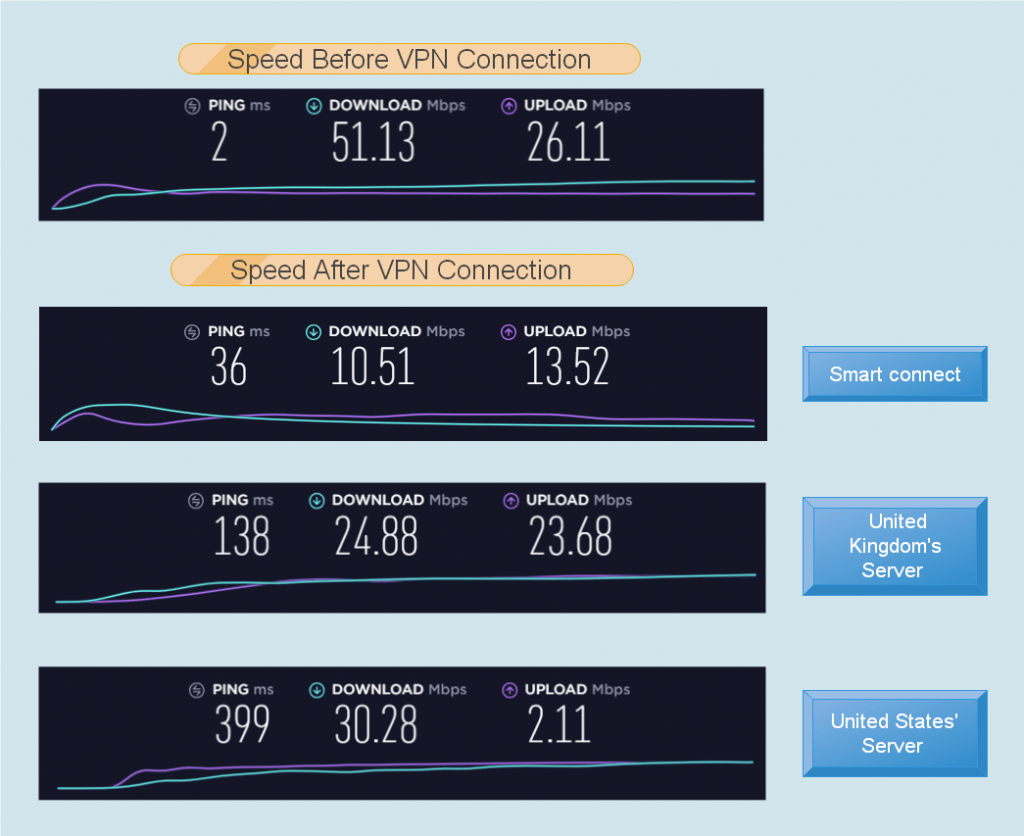 It is always better to conduct multiple tests as they provide results which are more credible than the results obtained after a single test.
Therefore, we connected our system to another network providing us with a download speed of 51.31 Mbps and upload speed of 26.11 Mbps.
There is a smart connect option which we have already discussed under the serversection. When you select that, it usually connects your system to the closest server location or the server which has the lowest latency.
It is expected that the server chosen by the smart connect would render the highest speed amongst the speeds provided by all servers. In our case, expected didn't happen, and download and upload speeds obtained were only 10.51 Mbps and 13.52 Mbps.
The speeds recorded for the previous network were 50% (download) and 75% (upload) of the speed without a VPN connection. With the second network, 80% reduction for the download speed and 50% reduction for upload speed were found.
Therefore, we were not sure whether the ExpressVPN provides such a low speed for all users, or it is the case with the particular server. The speeds were uneven, and hence, connecting to other servers was necessary.
We connected our system to the United Kingdom server where we received remarkably high upload speed- 23.68 Mbps. The speed is nearly 90% of the speed without a connection. There must not be any objection if we state this speed justified.
However, we think that download speed, which was 24.88 Mbps can still be improved as a 50% reduction is faced here.
Perhaps, it could be because of the enormous distance between our location and the server. Distance plays a significant role in affecting the speed. With the increase in distance, the decrement of speed is a usual experience.
The last test was conducted for the United States server location. It is a prominent country for VPN providers who earn a lot of subscribers from here.
The United States server locations are also used for streaming purpose. Therefore, they ought to provide good downloading speed.
The ping received was very high- 399 ms. However, even after such a high ping, we had recorded a download speed of 30.28 Mbps.
Here, we need to express the need for higher speed, but again, distance could be an annoying factor. If we are receiving 30 Mbps, we are pretty sure that users residing in the USA would receive a better speed than this.
Upload speed is still in trouble as it is ONLY 2.11 Mbps. Considering the reputation of ExpessVPN, we are hoping it would be a temporary issue.
In case you want to check it yourself, you can take advantage of the 30-day money back guarantee. There is a possibility that it is because of our location. For concrete decision, one must check the speed for his own location.
One remark that we must make here is as we all know that people all over the world wish to connect to Netflix USA, the servers must render high speed irrespective of distance. That's the only possible way to satisfy the Netflix craving of users present across the world.
Overall, the speed is satisfactory if you have a high-speed connection. If the ISP provides less than 10 Mbps, it is concerning. You can check results for that in the previous speed test.
User Interface and User Experience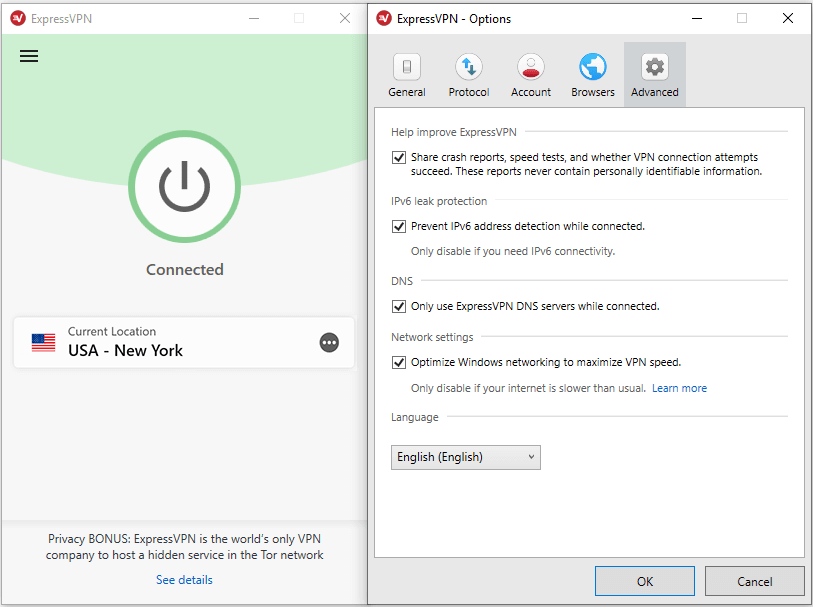 Discovering different options may take a little time, but it will become simple after you start using it.
As soon as you open the app, you will find a direct switch that turns on and off the VPN without much effort.
A 'Choose Location' button used to appear on the bottom right corner. However, now no such button is provided, and we have already discussed how one can find the various server locations.
It may take some time to find out about all the options provided such as how you can beneficially use speed test, about split tunneling, and some more advanced options. Every option can be reached by clicking on the hamburger button ≡ and can be explored one by one.
You already have information about how servers are categorized based on the region. The advantage of categorization is also discussed under the Server Section.
However, one can not find a separate section for P2P optimized servers. Perhaps, they may allow P2P sharing for all the servers. The customer support team suggested to us that for torrenting only use the servers of the countries where torrenting is allowed.
Thus, a separate list of such servers must be provided so that users can search for the required server easily.
Similarly, there is no server list provided for streaming servers. If one wishes to connect to a streaming server to access a streaming website of a specific country, he needs to connect to all the servers to find the proficient server.
That lowers down the user experience as it is tough to find the streaming server for each country. They can add a list containing server name along with the channel. This way one can start streaming within seconds without much effort.
Most of the features present under the options section are discussed under their respective section. However, there are a few more features related to client behavior.
You don't need to connect to ExpressVPN server every time you start the system. For making the experience effortless, they could have added an option to launch the ExpressVPN whenever the system starts.
For letting the application automatically connect to the last selected server, you can tick mark the second option present on the General Settings tab.
If you often forget to turn ON your VPN connection before using the internet, these simple options will make sure to safeguard your privacy.
ExpressVPN renders you the control to manage whether you wish to "allow access of the devices present on the local network." The option may not seem to be significant, but it helps to protect the system from hackers who can reach us through these local devices.
Furthermore, IPv6 leak protection and DNS leak protection are implemented on the advanced features of the applications.
Overall, ExpressVPN is loaded with an immense number of security-related features. That shows the seriousness towards their commitment of keep the users' data safe.
It is easy to go through all the features, and with smart connect, you don't even need to go and alter the by default settings.
ExpressVPN has a well-structured client that houses most of the required options and provides an easy connection.
However, the use of STTP protocol is considered safe, and it is preferred next to OpenVPN. In the case of ExpressVPN, if the OpenVPN (TCP & UDP) doesn't function, one needs to connect to L2TP which has weak security. They need to add STTP which would act as a reliable backup.
Features such as port forwarding and various encryption options will give more flexibility to the user making the user experience better in comparison of what it offers now.
Security
The best encryption that you can use on a virtual private connection is the AES (Advanced Encryption Standard) 256-bit since it provides the best protection for your network.
This helps to keep your data separate from the rest of the internet and cannot be broken by brute force.
The U.S. government has adopted this encryption system, and it is also recommended by security experts worldwide.
One more feature that makes ExpressVPN reliable is- it generates a new key every 60 minutes. Even when the attackers bypass the encryption somehow and compromise your computer or the VPN server, they won't be able to get the data for more than one session (60 minutes).
DNS requests put your privacy at risk, but ExpressVPN has taken care about this issue. It has its private DNS servers which don't allow any third-party involvement. It is called as zero-knowledge DNS protection.
This is the feature that ensures that the users don't have any DNS leak problem while using this service. This is because each server is covered with its encrypted DNS to ensure that the user's real DNS is not getting leaked.
Each encrypted DNS is private for that server only, meaning that if you switch to another server location, you get another encrypted DNS to protect your regular connection.
Besides this, they have also provided a high physical level of security to its servers that we discussed in the server section. So, the hacker waiting at the server end to gather information is surely going to be disappointed.
Platforms
ExpressVPN covers nearly all the platforms including various mobile devices, tablets, laptops, and desktops. It is also available for routers and provides media streamer for consoles and smart TVs.
It provides Brower extension for Chrome, Safari, and Firefox that are directly used with the browser.
They don't provide an extension for internet explorer but for that, you can use it their windows app or browsing through another browser would also be a good option.
For other extensions, it offers all the server locations which it offers for the application. The Smart Connect option is also provided here letting it automatically select the server with the lowest latency.
A few settings for making users' life easier have been added such as "connect when browser launch." This feature encrypts your browsing activity by automatically connecting you to the smart server.
You can also turn ON desktop notification which informs you whenever the application gets connected and disconnected.
If we look for the limitations when it comes to the platforms, we have detected one. ExpressVPN doesn't have an app developed for Windows Phone, and the only way to use it on Windows Phone is to configure it Manually.
The number of platforms is limited for one account. It can only be installed in three devices with one account, but if you install it on a wireless router, then every device connected to that router automatically gets connected to the VPN.
Customer support
The ExpressVPN website is highly informative providing all the details about the software, its service, and its working. In addition to that, they also provide guides about the functionality of the app for their users.
In the software itself, the option of "contact support" is provided. You can directly send your query to support through that option, but for a faster reply and instant help, you can go to ExpressVPN's website.
There you will find a "Live Chat" option on the bottom right corner of the screen. ExpressVPN's live chat is an interactive medium of contacting the support.
They deliver a complete explanation to solve your query, and if it doesn't fit in a text box, they will provide proper links that could solve your doubts.
There can be instances where the support team won't be able to help to solve your queries. In those cases, they will ask you to generate a ticket.
The support provided through email contains replies more descriptive than what we find in case of live chat.
However, before contacting them, you can also take the advantages of self-help options such as FAQs. You may not find many FAQs here (nearly 40), and so they need to add more based on the issues which their users face.
A large FAQ section decreases the effort required to put by the company's human resource, and users will also find the solutions without contacting.
Therefore, it is beneficial for both ends. If you do not find a solution to your problems in FAQs, then we have already mentioned the two other ways by which you can contact them.
Conclusion
ExpressVPN is a virtual private network service that focuses primarily on speed, anonymity, and security.
Although they take care about the users' data protection with various security features such as IP address masking, 256-bit encryption, multiple protocol support, and zero-knowledge DNS, they still need to add a few more features.
L2TP and PPTP are available for backup if the OpenVPN protocol (TCP and UDP) fail. As discussed, easier, these backup protocols are not reliable, and the addition of STTP protocol is urgently needed.
When we talk about the speed, smart connect failed to provide us a high speed, and thus, they need to work on the algorithm which they use to connect our system to the most prominent server for our location. When manually connected to other servers, satisfactory speed was obtained but was not remarkable.
When unblocking the content is needed, thankfully, you can get access to Netflix USA. The other websites such as Google, YouTube, etc., can be accessed from the countries where they are restricted.
Moving to platforms and customer support, both aspects can't be improved much as they are already good enough. They nearly have clients or setups for every platform. The only concern is only three simultaneous devices. Is that enough for you?
The support team has courteous and professional executives who provide the relevant answers in not more than a minute.
These features make ExpressVPN one of the top VPN providers having only a few drawbacks which remain ineffective for most of the users.
You can check the alternative VPN applications on VPNcrew, but remember, every application has limitations. You need to select the one whose limitations don't affect your requirements.