Pros: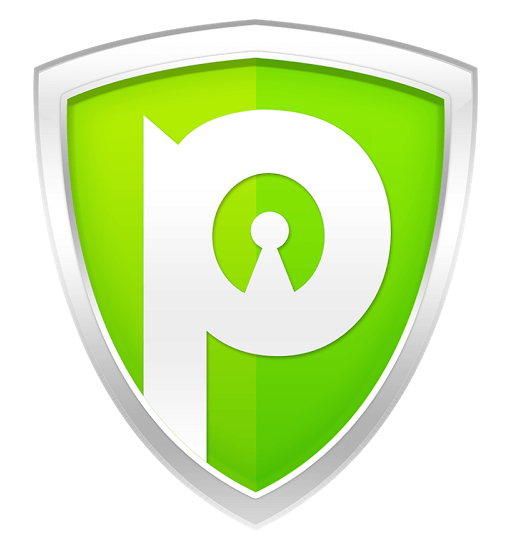 PureVPN has one of the best server networks which not only works efficiently for European and American users, but it's a perfect option for Asian and Oceania users also.

They provide many features such as Split Tunneling, Gravity and VPN hotspot which add-up together to deliver an easygoing, smooth, user-friendly experience.

Port forwarding option allows you to access your system remotely through a VPN network. If this option were not present, a third-party application would be required for remote access.

PureVPN doesn't rely on any external party for DNS servers as they have own primary and secondary DNS servers.

They provide different network modes which are like filtering of servers according to requirement. It is done efficiently and covers every requirement.

Their customer support uses team viewer application expeditiously to solve the issues in a shorter time span where the user could sit back and see them beating the problems.

The VPN providers based in Five Eyes and Fourteen Eyes are monitored by the government, and even intelligence agencies have some control over them. Fortunately, PureVPN is based in Hong Kong, and thus, they don't need to store any data and can, work independently.
Cons:
PureVPN offers browser extensions only for Chrome and Firefox, and not for other browsers such as Safari and Opera Mini.
They provide special servers for streaming different popular channels. However, till now, regarding Netflix, only Netflix USA and Netflix US are available.
Ozone feature is available for complete protection, but it is only available for Security/Privacy option and a limited number of servers. However, customer support executive told us that the developer team is working for adding it to other modes also.
There was a minor glitch that the list of servers disappeared one time when we started the application. There is a simple solution to it, and it is log out, and log in again. We asked the support about the frequency, and they replied that "you will not face this again. it occurs only when you have downloaded the upgrade."
Website: Visit Official Site
Overview:
| Quick Overview | |
| --- | --- |
| Protocols | PPTP, L2TP, SSTP, IKEv2, OpenVPN, Stealth Protocol |
| Platforms | Windows, Android, Mac, iOS, Linux, Smart TV, Streaming Services, Chrome, Firefox, Routers, Consoles |
| Jurisdiction | Hongkong |
| Logging | Some Loggs |
| Encryption | AES 256 |
| Connections | 5 Connections |
| Locations | 180+ Locations |
| Servers | 2000+ |
| Netflix/P2P | P2P Protection |
| Payment Options | Credit Card, PayPal, CoinPayments, PaymentWall, Gift Cards |
| Support Options | Live Chat, Support Tickets |
| Pricing From | $ 3.33/mo Billed Yearly |
| Guarantee | 31 Day |
| Free Trial | No |
| Website | Visit Website |
Hong Kong! Can we consider it as the best location for a VPN provider's headquarter? Well, away from the Five Eyes and Fourteen Eyes is itself a sign of relief. Not only this, but PureVPN owned by GZ Systems Limited, located in Hong Kong has also developed a good server network for American, European and for Asian users also.
Their location provides them dominance over Asia that helps to build a better user base all over the world.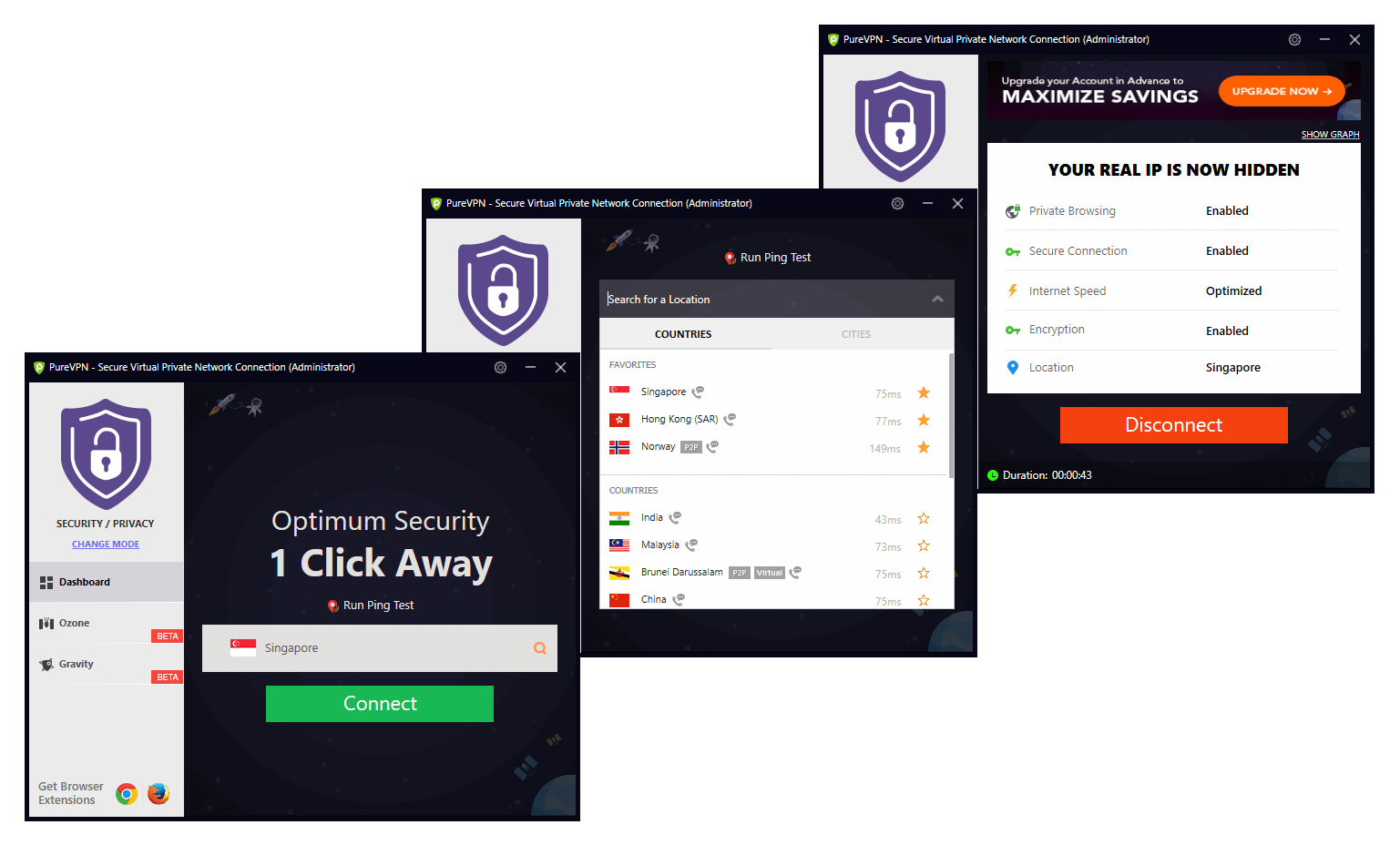 The company was started with two servers in the year 2007, and now they own 2000+ servers all over the world. Many amazing features have been added in these ten years, and they are improving a lot with creative additions. However, it is not always possible to deliver perfection and issues still exist that PureVPN that are required to be removed.
Their server filtering is well defined, but its usage isn't known clearly that we will discuss in this review. We are also going to discuss different features, their efficiency, and requirement.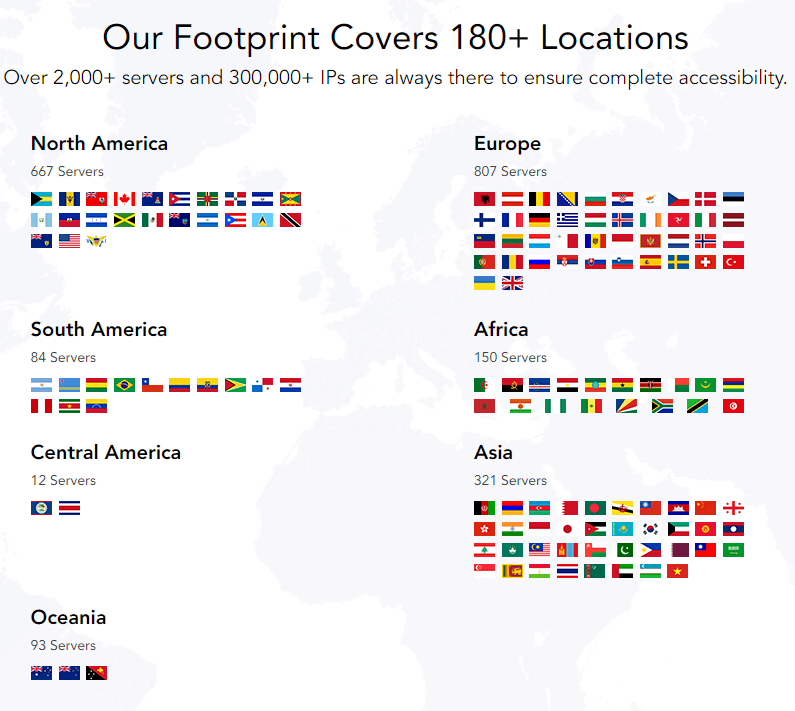 We also hold opinions about the customer support which we will elaborate on using different experiences deciding whether we should title them the "best" or "average" customer support.
Different Servers for Mode Selection
As soon as you open the client, five different icons appear. The screen allows you to select one out of them depending upon the requirement. Different servers are categorized performing different tasks with the name of "Modes."
Stream
Internet Freedom
Security/Privacy
File-Sharing
Dedicated IP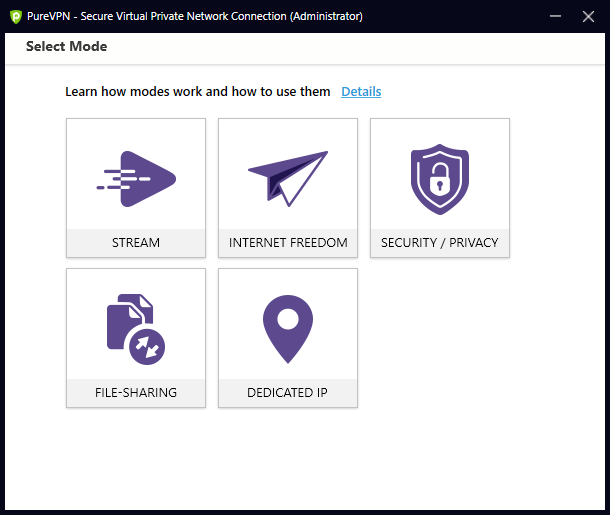 Let's talk about the capabilities of every mode!
Streaming applications are the toughest platforms where VPN providers face real challenges. Bypassing "something went wrong" isn't easy, and these streaming websites continuously strive to detect and block their access using the virtual private network. Hence. It's like a continuous war going on between the Streaming application and VPN provider. However, PureVPN renders access to many channels which are only available for certain locations.
This is something NordVPN also offers so, how Streaming Mode of PureVPN has more capable? Well, in NordVPN, you can't connect with a specific channel directly, but in PureVPN you only need to click on the channel's name. You would need to manually select the streaming server of that country and see, which among the all servers get connected with the particular streaming channel in NordVPN's case. Regarding, PureVPN, for instance, if you wish to connect with Hulu, you can directly type the channel name, and search results will appear. That's an easy and user-friendly way to find what's required. Still, there are some limitations. When we searched for Netflix in the channel search option, only "Netflix Us" appeared. However, they offer Netflix U.K. also, but for connecting with it, you need to go and select the country. Its equally easy task but not providing it in channel list may deliver the information that accesses to "Netflix U.K." is not there.
Anyway, if you are reading this review, now you know that you can access it. However, a few more channels must be added such as "Netflix Japan" which has many exclusive anime shows, and a market all over the world. Still, it's efficient than most of the other VPN providers that we have reviewed.
Let's directly jump to Fire Sharing server network and leave the other ones for the last. For my location, the best-recommended server is located at "Brunie Darussalam" which is 2,645 miles away from our location. Because of that, an efficient sharing wasn't possible, but if more P2P servers would be added, there is no replacement for PureVPN's server network. For American and European Location, there would be a faster network, but need to develop it more for Asian and Oceania users.
Is dedicated IP boosts your speed? Yes, for sure. But is it "value for money" or does it really make much difference? Well, if you purchase a dedicated IP for $23.88 per year, you won't need to share that IP address with anyone else, but it will only be used by you. That not only increases the speed but also helps to avoid any data leakage by making the path more secure. However, if you are an individual who just needs to access VPN for privacy, assessing geo-restricted websites, and enjoy streaming channels while you travel, then the premium account is enough. However, if you are into a business that requires high protection from cyber-attacks, then we would suggest you purchase this feature.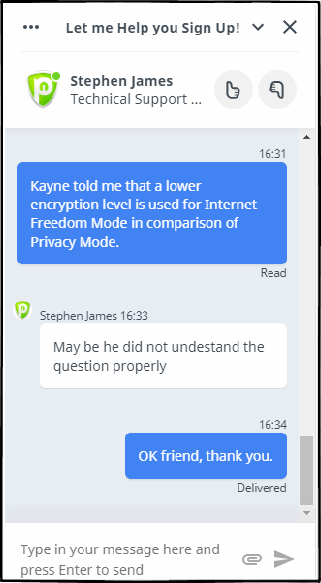 Now, Let's discuss and compare the other two modes: Internet Freedom Mode & Security/ Privacy Mode which made us curious due to the unambiguity in the difference between the working methodology. Let us first check the statement written below the modes:
Internet Freedom mode prioritizes the access of the content and Security/Privacy prioritize security and privacy of your content. Now, how it has been done? And can't these both features could be combined? We have made attempts for getting this information, and the answers weren't clear. However, we are sure that these aren't marketing tricks as the server and IPs are different for both the modes.
Working of Basic Application Settings
There were not many options available in this section, but anyway, the ones which are included were enough to enhance the user experience. They have even made every attempt to add features which enhance user-interface minutely. That's a part where PureVPN must be appreciated. Feature such as Launch default browser after the connection didn't require, but at least it removes the manual task of clicking the browser icon. These small elements add up to define user experience, and that really matters if you are looking for loyal customers.
They offer six different protocols and have also rated them based on speed and security so that user could know that which protocol would suit their requirement. Addition of language options always helps to provide a greater number of users as there are people who aren't familiar with other languages. Adding Few more languages would not cause any harm, and it may help many users to get a better experience.
Are These Advanced Options Required?
DO NOT UNCHECK THE SECURITY OPTIONS IF YOU DON'T WISH TO LEAK YOUR CONTENT!
Their security options should not be unchecked if not required. At times, you may experience the worst speed or connectivity issue. At that time, they must be altered, but still, don't do it without customer support's instructions. Disabling 256-bit key encryption will make the tunnel vulnerable, but it may enhance the speed due to the removal of encryption (on the cost of security). A third-party DNS server could be used, but here they provide own DNS so why not to use that? Perhaps, for the same reason mentioned above; for the sake of speed. These features give the user an ability to have control over the application, and he can create a balance between speed and security. PureVPN provides you the facility, but then it completely depends upon the user that how he makes the changes.
Kill Switch feature kills the data leakage by killing the internet traffic. This option could be easily found in any of the VPN providers, but with pure VPN it's a little more. Remember, we discussed the minute attributes that PureVPN adds for a better experience? Well, here these minute elements are added for security. If you have a habit of switching off VPN client before switching off the Internet or shutting down the browsing activity, then your data may leak. To avoid this, PureVPN has extended its kill Switch to Kill the Internet traffic after you switch off your VPN client.
The Multiport option is again an option that let the user have control over the speed and security. This option can only be selected with TCP and UDP option. It is beneficial when you require to transfer data with faster rate but through a virtual private network or if you wish to increase the security level irrespective of speed. For TCP, in our case, the speed was decreased nearly by 60%, and for UDP it was increased by 25%. This shows efficient flexibility that PureVPN renders to have the complete control over the VPN tunnel.
PureVPN's Hotspot Option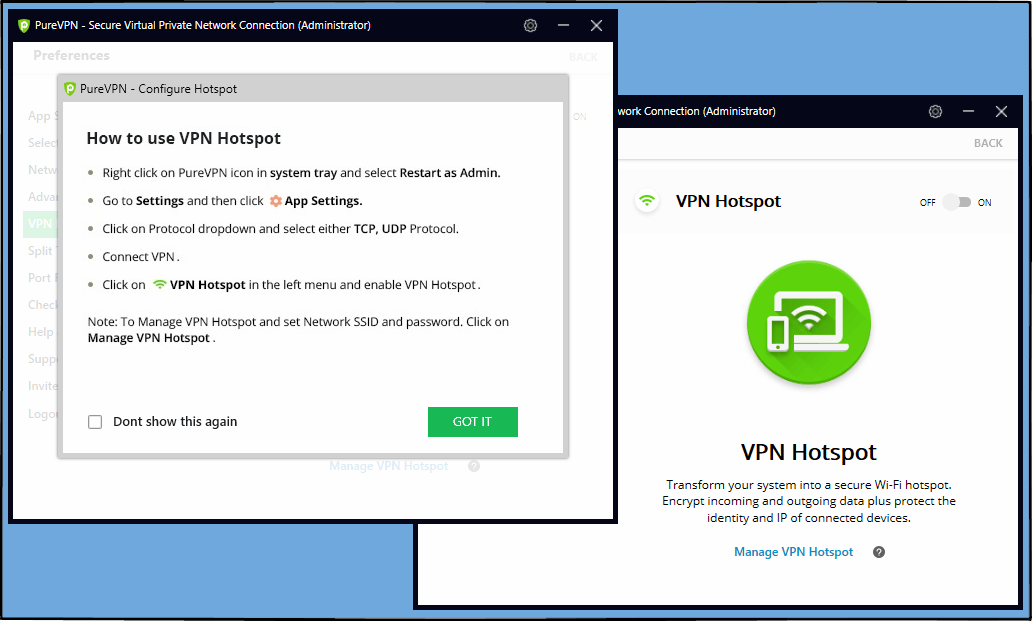 Accessing the Internet without VPN is not at all an option, and PureVPN only allows a maximum of five devices from one account. Well, they also provide a solution for it. PureVPN allows you to create a hotspot, and PureVPN would benefit any device which gets connected to it. In the case of emergency, or while you are traveling, and five devices are already connected, you have the option of creating a hotspot from one out of those five devices which will help you to access all the VPN network generated through PureVPN client. However, you can't make any changes to the setting using this device. The settings can only be changed through the device from which hotspot is created.
Split Tunneling and Port Forwarding Feature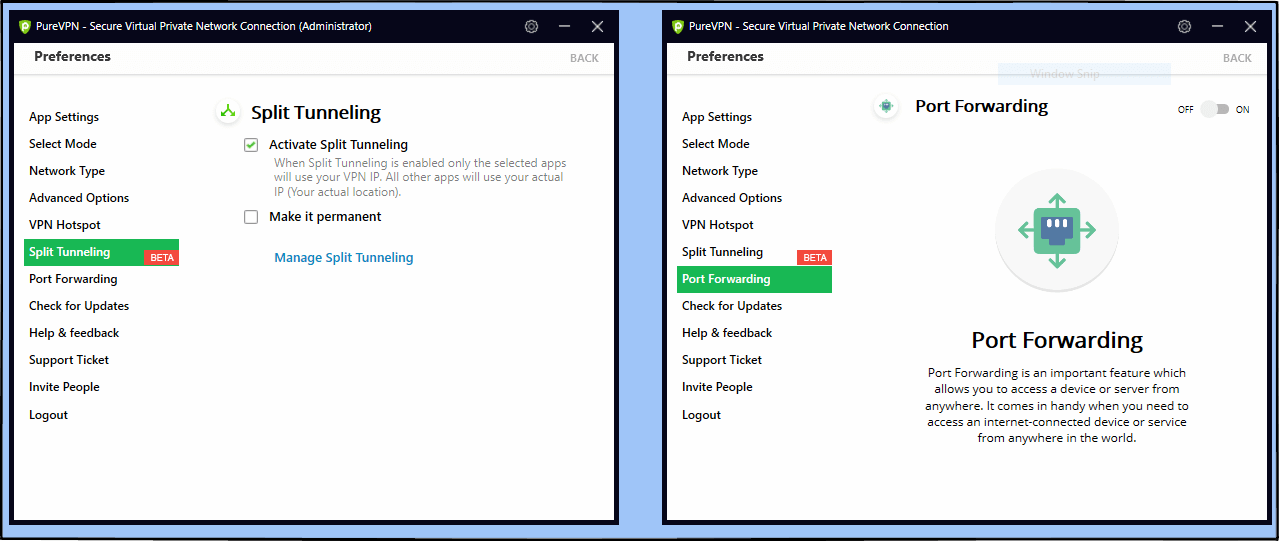 As we are reviewing every small component of this application, these two features are unavoidable. Split Tunneling's efficiency depends is absolute; either it works properly, or it messes up with the system. In PureVPN's case, it only allows the selected application to pass through the virtual private network. In this way, you can use one browser with the VPN, and another as regular network. One more peculiar tool is port forwarding feature that allows you to access the system remotely with the VPN. It can be useful if you are far from the network or if you are unable to install VPN client in the system. Any data that you access remotely will also get encrypted, and this no one will be able to detect it.
Connection Time Analysis
Trial No.
North America
Europe
Asia
Oceania
Internet Freedom
Security & Privacy
File Sharing Mode
Streaming Mode By Locations
Best Recommended Modes
1
9.94
7
7.92
9.56
9.19
10.5
6.84
2
9
6.01
8.06
8.43
13.48
8.33
8.4
3
9.5
7.41
8.41
11.06
8.57
7.43
6.7
4
9.44
8.6
7.91
9.3
11.27
9.44
7.35
5
8.99
7.58
6.82
8.45
8.06
8.44
11.29
6
10.04
6.72
9.56
12.33
7.64
7.84
8.7
7
9.64
7.33
7.76
9.8
7.41
8.64
9.06
8
9.22
6.3
7.47
8.35
8.64
7.98
7.51
9
7.54
6.92
7.76
8.63
7.94
7.79
8.12
10
8.63
7.02
8.97
8.28
10.53
7.55
13.49
Average
9.141
7.089
8.064
9.414
9.23
8.394
8.746
Four out of Five different modes were checked for connection time analysis. The fifth mode which was Dedicated IP mode could not be tested as it requires a personal IP. For the Streaming mode, it is important that to which server you get connected because every country has exclusive streaming content. However, it is not possible for us to connect with every country's server, and that's why we have selected the most efficient ones from different continents. The results are satisfying, and it has not made much effect on the response time even if you connect with different servers.
Even if the average is nearly the same for every continent, if you wish to access the content of a particular country then it highly depends upon the ping time. For us, it would take more time to connect with Brazilian server. It may be because of distance, client and server efficiency. However, in all other cases, it doesn't matter much that you get connected with which server. Generally, one must get connected with the best-recommended one for efficient speed.
Speed Test
We have already discussed and reviewed their server network which wonderfully covers all the continents because of the smart placements of the servers. To attain such an ultimate speed, this kind of server network is required. However, they are having a server network based on different modes, and thus, there are different speeds for each mode. We have checked four out of five modes as the speed test for dedicated IP was not possible. Two out of four modes provide efficient speed, but the other two require growth if they need to satisfy a worldwide user base.
Due to the presence of an immense number of Freedom Mode and Security/Privacy Mode, they efficiently provide high speed. However, in the case of Streaming Mode, and P2P server mode, a limited number of servers are there, and that's why they render very low speed for our location. Even if we are able to access Netflix Originals, a good streaming quality can't be expected. For example, if you are having an Internet speed of 10Mbps, then after connecting with the server dedicated to United States' Netflix, at least eighty percent of decrement could be experienced (for our location). However, this is not the case with Netflix U.K., and average streaming quality is ensured. You can't use Netflix of any other country from outside location using PureVPN. In our case, for the U.S.A., 0.74Mbps, and U.K., 1.27Mbps were recorded when we were connected with the virtual private network. The original speed is of 8.70Mbps, and so, we really can't provide full marks to PureVPN when it comes to Netflix. If you need to watch any other channel, the server would be different for that, and a different speed would be experienced. However, it would not be possible to include speed test for every channel, and so few popular channels are selected, and tabulation is done for those channels.
Channel List
Downloading
Uploading
Downloading
Uploading
Internet Speed Before Connection (Mbps)
Internet Speed After Connecting with a Particular server (Mbps)
Amazon Prime US
9.01
7.51
0.44
0.26
Hulu
9.04
6.5
3.63
2.65
HBO GO
7.42
6.17
5.04
2.28
BBC
9.13
7.98
0.83
2.04
Star Sports
7.37
8.16
4.7
4.62
This shows that they need to improve some of their channel servers. However, many of them works fine providing at least 50% of the speed to the speed we were experiencing before connection.
As we have already mentioned, the distance between our location and the closest P2P server was about is 2,645 miles. Now, how could we expect a good speed? We weren't, but whatever was the speed is, we would surely get better speed if they place more P2P servers in locations which are not covered. We are pretty sure that North America and Europe will not experience this speed decrement as they have covered all the areas of these continents. However, we can not be sure in case of "Streaming Mode."
Other two modes work perfectly, and they are committed to render good speed as they even have servers in African countries also. So far, we have not seen any VPN provider targeting Africa. For us, the closest server was 625 miles away, but still, no significant loss of speed was observed for Freedom Mode. However, in the case of Security Mode, somewhat reduction was there which is acceptable.
Security
When it comes to security, we expect no leaks, strong encapsulation, strict no log policy, and special security features. PureVPN provides all these requirements, and we have not found any pores in security provided by PureVPN. First, we thoroughly checked their privacy policy, and everything was perfect except for one thing. At one point, there was a third-party involvement, but they have explained that PureVPN has data protection agreement with them, and its safe.

If we talk about security feature then there are advanced features related to encryption, kill switch and protocols. If you do not wish to compromise security for the sake of speed, then you can enable all the security options. However, it is natural to experience a lower speed because enabling the security option creates an extra layer of protection through which the data passes. They provide AES-256 encryption which you can disable anytime. Kill Switch also adds to the safety from leakages. They also render IPv6 leak protection that blocks Internet traffic via IPv6 which ensures better security. However, I was unable to find DNS leak protection, and that feature could be added.
The Ozone option is only provided for Security/Privacy Mode. By its addition, the security has been improved due to the presence of walls which doesn't allow all the content to pass simply. The user can put restrictions and control over the data transfer. This feature has an inbuilt antivirus which saves the device from threats which could cause harm to the device. It efficiently detects the intruders, and then protect the system by blocking them. You can also filter the URL and Application which you don't wish to use.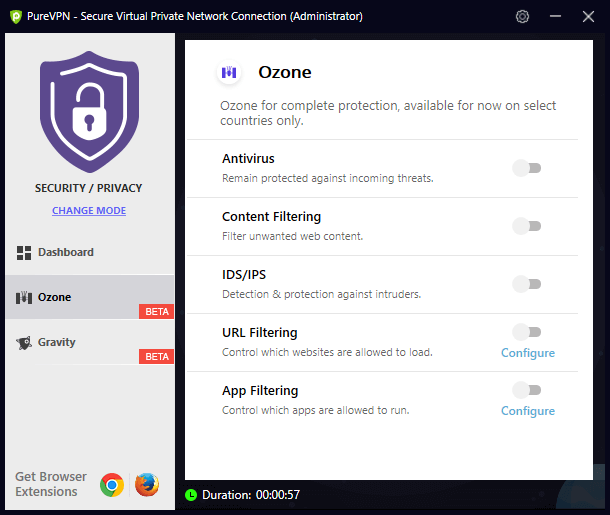 User Interface and User Experience
When it comes to user interface, their clients are as clear as crystal as it's easy to explore them transparently. Servers are distributed among the modes, and this makes it easier to find the required server. Their channel list for the streaming server is an efficient attribute that attracts the audience which doesn't wish to find each server for every channel they visit manually. It is not at all feasible. Their space background adds a hypnotic interface when it gets connects, and every component makes attempts to attract users.
Good user experience is a key to earn regular users of the product. User experience, in the case of PureVPN, is ultimate as they have added an element that decreases the manual work as much as possible. Adding Ozone and Gravity feature has also helped to enhance the security as well user experience.
Gravity is somewhat like Ozone, but it focuses more on protecting the system from Hacker and Malware rather than content filtering. This also adds to the user experience by reducing the interruption of intruders so that buyer could satisfactorily enjoy the VPN connection.
Providing complete control over speed and security let the user alter his experience according to his own choice. If he wishes to have a faster speed, he can always reduce the security by changing the protocol and unchecking the use of 25-bit key encryption. However, if he wants high-security multiple layers could implement one above another. It may cause a decrement in speed, but this would be by the user's choice. Providing control over the client isn't an easy task. It may cause malfunction also, but PureVPN's case, this might not happen due to proper establishment of every option.
Platform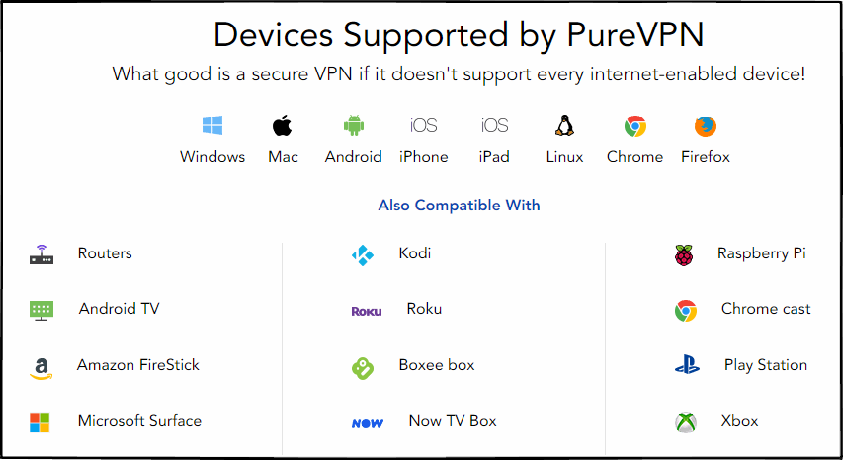 In addition to windows, Android, MacOS, iOS, and Linux, they are also compatible with thirty-six more devices that include routers, smart TVs, gaming consoles, and Linux derivatives. You can also add extensions to Chrome and Firefox if required. Adding an extension would not take place among the total allowed devices and so, there is no loss in adding an extension. However, it may somewhat slow down your browsing activity. It is compatible with various routers such as Tomato, Pfsense and nine more. Hence when it comes to platforms, pretty much all are covered by
PureVPN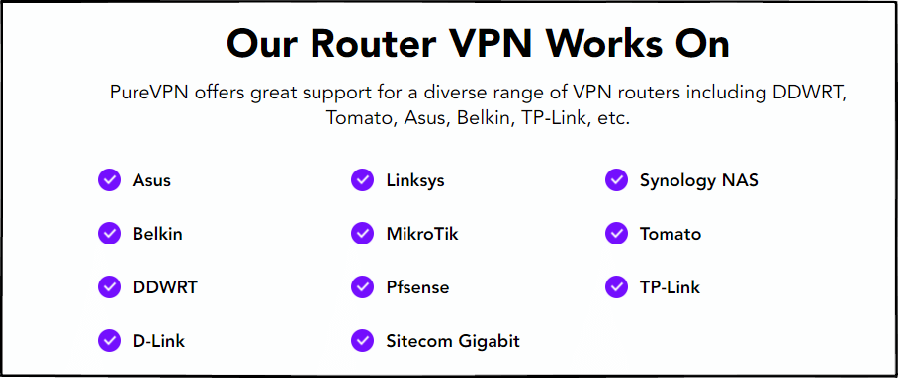 If not, you can use port forwarding to access that device or else secure hotspot option is the way if you wish to connect with a device that doesn't support PureVPN. Sharing options are always helpful when it comes to set up a VPN connection for a device in which VPN client is not supported.
Customer Support
We were always confused about the efficiency of PureVPN's customer support. Let's first discuss the points which have an absolute answer. If we talk about the time taken by them to provide a reply over Live Chat or through Email. It would not take more than a few seconds in case of Live Chat and few minutes (5-60 minutes specifically) through Email. So, we never had an issue over communication. Now, if the politeness is considered, they always initiate the talk with greetings, use humble language, make all the possible attempts to solve the issues, and would reply to every query in an elaborated and patient way.
Now, we initiated the chat with the message, "Hey! Netflix isn't working" to which the customer support executive asked us to follow few steps provided by him. However, it wasn't working even after that. They provided us a dedicated IP, but we still failed to access Netflix (There was nothing wrong with the client. It just required some changes in configuration). After that, they placed an option of working over "Team Viewer." Usually, if the issue doesn't get solved, a VPN provider would ask us to e-mail them about it, or they transfer it to another level. Here, they accessed our system remotely, and learned the issue, and solved it within minutes. Not only they solved the issue, but they messaged us the procedure of connecting with the channels, and at the same time showed us how it works by moving the mouse pointer through different tabs and scrolls. This was an efficient way of solving customer issues where the user just needs to sit and view them work. With this image, we would have provided five stars to the customer support.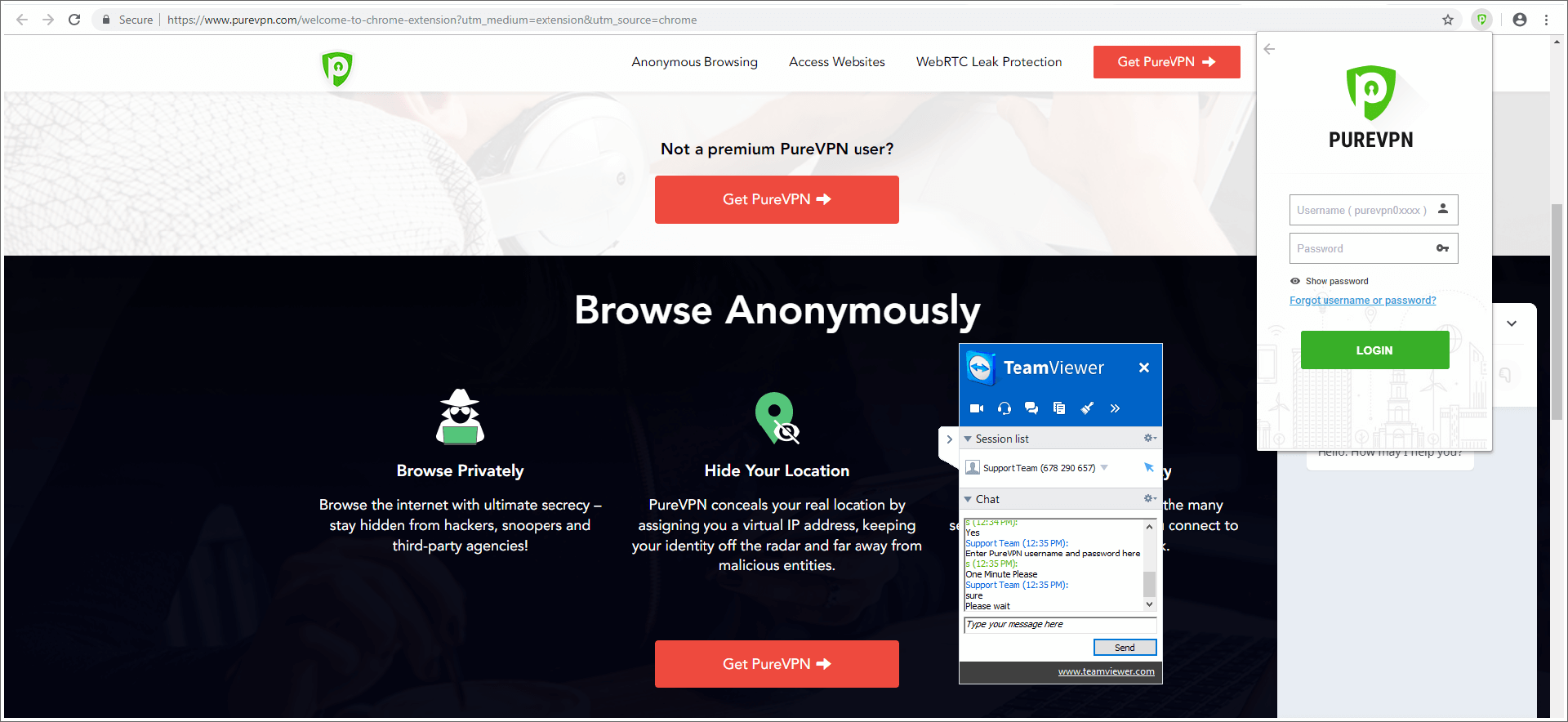 How ironic it is, VPN users allowing VPN providers to use Team Viewer.
After this, we contacted customer support, and it is always the sales team which contact first. We sometimes, explain the issue to them, and then if they were unable to solve it, they transfer us to the technical department. That's frustrating that now you need to explain the complete issue to the technical department again. There can be a direct option of selecting department to which the user wishes to contact. It will not only save the user's time but also makes the live chat more efficient.
After this, we launched one more query to them: "Hey, I was just wondering that what would be the 'technical' difference between Internet Freedom mode and Security Mode?" However, to this, I got a reply of a link explaining different types of modes. This link was completely irrelevant to us, and we again tried to explain them my query in an elaborated way.
"There are two different modes: Internet security and Privacy mode. Now, let's consider Internet Freedom mode: It says that you can access all the content, true? Now let's come to Privacy mode. It says that you will be more secure, true again? The only difference is of encryption level. Three statements in a row. Now if the only difference is of encryption, I can assess all the content from privacy mode also, so what is the point of having Internet Freedom mode?"
To this, I was asked to e-mail them the query. The reply for E-mail was also irrelevant, and no proper answer for my query was provided. So, we have a "mix feeling" about the customer support, but if we analyze carefully, they are good at resolving issues, and client-related doubts. This question was related to the internal working of the application and was a tough job to provide its answer. However, I really expected that they would forward the query further.
Conclusion
No doubt, PureVPN is one of the best VPN providers especially when it comes to the server network. However, they need to work on few streaming servers where low speed was experienced. The smart user interface has directly reduced manual tasking, and it makes it easy for a user to use their client even after having so many configurations. The features like Ozone and Gravity provides special protection. One has control over speed and security. However, he can enhance the speed by lowering the protocol, and encryption, but at the same time, makes it secure with Ozone and Gravity. So, a complete balance between speed and security could be obtained. When we talk about their customer support, Live Chat was sometimes highly efficient and sometimes confused. So, it could be improved, not by making changes in the software, but by upgrading the human resource behind it. If these few implementations could be made in their application, they would provide tougher competition to the top players of VPN market.