Pros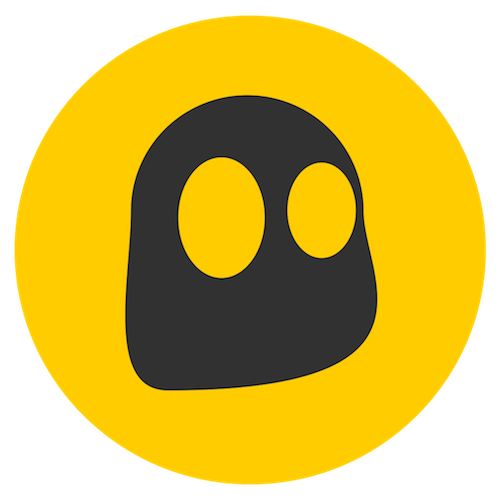 Particular lists of server preference for downloading and streaming.
A set of connection features which allow customizing your connection for a better and secure experience.
CyberGhost provides user control for better functioning over Wi-Fi Networks.
Random Port selection is available for OpenVPN Protocol.
You can connect with seven different devices simultaneously from one account.
It is completely safe for torrenting and works efficiently for Netflix.
A crisp user interface with clean and clear text which makes it easier to access CyberGhost.
Automatic Kill Switch that blocks the Internet traffic when VPN connection fails.
Cons
Some more configurations could be added for better security and experience. However, providing more control in a user's hand would lead to loss of the simplicity and may create malfunctioning of the application.
The number of servers in Asia and Africa is comparatively lesser than that of Europe and the United States. However, they keep working to increase the number of servers and it has reached to three thousand in approximately sixty different countries.
Website: Visit Website
Overview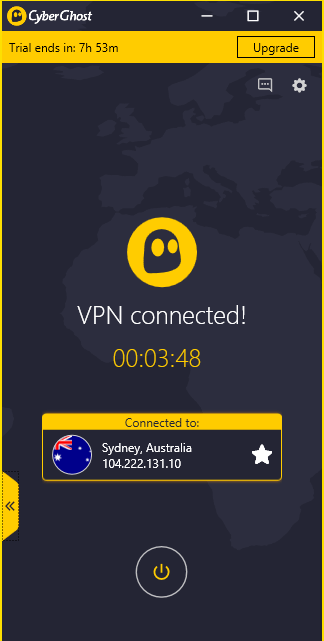 CyberGhost has developed as a top quality VPN provider in these seven years. With their heart melting, unique theme of cute ghosts, it effectively renders positivity along with security and anonymity to every "Ghostie." The company is headquartered at Bucharest, Romania and recently the company was sold to Crossrider Group. The key features that lead to the company's success are the hard work and genuine appreciation to every member.
Keeping you anonymous by changing your IP address could be a mere game of server, but the C-Ghost has taken it to another level by placing addition features, making it compatible with Tor and improving continuously by adding more and more severs considering the user base in every corner of the world.
The application isn't highly configurable like, you don't even have the option to turn on or off the Kill Switch, but anyway, it's a feature that one doesn't want to turn off in any case. They have tried to render the simplest possible user interface so that anyone who is concerned about their privacy can utilize its benefits.
Favorite Category for the Servers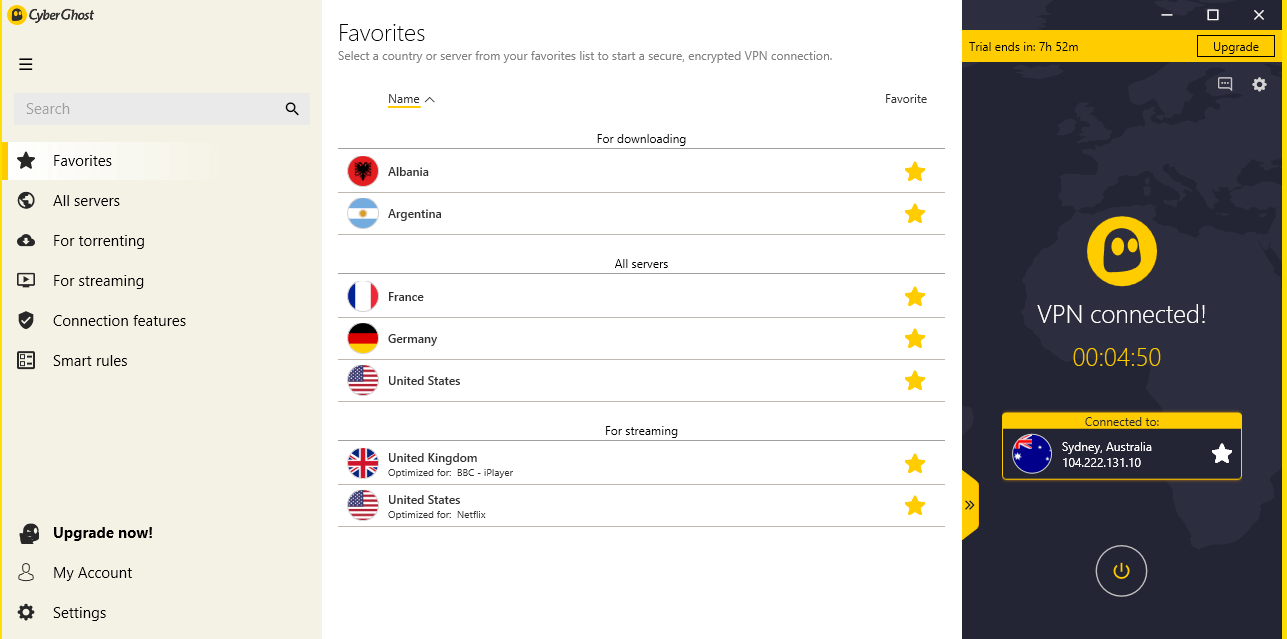 There are always some of the servers out of all the servers which show optimum performance and speed in comparison of other servers for a particular location. This case is with CyberGhost also. For every location, it is impossible that every server shows flawless performance and that's why favorite server list is an essential element of CyberGhost application.
Initially, it automatically connects with the fastest server for your location, and if you wish to access any content of a different location, you need to change the server, but at the same time, it is required to save the previous server which performs with high efficiency.
CyberGhost automatically saves that particular server in the favorite list. All you need to do for implementing a connection is just to double click on it from the list. After that, the ghost will take few seconds to reconnect with the chosen server. This is extremely "easy to use" and "easy to implement" feature which also comes with three different categories.
Favorites among all servers
Favorites for downloading
Favorites for Streaming
Different Servers Optimized for Downloading and Streaming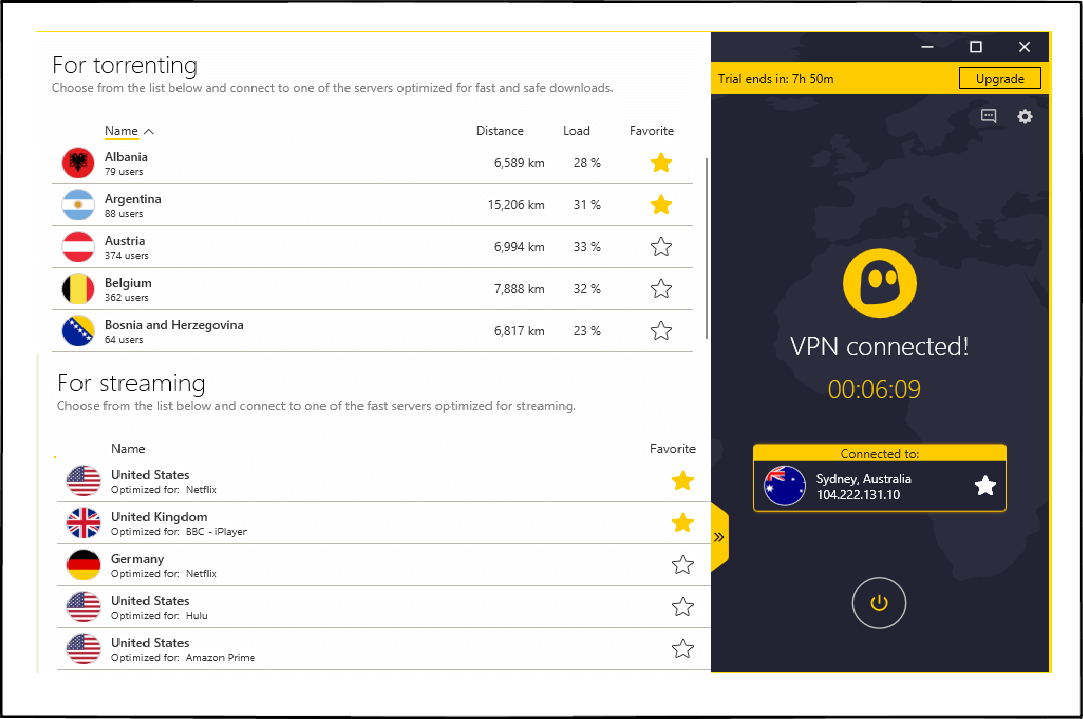 CyberGhost provides different server lists according to the user requirement. If the requirement is of downloading the content, the ranking of the servers would be done differently from the ranking of servers for streaming.
For instance, the United States servers are optimized for Netflix, and there would be a different server which would be optimized for using Torrent. That's how the custom categorization is done to improve the better user experience. It is also a smart way of distributing traffic to different servers as all the users have different demands.
This type of feature is absent in most of the VPN providers because of which the other VPN users never know even if they could get a better downloading or streaming speed by connecting with any other server.
In-build Ad-Blocker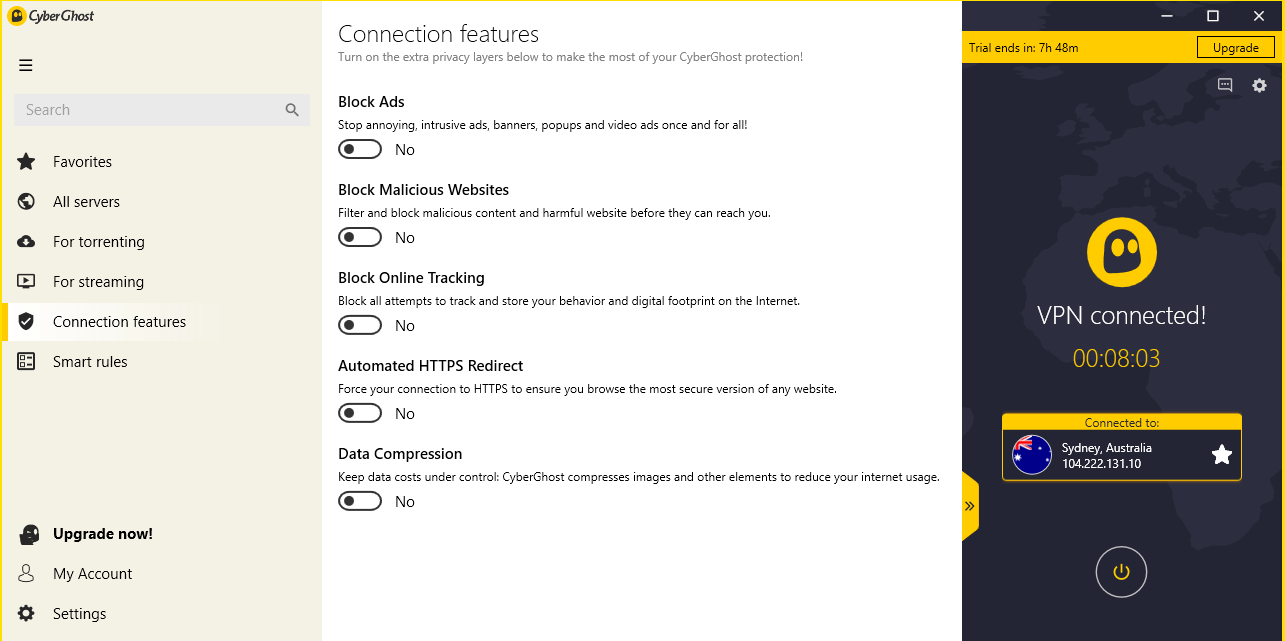 Even though we regard CyberGhost as a VPN provider; it also has some additional features as its main focus is to improve the privacy along with polished user experience. CyberGhost Ad-Blocker blocks pop-up ads effectively, and it could be easily turned on by just a swipe. Go to the connection features, and you will find the feature of "Block Ads" at the top. Although it has nothing to do with VPN, the feature is an addition for better user experience.
Filter Malicious Websites
Even if the VPN provider is smart enough to hide your information by keeping you anonymous, it may fail to provide security if any Malware gets installed in your system. It is not the task of the VPN provider to save you from these trespassers, but still, CyberGhost provides this feature so, now no one can question the security that it provides. These features don't let you connect with any suspicious website when you visit them knowingly or unknowingly.
Block Online Tracking
Digital footprints are the leftovers of the user's activity which, if followed, can lead to the detection of personal information of the user. CyberGhost defeats every attempt that any third party would be doing to record your behavior by recording the websites you are visiting. The online anonymity is an important aspect by which VPN's efficiency could be determined.
Data Compression
It is another additional feature that CyberGhost provides to their Ghosties. However, it has nothing to do with security or anonymity. It is just to decrease the Internet usage by decreasing the size of the media and content element. It works very well as a significant decrement in the data usage could be seen while using this feature.
Smart Rules
CyberGhost VPN provider offers a separate section for handling its behavior when it experiences any Wi-Fi network. This feature is not present in many of the VPN providers as the unwanted data transfer could easily be blocked just by turning on the VPN connection. It even allows a user to take action against the encrypted Wi-Fi. If you are connected to any encrypted Wi-Fi, but you don't trust it, you can add an extra layer of security just by turning on the CyberGhost application. You can even customize the action that CyberGhost needs to take place for every individual Wi-Fi connection.
Automatic Kill Switch
Like many other VPN providers, you will not see a kill Switch option in CyberGhost Application. It is because they have an in-built kill Switch that automatically stops internet traffic in case if the VPN goes down. You don't have an option to uncheck this feature, and anyway, it's necessary to use the Kill Switch to avoid data leakage. It is a possibility that they don't provide it optional as sometimes data leak may occur without the fault of VPN provider if the user has unchecked the Kill Switch Option.
Secure Your Transactions and Conversations
Online CyberGhost VPN is a virtual private network service that provides a wide range of security features that ensure your safety and security in your online activity. When you are doing some online banking and shopping, for instance, you don't want anyone to steal your important personal information. The good thing about this service is that it can help you hide your online identity while doing some banking and shopping activities. Also, when you are having conversations or communications online, this private network ensures that nobody can listen to your conversations because it is protected fully with a high-grade encryption system.
Protocol Settings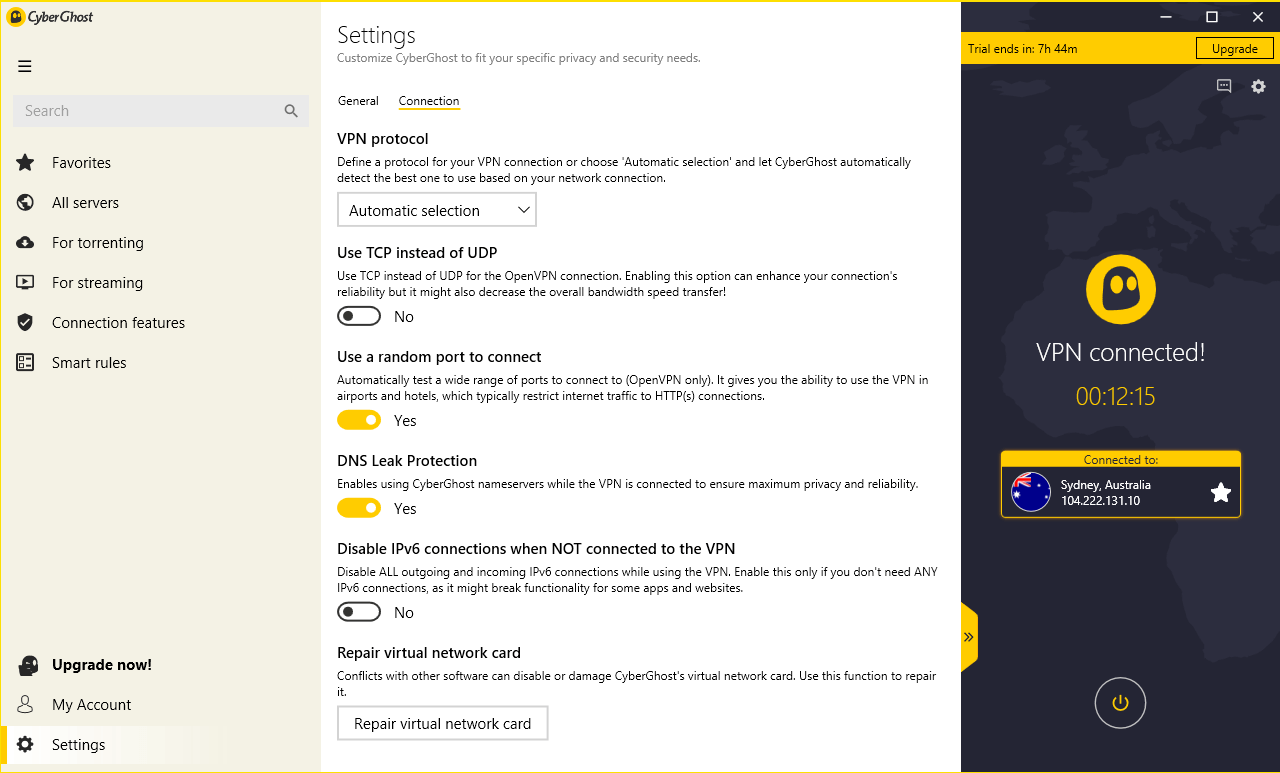 CyberGhost offers all the popular protocols: OpenVPN, IKEv2, and L2TP, which perform differently regarding security and speed. For high security, OpenVPN is always preferred, but then it comes with very low speed. Now, CyberGhost has come up with IKEv2 protocol which maintains a balance between security and speed. However, CyberGhost doesn't provide PPTP protocol which is considered the fastest one. The reason may lead us to security reasons that it isn't considered as secure as other two.
For OpenVPN, you can select TCP or UDP according to your requirements and if you wish not to make any compromise on security, just allow it to connect with a wide range of ports randomly. However, this feature is only available for OpenVPN right now.
DNS Leak Protection
Fortunately, CyberGhost VPN is the type of VPN service that prioritizes the users' privacy and security, and in doing so, it has the best DNS leak protection system available. DNS leak protection helps to avoid your ISP to know what domain names you are visiting. Your actual DNS will remain hidden and what would be visible is CyberGhost's DNS or any third party DNS which in case of any other VPN.
CyberGhost has its own DNS, and thus it is a great measure to protect the privacy of the user by avoiding any third party involvement.
Connection Time Analysis
CyberGhost is reliable regarding stability, and in our experience, it always gets connected within a few seconds. It always takes less than 20 seconds to establish a connection and rarely took above it.
This connection time analysis has been done for the best server available. It may change accordingly if you select the best server for streaming or downloading. The distance between the location and the server also affects the connection time.
Once connected, it always remains stable and offers a stable connection which is not expected to get turned off automatically.
Speed Test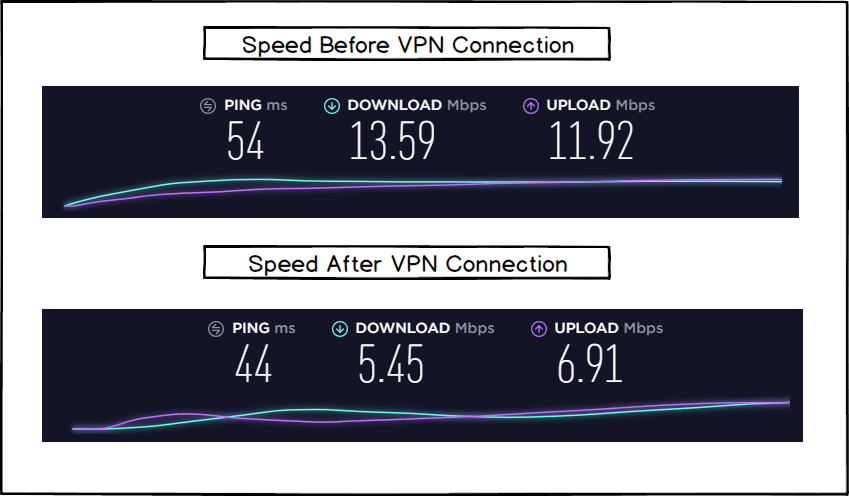 When it comes to speed, using CyberGhost could affect the streaming and downloading in a significant way. Downloading speed of 13.59 Mbps got reduced to 5. 45 Mbps and Uploading speed of 11.92 Mbps got reduced to 6.91 Mbps. Even though in both the case it has decreased to 50%, it is enough to watch high-quality streaming.
Note: The speed test is done for the server selected by CyberGhost automatically, and if you check it for the servers optimized for streaming and torrenting you will realize that you may get a better speed.
Security
The use of AES 256 itself offers high security as it's the toughest to break among all the encryptions. Stealing the secret key would be easier than passing through it using brute force.
The location of the company also matters a lot. As it is located in Romania, it remains out of the jurisdiction of 14 Eyes, the group of countries which has strict laws over the use of VPN. Because of this, CyberGhost guarantees "No-Log Policy" as the government doesn't enforce data gathering.
The availability of NoSpy servers provides a higher level of anonymity. They have dedicated servers which are used for Torrenting ensuring safe downloads.
They also own DNS which removes the possibility of dealing with any third party. Just like the VPN provider provides "No-Log Policy," it is also offered for the use of DNS.
User Interface and User Experience
The main objective of the CyberGhost application is to provide a secure network for everyone. We learned that many other VPN providers who claim to have the same level of security, anonymity, and performance were not able to create a user base that CyberGhost has earned. This is because of simple user interface rendering amazing user experience.
It's easy to download and sign-up. The settings are visible at first glance, and there is no requirement of any configuration making it easy to use. The CyberGhost user interface consists of small elements related to their humorous-spooky theme. This provides an attractive look out to the users that amuse them.
The additional features of Ad-blocker and Data compression also add up to deliver an exceptional user experience.
Platforms
Generally, VPN providers cover all the major platforms but CyberGhost, in addition to Windows, iOS, and MacOS, has developed its application for the derivatives of Linux also.
For, Windows, iOS and MacOS, you can directly download the application. However, for other operating systems and routers, you need to download the custom setup which is available with OpenVPN, L2TP or IPsec Protocol. They don't provide any custom setup for IKEv2, but anyway, one must always prefer OpenVPN above the other protocols.
A custom connection could be set up with routers to provide privacy to every device connected to it. Even after your every device is connected, you have the option of adding six more devices with one account. You can use these six devices while you travel and can experience an unrestricted Internet anywhere you go.
Netflix and Smart DNS
Even though smart DNS isn't available right now, CyberGhost has made numerous efforts to make the Netflix content accessible for their users. These efforts were worthy, and users can access the Netflix content of U.S.A., U.K., Denmark, and France. Not only this but with CyberGhost, you are able to get an entry for many media streaming channels.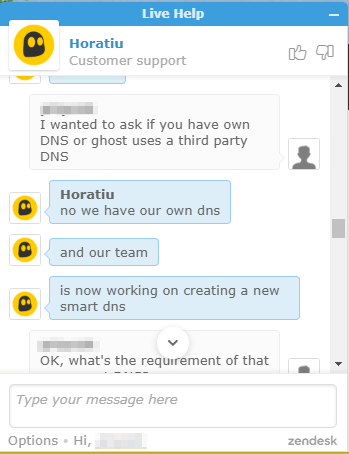 CyberGhost is developing their own smart DNS after which it will be improved regarding accessibility of media channels, and you may be able to stream many of the channels which are not reachable using other VPN providers. This may take some time, but it's confirmed that with CyberGhost, users will get a number of options for streaming.
Customer Support
The live chat provides elaborated explanations about every query you ask them. They first try to solve the issue with the help of guides and articles available on their website. Based on the keywords you typed, the list appears showing related articles and if they are not relevant, you can access the live chat and get their help. It is the possibility that the live chat isn't available every time. If this is the case, then one can send them the E-mail or can directly contact through feedback feature of the app.
Conclusion
We would use the term "Humorously-Spooky-Protector" to describe the CyberGhost as with advanced security and privacy over the Internet are provided with a package of the best user-experience with amusing touch-ups.
It offers various security features that ensure that your network connection is the safest connection that you can use. Also, with the ad-blocker and malware checker feature, you don't need to worry about malicious ads and content that might get through your system. It also protects your IP address and DNS address from any possible leak. Moreover, it offers the highly optimized servers in various locations worldwide, which can give you the best speed and performance in your private browsing session.