Pros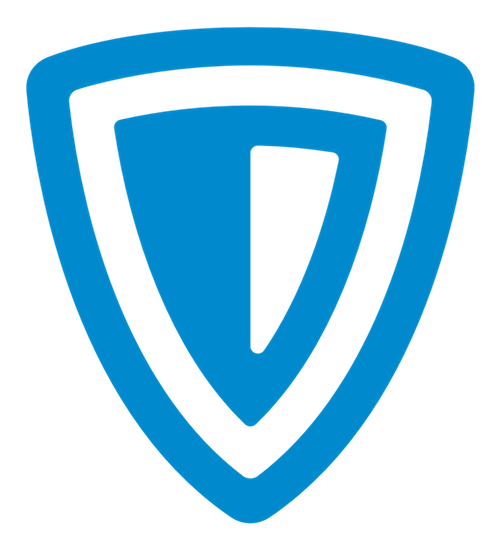 The kill switch feature stops all the internet traffic if ZenMate stops functioning unexpectedly. It saves you from the authorities to know about the content you were visiting.
The instant connection allows you connect with VPN with-in few seconds and for very few cases it took more than ten seconds.
ZenMate's location monitoring feature lets you utilize local benefits even if the IP address changes.
Ever secure re-connects ZenMate automatically. It saves the task of manually connecting it every time.
Multiple languages are provided for a better understanding of the users worldwide.
It has server locations for every continent covering 30+ countries.
Cons
It has minor graphics errors for windows 7, and it is preferred to be used for this version. However, for higher versions, it works perfectly.
Automatic selection for location is not there, but you can select it manually according to the content requirement.
Website: Visit Website
Overview
"Made in love with Germany," (that's how providers introduce ZenMate) ZenMate is headquartered in Berlin and was owned by ZenGuard Gmbh. It was started in 2013 and these four years, because of its simplified user-interface and fast connectivity, it has built a user base of 40 million people. Recently, it was acquired by Kape Technologies Plc. (the company which owns application such as CyberGhost and Intego) and so, more development is expected. The focus is on improving the user experience and adding more features without compromising the user's privacy and security. ZenMate provides a trusted premium VPN connection with stable servers and various security features. It is available for desktop and mobile devices as well as for popular browsers.
| Quick Overview | |
| --- | --- |
| Protocols | LT2P, IPSec, OpenVPN |
| Platforms | Windows, Mac, iOS, Android, Browsers (Chrome, Firefox) |
| Jurisdiction | Germany |
| Logging | Some Logs (Bandwidth) |
| Encryption | 256-AES, AES 128-bit (for browsers) |
| Connections | 5 Devices (Can add upto 10 more) |
| Locations | 30+ Countries |
| Servers | ~300 |
| Netflix/P2P | No |
| Payment Options | PayPal, Credit Cards, UnionPay, Qiwi |
| Support Options | Ticket, Chat |
| Pricing From | $2.05/month (Billed annually) |
| Guarantee | 30 days money-back |
| Free Trial | No |
| Website | www.zenmate.com |
Multiple Server Locations
The number of servers that you can choose when using this VPN service is quite a lot. The servers are mostly located on the European continent since this software is based in Germany. However, there are also common servers that are located in other parts of the world, such as the United States, Canada, Australia, and Singapore. Servers are placed smartly to build a user base all over the world. 7.9 Million Turkish users use ZenMate to access sites such as Facebook and Wikipedia which are banned there. ZenMate has also helped 1.8 Million Russian users to access the internet without government restrictions. The software can show you which server has the fastest speed in real-time, and which server is not working properly. With this feature, you can easily pick the fastest server and avoid using servers that are having problems like constant connection drops or slow speed. ZenMate servers are all over the world, and that's why speed related issues are reduced. However, the European continent experiences higher speed in comparison to other continents.
The No Log Policy
While there are too many VPN services that have "betrayed" their users by logging their activities, ZenMate remains firm about their commitment to not bother their users with the policy to monitor their activities online. This is because users are using this service to get away from the online surveillance system. If the service is logging their activity, it is like running away from one surveillance system and being "caught" by another surveillance system. The no log policy provided by this virtual private network service ensures that the users can remain safe and protected online without anyone tracking their activity.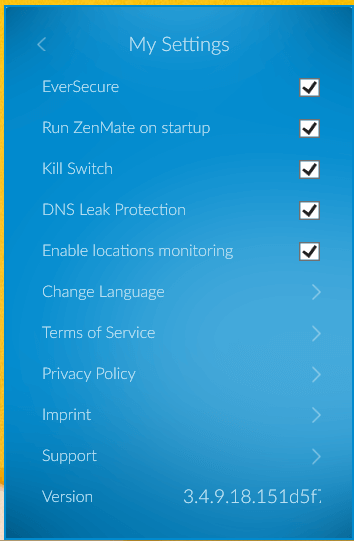 Kill Switch
Kill-switch is a basic but a necessary feature that protects you from getting caught while using the uncensored content. The Kill Switch feature works to prevent your device from revealing your real IP address at the moment when the connection drops in your VPN. For instance, if your private connection is disconnected suddenly, the main network connection is disconnected as well to prevent any IP address leak. In other words, this feature only allows you to connect to the internet through a private connection.
ZenMate Identity Shield
This is a feature which must be included in every VPN. Identity Shield identifies all the data leaks available against user's emails and sends alert to a user via E-mail if the data leak matches with the user's identity. With the E-mail alerts, the user finds that his data is getting leaked somehow and thus, it is recommended to change passwords as soon as possible. It helps to avoid any further data leaks.
Ever Secure Option
Ever Secure Option allows ZenMate to connect automatically even if you remove it from the apps running in the background. So, if you have the habit of using the Internet without turning on the VPN, it kills the manual requirement of turning it on again and again. In iOS, ZenMate gets disconnected as soon as it the device goes to sleep mode or if there is no data exchange. However, it automatically gets connected when you start using the network again.
Provision of Location Monitoring
Location Monitoring provides benefits that your true IP address enjoys without disconnecting the VPN or sharing the real IP. This helps users in lot many ways:
You can access local bank accounts without getting blocked.
Sometimes when you log in to your own account while using VPN, the account provider will consider your log-in suspicious, but in ZenMate, this problem is avoided by enabling Location Monitoring.
You can use apps which require GPS technology without any issue.
This feature is not available in every VPN. It is useful for the users who, at the same time need to view content which is not available for their location and visit websites which are only assessable with the real IP
Bypass Monitoring and Online Censorship
With ZenMate, it is always possible for you to explore the internet like never before. It provides total anonymity for your online connection, which allows you to prevent anyone from tracking and monitoring your online activity. Also, it can help you bypass any internet restrictions imposed by the government, as well as bypass any online censorship. You can enjoy your favorite websites with full experience, which is how the websites were meant to be enjoyed.
My Statistics Section
If you have any limit for data transfer by your service provider, you can keep track of it by this section.
It provides statistical information about:
Connection Time
Downloaded traffic
Uploaded Traffic
Connection Time Analysis
ZenMate has a quality that very few VPNs have, and that is an instant connection. In our experience, ZenMate has mostly taken less than 10 seconds to provide a virtual private network for our device. For many instances, it just takes 4-5 seconds to establish a connection which is one of the fastest possible connecting times available.
| Trial No. | Time taken to establish a connection |
| --- | --- |
| 1 | 9 |
| 2 | 8 |
| 3 | 5 |
| 4 | 4 |
| 5 | 6 |
| 6 | 6 |
| 7 | 8 |
| 8 | 4 |
| 9 | 5 |
| 10 | 4 |
| Average Time (Seconds) | 5.9 |
An average of 5.9 seconds is an achievement for ZenMate developers, and the connectivity is faster than this for European Countries.
Speed Test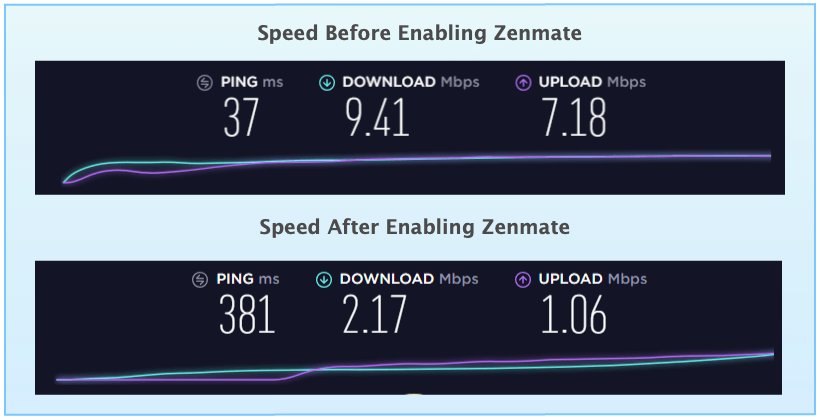 Speed Test analysis explains how much compromise you need to do when you provide priority to the security. Establishing a connection with ZenMate decreases the speed but enough to browse good quality videos and browse the Internet without compromising with the web-page loading time.
Without connecting with ZenMate, download speed and Upload speed are experienced to be 9.41 Mbps and 7.41 Mbps respectively, but it got reduced to 2.17 Mbps and 1.06 Mbps respectively. The closest server to our location is 3,440 kilometers away. This is probably the reason for such decrement in speed. If you are located in Europe, America or Australia, you won't experience such a decrement as they have their servers all around these continents.
Security
When it comes to security, the company's use of information is regulated by strict German privacy laws. The data transmitted is encrypted and routed to their private servers. That makes sure that no third party could access your data. Even, the application itself doesn't keep track of your activities or saves any personal information.
They use AES encryption which is the standard adopted by the U.S. government and recommended worldwide. The key length for browser extensions is 128-bit, and for other clients it's 256-bit. A 128-bit key is considered slightly weak but even then, with AES encryption no data breach is possible. 256-bit length with AES encryption provides the highest level of security. When it is added with a suitable protocol like TLS 1.2 (RFC 5246) protocol, it provides speed and security at the same time. It is provided with two different layers: the TLS Record Protocol and the TLS Handshake Protocol. The former ensures privacy and reliability and the latter encrypts the data that you have shared.
For more security, DNS Leak Protection is also added that doesn't allow a third party DNS to save your logs or any personal data.
Platforms
If you would like to try the service for a while before deciding to purchase the subscription for it, you can use the browser extensions for free. You can download ZenMate browser extensions for Opera, Firefox, and Chrome. Then, when you use one of these browsers, you can activate the VPN connection for free without any bandwidth limit. However, the private connection can only be used on your browsers, and it is not system-wide.
If we talk about other platforms, if you purchase the premium version you can use it for Android, iOS, Mac, and Windows. Though, if you wish to connect with other platforms, it won't be an issue. ZenMate is 100% OpenVPN compatible, and so, it can be used for other operating systems also. If you purchase the premium version, you get access to connecting five devices at the same time which is good enough in the comparison of many VPNs which only allow three devices to connect.
Customer Support
Customer satisfaction is directly proportional to the ability of customer support to deal with any situation or malfunction. ZenMate does not have any live chat for instant help but does have a customer support E-mail which we found explanatory towards the queries, but they took them some time to respond.
We found that ZenMate support on its website which is itself enough to solve most of the queries. It contains blogs about various problems that users face or about the doubt that users have for their privacy. It also explains the complete working of ZenMate which makes it look more promising and reliable.
Conclusion
ZenMate is one of the best VPN service providers that provide a VPN service with lots of security features as well as good reliability and fast connection speed. ZenMate has smartly set its server locations so that users from all over the world can take benefit of its service. With security features such as DNS Leak Protection, Kill-switch, and no logging policy one can browse the internet freely without any fear of data breach. Location monitoring function is a key feature that enhances your online experience by allowing you to enjoy the benefits of true IP even after keeping it hidden.