Pros
The implementation of NAT firewall provides extra security for every device.
Availability of Chameleon protocol ensures bypassing restrictive networks put in place by government, corporation, and ISPs. This makes
VyprVPN useful for the citizens where VPN technology is blocked.
It provides a complete command over connections and so, you can configure it in a particular way for different situations.
VyprVPN has its DNS which is completely owned by the Golden Frog which is a zero-knowledge DNS that supports user's privacy.
Cons:
It doesn't get connected instantly, but in our experience, it never took more than one minute to establish a connection.
SSTP protocol is not provided and instead of that Chameleon is there which uses 256-bit key length which you need to select manually.
The feature of the dedicated personal server is only available of VyprVPN for Business Cloud, but due to 70 different server locations, you will always experience less traffic for the server to which your device gets connected.
24/7 customer support isn't available but you can E-mail them, and as soon as go through it, they get back to you.
Overview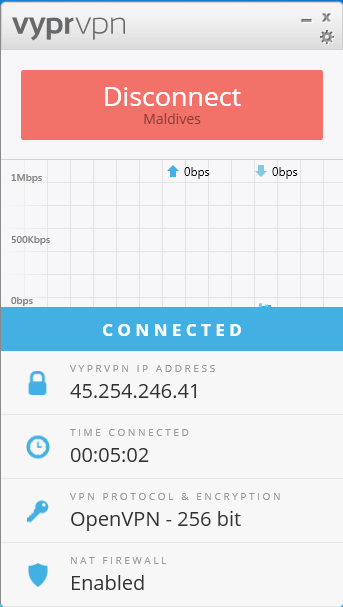 Golden Frog has earned its reputation because of the continuous efforts that the company performs to safeguard the people's privacy. Its product VyprVPN launched with Chameleon protocol technology with NAT Firewall renders protection from all kind of attackers and hackers. Without compromising with the speed and performance, they have developed VyprVPN. We have gone through every feature this protection beast could offer. There were minor upgrades that are required. However, VyprVPN maintains a customer forum where they can add suggestions, and they are always taken into consideration when any changes are made.
With some common configurations, some advanced options are also provided which works to boost up the security and speed of the VPN. However, these are "not to change" configurations which are only required to change when advised by Golden Frog's executive. Provision for such configurations shows the seriousness of the provider to take down every possible way by which data breach could occur. Let's see if their attempts have accomplished their aim or not.
Informative panel
As soon as we were done with the simple installation process, we got started with the VyprVPN, and the first thing that caught our eyes was the informative panel present in the lower portion of the screen. It contains the information about:
VyprVPN IP Address
Time Connected
Encryption and Protocol
NAT Firewall status
But is this information relevant to the user? Well, the change in your IP address proves the connectivity of VPN. You will directly know about the encryption and protocol, and that provides the idea if it's required to change or not. But, yes, if you need to change it, you have to find them in the options and change the key length and protocol separately. NAT Firewall status helps to ensure the security. If due to some malfunction it gets disabled, you will directly know about it through this informative panel.
Real-time Speed Graph
It is located above the informative panel with X-axis displaying the time and Y-Axis displaying the internet speed. On the top right corner of the graph, you can watch the change in download and upload speed. By the graph itself, you can find if the proper speed is maintained or not. If the speed is low, you can switch to another server or else change the protocol. The graph helps you to provide information that when you need to make the changes for obtaining an optimum speed.
Make a List of Favorite Servers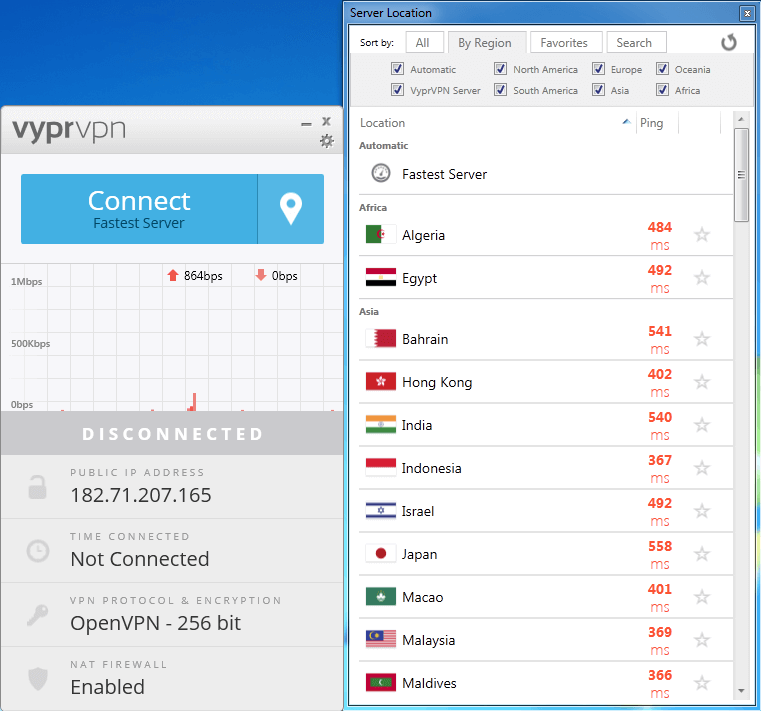 Some servers located in a particular country could be useful to you if you want to access the content that is only available in that country. Also, if you find some servers have better performance for your location, then it's beneficial to save them. VyprVPN provides facility to create a list of your favorite servers, and you can connect with them directly by exploring the list. You will find that by simply clicking on the location icon located on the right of the connect button. Two other options are available in which one of them provides a list of all the servers and the second option directly connects your device with the fastest server available.
Control Over Connection
You will experience a number of networks available around you, and many of them could be untrusted. VPN will directly turn on as soon as you connect with an untrusted network.
It also provides a kill switch that turns off all the internet traffic if the VPN goes off unexpectedly. That saves your data and information from the hands of cyber-criminals.
It also provides "content on start" option and checking on it will directly connect your device when it turns on, or else you can choose to turn it on when the VyprVPN started. However, it's your opinion that you wish to connect automatically or not. Even if this option is present, it won't take much effort in connecting the device manually by pressing the connect button that appears as you start the application.
Chameleon protocol
That's a highlighted feature of this VPN as the company itself has developed it. It uses 256-bit key that can't be broken by brute force. The chameleon protocol uses stealth VPN technology which is more prominent in bypassing firewalls and applications that intend to block VPN traffic. The protocols with VPN stealth technology have the ability to disguise VPN traffic as regular web traffic which helps to maintain the secrecy.
However, this protocol is currently not available for iOS, but they provide L2TP/IPSec with a 256-bit key that is regarded as one of the most secure protocols, which is even available for every VyprVPN plan.
Port selection option
Port selection configuration option is available for Chameleon and OpenVPN protocols only. But, generally, these are the protocols which we prefer because they are more secure in comparison of L2TP/IPSec and PPTP. There are two options available: Automatic and manual. Initially, the port selection is made automatically by VyprVPN, but you can change the port if you find that the automatically selected port is blocked. The manual selection is done for avoiding port blocking and throttling.
Advanced Settings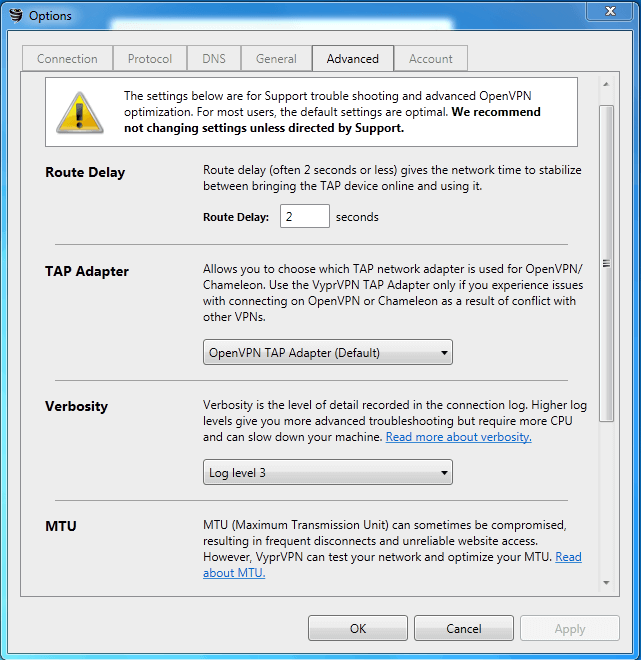 VyprVPN provides some advanced settings even if they are not generally required to change. It is advised only to alter them if asked by the VyprVPN executive. However, they are provided to make the use of internet more secure by having better control over the VPN features.
Route Delay: This option is provided for better stability of the software which is required. It is provided when Dynamic Host Configuration Protocol (DHCP) is used to remove the manual task IP address configuration. Route Delay provides time for DHCP to be completed before routes are added.
TAP Adapter: This virtual network interface is used by VPNs to connect with internet privately. One advance setting in VyprVPN is this that they provide VyprVPN Tap Adapter in addition to OpenVPN Tap Adapter. This is useful when any failure occurs in OpenVPN Tap Adapter. At that time, you can directly select the VyprVPN Tab Adapter to continue using the internet privately.
Verbosity: Verbosity provides the connection log details, and it is available with ten different levels. By default, VyprVPN has set verbosity to level 3. You can change it to a higher level which provides you with more advanced troubleshooting but then it comes with the cost resource, and it may slow down the machine.
MTU: Maximum transmission unit is the size of data packets which are used for data transmission. Generally, it is set to 1500 bytes but required to alter when your network and in the app could cause trouble, such as websites failing to load.
TLS Timeout: It is a great feature useful where the connection is poor. When you increase the TLS timeout, there are more chances of establishing a successful connection.
These settings are provided as "advanced" option and are not required to change unless asked by the executive or else, the application can cause trouble. Generally, other VPNs automatically change the settings, and that's why they aren't visible to the user. VyprVPN provides the manual option, just in case, if by default settings aren't working properly.
Connection Time Analysis
Time taken for connection establishment is an important aspect by which VPNs are judged. If it takes too long to connect, then it won't be preferred. In our experience, VyprVPN always takes less than one minute for establishing a connection. We have experimentally checked it by connecting for several times and recorded the time for which it gets connected.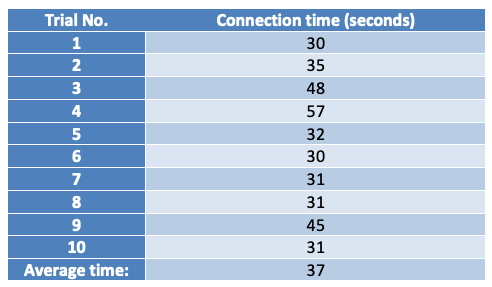 This shows that it at least takes 31 seconds to connect and the range varies from 31 to 57 seconds. In a few cases, it may take longer time, but usually, it will get connected before one minute.
Influence on the Internet Speed
The bad part is speed will get reduced, but the good part is, it won't be reduced much. While using the regular internet connection, the download speed was 9.95 Mbps, and the upload speed is 6.48 Mbps. After connecting with VyprVPN, download speed and upload speed are just reduced to 8.76 Mbps (12.86%) and 3.96 Mbps (38.8%) respectively which is considered remarkable.
This speed test is done while the OpenVPN protocol is used. OpenVPN is considered secure but greatly lowers down the speed in comparison of other protocols. If security is not the main concern, then you can use the PPTP protocol to obtain nearly equal speed.
User Interface and User Experience
With the addition of an informative panel, the real-time speed graph and option of multiple locations, an excellent user interface is provided. Every option is easy to discover, and configuration for every feature is provided. This provides the complete user control over the app and allows you to use the app as you like.
It has a particular tab dedicated to notifications, language and data sharing. You get the authority of which notifications you wish to receive and which you wish to ignore. You can also change the language you wish to use; all the major European and Asian languages are added. Though, few more languages can be added for a better understanding of some of the users.
Security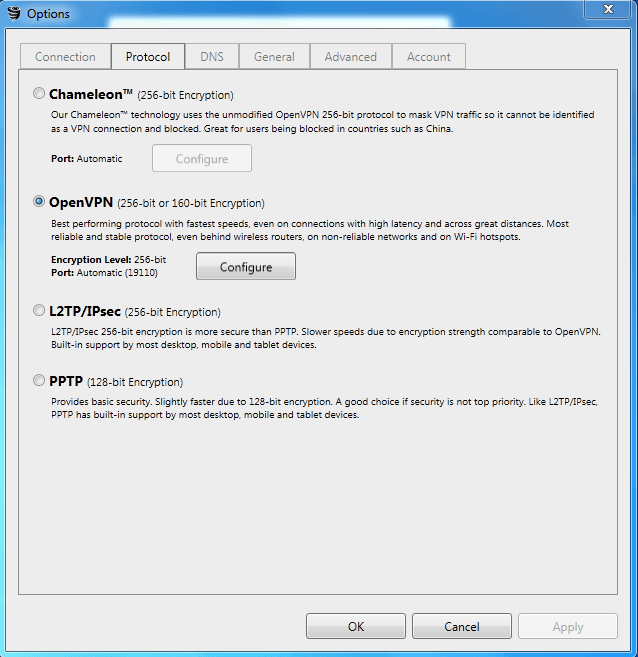 VyprVPN doesn't allow one to change the type of encryption used. However, you can change the protocol and key length which also plays an important role in safe-guarding your data. As already discussed, the addition of Chameleon protocol is itself enough to make the VPN trustworthy. It also allows you to configure the key-length (either 160-bit key or 256-bit key) for Chameleon and OpenVPN protocols.
Kill switch feature is also added for the security purpose. It stops all the internet traffic automatically as soon as it is discovered that the VPN has stopped unexpectedly.
Third party DNS is a platform that could help hackers to obtain the data. We discovered that apart from third-party DNS option, VyprVPN also renders the option of connecting with its DNS which avoids data breaching. It also has DNS leak prevention which doesn't allow the window to leak your DNS data by connecting your device with another DNS.
Platforms
They support all platforms excluding windows phone and only support Android 4.0 or higher and iOS 9 or higher. The number of features also varies for different Operating Systems.
They are highly compatible with Windows PC and provide all kind of protocols and option for port selection. For iOS, the Chameleon protocol is absent as discussed earlier and port selection is also not available. The good part is they provide VyprDNS for all platforms, and it is good enough to secure your data. Also, VyprDNS always acts as a zero-knowledge DNS irrespective of the device. It also offers the service for QNAP which makes it preferable for the corporate sector.
Customer Support
Help and support are the most the basic requirement through which a user could reach the company. The live chat option is provided on the golden frog's website. Even though they do not provide 27/7 live chat, they usually reply to their user's E-mails in a short period. You can also contact support directly through the software program or contribute to the VPN's better functioning by reporting a bug.
They also provide a particular section dedicated to the users, "Forum" where they can upload a query to which other users can also reply. This helps to detect the problem and finding the solution at the same time. The topics are discussed in the forum and results in help in upgrading the application.
The "Feature Request" option is another way how they strive to improve every moment. The users keep posting the ideas and features that can be added which are taken care by customer support after that.
Conclusion
VyprVPN, a Golden Frog product has placed itself on a different platform by providing a variety of features that render complete control of the software to the user. This makes it more effective for a user of a particular region who requires to access particular content. You can prioritize speed, security or stability without compromising much with the other two. With the features such as Chameleon protocol, VyprDNS, advanced settings, and Nat Firewall, a data breach will become a myth for you if you use VyprVPN.
Some more advancement is required, and functionality could be improved. It can also add more protocol options and server location. However, we recommend VyprVPN as it has proved its capability for accessing content and avoid data breach in several locations all over the world.