Pro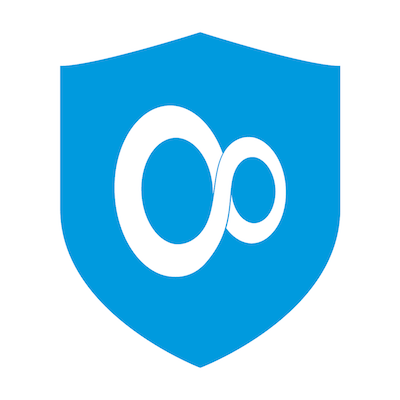 VPN Unlimited has developed KeepSolid Wise stealth technology which makes your data less detectable over the Internet, and it looks like standard traffic instead of encrypted traffic.
They provide lifetime subscription also which isn't available for most of the VPN providers. This allows the user to pay for one time, and experience service without renewing the subscription after every specified period.

You are free to select the plan according to the number of devices. They provide the option of selecting one single device, five devices, and ten devices simultaneously. However, you are allowed to delete only one device in a week.

Separate servers for Streaming, BBC and Netflix, are established to kill the ban put on your entertainment.
Cons
Smoothness in connectivity was a missing element, and a few times when we tried to switch server, it stopped getting connected to the Internet. Even after I shut down the app, the Internet would be gone forever till we make changes in the network configuration manually.
The first con led us to another; a server for BBC iplayer wasn't working fine. Next time, when we disconnected it, even the Internet was gone along with it. We find it messing up with our network configurations, and reviewing it was a task of bringing life out of the dead.
It doesn't have many options which could allow the users to make changes to the application, and its usage.
KeepSolid Inc. is subject to US jurisdiction, and it's very well known that the U.S.A. is one among the "Five Eyes," so it's not a good idea to establish the headquarter there.
Website: Visit Website

Overview
| Quick Overview | |
| --- | --- |
| Protocols | OpenVPN, IKEv2, |
| Platforms | Windows, Mac, iOS, Android, Linux, Windows Phone, Apple TV, Browsers |
| Jurisdiction | USA |
| Logging | No Log |
| Encryption | AES 256 |
| Connections | Up To 10 Devices |
| Locations | 70+ Locations |
| Servers | 400+ |
| Netflix/P2P | P2P Available |
| Payment Options | PayPal, Bitcoin, Amazon, Credit Cards, Gift cards, App Stores |
| Support Options | Live Chat |
| Pricing From | $ 4.17/mo Billed For 3 Years |
| Guarantee | 7 Day |
| Free Trial | Yes |
| Website | Visit Website |
KeepSolid VPN Unlimited is the VPN service provided by KeepSolid Inc. which owns products related to privacy. They make claims of "No Log" policy, but to what extent it's true, let's discover that in this review. Also, they claim to render service with "ultimate speed" and "No data limit."
We dug to the core of their different policies and explored VPN Unlimited clients from every aspect. We found some hidden facts which weren't visible on the surface, and these facts are surely going to take part in concluding whether we recommend VPN Unlimited or not.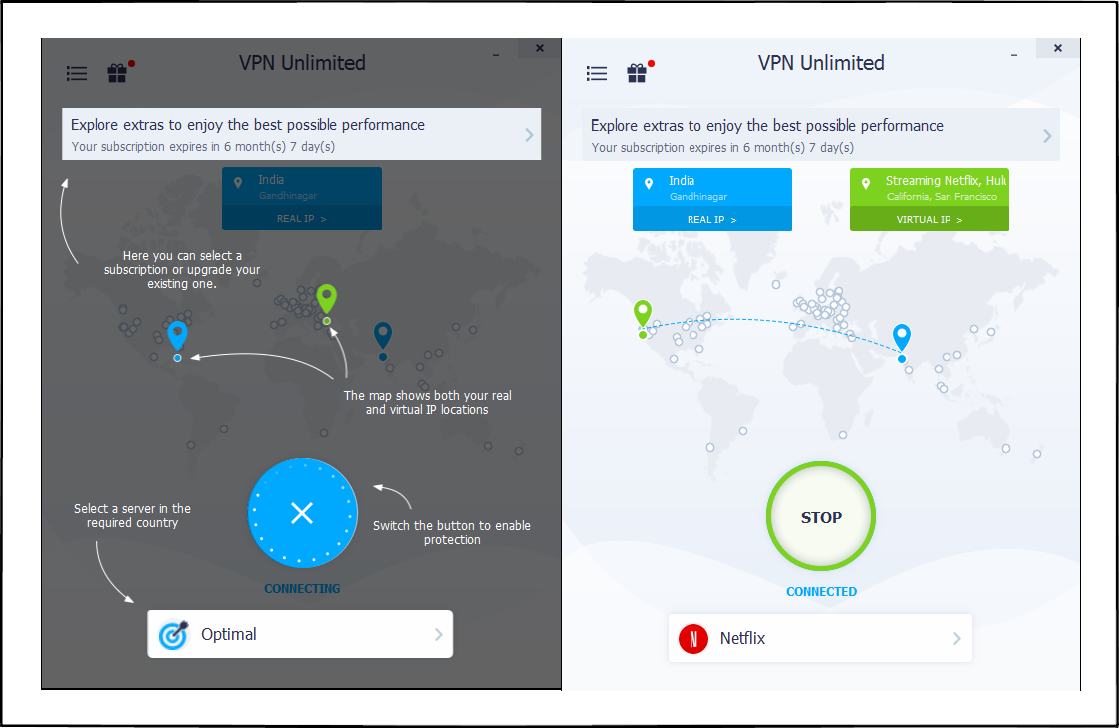 However, its price could be an alluring factor as it provides lifetime subscription also, and if you want to buy it because of this reason, go ahead. But, if other factors matter to you, stay and go through the review that speaks about the functionality and efficiency of its applications.
Servers
Servers hold the real game of efficiency if we talk about connecting with the virtual private network. A good server network allows the user to establish a fast and efficient connection from any corner of the world.
VPN Unlimited has a relatively good network with 400+ high-speed (as they claim) servers across 70+ locations situated all over the world. So, this must be delivering high speed, right? Well, it depends upon your location also; the distance between you and the server, sometimes the weather conditions and many other factors may also affect the speed.
In VPN Unlimited's case, even if we make the situation ideal, high speed wasn't experienced. Now, if we talk about the filtering of the servers, they are distributed in four different categories: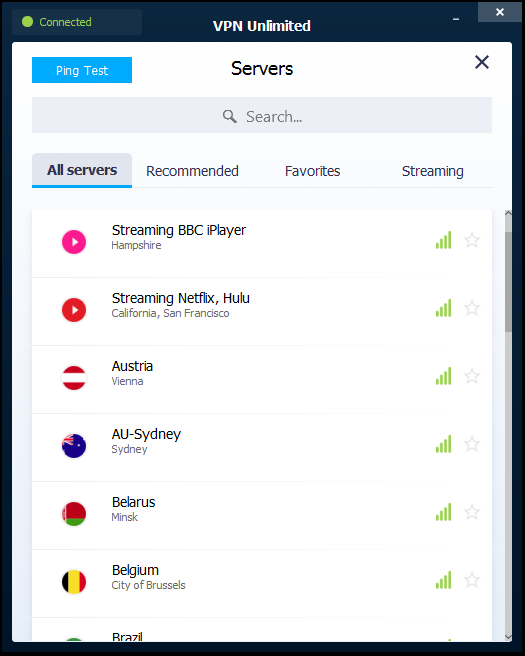 All servers
Recommended
Favorites
Streaming
This looks efficient to us as these categories help the users to select the servers according to the requirement. From "All Servers" category, you could select the server from the country whose content you wish to visit. However, it doesn't connect with the servers efficiently and takes a lot of time to get connected with a few servers. Maybe, those servers are making calls for maintenance and hope, that this issue will be solved in future.
On what basis, the "Recommended Servers" are select is unknown to us, but the best one to which the client got connected automatically is established in the same country where we are located. The other recommended servers were from Europe, and we encountered a similar connectivity issue. We would recommend saving the servers which function properly in the favorite list so that you can connect with a proper server in no time.
Well, there are four dedicated servers for streaming which are named as: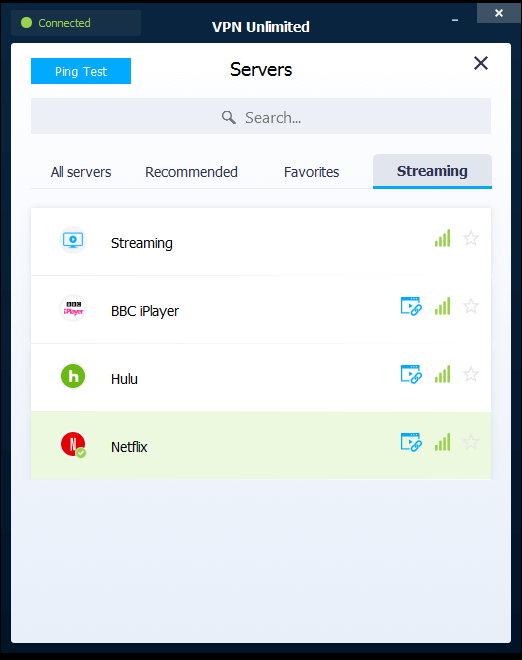 Streaming
BBC iplayer
Hulu
Netflix
These streaming servers are named according to the purpose they serve. However, not all the streaming servers perform their respective tasks efficiently. We have seen a lot of "Oops.. Something Went Wrong" during the whole review. Fortunately, in the end, we were able to enjoy our favorite shows after connecting, disconnecting and reconnecting with servers multiple times.
Logging Policy
"No Log Policy"
This sounds like the most reliable factor according to which you would choose your VPN provider. VPN Unlimited claims to keep no logs for every plan. However, it has not mentioned on the Homepage of the website. Whenever you go to the download section, you can read this claim stated below the pricing.
But, through live chat, we discovered that it actually keeps some logs which they say that they require for improvement of the application. They explained to us clearly that this information isn't harmful at all. However, there is one exception where the amount of the total web traffic for each session is recorded. The information about the number of connected devices is also recorded which is surely of no concern.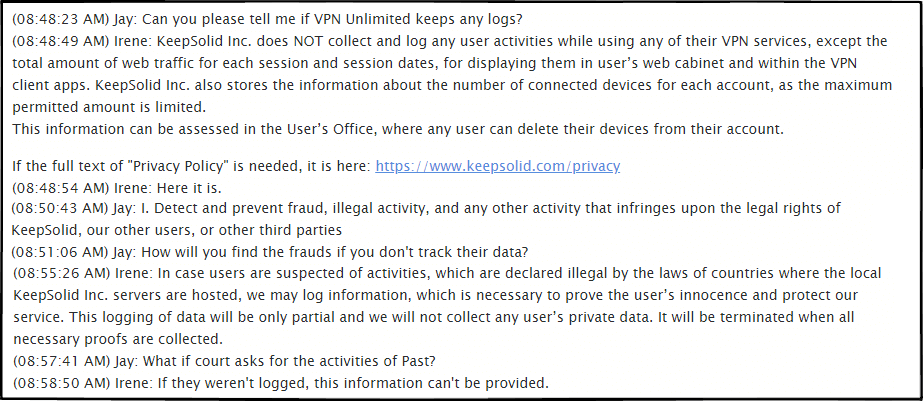 Even initially we felt that it's irrelevant, it was necessary to do further research about the VPN provider's privacy policy, and we found a few points which made us unsure about the user's privacy. That's the limitation that a VPN provider has, if it is headquartered is situated in any of the Five Eyes.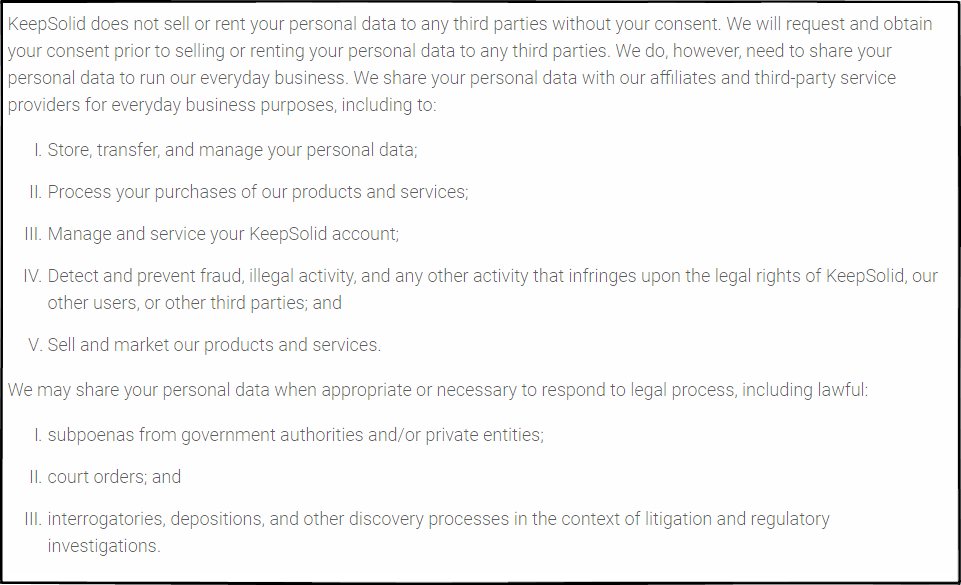 There is more information that you must know before purchasing the application. Read the complete privacy policy, and you would learn it that this application is suitable for you or not. The application may or may not save the personal logs but acquiring and utilization of data is done in various ways which could be the concern if you wish to remain anonymous. Also, in case if the court asks the provider, they are bound to track your online activity.
Additional Services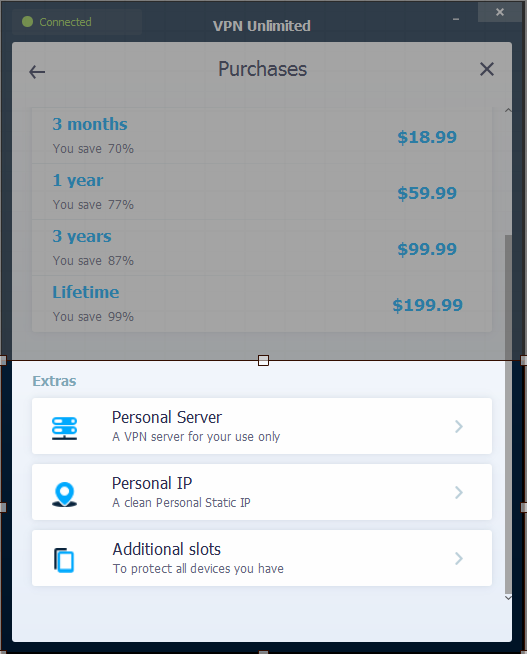 Additional features include personal IP, personal server, and you can also increase the number of slots or devices which you wish to connect with the VPN. Without additional features, your IP, and your server would be shared by other users also. Here "sharing is caring" won't work, and the consequence would be a slow connection because of multiple users.
If you purchase one individual IP address, no one else will be able to use that IP, and that's how you can avoid any chances of facing a slow network. If even this fails, you can purchase a personal server, and only your data will only pass through that.
If you need to share the benefits of VPN with a large team, either you can install it in the router or if that isn't possible, you have the option of increasing the number of devices from five (which is standard) to ten by paying the price accordingly. With this feature, if you know someone who wishes to purchase a VPN client, you could share the account, and make it more cost effective.
Netflix
Accessing Netflix is one of the major reasons for which people use VPN. However, it also depends upon the country whose Netflix you wish to access. By using VPN Unlimited, you can access the United States' Netflix content, but not of other countries. As soon as you click on Netflix server, your IP will change and shows your location as California.
In the United States' case, it worked successfully, but what about the other countries' Netflix? Well, sorry, but you can't access them through using VPN Unlimited. We tried to connect with all three Canadian servers, Netherlands' server, and both the servers of United Kingdom. The results were disappointing and "Oops.. something went wrong" was the only thing that appeared on our screen. Now, there were two servers under streaming servers which were named as "Streaming" and "Hulu," both having United States' Location so, even if the Netflix works on those servers, it would be useless, because, for the United States, there is already one dedicated Netflix server.
There is one feature which is lacking in most of the VPN providers, and that is BBC iplayer's streaming server. One out of two U.K. servers is dedicated for BBC iplayer streaming. You can connect with it and bypass the restrictions easily. However, this won't work when you try to connect with U.K. Netflix using this server.
Connection Time Analysis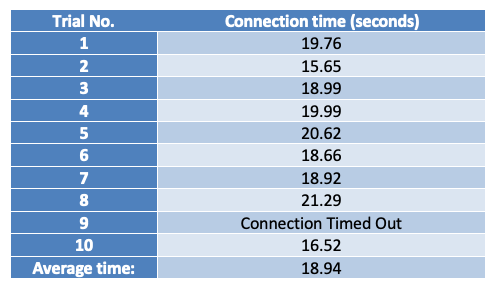 Sometimes the easiest tasks turn the toughest, and that's what we faced while performing connection time analysis. It looks so stable, right? With an average of 18.94, and that can be accepted as many other VPN providers take more time than this. One time, while establishing the connection, we also experienced connection timed out. But, that's fine; I mean it may happen sometime.
What is not acceptable is SHUTTING DOWN THE INTERNET CONNECTION every time I SWITCH TO ANOTHER SERVER OR DISCONNECT WITH THE VPN SERVICE. This is one significant con that ruins the efficient security, and amazing pricing that KeepSolid Inc. offers.
We were connected with VPN and browsing about frogs. After that, we thought of accessing BBC iplayer's content, but unfortunately, we weren't in the United Kingdom at that time. So, we switched to BBC iplayer's server, and the magic happened. Not only it didn't play BBC iplayer but also blocked my Internet connection to which I was unable to connect even after connecting with other servers or by switching off the VPN provider.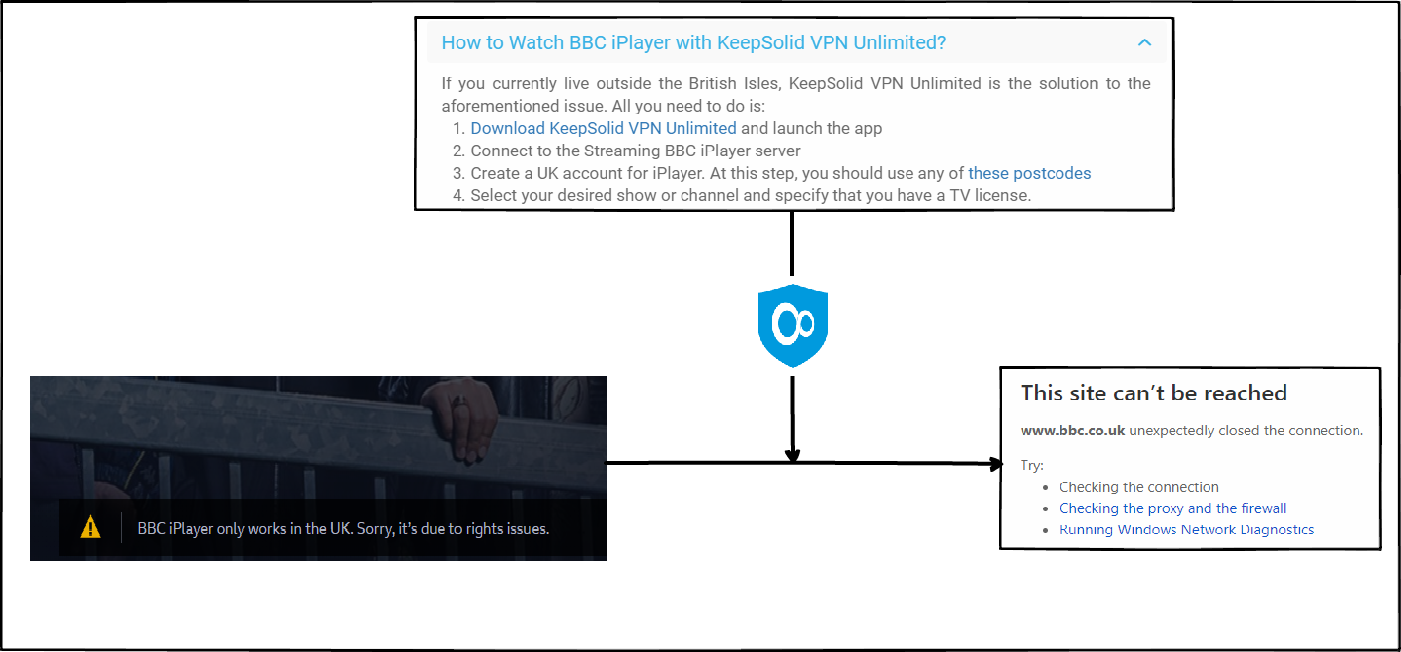 The irritating part in yet to arrive!
After we switched off VPN Unlimited, we removed it from Task Manager and tried to connect with the Internet again. It wasn't helping. We tried to connect with VPN Unlimited, and it was asking us to make sure that our Internet connection is turned on. So, for connecting with the VPN provider, we required the Internet, and for connecting with the Internet, we need to connect with the VPN provider, and we aren't really good at handling paradoxes.
Now, we connected the system using another Wi-Fi, and it helped us to access VPN client, and to create Ethernet. From this, you need to follow steps if you come across the same problem:
After you get connected with another network, just establish a VPN connection using VPN provider.
As soon as VPN provider connects with the server, switch your system to the previous network.
Go to Network and Sharing Center > Disable Ethernet from "view your active networks" > Go to "network adapter settings" > Enable it again.
This issue may appear again and again, and a permanent solution isn't available, and thus, we do not recommend using it if the issue continues. VPN Unlimited must be having a developer team that ought to solve this bug as soon as possible.
Speed Test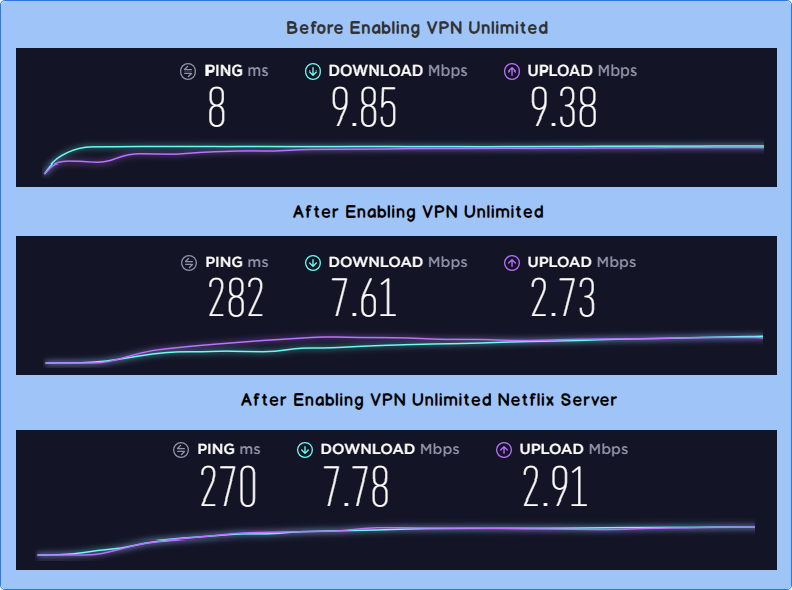 That's not at all disappointing when it comes to speed (Not at least, in comparison of other features that it provides). We checked it for Netflix particularly and realized that the Netflix server is providing faster Internet speed than the recommended server. This could be stated funnily or could be concluded that VPN Unlimited doesn't provide the right recommendations for servers. If you are using VPN Unlimited, manually try to select different servers, and perhaps, you will experience a better speed than the recommended server speed.
Security
Well, every VPN provider nowadays uses AES-256, which is military grade encryption used by United States' intelligence agencies and recommended as a best "Diamond Wall," nearly impossible to break. Now, what's different in VPN Unlimited? Even after providing this strong encryption, they have added one more layer of security by adding KeepSolid Wise Stealth VPN Technology. Because of this, your data appears like innocently transformed information, and no one could find out that it's encrypted. It gets mixed with Internet traffic helping your VPN connection to become invisible. It is helpful in the countries where active blocking of VPN takes place such as China and Russia. Use of VPN is considered illegal in these countries, and if someone is found guilty, charges may be placed against him. So, it's useful to safeguard yourself from the government.
With this technology maybe concluded useless because of few reasons:
No data breach could occur through this VPN provider: True. ✅
They don't share our data with any third party: False. ❌
The third-party could cause leak our data: Maybe. ❓
They don't own DNS and use Google DNS which could also be a source of leakage. Due to so many pours in the data transfer tunnel, we can't state that it's completely reliable.

Platforms
Any device you own, for most of the platforms they provide VPN client. You can also download the extensions for Chrome and Firefox. They offer router configuration also, but it purely depends on the router if it is compatible with the VPN provider or not.
One thing that we would like to suggest here is this that does not download the client directly from the website if you are using an older version of any Operating System. These downloads are only suitable for the latest version, and the connection error problem would have occurred because of that. The latest version should only be installed in the latest version of the operating system ONLY. It may cause malfunction, and failure of the network if the latest version gets installed in the older version of the operating system.
You can directly contact them through live chat or e-mail, and they will provide you the link of client suitable for your operating system.
For one account you can use up to 10 devices, and this offer is not rendered by most of the VPN providers. It helps the user to install it on multiple platforms at multiple locations without worrying about the number of connections. However, from one account there is a limit on the usage of data. You can't use more than 900 GBs of data through one account in one month, so, if ten different people are using VPN Unlimited, then 90 GB comes to everyone's share.
User interface and User Experience
The user interface is never an issue for this application. The clients are so simple and easy to use that even someone who is new to VPN technology could explore it easily. With every few features, and configuration, one doesn't need to think much about optimizing his network.
The plain map and multiple tabs with clear attributes is something which is required to make a VPN more appealing. But, it doesn't happen every time that a good user interface leads to the user experience. We really had a bad user experience due to the connectivity issue that we faced. User experience could also be improved by adding some more features such as split tunneling and Ad-blocker which CyberGhost and NordVPN have already done.
Customer Support
Customer support is provided in two different ways which are a necessity to provide customer satisfaction: the "Ticket Generation" and "Live Chat" option. Both are highly efficient, and they really helped us to discover the privacy policy, DNS information, and bug related issues.
However, when I put complain about wrong download option that is placed on their website, they directed me to e-mail the suggestion. If I talk about Ticket Generation, it is faster than most of the VPN providers customer support. It won't take more than twenty minutes for them to reply you with the proper solution, and links of the query.
Conclusion
Even after delivering a good speed and with the availability of KeepSolid Wise, it would not be possible for us to render a clean call if you are going to purchase this VPN product. It is because of the connectivity issues that we faced while using the VPN, and even after deleting it. Not only this but logging policy doesn't appear clear to us, and that's not trustable. They also involve third parties for data storage and use Google DNS.
If these all issues could be solved, we would be glad to review the product again with a positive aspect, but for now, VPN Unlimited is disappointing, and would not recommend it even if it's cheaper than other VPN providers.