Pros: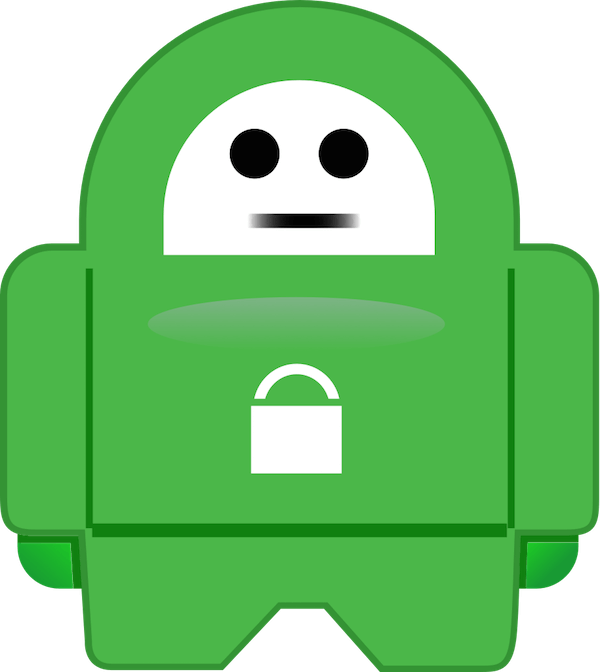 Provides the user the option of changing the key length depending upon the resources that the system could provide.
You also have an option of changing the ports, but this can only be done after disconnecting with the VPN connection.
It offers PIA MACETM which helps to provide a better user interface by implementing features such as Ad-Blocker and malware blocking.
Its price is comparatively cheaper than other VPN provider applications, and it just costs $3 per month if you take a two years plan.
It allows altering the MTU packet size for improving compatibility for a particular router because of which PIA covers more number of platforms.
Cons:
Sorting of the servers could be improved by adding special servers for P2P network, and Steaming. However, you can manually find out that which servers match with your requirement.
Split tunneling feature could be added for better functionality of the application. Right now, all the data travels through a virtual private network irrespective of software programs and browsers.
"Disconnect" option doesn't work properly, and a few times, you need to exit the app to disconnect it completely.
Website: Visit Official Site
Overview
| Quick Overview | |
| --- | --- |
| Protocols | OpenVPN, L2TP, IPsec, PPTP |
| Platforms | Android, iOS, Mac, Windows, Linux, Routers and Firewalls |
| Jurisdiction | USA |
| Logging | No |
| Encryption | AES-128 to 256 |
| Connections | 10 devices  |
| Locations | 52 Locations |
| Servers | 3083+ |
| Netflix/P2P | P2P Connection |
| Payment Options | PayPal, Credit Card, Bitcoin, Litecoin, Ethereum |
| Support Options | Support Ticket |
| Pricing From | $ 3.49/mo If billed every 2 Years |
| Guarantee | 7 day |
| Free Trial | No |
| Website | Visit Website |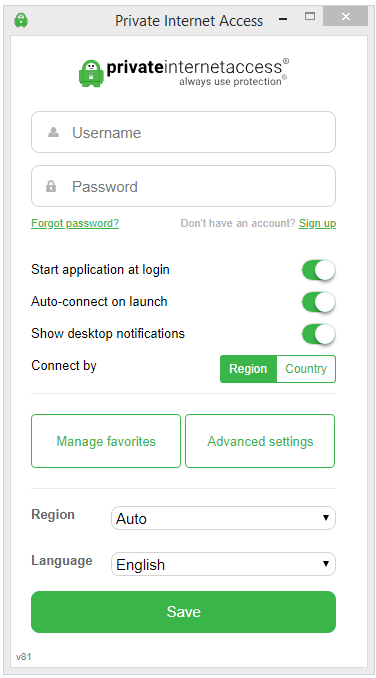 Private Internet Access (abbreviated as PIA from now onwards in the following review), is a VPN service offered by London Trust Media, Inc., a US-based online security company that offers the private connection service to help users protect their online security and privacy.
The service offers various gateways for worldwide users as well as multiple encryption protocols and server locations. The goal of the company is to make it easier for the users to enjoy a free and open internet without any restrictions, with the fastest speed available.
The application establishes a VPN connection within seconds, and has many features that support better security.
The security levels could be changed, and you could lower them down to increase the speed, and to decrease the use of resources. Such flexibility is rare to find as there are very few VPN providers which allow the user to alter the application's pillar points for benefits of users.
Sorting Servers
Here you only get two options which are sorting the server with different country, and with a different region. It may sound the same, but they are different. For some particular countries such as the U.S.A., they have an immense number of servers. If you wish to scroll down all the servers from the U.S.A. then you can select them according to the country. In the region section, these servers are filtered out with more dept. For instance, if you are living in the Eastern part of U.S.A., you can select this region, and you will get connected with the particular servers of this region.

However, they don't provide sorting based on particular servers which are best for streaming and downloading. You need to do it manually by connecting with different servers, and analyzing the speed. Fortunately, you can save that server as the favorite server, and after that, whenever you need to download or stream, you can connect with that server by selecting it from the favorite list.
Protocol and Port Settings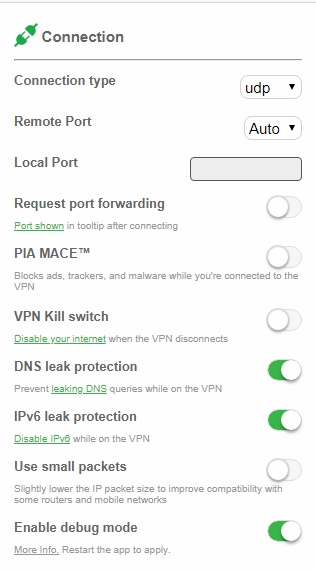 By default, PIA offers OpenVPN protocol which could be configured in two different ways which are UDP and TCP. These settings must not be changed without any prior knowledge of consequences that the changes may cause. You can also add a remote port for which four different port numbers are available. The option of adding local ports is also available in which custom ports of your choice could be added. However, this could decrease privacy, and cause malfunction if they are added randomly.
Port forwarding option helps for torrenting, and also allows remote access of your computer from anywhere in the world. This function is an exclusive element of this app which makes it fit for people who require downloading data continuously.
Support for P2P and SOCKS5 Proxy
Private Internet Access provides the support for P2P sharing network, meaning that with this VPN service, you can use the private connection to do some torrenting without any problem. You can download or upload torrent files without having to deal with any restrictions that some VPN services might impose on you. You can turn on the private connection 24/7 for torrenting, and you won't get any problem from doing that. Additionally, it also provides the support for SOCKS5 proxy, which is the proxy known to give you the best connection speed in your network. It means that by using this proxy, you can easily download or transmit any data from your devices in blazing fast speed.
Kill Switch
Kill Switch feature isn't a new thing in VPN technology. Even the newest and basic VPN providers provide this facility to avoid any sort of data leakage that may occur if the VPN provider stops without notice. In these cases, Kill Switch blocks all the Internet Traffic and makes the data secure.
However, PIA notifies, only to use it when necessary. This warning wasn't given to us by any other VPN provider. The reason behind this is Kill Switch could require modifying operating system's network settings and thus, it may cause connectivity issues. But, still it is required to keep it on if you are worried about your data leakage and privacy.
MTU Settings
MTU settings let you change the data size packets, and it is required of proper connectivity with some routers and mobile networks. Mainly, the old hardware is not compatible with large size data packets. In that case, you can lower down the data size by using smaller packets. By default, MTU is 4000, and if you try to change it using PIA VPN provider, it doesn't tell us the figure to which it has decreased the data size. Although it doesn't affect the security, it should only be done when you find it incompatible with the hardware. In doing so, you may get a reduced speed due to the increase in the total number of data packets.
Debug Mode
Debug mode is implemented to improve the functionality of the application. It directly doesn't cause any betterment in its working, but it just saves the details related to PIA's performance as well as records the attempts which you do to connect with the VPN.
These logs are important for diagnosing technical issues that you come across while using the application. The provider uses this data to improve the client, and the changes could be marked in every update.
Encryption Settings
Encryption is the mian pillar on which the VPN connection lies, and high-grade encryption is required to render complete security. PIA offers AES encryption which is the strongest one among all the encryptions. Every other VPN provider offers this encryption, and it's not a big deal. However, PIA allows changing the key length by choosing either 256 or 128-bit key. A 256-bit key would be stronger than 128-bit key, but for establishing a connection using it, the system would need to utilize more resources. If the hardware is performing slowly, one can change the key length. Using 128 key length would surely decrease the security, but still, it's not breakable.
For data authentication, you have the option of selecting a hash function: SHA-1 and SHA-256. SHA-256 is one of the hash functions from the SHA-2 family. SHA-2 family is developed after SHA-1 with several developments.
For handshake also, six different choices are provided out of which you can choose one, but it's suggested to use the default one or else malfunction could occur. These options are exclusive features for which we recommend PIA for the users who wish to have a high level of security, but their systems are not compatible with other VPN providers.
Connection Time Analysis
The connection time analysis for PIA makes sure that it can establish a connection with no time, and that's constant for whenever we tried to make the connection.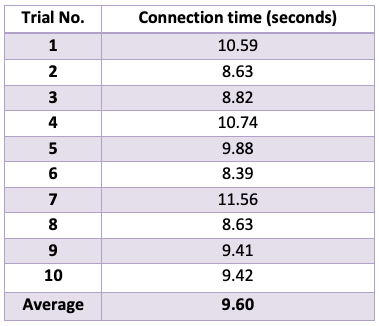 With the Average of 9.60, we recommend it if you need to create to establish a connection in the fastest possible way. However, this analysis was done with the auto-connect option, and if you switch to another server, the results may change. For us, when we tried to connect with Germany's server, it was not connecting at all. Maybe, it's one of the faulty servers which require maintenance. This is not the case with every server but always try to use auto-connect to remove every chance of application's malfunctioning. When we tried to disconnect it, we were not able to do it, and hence, the application got stuck between connecting, and disconnecting. After that, we exit the application, but again, by default, it connects with the same server that you have selected, and then you don't get an option to change the server. So, carefully select the server or else application may get stuck.
Speed Test
When it comes to speed, PIA has proven itself among the top VPN providers by providing a reduction of only 7.4% for download speed, and 49.89% for upload speed. This is something that even traditional VPN companies fail to reach. Regarding speed, it has performed above all other VPN providers.
Security
It is configurable with multiple protocols, and also provides an option for using AES-128 or AES-256 which are the from the best encryption family. It also provides a different option for data authentication, and handshake which saves the data by best possible encapsulation.
Apart from this, the DNS leak protection is available which doesn't allow ISP to track your online activities. There is no involvement of any third party DNS and it provides own primary and secondary DNS ensuring no leakage of data.
IPv6 leak protection along with Kill Switch feature makes PIA reliable regarding security, and safe data flow.
User Interface and User Experience
There are three different buttons on the top of the screen: Maximize, Minimize, and Close. Maximize button doesn't work for no reason, and Minimize and Close performs the same function of closing the window (Note: This was experienced for Windows Client). It is somewhat irritating to select the PIA's icon every time on the taskbar for changing any setting or even to open the server list. No minimized window is available for the user.
Also, the connection failure ruins the user experience, and it must be improved. When we tried to connect it with other servers, such an issue was not visible. For better user experience, more filtering and sorting of servers are expected. However, all the settings are available on one screen, and it makes it easy to explore them.
Platforms
It covers all the platforms (Windows, Linux, MacOS, and iOS ) including extensions for Chrome, Firefox, and Opera Mini. There is MTU setting available which makes it compatible with many of the routers even if they are not high-quality. Because of this, PIA is recommended if your hardware is not up-to-date. A reduced speed could be noticed, but that has nothing to do with the VPN provider. It is because of the inefficiency of the hardware.
You can install it on any five devices from one account. The best way to distribute it is to install one for your router, and keep the rest of the devices such as your mobile phone and the Laptop which you need to carry outside your home to public places.
Customer Support
They do not have any live support system, and the only way to contact them is through ticket generation. You need to provide your e-mail, name, query subject, and the details about it. To this, they reply with an answer over your e-mail ID which you would have provided them.
Instead of contacting the customer support, the website has hundreds of articles related to PIA, its features and errors to which you may come across. Just try to put the suitable keyword, and you will receive the list of articles related to the search. If the query doesn't get solved, the ticket could be generated anytime.
Conclusion
Regarding speed and platform, PIA is unbeatable as it has huge server network, and capability to get configured with many devices. However, if user interface and stability could be increased it would be tough to find a better VPN provider than Private Internet Access. In terms of security also, PIA provides a good number of features which are exclusive to this app could not be found in other provider's clients. It allows you to use the Torrenting network without a problem, and it also allows you to use the SOCKS5 proxy to boost your connection speed. Moreover, with its unlimited bandwidth and multiple server locations worldwide, you can easily stream any content that is available only on certain regions. All in all, if you want to use the private connection that is fast, affordable and secure, PIA is the best option.