Pros: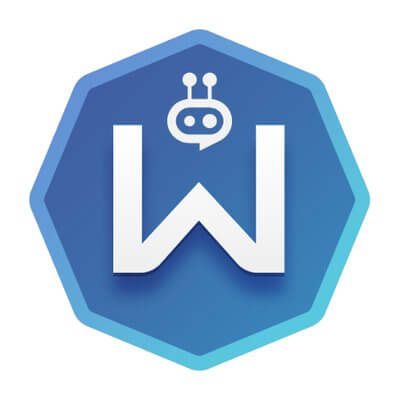 The "Sharing Options" are easy to configure and allow multiple devices to get connected under one VPN client.
It comes with language selection option having many different languages which aren't supported by most of the VPN providers.
API solution allows the customer to connect with the VPN connection even in countries which have a restricted network.
The free version is suitable for Browsing purpose as it offers 10GB of data per month. It allows users to access all the features at no cost.
Cons:
"Split Tunneling" feature is absent, and all the data flow occurs through VPN server even if you don't want that. If split tunneling would be present, we can choose the application that doesn't require its data to be encrypted. This could help to avoid slowing down the speed for those applications.
PPTP protocol is absent, but it is not considered secure and should only be used when someone needs a high speed. With PPTP protocol, one has to compromise with the security.
Website: Visit Official Website
Overview:
| Quick Overview | |
| --- | --- |
| Protocols | OpenVPN, IKEv2, SOCKS5 |
| Platforms | Windows, Mac, iOS, Linux, Chrome, Firefox, Opera, Smart TV |
| Jurisdiction | Canada |
| Logging | No |
| Encryption | AES-256 |
| Connections | Not Mentioned |
| Locations | 60 countries |
| Servers | 550+ |
| Netflix/P2P | Both Allowed |
| Payment Options | Bitcoin, PayPal, Credit Cards, Paymentwall |
| Support Options | Support Tickets, Livechat |
| Pricing From | $ 4.08/mo Billed yearly |
| Guarantee | 30 days Money Back |
| Free Trial | Yes |
| Website | Visit Website |
Windscribe is a private network connection service provided by Windscribe Limited, an internet security and privacy company based in Ontario, Canada.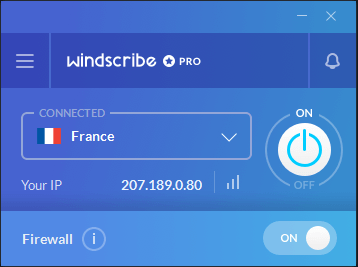 Windscribe is considered as a "set of tools" which main aim is to restore access to restricted content and safeguard people's privacy. It offers clients for different platforms, and its sharing options let the user use it in numerous devices.
It allows you to protect your browsing activities with ad blocking, firewall, and P2P support. Also, it prevents the tracking and monitoring done by the government and corporations.
Server Sorting
You don't get much out of Windscribe when sorting, and filtering of the servers is required. You can either sort it in geography, alphabetic order or Latency.
In this case, auto-connect is the best option when the requirement is just to hide the IP address, and access the Internet with full privacy. It will automatically connect with the server which provides the best speed in comparison of other servers.
If you wish to view the content of a specific country, you can easily find the country's name by sorting the servers in alphabetic order and then selecting it from the server list.
Firewall Option
It works like the "Kill Switch" option that you would have found in many of the VPN clients. It disables all the Internet connectivity if you aren't connected to its network. The difference is this that the Kill Switch blocks the Internet traffic only when the VPN stops unexpectedly. In the case of "Firewall," you will not get connected to the Internet till you turn off the Firewall option. This helps to protect the user from accessing the Internet without establishing a VPN connection. If it doesn't get connected to the Internet, it will remind the user to turn on the VPN client first.
Language Feature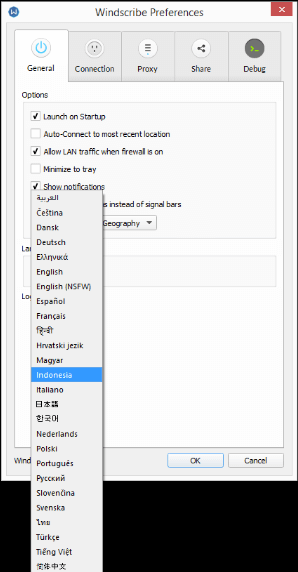 Windscribe renders twenty-six languages for its users. Most of the VPN providers do not offer these many languages as they concentrate mainly on Europe and English-speaking countries. With this feature, even the native people of different countries could take advantage of Windscribe's service.
It is beneficial for them, as they only know their mother tongue and not any other Language. For example, many Chinese users would prefer using an application which functions in the Chinese language. It would be better and easy to use for those citizens.
Protocol Options
A wide range of protocols is offered by Windscribe's clients which can be used with automatic or manual connection mode. By default, IKEv2 with port number 500 is provided, and it is recommended to change it to OpenVPN protocol. You could also change the port number for OpenVPN protocol types, but you should not change it without the prior knowledge of port selection. This option is only to use when connection related issues occur while establishing a virtual private network using OpenVPN.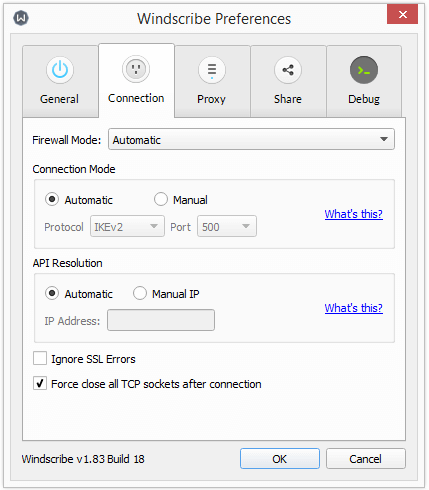 Stealth mode is also available to access geo-restricted websites. This makes Windscribe, a wonderful VPN provider choice in countries such as China and Russia. WStunnel protocol is another warrior in the Windscribe's protocol team which is a TCP socket tunnel over web socket connection that helps to bypass strict firewalls that other protocols fail to get through.
API Resolution
Windscribe has notably concentrated towards the countries where significant online restrictions are set. In countries such as China and Russia, the government strives hard to defeat every attempt that a person could make to visit restricted websites. DNS requests could be blocked or altered which could break Windscribe.
To avoid this, API resolution is provided. Here, if you face "API connectivity error," you could manually configure your IP address. You just need to contact Windscribe, and they will provide you the IP address which you need to implement in "API Resolution setting" provided in the app.
Sharing Options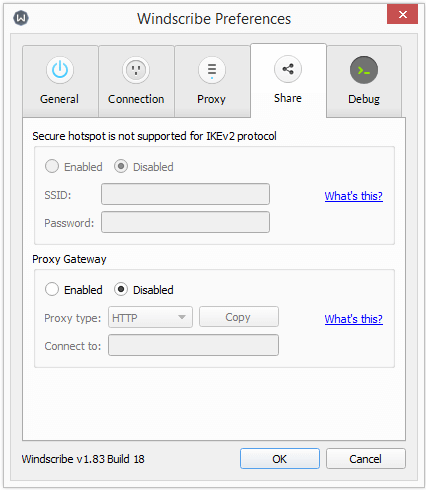 Sharing Options are exclusive, and selfless features which a VPN provider would only provide when it thinks about establishing privacy over the Internet for everyone's benefit. With "Secure hotspot," you could create a hotspot while you are connected to a virtual private network. This helps others to utilize the VPN client installed in your device, and their data also get encrypted with the same level of efficiency. Another option is of "Proxy Gateway" which allows the user to create a secure HTTP or SOCKS5 proxy server and with its help, you can configure devices that support proxy servers. For this, you just need to add your LAN IP, and port number in "Proxy Gateway" setting provided under share icon.
Debug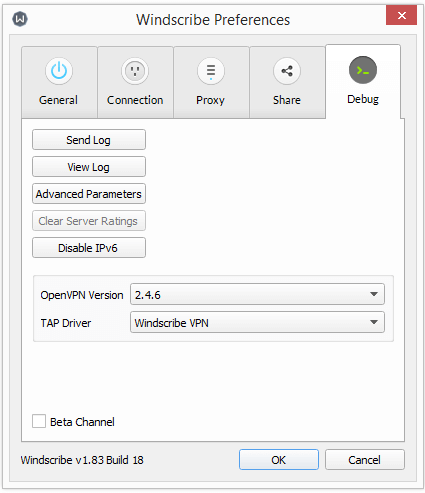 When you come across an error and solution to that is unknown to you, you can reach out Windscribe team anytime. You could send them the activity logs of the application which could help them correct and remove errors for the improvement of the application. The functionality of debug mode indirectly affects the user experience. There are few more options present under this category which are not required to be altered. Changing the OpenVPN version and selected TAP driver are only needed when a proper VPN connection could not be established.
Connection Time Analysis
| Trial no. | Time Taken To Establish the Connection (Seconds) |
| --- | --- |
| 1 | 4.13 |
| 2 | 3.48 |
| 3 | 3.85 |
| 4 | 4.59 |
| 5 | 3.91 |
| 6 | 3.88 |
| 7 | 3.3 |
| 8 | 3.72 |
| 9 | 3.29 |
| 10 | 3.47 |
| Average Time In Seconds | 3.76 |
Connecting time highly depends upon the efficiency of the servers and their location. Windscribe has several servers at most of the major locations, and thus connectivity is never an issue when Windscribe is used. This connection time is for the best location that the application selects itself. If you try to connect with other servers, you will experience different connection times for the same location. It is recommended to connect with the automatically selected server for faster and stable connection.
Speed Test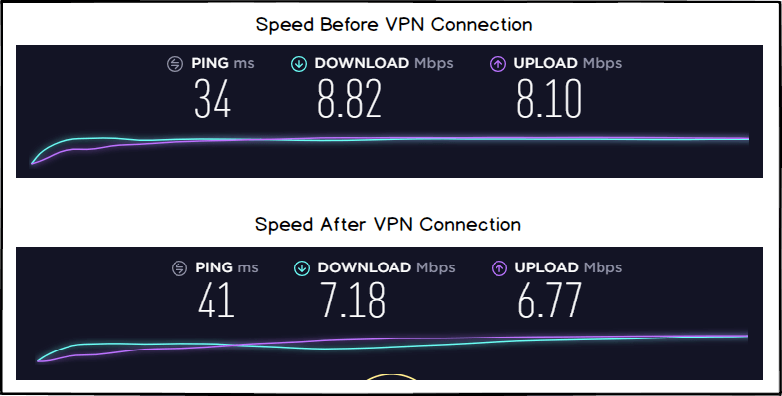 One must compliment Windscribe for the speed that it provides to the users. Because of the vast server network, you will not experience any huge decrement of the speed in comparison of original speed. The download speed and upload speed of 8.82 Mbps and 8.10 Mbps were reduced to 7.18 and 6.77 respectively. As we have already told that it isn't a huge decrement, and if you are living in the U.S.A., you won't even experience this much change due to the immense number of servers present in the country. They have separate servers for separate areas of U.S.A., and thus, it is highly recommended for United States' users.
Security
Every other VPN provider uses the strongest encryption which is AES-256, but here, it is used with SHA512 for authentication, and with a 4096-bit RSA key. However, this is not present for the browser extensions, and instead of AES256, AES128 CGM cipher is used which may not be that effective, but at the same time, utilizes fewer resources. TLS 1.2 ECDHE_RSA with the P-256 key exchange is used for providing security through browser extensions.
When we explore the features, a variety of VPN protocols, and the option of port selection add both, better functionality and security. There are DNS and IPv6 leak protection features available for this application which keeps your data packed and doesn't allow its access to any third party. If you find any failures in the security, you can always send them logs using debug mode, and they will work to improve the security.
Platforms
It covers all the general platforms: Windows, MacOS, iOS, Linux, and extensions for Chrome and Firefox, but the working and features differ in different clients. Windows client is much more efficient than MacOS client as MacOS lacks many features which must be required for delivering a better experience. There are features related to connectivity, security and debug which aren't present in MacOS. However, there is an only important feature related to connectivity which is not present in MacOS which is "Secure Hotspot." Other features which are absent aren't that important and won't make much difference to the efficiency of the application.
The level of security is also different for extensions, and that's why using Windscribe desktop client is considered better than extension. Windscribe's sharing features make it more efficient when it comes to covering the number of platforms. With sharing feature you can configure it for TV and consoles, and with "Secure Hotspot," many devices could be connected simultaneously, and every data passing through them will get encrypted.
Customer Support

For first few messages, we didn't realize that their customer support as actually a bot as live chat support. When it receives queries, it searches for the answer among the other articles or else ends up with the link of an article which is related to the query. We found it is not highly efficient if the issue is related to any bug or connectivity. The other option provided to contact the support is by submitting a ticket to which they reply through e-mail.
There are self-help options provided which contain setup guides, FAQs and Knowledgebase. If you need information about the Windscribe's features and their working, knowledge base could be very helpful. The FAQs consists of general queries which may arise while using the application. However, there is no way to reach them instantly.
Conclusion
Windscribe has amazing features when it comes to the functionality. The option of multiple languages helps users of different countries to use this application without any trouble. Connection features make the application reliable, and stable delivering instant and a fast connection every time.
When it comes to platforms, Windscribe is compatible with many devices, but the functionality level is different for different clients as we have seen that Windscribe's windows client is better than its MacOS client. If MacOS could be improved, every user of different platforms will experience the same working capability. However, it is still good, and with the help of share options you can utilize those features in other devices by "Secure Hotspot" and "Proxy Servers."