Pros:

The application provides a different server selection method. Unlike, other VPN providers who only provide the information about the location, BolehVPN has separated servers in such a way that one could easily select a specific server for a specific requirement.
They have also added servers which are required for streaming purpose. The company claims that one can unblock Hulu, Netflix, YouTube, and other six popular channels.
Use of Cloak Server makes it tough for someone to detect the use of VPN and that's how one can remain hidden from the eyes of ISPs and the government.
It comes under the jurisdiction of Seychelles which isn't a part of Fourteen Eyes countries. However, in contact information, a Malaysian address is provided.
The product is available for various plans for different time periods. You can even choose to utilize the application just for seven days. Users who only require the use of VPN for a particular period can take advantage of this flexibility.
They offer one-day free trial also by which you can judge whether the application matches with your requirements or not.
It is amongst one of the few VPN providers who offer VPN over Tor service. That is helpful to safeguard the true IP address, and even the VPN provider will not know about it.
The application contains a built-in ping test feature by which one can check the ping of all the servers with just one click. Detailed ping test is also available, but for that one needs to select a specific server.
There is no bandwidth limit, and so, you can use the application with no data limit. However, they keep track of data passing through their servers to prevent data abuse. Unusual use of bandwidth isn't allowed, but they have not specifically mentioned a quantity.
The proxy settings allow you to connect SOCKS proxy which lets the packet exchange occur through a proxy server.
Cons:
With one account, one can only connect with three simultaneous devices.
They only support two protocols: OpenVPN and L2TP. Even though OpenVPN is one of the most secure protocol, they must provide the flexibility of choosing from different protocols.
They do not provide browser extension for any of the browsers. However, adding browser extensions may increase privacy while surfing.
For Windows, you need to make some changes in network settings if you want to connect with BolehFlix servers. But that is not required for MacOS and Linux.
Overview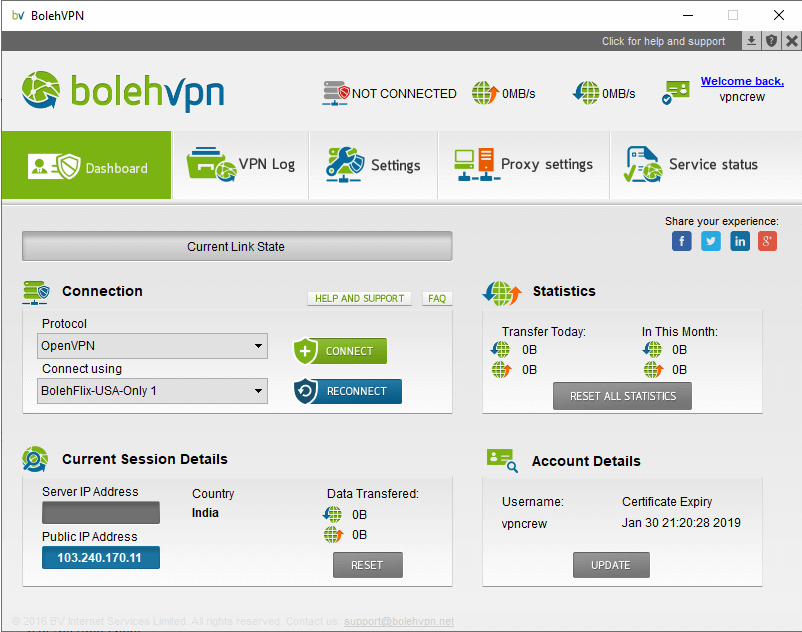 In the Malay language "Boleh" is a powerful word. Its use was also recorded in the slogan, "Malaysia Boleh!" which means "Malaysia can do it!" Perhaps, here also, the same spirit is present for safeguarding the users' internet privacy.
BolehVPN has its office located in Malaysia. However, it is registered as a Seychelles based company and comes under Seychelles jurisdiction. Anyway, either Malaysia or Seychelles, both are out of Fourteen Eyes countries, and thus, there are no tough data retention laws.
BolehVPN's client provides an informative server list which provides information about different servers which one can use according to the requirement. All the points mentioned in the privacy policy, terms of use and refund policy seems fair, but still, some points are not stated clearly.
The discussions about the user interface and connectivity (which are major attributes when it comes to a VPN client) are also present in the review.
Different aspects will render the complete information about the product which will let you judge whether the product is beneficial for you or not.
Servers
They have their servers in limited countries: USA, UK, Luxembourg, Switzerland, France, Singapore, Germany, Malaysia, Japan, Netherlands, Sweden, and Canada.
However, by placing the servers in these few countries, they have covered all the three major continents: North America, Europe, and Asia. By covering these continents, a VPN provider can get the attention of potential users easily.
If we talk about their server filtering and sorting options, there are none, but they have provided enough information along with the server name so, one can easily find the required server.
Let's first discuss the servers dedicated for Netflix. Three US-based servers named as "BolehFlix" are available on the top of the server list. When we tried to connect with these servers, it was showing "Connection error, please check logs." For Windows, it is not possible for one to connect with these servers directly. The user needs to make changes in the network settings, and only after that, the client will get connected to the server. For MacOS and Linux, no such changes are required, and one can directly connect to it.
They have "Boleh Geo" servers which are specially added so that one can surf the content which is blocked on the United States network. There are three such server locations in the Netherlands, Singapore, and Canada.
The most basic one which is generally used by the VPN providers is named as "Full Routed." By using these servers, one's data automatically gets encrypted with the virtual private network. These servers are available in nine countries right now. Surprisingly, there are no server locations in the United States and only four such locations in Canada with two TCP and two UDP OpenVPN protocols.
There are a few more servers which are dedicated for Streaming Purpose, and by using these servers, not only the United States' content, but you can also unblock the Japanese, Malaysian, and the United Kingdom's content.
Cloak servers are used to safeguard the user. There are countries where the use of VPN is banned such as Russia and China. Using these servers neither the government nor the ISP will be able to find out that the data has been tunneled. This is done by mixing the encrypted data with the standard data present over the internet.
However, these servers are present in other VPN clients also, but in a different form. Instead of Clock servers, other VPN providers use Stealth VPN protocol for hiding the use. The option of choosing between TCP and UDP is provided under the protocol section, but here one needs to choose the server according to that.
There are specific IPv4 servers which only allow data packets which use this version of internet protocols. That makes sure that no IPv6 data leakage occurs during the use of VPN client.
These may make the client look unique, but it could be tough for someone who doesn't have much information about the use of different servers.
Service Status
Service Status shows information about the performance of different servers. By clicking on the "Ping Test" button, the application will calculate the ping for the servers one by one.
Also, there is an option of getting detailed ping which provides information about the loss percentage, and the speed test. However, detailed ping can only be calculated by selecting one server at a time.
Even though the VPN client doesn't have any sorting option, by checking the server status, one can easily identify that which server isn't performing well, and to which server one should connect.
Dashboard
The dashboard itself contains a few features and information about the data usage. It is divided into four parts: Connection, Current Session Details, Statistics, and Account details.
In the connection section, one can find the list of servers, and above that the protocol option is present. They only provide two protocols which are OpenVPN and L2TP. You can choose the protocol before connecting to the VPN. After that, one can select the server of his choice. As these different types of servers offer different purposes, one can identify the server one wants from the list.
One has the option to reconnect to the server, in addition to the connect option on the right side of protocol options. If one faces any issue while using the internet, he can directly reconnect with the server by using the "Reconnect" button.
Under the connection box, you can check your IP address. It also provides information about the country whose IP is visible.
The statistics section is beneficial to keep track of the data usage that takes place on the present day and in the month. The account box is not that useful; however, the expiry date present of your account will remain visible all the time reminding you about the renewal.
The dashboard has many additions which are not required. However, this makes the application look better, and adds as a plus point to the user interface of the client.
Above this, the menu option is present. Apart from the dashboard, there are four more screens serving different purposes.
Connection status is shown at the top of the window.
Combining BolehVPN and Tor
Many users use Tor to maintain anonymity. That's the reason because of which VPN providers have made their clients flexible enough that they could be used with Tor.
There are two ways by which VPN and Tor could be combined. First, Tor over VPN in which VPN connection is established first and after that, Tor is used. This method is offered by most of the VPN providers, but very few VPN providers provide the other one, VPN over Tor, in which first the Tor is connected and then the VPN.
BolehVPN is one of those few providers who allow the user to establish such connection.
All you need to do is – go to the proxy settings and select the SOCKS proxy, enter the proxy address, and the port number. That's one of the easiest possible ways by which a user can connect with VPN over Tor network.
In the case of BolehVPN, one needs to add the address: 127.0.0.1. and port number 9150. That's one unique attribute which is tough to find in any other VPN provider.
Connection Time Analysis
Trial No./Server
BoelhGeo Server
Fully Routed Server
IPv4-xCloak-surfingStremaing Server
IPv4- xCloak-Routed
SurfingStreaming Servers
xCloak-Routed Server
Time taken to establish a connection (Seconds) with
1
9.96
Error
10.65
8.78
Error
Error
2
10.73
Error
10.04
8.83
11.82
Error
3
8.82
Error
11.05
9.82
8.43
Error
4
8.32
Error
28.24
9.33
9.35
Error
5
8.34
Error
10.22
8.4
9.23
Error
Average Time:
9.23
-
14.04
9.03
9.71
-
There are several different servers present in BolehVPN which are the combination of two different features. Such as when xCloak is added with Routed servers, the use of VPN becomes less detectable.
In the connection time analysis, we have checked the connectivity of the prominent servers which are generally used. Let's have a look at the connection time analysis of different servers separately.
One must note that all the servers selected are according to the closest location. Only for the SurfingStreaming Servers, the United Kingdom server is selected.
BolehGeo Servers which are present on the top part of the server list shows a very high precision with a range of approximately 2.5 seconds. This makes the connection time predictable, and the stability shows that its reliable to connect to these servers.
Unfortunately, such connectivity can't be ensured for all the servers. We were unable to connect to any of the Fully Routed Servers located in any location. Initially, we tried to connect with one which is located nearby. When we were unable to connect to it, we tried the United Kingdom server which showed the same error. One by one, we selected every server for establishing a connection with the virtual private network. However, we failed, and thus, connection time analysis can't be possible for these servers as no connection was established.
IPv4-xCloak-surfingStremaing Servers are the streaming servers with xCloak protection that won't let the website know that the person is streaming the content from the other country. That's really impressive to connect with such servers within a few seconds. However, one out of the five times, connection time was very high.
This may suggest that the server requires maintenance, or it can sometimes occur due to unusual traffic.
Although the average is 14.04, if we remove that one case when the connection time was very high then it will go down to 10.49. Also, the precision is exceptionally high with a range of less than one second.
Even though Fully Routed servers were not getting connected, if one connects with an IPv4-xCloak-Routed Server, the connection is easy to establish even though an extra layer of security is added to them.
In this case, the connection time was the lowest in comparison to other servers with an average of 9.03 which is 0.2 seconds lesser than the BolehGeo Servers. So, if you are looking for the instant VPN connection, out of all the Boleh servers, IPv4-xCloak-Routed Servers will provide you with the lowest connection time.
Normal SurfingStreaming servers are expected to have a faster connection time in comparison to streaming servers provided with xCloak but, in this case, one can't connect with the United States server. That's why we needed to scroll up to the United Kingdom server which easily got connected in 9.71 seconds as the average.
However, we recommend you use IPv4-xCloak-surfingStreaming Server as it has a lower connection time, and at the same time less detectability.
The other servers for which connection time analysis is not provided may have a higher or lower connection time depending upon the combination. Usually, if the servers have more than one feature such as if it contains IPv4 leak protection and a provision for Streaming also then it may take longer time for connection due to multiple authentication layers.
Bandwidth and Speed
As we have already discussed that there were multiple server combinations present in the server list of the BolehVPN, it was impossible to conduct speed test for all the combinations.
That's why we have selected the prominent servers, the one for which we have performed connection time analysis also.
Out of six selected servers, it was not possible to perform speed test for two as we were not able to establish the connection.
For the other four, speed test data has been discussed in this section. Unfortunately, no server was able to provide eighty percent of the original download speed, and for upload speed, the case is even worse. However, we will discuss each case separately according to which one can select the server easily.
For the ordinary ones, BolehGeo Servers which are provided to unblock the restricted data, connection rendered comparatively good speed. The original speed at the time of tests was 9.36 Mbps and 7.57 Mbps for downloading and uploading respectively. Boleh Geo servers delivered 66% (6.25Mbps) of the original download speed which is acceptable. However, in the case of upload speed, the performance was not so good. They only provided an upload speed of 2 Mbps which is not even one-third of the original upload speed.
For streaming we have selected two types of servers: one is IPv4-xCloak-SurfingStreaming Server, and the another is SurfingStreaming Servers.
IPv4-xCloak-SurfingStreaming Server has an extra security layer, and that's why we expected it to show low speed, but it performed comparatively well. Even though the download speed (6.15 Mbps) is somewhat lower than BolehGeo servers, it has the highest upload speed among all the servers. It renders 3.92 Mbps which is above 50% of the upload speed before connection.
However, high connection time and poor speed show that SurfingStreaming Servers require maintenance. They only delivered download and upload speed of 0.94 Mbps and 1.17 Mbps respectively which is no near to the speed that we were getting without a VPN connection. That's why we don't recommend you to connect with SurfingStreaming servers for any purpose.
IPv4- xCloak-Routed Server is on top when compared with other servers. They not only have a low connection time but also render high speed with delivering seventy-five percentage of original download speed. Even in the case of downloading, more than fifty percent of the original upload speed (3.89 Mbps) was experienced.
That shows that IPv4-xCloak-Routed Servers are the best when the speed is the main concern. They also have xCloak, so one gets security along with speed by connecting to these servers.
Security
It appears that no extraordinary measures have been taken when the security is concerned. They provide AES 256-bit encryption along with OpenVPN protocol. There is L2TP protocol available which is not as secure as OpenVPN protocol, and we don't recommend it at all.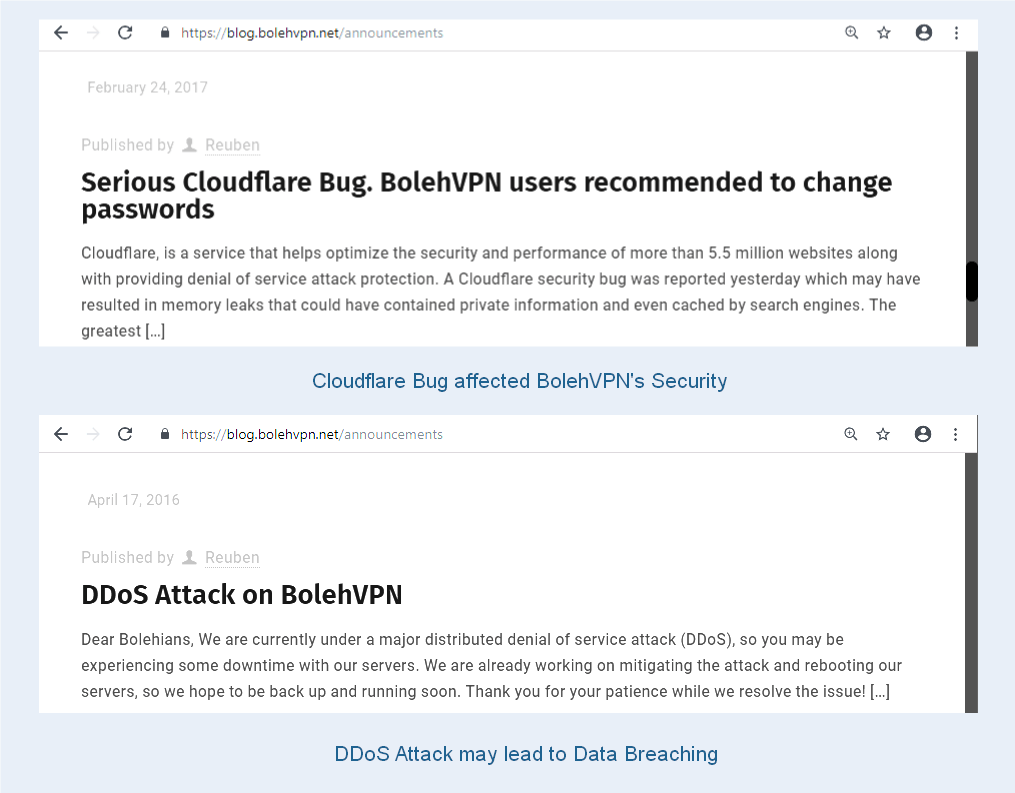 Some of the servers have a built-in security feature which comes with an extra layer of protection by adding xCloak which doesn't allow anyone to detect the use of VPN.
There is built-in DNS leak protection feature added to the applications, and that is one of the attributes that support the security.
In the past, Denial-of-Service attack was experienced by BolehVPN which had developed major disturbance. Once a Cloudflare bug was also detected because of which BolehVPN's security was troubled.
These two examples show that BolehVPN needs to add some more security features to avoid any data breaching which is the main purpose of using the VPN client.
User Interface and Experience

Opinion about the BolehVPN's user interface may differ from user to user. It is unique when it comes to the representation of features and data. However, at the same time, it could be concluded that some elements are added forcefully added which were not required.
As we have already discussed the Dashboard, we will just have a look at its unwanted elements. The statistics data and the data present on the top could be merged.
The connected icon could be added in the upper left section, and the IP information could be merged with it.
If we discuss the other tabs, VPN log tab provides you information about whatever activity is taking place in the client. It also shows that what data is collected by the VPN provider. It is a very good way of keeping track of the data that gets shared with the company.
The setting options don't have many features, but only some related to the client behavior. The options such as hide on connect, auto-reconnect, and run at start-up help to remove the manual tasks which the user doesn't wish to perform. Such client behavior features render better user experience when one is dealing with the client.
Proxy settings allow you to select between HTTP and SOCKS proxy. However, the provider should add more proxies such as SOCKS5 and HTTPS which will render better security to the user.
Service status is used to detect the ping time and detailed information about each server which is helpful in finding the required server. However, it doesn't show results for the speed test, and also loss percentage doesn't seem authentic.
BolehVPN needs to add more features to deliver a better user interface. Right now, even the user experience could not be approved as up to the mark. Speed is average and varies with the server type. For acceptable user experience, a good speed should be provided with every server.
We were not even able to connect to some of the servers, that shows that high maintenance is required.
Platforms and Devices
The number of simultaneous devices on which one can use BolehVPN is just three.
Generally, VPN application companies provide five simultaneous device connections at one time which helps the user to install VPN on various devices: ones which he keeps at home and the other which he uses while traveling. However, this is not possible in the case of BolehVPN, and they must increase the number up to five.
When it comes to the variety of platforms on which BolehVPN could be installed, it is rich enough to satisfy a general user.
For desktop, they provide a direct client for Windows, MacOS, and Linux. However, there could be some differences in the clients for different operating systems. Even if these differences are not visible directly, one can easily detect them as soon as he gets familiar with the product.
For mobile devices, Android and iOS clients could be downloaded directly. However, if you are a Windows Phone user or a Blackberry user, there is no client available for you.
In that case, configuring BolehVPN on routers could help to encrypt the data passing from Windows Phone and Blackberry devices. Sabai, Asus-WRT, DD-WRT are the three routers on which you can configure this VPN application.
In addition, L2TP and ShadowSocks setups can be installed on the Windows, MacOS, iOS, and Android. For Linux, L2PT setup is absent.
They must add SmartTVs and Gaming Consoles to the platform list so that one can directly configure the product on them instead of connecting it to routers.
Also, they need to add extensions for at least Chrome and Firefox, so that the user can take the benefit of VPN in their respective browsing experiences also.
Customer Support
They claim to provide live chat, but we were not able to contact with any of the executives, and the message box asks us to generate a support ticket as the executives are not available.
So, one can't rely on the live chat as it's not sure that they will be there for you or not when it is required.
When you visit the support section, you will find three different subsections: Client Installation, Help Desk and Forum.
Client Installation provides information about different setup guides that are available. Apart from the setup guides, you will also find information about their different servers, and applications with which they can be configured.
In the Help Desk section, only six articles are shown. However, there is a "recent activity section" which provides information about the posts that users have done in the forum.
Forum section has several user posts, and it also allows the user to express the issues and provide feedback. To this, the customer executive provides comment on your post. It's another form of ticket generation, but here everyone can read what you have posted and what they have replied, so we recommend using ticket generation to safeguard private information.
Also, you can email them regarding the issue, but if the live chat option works properly, it will help the user to solve the issue instantly.
Conclusion
BolehVPN server category is amazingly different from other providers. It explains the purpose of the server with its locations. However, some of the servers are not functioning properly, and this issue should be taken seriously.
Also, adding some more security features and protocol options will render better security to the users.
Speed is acceptable. But in a few cases, the upload speed may not be satisfactory.
Their user interface also requires adding of elements such as split tunneling and customizable kill switch which add to the functionality of the application.
In short, a lot of addition is required to the client, and only after that, they will be able to keep up with the competition.
Still, if you wish to try the application, go and take the benefit of one-day free trial and have a stronger conclusion for yourself.