Pros

VPN Along with Smart DNS: Unblock-us offers VPN service also, but not with their own client. Their VPN service can only reach to their users through OpenVPN GUI.
Blocks More than a hundred channels: There main focus is only towards the US content. You can use it to unblock more than a hundred channels. However, most of them would be from the United States only and not from other countries.
Thirty-Day Refund Policy: In addition to the free trial, you also get the option to request a refund before thirty days. For that, you need to write a letter or an email to the support team.
No logging: They do not collect any data about our online activities, so it is safe to use the application even if you are concerned about your privacy.
Responsive Customer Support: The customer support is highly responsive, and they got back to us with the solution to our issue in less than an hour.
Cons
Region Selection is only available for a few channels: There are only eleven channels for which we can select the region. For the other channels, the region is already defined by the service provider.
Not Every Platform Supports Every Channel: If you wish to watch a particular channel, it is not necessary that it is available for all the platforms listed. You need to check the information about platforms by exploring details about the channel from the channel list.
Page Loading Error: Sometimes, streaming channels takes time to load or doesn't load all. That time you need to reload it again, and if you get lucky, the homepage will appear on your screen.
Overview

"Unblock-Us" sounds more like a campaign slogan than a product name. Well, the name suits the working of the product.
With Unblock-Us, a smartDNS product owned by the company UU Inc., based in Cyprus, you get internet free from restrictions.
Wherever you are in the world, entertainment is the key to a carefree lifestyle. And nowadays, these online streaming and music platforms have become a major source of amusement.
Unblock-Us will indirectly but definitely aids to your entertainment. That's done with an easy step of configuring DNS servers on your system.
But is it efficient enough? Will it keep your data safe? Will it affect internet speed?
We are here to answer these and many more such questions; to bring forward the best product among all the products.
We have also discussed the pricing of different plans to analyze if it is cost effective. Similarly, factors such as privacy, channels, and platforms are also taken into consideration.
After reading this review, you will get an idea if this product will act as a path between you and your favorite TV show or not.
Pricing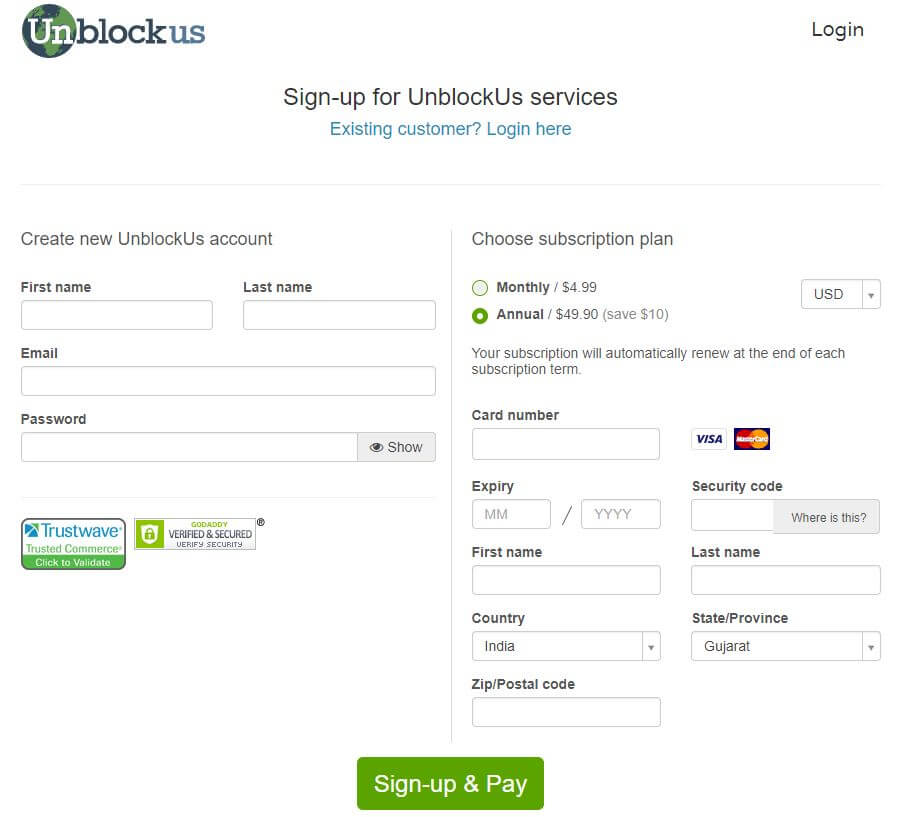 Do you know what our favorite word is? It's "Free."
We all like to it if we get something without making an effort for it. For our happiness, Unblock-Us provides a free trial.
But this happiness lasts only for seven days, and after that, you need to pay an amount to continue for their service.
They aren't asking for a huge amount. It is just $4.99 per month which is justified as it is providing us access to many websites which we can't use without it.
Also, if you wish to save $10, then you can pay for the annual subscription, and the bill will be $49.99.
Price may not be high, but they must provide trouble-free service in exchange.
Trouble-free? That we can't conclude for now.
Let's move to the next section and see what you can do if it causes trouble to you.
What If You Don't Like It?
Sometimes, it doesn't work. It's not you, and it's not them. It just doesn't match.
Presently, we are referring to your requirements and Unblock-Us' service. If you don't like the service after you pay for it, the best solution is to get a refund.
Or you must try using the free trial before making a purchase.
Sometimes, it happens that we discover a major limitation of the product only after using it for some time. There could be a possibility that you discover it after the trial ends and the paid version starts.
In that case, you still have thirty days in your hand. However, it must be noted that the refund will only be provided to the new users who are billed for the first time.
After the renewal of the bill, you can't claim any refund.
If you are a monthly subscriber, you can send them an email regarding the refund before the renewal (applicable only for the first month).
In the case of annual subscribers also, the refund window is of thirty-days. After that, there is no possibility of requesting a refund.
However, before thirty days also, it will be the company's decision whether to provide a refund or not.
Not Interested in Your Online Activities
Hopefully, they are not interested in our online activities; that's what privacy policy states. They do not track whichever websites we visit or whatever shows we watch.
As there is only one privacy policy for both VPN and the smartDNS, the above-mentioned statement is applicable for the VPN application also.
However, they collect limited PII while we create an account: Email address, payment details, and billing address.
Other than that, nothing else is collected from the service. But they collect some information when you visit their website.
Jurisdiction is not an issue because there are no data retention concerns as the government of Cyprus is as chill as the location.
Available for Most of the Platforms
It matters whether you are able to use the service using a particular device or not. If the company wishes to cover all the users, they must make it reachable to all the users.
We all know that there are four major operating systems that are used worldwide: Windows, Android, iOS, and MacOS. Don't worry if you are planning to install Unblock-us on any other device. We will review its availability for the other devices also.
Now, first, if we enlarge the view, we will come across different versions of every operating system for which service is available.
From Windows XP to Windows 10, all are available to take advantage of Unblock-Us' service. However, if you use a version older than XP, it is the time to update your system as you are missing lots of new products.
Is it easy to configure Unblock-us' DNS servers on windows?
As easy as riding a bicycle. You may find it tough initially but, once you know how to setup DNS servers, you can do it next time without any guidance.
You just need to open "Network and Sharing Center" which is available in the Control Panel. After that, click on the "Adapter Settings."
Now, move your eyes to find the network to which you are connected. After you find it, open its properties.
Keep Scrolling till you find "Internet Protocol Version 4." Double click and enter the primary and secondary DNS addresses which are 64.145.73.5 and 209.107.219.5 respectively. It is the first step after you create the account.
Similarly, you can configure DNS servers on MacOS also.
Actually, its simpler than the previous case.
Open "System Preference" and find "Network Settings." Select the network to which you are connected.
Click on the "Advanced" button to discover the "DNS" tab. Enter the aforementioned DNS addressed, and you are done.
For Android and iOS, you can have a look at the "How to Setup" option provided on the website.
Now, let's move to somewhat tricky devices such as smartTVs, Consoles, and Routers. Our favorite device is a router. Just by configuring DNS on one device, you can use smartDNS service in all the devices.
Hence, Let's First check the configuration process on Routers
Users first need to open the "Router Admin Panel" by visiting any of these three links: 192.168.1.1 or 192.168.0.1, or 192.168.2.1.
Enter the username and password to open the panel. Find DNS settings and enter the Unblock-us' DNS servers' addresses.
Click OK and don't forget to restart the router (same applies for the other devices also).
It's completed! Just activate the IP address from the option available on the website.
By directly opening the application or visiting the website after connecting to the router, you can watch any of the shows which were not assessable from your region.
For SmartTVs, you get four options: LG, Panasonic, Sony, and Samsung. It is one less than what Smart DNS Proxy offers. Smart DNS proxy service is available for Toshiba also.
The setup guides for these four SmartTVs are available on the website. However, if you want a quick overview, so that you can avoid reading the guide, we can help you out.
Simply open the respective TV menu and search the 'network settings.' You will find the option to configure DNS in those settings. After configuring, just restart the device.
You can also use this service on streaming players which are Google TV, Roku, and Apple TV.
However, the process is not complete until now.
You need to visit the website and activate the IP after configuring the DNS. Make sure that you have selected the required channels.
Well, even though there is a long list of channels, the option to select the region is only available for a few. This we will discuss in the next section.
Find Your Favorite Channel!
| Channels | Unblocking |
| --- | --- |
| Netflix | Yes |
| Hulu | Yes |
| Amazon Prime | Yes |
| HBO Go | Yes |
| HBO NOW | Yes |
| ABC | Yes |
| Spotify | Yes |
| Pandora | Yes |
| Sling TV | Yes |
| Crackle | Sometimes |
| NBC | Yes |
| CBS | Yes |
| Fox | yes |
| The CW | Yes |
| BBC iPlayer | Yes |
| iHeart | Sometimes |
There are more than a hundred channels that you can unblock with the help of Unblock-Us. What else someone wants? Well, that we will answer that after appreciating Unblock-Us for its remarkable achievement for unblocking these many channels.
If you see the above table, you will find that it provides access to most of the prominent channels.
But there are two concerns which we must let you know.
While browsing, a few times when we were loading any of the restricted websites, the error appeared: "This website can't be reached at the moment." We are sure that it wasn't because of slow internet as other websites were loading with their normal speed.
That's an annoying issue that may interrupt your leisure plans but only for some time. If you reload the page after a few minutes, it may load efficiently. In our experience, you won't face an issue eight out of ten times.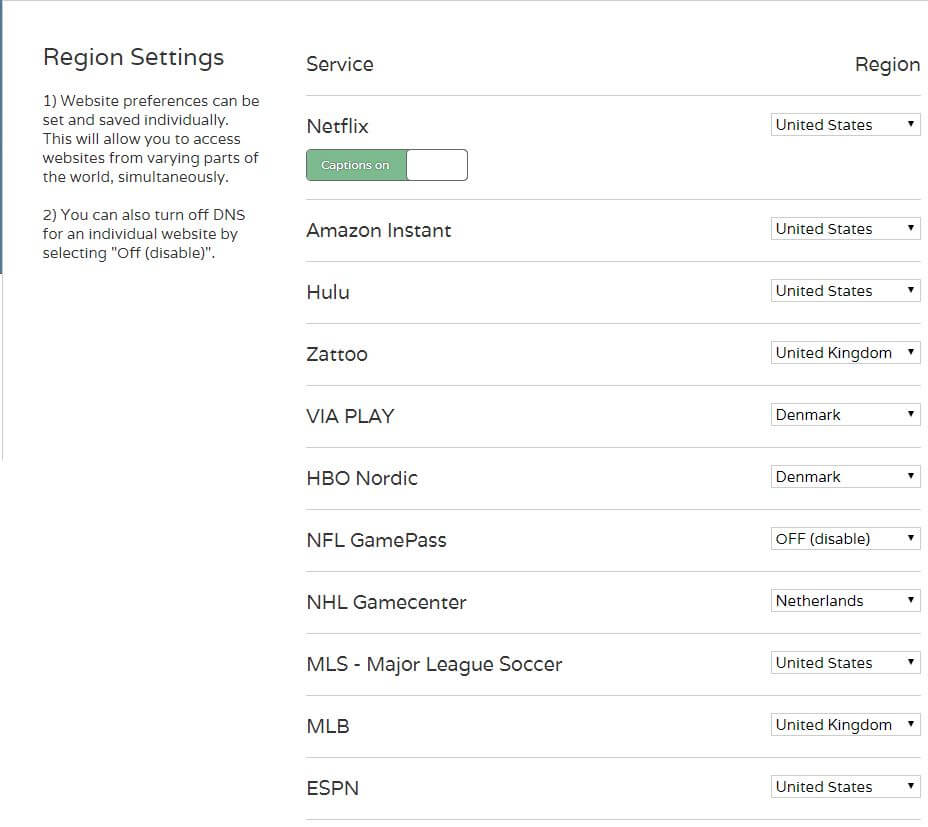 The other concern is the region selection option which is only available for a few channels. Using region selection, you can choose which country's content you prefer the most for a particular channel.
For Netflix, you have the option to browse content from more than fifteen countries. Similarly, a number of options are available, but only for eleven channels.
For other Channels, there are no region settings, and you can only access those channels for the pre-defined region chosen by Unblock-Us.
Also, it is not necessary that all the channels are available on every platform. If you go to the "Channels" page, you can get detailed information by clicking on the channel.
For instance, if you wish to watch Netflix, you can only do that through the browser. It won't work through the application. That may cause unrest if you try to watch shows on mobile devices.
Same for the other channels. So before getting the service, make sure that the wanted channel, region, and platform combo is available.
Using It With VPN
They do provide an additional VPN application along with the smartDNS. However, won't get any client for that.
Well, using a VPN application without any client leaves us with the only option of configuring it with Protocol GUIs. And that's a hectic task.
A lot of configuration steps leading us to a GUI which has not so user-friendly user interface. Still, if you want, you can install OpenVPN GUI for Unblock-us VPN.
But please take this risk on your own. You may get annoyed by the configuration steps.
However, if you a geek who loves to undertake challenging configurations, you can download it directly from the Unblock-Us' website.
As it is OpenVPN GUI, it will provide you with security better than any other protocol. And the best part is, it comes along with the SmartDNS.
Hope, they will add the client also, so that all their smartDNS users will get unrestricted internet and data privacy from the same service provider.
Customer Support
SmartDNS services are pretty tricky. They know how to bypass the buffer implemented by these streaming tycoons on our entertainment.
If they are striving hard, we should at least do a little to get the unblocked internet on our screens. However, when we, as users, make such attempt issue may arise. For instance, if you unknowingly followed the incorrect DNS server configuration progress or if any channel stops working.
For these cases, Customer Support is required. Luckily, Unblock-Us has responsive customer support.
When we contacted them for the first time, we required some information related to the trial version. They replied us back within thirty minutes. That's highly appreciable as most of the other services comparatively have slower customer support.
We were facing issue regarding the Crackle website. However, it worked we reloaded the web page again. They asked for some of the information and explained to us the possible reasons behind the failure in the website loading.
For all the time, until the problem wasn't solved, the support team was connected with us through email. This way, we can conclude that this is a support team that customers deserve.
Conclusion
There are a hundred plus channels which you can unblock by paying a few bucks. Watch them wherever you go, whenever you want, and if an issue arises, high-quality customer support is there to help.
Even the configuration doesn't require much skill, and you can start using the service within a few minutes.
However, they can work to increase platform support by adding more SmartTVs, Chromebook, and some other major platforms.
Also, if they want to enhance the user base, they need to add more number of channels in the regional settings. That way, users will be able to watch the native content of a particular channel.
Apart from that, if you wish to try it yourself, you can take the benefit of the free trial that they offer. If it feels right, sign up, provide the details, and start streaming.