Pros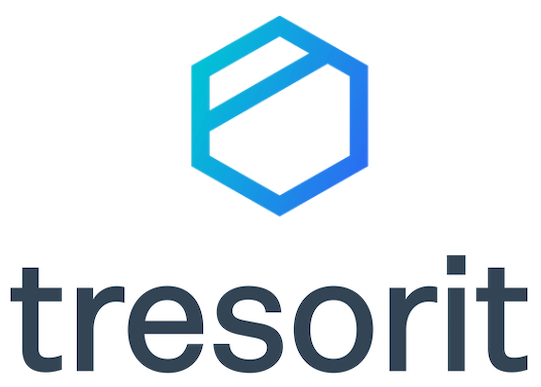 Provides 2000 GB of encrypted cloud storage.
Compatible with most Operating Systems which includes Windows, Mac OS, Linux, iOS, Android, Blackberry along with Browser extensions.
Provides Restoration and Recovery of Files if Lost.
Provides various Password Protection methods for your files including a 2-step Verification Password Protection.
Offers a basic plan free of cost with limited features.
Cons
Does not offer Live Chat Support for their Solo Plan.
Discounts available on monthly plans only if billed yearly.
Overview
Tresorit Solo is an end-to-end encrypted cloud storage plan offered by Swiss Cloud Storage Giant-Tresorit. They offer a very secure way of storing and sharing files on the cloud. The Solo Plan offers encrypted cloud storage which secures your data and cannot be accessed even by Tresorit Admins, Hackers or Government. It comes with a huge list of features including 2000 GB of encrypted storage, 2-factor password authentication and is compatible with most operating systems.
Headquartered in Switzerland, Tresorit protects user's data by Swiss Privacy Laws which are overall strict in many aspects as compared to their US and European counterparts.
Storage and Security
Firstly, what matters the most in any cloud storage platform is how much storage it provides and, in this case, Tresorit has done a great job and provides its users with a humongous 2000 GB of cloud storage for its Solo Plan. So, full marks to the service provider in Storage Department.
Tresorit even offers a free basic plan with file sharing, syncing and download features with 3 GB of storage.
Secondly, Privacy is what most people are concerned about when they are using a cloud service. In this case, as well, they have done more than just a respectable job by providing layers of security. It comes with end-to-end file encryption which is backed by Swiss Privacy.
What end-to-end encryption does is that it encrypts each file with unique encrypted keys which are generated in a randomized manner. On contacting Tresorit, we got to know that the encryption already happens on the user's device and not in transit and on the cloud which is the case for most other providers. Thus, your files are free from being decrypted in the cloud. Also, all this result into making the Swiss Company fall into the category of a few companies that offer zero-knowledge cloud storage thus even Admins at Tresorit cannot decrypt your passwords, so beware if you have a habit of forgetting passwords, Tresorit won't be able to help you to reset one in that case. To put the icing on the cake, they use 256-bit AES level of encryption. Thus, your files would be in safe hands if you use Tresorit.
Storing Files
Tresorit is available for Windows, Mac, and Linux. It also provides an App for your iOS and Android devices. Also, it works with Blackberry devices and even offers Browser Extensions.
They implement the file system on their cloud using what they call 'Tresors.' These are actually the files and folders that are on your local device which you want to store on the Tresorit's cloud storage, but the only thing that sets Tresors apart from normal files and folders is that they are stored in an Encrypted form.
Files Sharing Features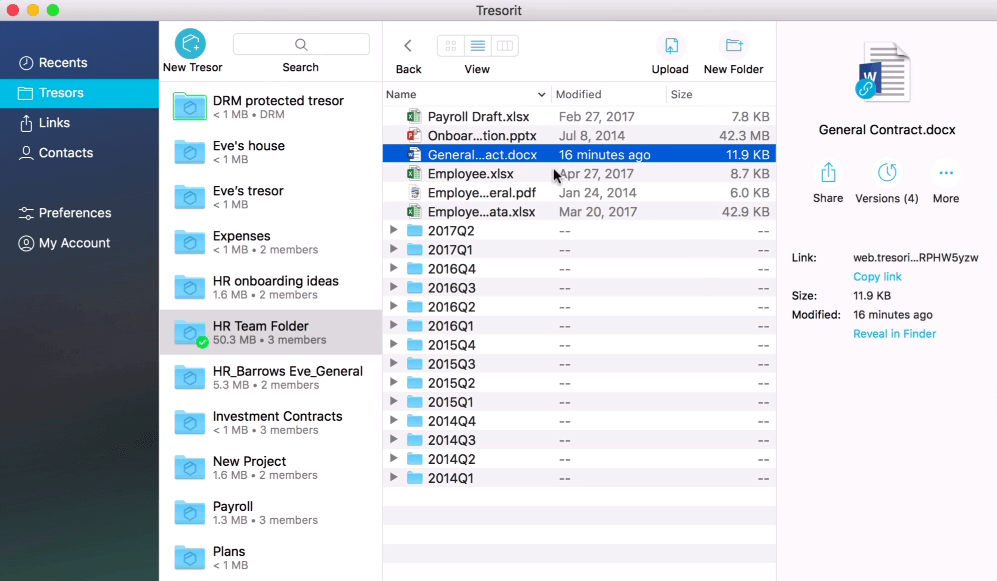 File Sharing is an important parameter that one needs to consider seriously when it comes to Cloud Storage Services. One can share either files or folders in case of Tresorit's cloud storage. Folder Sharing can be done in two ways which include the traditional folder sharing method that directly stores the files and folders into the service provider's cloud Storage once you have provided them with your Tresorit Account. One can even provide password protection or 2-factor password verification while sharing folders on it's cloud.
Link Sharing
Link Sharing is one of best features that Tresorit has implemented in a way which no rival except Sync.com can even come close to. By not just creating a link that anyone can open, Tresorit has provided several ways to protect your files and folders which include, protecting your link with a password and 2-factor password verifications. Also, they provide the users an option to set expiry dates and download limits on their files and folders which are to be shared via a link.
Syncing
You can provide the files and folders that need to be synced between the Tresorit Cloud and your devices. Tresorit does all the syncing in the background without interrupting your work. Also, one can enable syncing on just the Cloud and restrict files from being synced to devices that one does not want.
Also, the service provider notifies you when any changes are done in any of the files or folders. You can also use the Activity Wall to track the changes that have been made. The product even takes care that no overwriting is done accidentally when two users are making changes on the same file simultaneously. One can also view the previous versions of a file for reviewing purposes.
Conclusion
There is a lot to like about Tresorit's Solo Plan. The Encryption it offers is on par with the industry standards. It also offers a good amount of storage. Also, the extra features like 2-factor verification and the amazing link sharing are appreciated. The file recovery and restoration are also handled in a pretty good manner. But, for all these benefits, you should be willing to spend the cash. We don't neglect the fact that it is an overpriced product from Tresorit, but for the one who has the money, it offers a lot to love!
For the Premium Plan, we definitely recommend this product, but only if you can spend the money.
But the good news is that Tresorit offers a free Basic Plan with limited features which one can use if he is reluctant to spend the cash. Also, the Basic Plan includes a 14-day free trial that allows one to use the Premium Features.