Peer-to-peer (P2P) file sharing or torrenting took the internet by storm in the last decade. Its omnipresence affected almost everyone connected to the world wide web.
There is no denying the fact that people used it mostly for pirating resources and content. This method of file sharing somehow brought the world at user's feet. People used BitTorrent not just to download movies and TV series, but it was used for all kinds of productive purposes too.
Some accessed new books to broaden their knowledge, while others got their hands on all the software they wanted. P2P file sharing helped bring the world close together by spreading the joy of music across the globe.
However, torrenting did not elate everyone. The entertainment industry, copyright holders, media houses, and all kinds of similar groups were appalled from the rise of such technology, and rightfully so. These groups had to endure financial hits as everyone was now turning towards piracy.
They had no option but to use law, and sometimes their influence, to give P2P file sharing a fight. It was not long before their efforts started showing some results. Torrenting entered a gradual demise, and things went back to almost normal.
There is a lot to more to the story rather than this summary. This article is to share some interesting, peculiar, mind-boggling, and informative facts about torrent with you.
Basic facts about the torrent
Let us start with the basics then. On having a look at its origin, some might be surprised to know that it's not even a two-decade-old technology. But that's the nature of most online trends and technologies. They come, they prosper and then experience a slow demise.
We should get a bit familiar with BitTorrent before looking at all the commotion it caused.
1. It all started in 2001: BitTorrent was first introduced to the world in 2001 by Bram Cohen. It was a protocol that allowed breaking the file into smaller pieces, called torrents, and involved peer to peer file sharing. BitTorrent later evolved in the coming years and got even better.
(Source: TorrentFreak)
2. BitTorrent is a protocol, and BitTorrent Inc. is the company: Not many people know that BitTorrent is the protocol used for P2P file sharing. BitTorrent Inc. is a company as well as a tool that facilitates downloading torrents. µTorrent, another popular software for downloading torrents, is also a property of BitTorrent Inc.
(Source: BitTorrent)
3. There is a subtle difference between BitTorrent and P2P file sharing: People often confuse P2P file sharing and BitTorrent. BitTorrent is one of the peer-to-peer file sharing methods and the true one in a lot of sense. The difference between BitTorrent and other P2P file sharing methods is that it breaks down files into smaller bits and uploads and downloads them at the same time.
(Source: WorldTVPC)
4. Downloading torrents or using BitTorrent is not illegal: It's a popular misconception that using P2P file sharing is illegal. But it is not the method of download, but the content you download or circulate that makes the process legal or illegal.
(Source: Techlila)
5. BitTorrent does not provide anonymity: Unlike other peer-to-peer networks such as Tor, it is not like BitTorrent to keep the clients anonymous. In fact, one can very easily see the IP addresses of devices involved in the network.
(Source: ArtsTechnica)
The rise of torrenting
Soon after its arrival on the landscape, BitTorrent took over. Everyone ranging from a music aficionado to universities in need to share large research data files, found it to be a useful and reliable tool.
The benefits of torrenting over conventional download methods were also among the reasons for its popularity. Users no longer needed to worry about the device shutting off or the download stopping midway and starting all over again. Downloading large files became a lot easier too.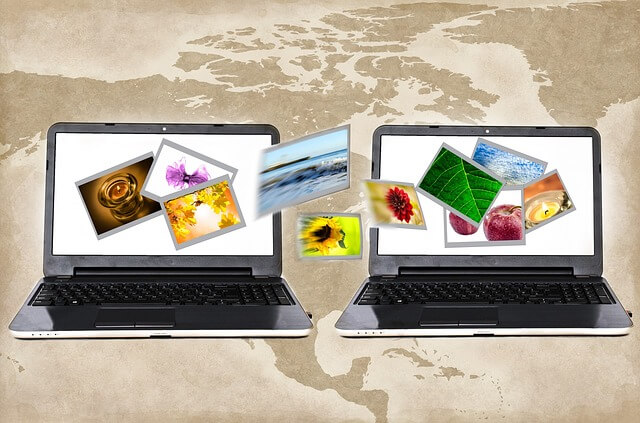 The peer-to-peer network also meant decentralization. The community had control over most of the dataflow. It resulted in the availability of more resources at almost no monetary cost. There were just so many reasons in favor of this file-sharing method that it was tough to comprehend it fail.
6. It was responsible for 43% to 70% of all internet traffic: A study in 2009 claimed that P2P file transfers were responsible for 43% to 70% of all the internet traffic. It was when torrenting was very popular, and there weren't a lot of restrictions on it.
(Source: Ipoque)
7. It was estimated to cause a $200 to $250 billion loss annually: In 2012, activists claimed that online piracy, which constituted mostly of torrenting, incurred $200 to $250 billion loss to the entertainment industry, annually. Later the numbers were deemed farfetched by several reports.
(Source: Freakonomics)
8. The United States used to have highest number of torrent downloads: Some of the most economically advanced nations of the world topped the chart as leading users of BitTorrent. The stat can even be loosely translated into them being the biggest consumer of pirated content. This was the case in 2012 when P2P file sharing was very popular.
(Source: TorrentFreak)
9. BitTorrent had a 3.35% share in bandwidth worldwide: A study back in 2013 claimed that BitTorrent (the protocol) accounts for 3.35% of all the bandwidth. It was more than double for the usual FTP (file transfer protocol), which constituted of 1.32% of bandwidth worldwide.
(Source: Palo Alto Networks)
10. BitTorrent used to have 15 to 27 million users per day: A study published in 2013 pointed out that BitTorrent used to have anywhere between 15 to 27 million users each day. The study also suggested that European users dominated the scene. There were more of them in terms of users as well as usage.
(Source: MLDHT)
11. BitTorrent and µTorrent had more than 150 million active users combined: The company BitTorrent was at the peak of its growth in 2012 when it surpassed the 150 million mark for the number of users on BitTorrent and µTorrent combined. The latter had a much higher number of users in the mix.
(Source: BitTorrent)
12. 98% of data on P2P networks was copyrighted: There is no denying the fact that piracy was one of the biggest reasons for the popularity of torrenting. Back when P2P file sharing was enjoying high frequency of users, 98% of data flow on P2P networks consisted of copyrighted content.
(Source: Go-Gulf)
13. Developing countries download larger files while the economically advanced ones looked for smaller ones: People living in countries with poor infrastructure download larger torrent files such as movies and series. And the more developed ones look for smaller music files. The study shows that people indulge in online piracy according to convenience.
(Source: Vice)
14. Avatar is the most downloaded movie on Torrent: Avatar is allegedly the most pirated movie on BitTorrent with more than 21 million downloads. The Dark Knight takes the closely contested second position with 19 million downloads followed by Transformers.
(Source: TorrentFreak)
15. Call of Duty- Black ops was the most pirated game of the previous decade with 4.27 million downloads: A list of most pirated games was compiled in 2011, and Call of Duty franchise grabbed both the first and the second position with a total of almost 4.37 million downloads. It is needless to mention that torrent downloads made up for a majority of these downloads.
(Source: MakeUseOf)
16. Drake's 'Nothing Was the Same' topped the chart for most downloaded album of all time in 2014: Such stats were comparatively easier to get when P2P file sharing was at its peak. While Drake's album was the most downloaded one, Maroon 5's single 'Payphone' turned out to be the most torrented song of all time until 2014.
(Source: Hypebot)
The fall of torrenting
BitTorrent enjoyed a fair amount of success before things started going south for its users. Given the fact that most file sharing involving the protocol was for piracy, it wasn't difficult for media houses to persuade authorities to take some action.
Several torrent search engines got taken down. Some even involved the arrest of owners. There were a lot of instances of government agencies seizing the torrent servers.
Torrent clients made revenue from ads, and the media companies attacked on that too. They dissuaded marketers from positing ads on such platforms. It is still tough to rent a server in the USA and France if it is going to be used for P2P file sharing.
The users were issued strict warnings against downloading any pirated content, and some even got served with harsh penalties. It discouraged others from using torrents. Finally, the rise of Netflix proved to be the final nail in the coffin.
Even though torrenting is not as popular as it used to be, it is still has a significant presence. Here are a few details into the current state of torrenting.
17. BitTorrent has more than 170 million users: Even after all the restrictions imposed on the use of torrenting software, BitTorrent, the leading peer-based technology company, has more than 170 million users worldwide. However, it will be interesting to find out how many of them are active on the platforms.
(Source: BitTorrent)
18. BitTorrent protocols are responsible for 40% of the global online traffic: BitTorrent, the company behind P2P software BitTorrent and µTorrent, says that its protocols make for 40% of the daily global online traffic. The number seems to be believable, keeping in mind the huge userbase of the company and the popularity of P2P file sharing.
(Source: BitTorrent)
19. More than 28 million users indulge in P2P file sharing every day: Peer to peer file sharing is among the more popular method of digital file transfer among users. On average, more than 28 million people are using this protocol.
(Source: Tecxipio)
20. An increase in the number of streaming services is leading to more torrenting: Reports suggest that BitTorrent is once again gaining some momentum. The entertainment industry is getting crowded with lots of streaming services. The situation is not only confusing but expensive for users. As a result, they are moving back to piracy, hence increased usage of torrenting services.
(Source: Vice)
21. BitTorrent's share in upstream traffic reduced to almost half in 4 years: According to reports from Sandvine, BitTorrent had a 52.01% share of upstream traffic for broadband networks in North America in 2011. By 2015, the number reduced to 26.83%. This happened mostly because of stricter anti-piracy laws and relatively cheaper streaming services.
(Source: Sandvine)
22. Many countries have blocked torrent websites: Since it's nearly impossible to tell if the user is downloading torrents for a legitimate purpose or otherwise, a lot of countries decided to block torrenting sites altogether. Some of these countries are China, the US, Australia, South Africa, and Russia.
(Source: WikiPedia)
23. 51% of the young people in Europe did no piracy for at least one year: Online piracy and P2P file sharing go hand in hand. A shift in one is going to affect the other almost every time. A report from Europe Union suggested that 51% of people aged between 15 to 24 years have not participated in online piracy for last one year.
(Source: 2019 Intellectual Property and Youth Scoreboard)
24. People are pirating more e-books than before: Recent years have seen a decline in almost all forms of online piracy except one. A study from the University of Amsterdam suggests that the percentage of e-book pirates increased from 6.3% to 7.7% between the years 2012 and 2017.
(Source: TorrentFreak)
25. Uploading torrents in Japan can land you in prison for up to 10 years: Some countries are a bit more determined to get to rid of piracy compared to others. For instance, the anti-piracy laws in Japan can land you in prison for two years if caught downloading illegal torrent, and for ten years if found uploading the same. Germany, India, and the US are some of the other countries which impose heavy penalties under anti-piracy laws.
(Source: RapidVPN)
26. Walking Dead had the greatest number of torrent downloads in 2018: The popular TV series 'Game of Thrones' was the most downloaded torrent for six consecutive years before getting displaced by 'The Walking Dead.' The end of GoT's dominance came after the production house had no more shows to broadcast and when the series came to an end.
(Source: TorrentFreak)
27. Switzerland and Spain are the safest countries for people who like to download torrents: Countries like Spain and Switzerland allow downloading torrents if it is not for financial gains. One can download movies, TV series, and music, among other things, and enjoy them.
(Source: LimeVPN)
28. Facebook and Twitter use BitTorrent to roll out updates: You can realize the benefits of P2P file sharing from the fact that social media behemoths Facebook and Twitter use it to roll out updates. The use of BitTorrent has made it a lot easier and faster for them to transfer files to millions of users.
(Source: TorrentFreak, TorrentFreak)
29. P2P file sharing and VPNs seem to be becoming close friends: Increase in the number of players in the streaming industry seems to have infused a new life into P2P file sharing trends. However, this time people are not doing it openly. They are obfuscating the P2P traffic with the use of VPNs.
(Source: Sandvine)
30. Government and media houses took down some of the biggest torrent websites and torrent search engines: Torrent sites across the globe got taken down to curb down piracy. This led to a significant drop in the number of torrent downloads across the globe. The owners of some of these websites even faced legal consequences. This period was the metaphorical dark age for P2P file sharing.
(Source: TorrentFreak)
The torrent nomenclature
We often come across a lot of foreign terms when downloading torrents or looking at a file. Some of them seem easy to guess while others sound like pure technical gibberish. Let us have a look at some of the popular and some intriguing BitTorrent terms.
31. Torrent: It is a computer file that holds metadata about the content. The term can also be used to refer to a group of such files. A torrent file ends with a .torrent extension. A torrent file doesn't contain actual data but information about it.
(Source: My Private Network)
32. Peer: It refers to those torrent files which are not completely downloaded yet but are already uploading whatever they have got for others. Peers are what make P2P file sharing such an effective way to download large files at high speed.
(Source: Techworm)
33. Seed: A seed can be considered a more advanced version of a peer. Seeds refer those files which are already downloaded and are now uploading for other systems in the swarm.
(Source: Techworm)
34. Swarm: It is the group of devices connected to form the sharing network. It consists of both peers and seeds. A swarm may not require seeds anymore if the peers have collectively got all parts of the file.
(Source: TECHOTREAT)
35. Leech: Leech is the one that downloads way more than it uploads. Such devices add sluggishness to the network and prove to be a burden on other devices in the network.
(Source: TECHOTREAT)
36. Choked: This is the situation when a client refuses to send file pieces to a peer. It may occur under multiple conditions. It can be the case that the peer has now become a seed doesn't need the file pieces anymore. The peer might be at the threshold of its uploading capacity, and therefore can't accept the file pieces. Or it can be the case the peer has been banned for being abusive or using a blacklisted torrent client.
(Source: BitTorrent.org)
37. Hit-and-run: This refers to the situation when a client downloads the entire file but does not seed long enough to satisfy the tracker rules. Such clients usually delete the torrent file as soon as they finish downloading.
(Source: Fandom)
38. Freeleech: It is the case when none of the stats related to download are recorded. The involved clients become free to leech in such cases, and therefore, it is called freeleech.
(Source: Fandom)
39. The Endgame mode: A torrent download usually gets slow when most of the files have already been downloaded. To conquer this issue, it requests the remaining data pieces from all the peers available in the network. As soon as it receives the data piece, the client sends out cancel requests to all of them instead of accepting the piece from others and discarding it.
(Source: Niall's blog)
Sources