Pros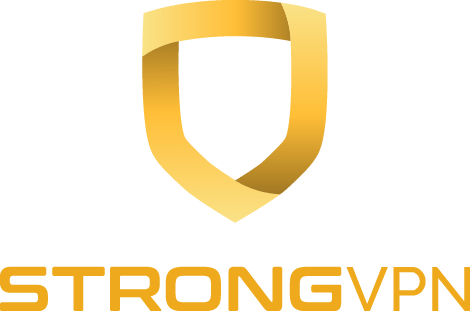 Could not find a VPN client with a simpler user interface than StrongVPN.
Multiple protocols! Even allows switching between UDP and TCP along with Scramble option.
Provides a 30-day money-back guarantee.
Even if client setup is limited, manual setup is available for several devices.
They offer 24/7 live chat support.
Cons
No proper server sorting option available.
Very few features, so limited user control over the application.
They don't provide the browser extensions.
Overview
| Quick Overview | |
| --- | --- |
| Protocols | L2TP, SSTP, OpenVPN, IPSec, IKEv2 |
| Platforms | Windows, Mac, Android, iOS, Amazon Kindle, Routers, Linux, Chrome, Kodi |
| Jurisdiction | USA |
| Logging | No Logging |
| Encryption | AES 256 |
| Locations | 46 Locations |
| Servers | 650+ |
| Payment Options | Visa, PayPal, Alipay |
| Support Options | Live Chat Support, |
| Pricing From | $5.83/mo for 12 months |
| Guarantee | 30 Days Money Back |
| Free Trial | |
With the prime values of honesty and simplicity, StrongVPN commits to safeguard everyone's right to online privacy.
But, how strong the StrongVPN is? Is it possible to experience an internet free from restrictions, and from the eyes of third-parties with its use?
The word "eyes" reminds us of "Five Eyes," and yes, StrongVPN has its headquarter located in one of Five Eyes. However, this US-based company, owned and operated by Strong Technologies LLC, claims to keep no logs or any third-party involvement.
Servers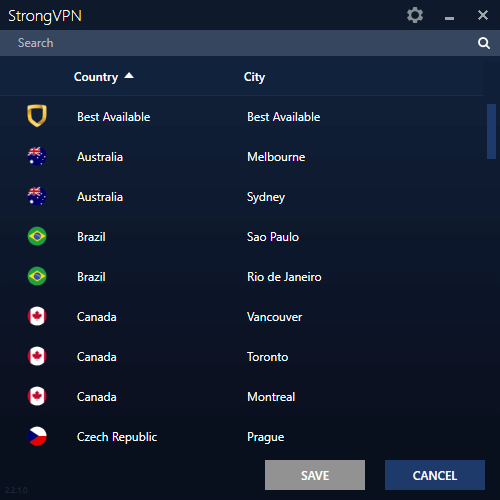 650+ is not a small number when one talks about the servers. Even though the number is large enough to establish three servers in each country, in reality, it only covers 20+ countries.
This shows that they tend to develop the userbase not all over the world, but in few countries providing them the quality service. The number of countries may increase, but now, let's have a look at the current scenario (December 2018):
| Country Name | Servers | Continent |
| --- | --- | --- |
| United States | 450+ | North America |
| United Kingdom | 80+ | Europe |
| Netherlands | 20+ | Europe |
| Canada | 20+ | North America |
| Germany | 10+ | Europe |
| Japan | 8 | Asia |
| Brazil | 8 | South America |
| Hong Kong | 6 | Asia |
| Australia | 6 | Oceania |
| Italy | 6 | Europe |
| France | 5 | Europe |
| Singapore | 5 | Asia |
| Spain | 4 | Europe |
| Norway | 4 | Europe |
| South Korea | 4 | Asia |
| Sweden | 4 | Europe |
| Romania | 3 | Europe |
| Turkey | 3 | Europe |
| Mexico | 3 | North America |
| Israel | 3 | Asia |
| Switzerland | 3 | Europe |
| Czech Republic | 3 | Europe |
| Latvia | 3 | Europe |
| Malaysia | 2 | Asia |
| Philippines | 2 | Asia |
| Poland | 2 | Europe |
| Luxembourg | 2 | Europe |
Total number of United States servers > Total number of servers in all the countries combined.
According to the area of the United States, it's necessary to establish servers all over the country. StrongVPN has smartly selected the server locations in such a way that it could deliver a good speed to every corner of the country:
Atlanta
Buffalo
Chicago
Dallas
Las Vegas
Los Angeles
Miami
Milwaukee
New York
Phoenix
San Francisco
Seattle
Washington D.C.
As you can see, that from South-West to North-East, the servers are placed uniformly all over the United States, which makes sure to deliver an uncompromised speed. For a United States user, this VPN provider gets a PASS regarding SPEED and RELIABILITY.
The same is with the United Kingdom having 80+ servers all around the country. However, because of its smaller area, the server density is even higher when compared with the United States.
Similarly, for Canada, Netherlands, and Germany, enough servers are accommodated, that users could watch videos with high-quality streaming.
In total, they have 150+ servers all over Europe which provides a suitable speed to the countries for which they are established.
Now while traveling to Asia, servers could be found in:
Eastern Asia: Japan, Hong Kong, South Korea
South-East Asia: Singapore, Philippines, Malaysia
Western Asia: Israel
They have covered most of the Asian countries but missed some prominent locations where VPN is required the most. They don't have their server locations in China and Russia. Probably, it's because the use of VPN is illegal in these countries.
For the users located in Oceania, South America, and Africa, there is bad news: Sorry! But this product has very few servers below the equator and no servers in Africa.
Legal or Illegal?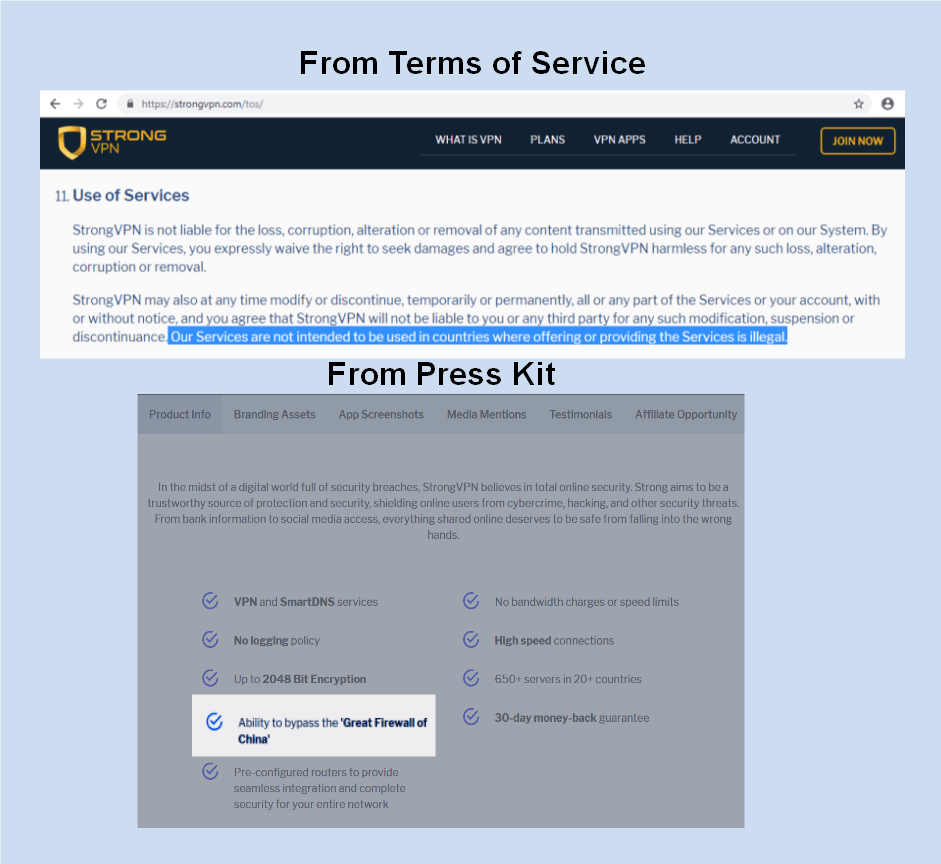 StrongVPN: One should use it in China or not?
In terms of service, they don't allow the use of its service in the country where VPN is not legal and on the other hand, they promote it for Chinese users.
As we already discussed that they don't have server locations for China which is perhaps because of the use of VPN is illegal in China.
The same case could be for Russia as well. Also, there are few countries such as Cuba, North Korea, Sudan, Iraq, Libya, Syria, and Afghanistan's Taliban occupied territories where StrongVPN doesn't allow its usage.
In their terms of Service, it is stated that this product is not intended for the users where the use of its service is not legal.
However, in the press section, they have mentioned that StrongVPN can bypass the 'Great Firewall of China.'
Now, the trouble comes with this contradiction.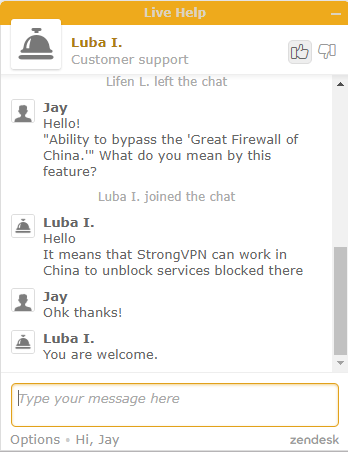 If it is illegal in China and not for Chinese users, what is the requirement of stating this statement?
To confirm the proper meaning of this feature, we chatted with the customer support, and that ensured us that they are selling to Chinese users but at the same time declaring that they don't intend to do that.
That questions the reliability of StrongVPN.
If you are in communist nations like China or Russia, you should not use StrongVPN at all as it doesn't take charge of any damage caused to you or your data and can end its service anytime according to the privacy policy.
Connection Time Analysis
"Not that Bad, Not that Great"
Even if it gets connected within a few seconds, it has shown error a little more than a few times when one tries to establish a connection.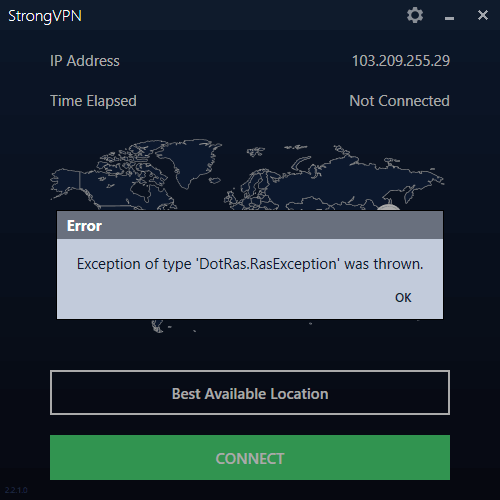 Customer support guided us to change the protocol to OpenVPN protocol as Windows sometimes doesn't allow the use of any other protocol. However, we have never faced this problem with any other VPN client yet.
It worked smoothly after that, but still, it's worth mentioning that this kind of error could occur.
If we neglect the error, you can see that it gets connected to the VPN within 5 seconds. That's higher than most of the VPN providers.
| Trial No. | Time Taken to Establish a Connection (Seconds) |
| --- | --- |
| 1 | 5.01 |
| 2 | 3.65 |
| 3 | 3.64 |
| 4 | ERROR |
| 5 | 3.77 |
| 6 | 3.55 |
| 7 | 3.26 |
| 8 | 3.54 |
| 9 | 3.49 |
| 10 | 5.08 |
| Average Time in Seconds | 3.89 |
Speed Test
Speed of any VPN highly depends upon the server locations.
For original download speed: 9.70 and upload speed: 8.91
The fastest server delivered download speed: 7.91 and upload speed: 6.41
And with the United States server the download speed: 5.47 and upload speed: 4.09
The reason behind this is the distance between our location, and the United States is immense, and even after if the servers delivers such a great speed, it's applaudable.
The reduction is not too much, and thus, you won't need to compromise with speed if you purchase this VPN provider. However, for Oceania users, there are very few servers nearby, and even the servers of other continents are very far. They might not experience such a great speed at their location.
Same with the African and South American users. However, Brazilian users are provided with a good number of servers, and they also have United States servers nearby.
Security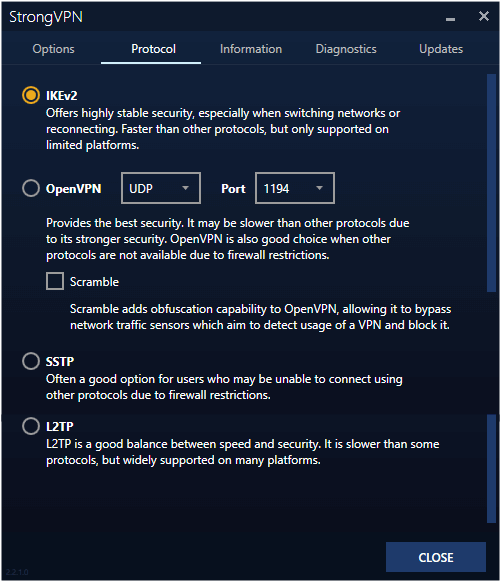 Encryption and protocol are deciding factors for the level of security that a VPN delivers.
StrongVPN offers four protocols:
IKEv2 Protocol
OpenVPN Protocol (UDP and TCP)
L2PT
SSTP
PPTP is the most insecure protocol, and that's why StrongVPN doesn't provide it.
The other four protocols have different encryptions with different key lengths.
OpenVPN is the most secure one which is provided with two different categories UDP and TCP along with AES 256-bit key length. IKEv2 is also considered secure as it also uses 256-bit key length.
The key length is decreased to 128-bit in SSTP protocol and L2PT protocol.
They also provide Scramble option under OpenVPN which is similar to Stealth VPN protocol. Because of this, the use of VPN becomes less detectable as the data gets mixed with the standard traffic.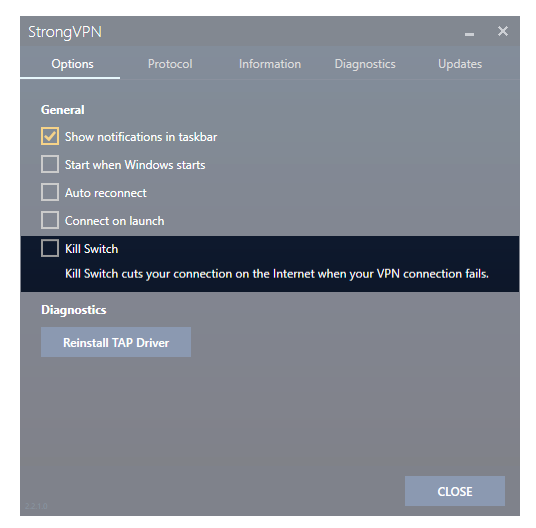 In addition to the number of protocols, Kill Switch is also added to protect your data if the internet connection drops.
They do not track any of our activities and thus, have a strict no logging policy.
However, security gets compromised because of the location of the company. As it is located in the United States, we can't provide the surety that they are not going to share the data with the government.
User Interface and User Experience
"Let's keep it simple" is a nice way to attract the people who avoid complicated configurations, and who are just directed towards the purpose of its use.
However, simplicity comes with the cost of features. A proper balance between user-friendly experience and complex interface should be presented.
They tried to keep it too simple but, in securing that goal, they compromised with the user control, and the user is unable to make any changes according to his need apart from changing the protocol.
When the complete picture about user experience is drawn, it also holds some vibrant colors: speed and customer support.
As we have already discussed, the reduction of download and upload speed is acceptable and satisfactory for browsing and streaming content.
Customer support is also an effective tool which helps to earn loyal customers,and in StrongVPN's case, they are doing it efficiently.
Also, you can access Netflix through StrongVPN.
We tested it for Netflix US, Netflix Canada, and Netflix UK, and it was able to bypass Netflix's firewall providing us its content.
Platforms

They offer several platforms, but unfortunately no browser extensions. However, one can directly use the application, or the manual setup instead of extensions as the extensions could slow down the system.
You can either directly download the client for Windows, MacOS, iOS or Android or else you have the option for downloading the setup. For different protocols and versions of the operating system, different setups are required to be installed.
They don't provide any client for a few platforms, and only manual setup is available:
Linux
Ubuntu Linux
Synology NAS
Kodi
Amazon Kindle
Chromium OS / Google Chrome OS
Windows Mobile
Nokia Maemo
Nokia Symbian
Bada
HP webOS
Many of these platforms are not available in other VPN clients, and thus, it must be said that they have covered a major number of platforms.
One issue that we found while reading privacy policy is this that even if they allow to connect with five devices from one account, they don't allow to connect with more than two devices simultaneously. The customer support executive, however, told me that condition had been removed and the privacy policy will be updated soon.
Also, there was a condition which says that you can't share your account with any other user and the products to which it gets connected must be used by you only at the time of connection.
If anyone else other than the user is found to use the service, legal action could be taken.
Tracking somebody like that isn't an easy task and anyway, if it gets installed in router everyone is surely going to use the service.
Customer Support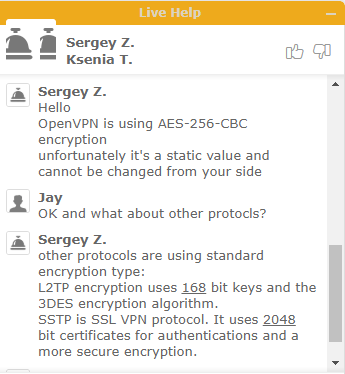 We must rank it as one of the best customer supports with instant and knowledgeable replies.
They are courteous and take every doubt seriously. Customer support provides explanation which is required, and patiently discusses the problems.
Their FAQ section is somewhat limited but covers most of the necessary questions required. However, it could be improved by adding a few questions regarding the technology which they use.
The guides explain the procedure of downloading and installing the manual setups for different protocols, and operating systems in very well manner including steps and images for better understanding.
Troubleshooting option is the corner of a website where spiders build their web. No one would prefer reading content rather than directly talking about the issue to customer support.
However, in case of unavailability of live chat (very rare) or at the time of delay, you can rely on this section.
Conclusion
When it comes to features, StrongVPN renders some disappointment, but a product has many aspects by which its value could be determined.
While they were subtracting the features, they were adding the simplicity that makes the application user-friendly.
They also provide an above average download and upload speed for most of the locations of the world especially for North America and Europe.
Their customer support is available 24/7 ready to answer all your questions smartly and in an elaborated way. For people who require VPN to access geo-restricted content, and hide their IP, StrongVPN could be one of the best choices.
If they don't have the requirement of any particular feature, they can go for the purchase. However, there was some ambiguousness in privacy policy which is discussed above. If this unclarity could affect you, then it's better to discuss with StrongVPN's customer support before making the purchase.