Pros
Provides No-Knowledge Security Policy
Supports all major Operating Systems – Windows, MacOS, Linux and App Support for Android and iOS
Free Trial for 21 days includes a monstrous 250 GB of Cloud Backup Storage
Unlimited number of devices can be supported
All your previous or deleted file versions can be accessed/recovered without any limitations or restrictions
Ransomware Protection by Point-in-Time Recovery
Cons
Live Chat Support not present for ONE Backup
No free version available even with limited features which counterparts like Dropbox offer
Overall
With the ever-increasing cyber and privacy threats, one is always worried about the security of his files and folders. To put an end to your worry, SpiderOak has provided us with its ONE Backup Software. The Software not only puts all your files and folders on its Cloud Storage to backup but also provides an end-to-end encryption so that they are stored securely.
SpiderOak, headquartered in the US, offers a number of Products for Consumers and Enterprises. The SpiderOak ONE Backup is a consumer-focused backup and security software for Personal Computers and Mobile Devices.
Features
The US-based company offers a long list of features. It offers a secure and encrypted backup storage. It offers a variety of plans to choose from and even offers 250GB of storage with the 21-day free trial. It offers file-sharing and syncing features. It is compatible with almost all platforms with unlimited device support for one account. More features are discussed in detail in the later sections.
Storage and Security
Storage is considered at the top when one thinks of investing in a cloud backup storage software. SpiderOak provides up to 5TB of storage for all your files and folders to backup. So, regarding storage, one has more than ample amount of storage, and in doing so, ONE Backup has not only maintained industry standards but has even left behind a lot of other cloud storage providers. Also, before making the purchase, the service provider offers a massive 250GB storage for a 21-day trial. Thus, ONE Backup ticks all most all boxes in terms of storage.
When it comes to security, SpiderOak has left no stones unturned in providing the best here as well. The Software comes with end-to-end encryption thus your data is protected when on the computer, while it is being transmitted to their servers and also when stored on their servers.
Also, SpiderOak keeps up with the standard AES 256-bit encryption algorithm to secure all your files and folders on the cloud. They create a secure SSL/TLS tunnel to securely transfer all the data on your PC to SpiderOak's Servers. The company also offers no-knowledge security. Thus even the SpiderOak admins won't be able to access your data. Also, it protects from Ransomware by using Point-in-Time Recovery to restore the lost/attacked files.
Thus, all-round security is offered by ONE Backup.
Installation and UI
You can download ONE Backup software from SpiderOak's website. Once downloaded, it can be installed by the step-by-step processes that are easily understandable. First of all, SpiderOak asks you to create an account if you don't have already one. Then, you follow along with the Setup Wizard by accepting the Terms and Conditions. Then, you choose the file location where you want to install ONE backup, and once the installation is done, you are ready with your Software.
On the UI, the Dashboard shows the basic and generalized information about the overall things happening on the ONE Backup Software. It shows the amount of free storage out of available at the bottom of the window. There is a Run-Now button, by pressing, which all the changes of backing up new files and deleting files from the Cloud Storage take place.
Other Tabs like Backup, Manage, Sync and Share do as per their names that is Managing and Sharing of files and folders to and fro from the PC and cloud or vice versa.
The most important thing to note is the Preferences Section. One can set the preferences such as Maximum Size of the File that can be backed up, Schedule your backups and the proxy-used, etc. and many more. Thus, the application provider has also given some control to the user for back up and sharing of files.
SpiderOak ONE Backup is easy, and even a novice can be well versed by just a few hours of usage.
Backup and Syncing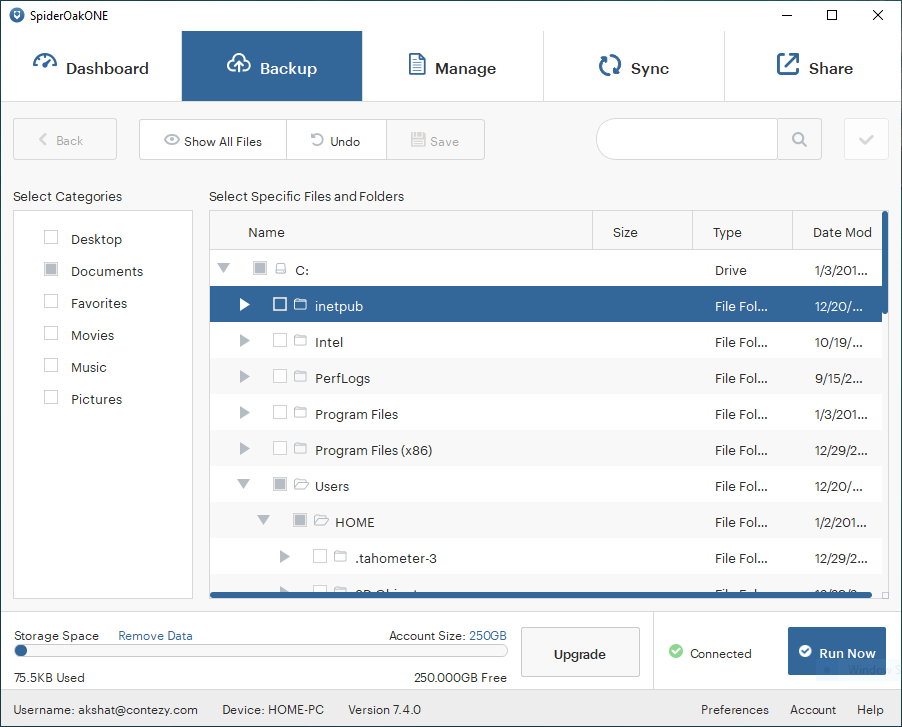 Backup is the main feature of any Cloud Storage Software. The service provider not only backs up all your files and folders but also securely encrypts them. Also, the UI of the software makes it easy for anyone to select the files and folders to backup. ONE Backup has file manager similar to that we find on a Windows or Mac Computer. Thus, one has just to select the files and folders he or she wants to back up and press the RUN NOW button to get all the Files to be backed up.
Syncing is very important when one uses more than one device and wants all of his files to get synced at one-go. SpiderOak provides one with a feature called SpiderOak Hive which according to the service provider is a simple way of syncing your files and folders between multiple devices and the cloud. One just needs to put the files into 'SpiderOak Hive' folder, and it will be added to other such folders one has installed.
Thus, backing and syncing is available with powerful features but at the same time is simple and easy to use.
Manage and Share
For Managing the files that you have uploaded on the ONE Backup Cloud Storage, SpiderOak provides a special Manage section on their Software. One can Download the files that are present on their Cloud. One can remove or change the location of a file from the file manager and manage their files and folders as per their convenience. All the files and folders are stored under a User-Defined main directory which by default is – HOME-PC.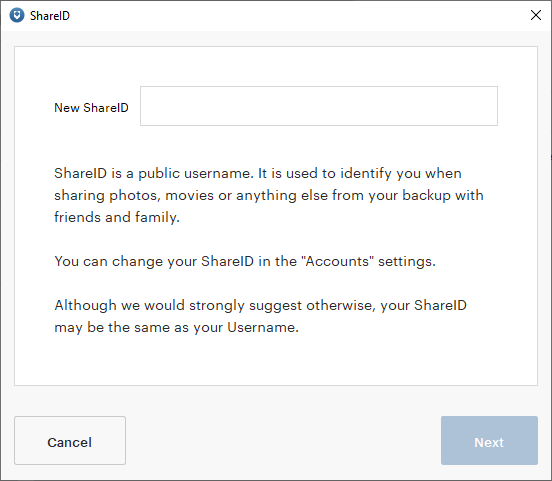 In a Social-Media influenced community that we live in, sharing of photos, files, and folders is a must-have feature, and the Company has not failed in providing it to its users. One needs to create a Share ID for sharing anything such as photos or movies with friends and family. They recommend keeping the Share ID to be the same as the Username. One can even change his Share ID any number of times by going in the 'Accounts' settings.
Support
One and the only section where we felt, SpiderOak felt behind is in the Customer Support Section. There is No Live Chat Support present. Even though they have provided a very rich and detailed Documentation and FAQ section on their website, we still felt Live Chat Support would have added perfection to this product.
Email support provided by the company has been very good and can be considered as a replacement for no Chat Support.
Conclusion
With a huge list of features in almost all the categories, this product is hands down recommendable. From providing top-notch security and storage features, to simple and easy-to-use but feature rich UI, SpiderOak's ONE Backup stands strong and tall on all that a user requires in a Cloud Backup Software. For the price at what the software is available, it is a thumbs-up from our side.