Pros: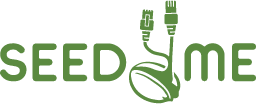 Instant and Consistent connection: Connect your device to the virtual private network using Seed4.Me application whose connection rarely drops.
Always on Mode: It stores the connection status and reconnects to the chosen server automatically whenever you restart the system, or if there is a drop in the VPN connection.
Shadow Mode: Generally, this mode is referred to the ShadowSocks Protocol, but we are not sure in Seed4.Me's case. From the application, we got the information that it aids to bypass internet censorship which is implemented with heavy restrictions.
Internet Kill Switch: If you get disconnected to the VPN abruptly, nothing to worry, as the internet kill switch saves us from the leakage of data by blocking the internet.
Free Trial with Full Access: You can access the application without restrictions, except for a time limit of seven days.
Cons:
Decrement in Speed: The speed offered after the connection is very low. We tried to connect the system to various servers, but the results were the same.
No Assurance of Complete Privacy: While scrolling down on the privacy policy page (or Terms of Service), we had not found any statement regarding the data collection. We will enlighten you about the reason behind this in the later sections of the review.
Error 404- Security Options not Found: It's not possible to discover any security related features such as DNS Leak Protection and Protocol Selection in the application as they do not exist as of now.
Unreliable Support Team: We waited for more than two days for the Support Team's reply regarding our queries, but we received no response. However, they claim to reply within thirty minutes if you are a registered user.
Overview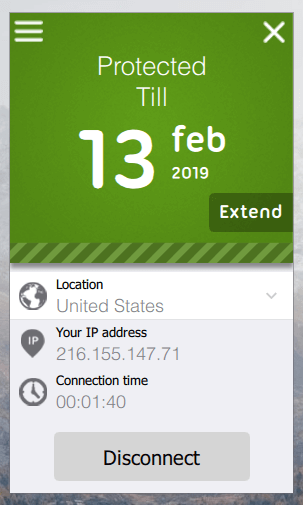 Looking at the location of the company, one may say that your privacy is at a stake if you are using this VPN service currently. The United States, where the parent company S4M Tech Inc., is headquartered in one of the most advanced countries with advanced peeking techniques.
If you have not heard about the PRISM, let us tell you that it is a surveillance program conducted on citizens by the National Security Agency (NSA).
The secret agency has the right to collect all the information through any possible means. This could be harmful as they can even get your sensitive data.
But if we are using the VPN, nothing to worry about. All your data will get encrypted through the tunnel, and no one else other than the VPN provider would know what online activities you are performing.
There are a few VPN providers that store our data, and if Seed4.Me is one of them then it's risky to use it. Especially because of the Jurisdiction.
You will get a detailed view of the information that they log (if they log). Besides privacy, there are many more aspects which defines the quality of a VPN application.
We have considered every aspect whether you talk about the speed or the security. You will know about every attribute of this VPN product.
You can take this information, our opinions, and your requirement, all three into account before purchasing a VPN application. This will ensure that your hard-earned money won't go in exchange for an unworthy service.
Let's see, if this product deserves your click on the 'Make Payment' button or not.
Servers
Servers are used to change your IP address, bamboozling the privacy invaders by hiding the true IP. This is done by routing your traffic through the servers of VPN provider rather than directly transmitting your data to the destination servers.
It is always concluded that more the flags where the VPN service has its servers, better the performance in terms of speed and connectivity.
However, it is not always true, and you are going to come across a live example in this review.
Seed4.Me has its servers in twenty-eight countries, and there is a possibility that they even have multiple server locations in those countries.
There was no information provided on the website about the servers, server locations, or the total number.
But we love to protect your privacy through our detailed reviews. For that, we undertook the complex task of counting the servers manually from the server list available on the small client window. You can have a look of it below: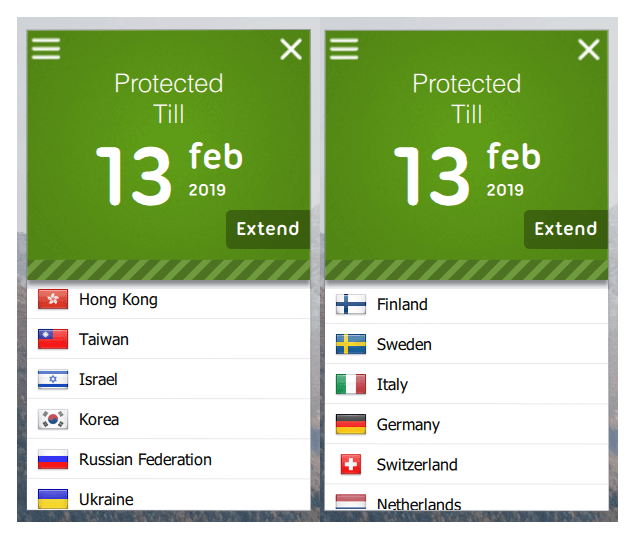 Hope you guys appreciate our hard-work! Similarly, for the other reviews also such as Perfect Privacy, we have delivered a detailed explanation about every attribute.
Coming back to the flags, out of twenty-eight countries, nine are from Asia. This clarifies why the user base is enormous in Russia, China, and some other South-East Asian Countries.
"Oh! Forgot to tell you that they provide a special server For China." Would you please make a note of it? It is required for some future reference.
For Asian users, speed would be better in comparison to the Europeans and the Americans who are using Seed4.Me VPN Service. It is because the servers aren't shared by a large number of users in Asia.
Although there are fifteen server locations in Europe, Middle-East invades and connects to the European servers.
They have two server locations in Balkans which experience intercontinental sharing. Due to this, there could be a huge load on these servers most of the times. So the Middle East connects to the other European servers as they are left with no other choice.
This results in a reduced speed for both, Middle-East users and European users.
Till they don't introduce more servers in Europe, getting good speed after the VPN connection is just an imagination.
Considering North America as a prime VPN market, they have their servers in the USA and Canada. But the number and locations are not known, and so, it doesn't allow us to suggest users connect to servers of these two countries.
Even if the server lets you stream the US content, buffer time would be more than the length of the video if the load is high.
As we know that the server list window is small in size, and so you can't always scroll down every time to find the perfect server. The solution is sorting and filtering options….
which are not present on Seed4.Me's client.
There is an urgent requirement of adding a few sorting options such as by latency, by proximity, and alphabetical order. They can also add an option to filter the servers according to the continent.
Adding a few more servers can reduce traffic congestion, and sorting options can provide better access to these servers.
Privacy Policy
VPNCrew review team have developed a talent for writing about elements that do not exist. Presently, I am talking about Seed4.Me's Privacy Policy.
If you find the privacy policy on their website, let us know because we were unable to find it. Perhaps because it's not there.
All we found was the "Terms of Service" page. We believe, if a company is offering a VPN product for maintaining the users' privacy, they ought to maintain a privacy policy.
It's one of the rare VPN product breeds that delivers privacy without the privacy policy.
So, let's go through what we have. We have Terms of service which says:
"Account Holder further agrees that they or anyone using their account will not engage in any of the following activities:

Using the Seed4.Me Service for anything other than lawful purposes.

Violations of this Usage Policy will result in termination of your Account, without any refund of amounts previously paid for this service."
That's great that they do not allow any misuse of the VPN. But it's contradicting that they provide a special server for China.
They have the right to terminate the service if you are a user using this application from China as the use of VPN is unlawful in China.
However, it's very unlikely as they must not want to reduce their user base.
The Major concern is still not revealed. The upcoming paragraphs question the privacy of the users who are using the application.
A good VPN service is the one who doesn't log any of our data. There was no information about data logging on Seed4.Me's a website, so we were initially unable to rate privacy protection.
Later, we discovered that the parent company, S4M Tech Inc. is an online advertising company which shows ads based on "unique technology."
That unique technology is the virtual private network.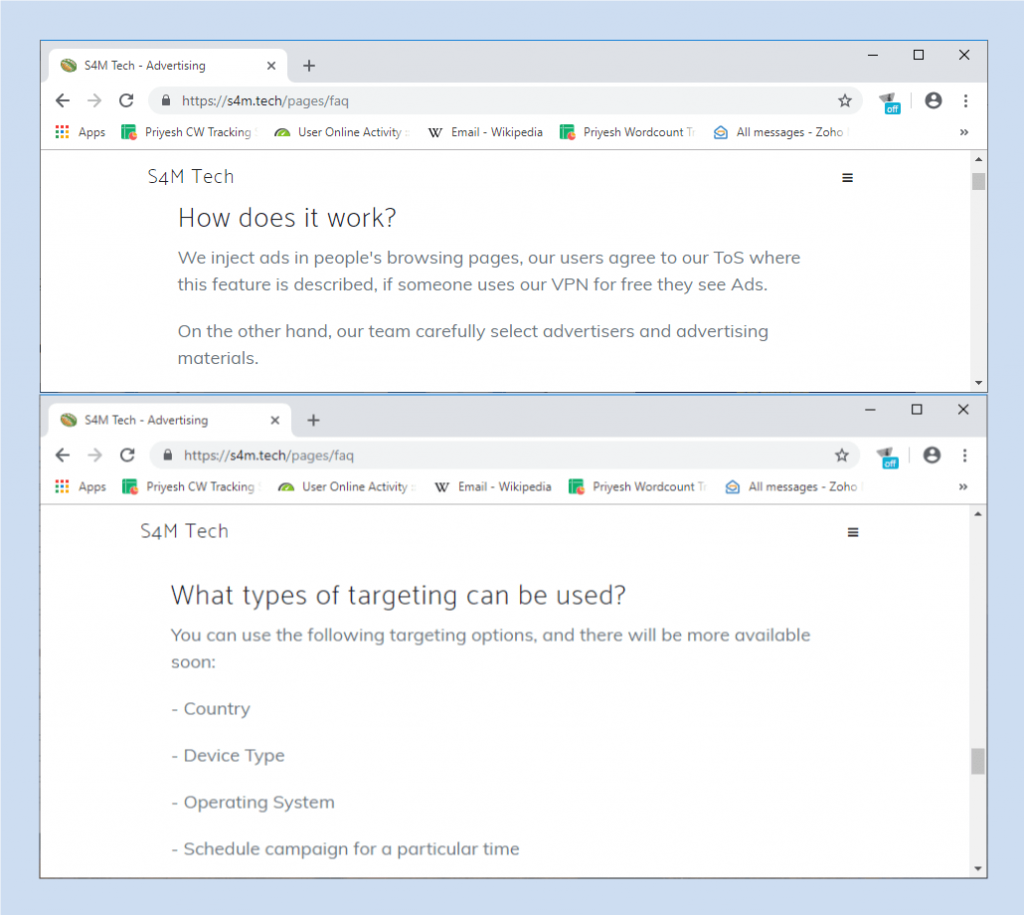 The web pages which Seed4.Me's free users browse are injected by S4M Tech with advertisements. If you visit their website, you will know that the advertisers can target the audience according to the Country, Device Type, Operating System, and Particular Time.
That means, they at least log information about the country and device.
If these advertisements are based on our browsing data, then it is severely harmful. They may know about the websites that we visit. If you are a registered free user, then one can directly relate this data to you.
We don't know what else they log as they don't have a separate section for the privacy policy. This itself suggests that you should not go for this application if you are too concerned about privacy.
Also, this application is harmful for the users who don't wish anyone to know about the notorious content that they browse.
Connection Time Analysis
| Trial No. | Time taken to establish a connection |
| --- | --- |
| 1 | 4.45 |
| 2 | 3.53 |
| 3 | 3.39 |
| 4 | 3.55 |
| 5 | 3.18 |
| 6 | 3.34 |
| 7 | 3.26 |
| 8 | 3.82 |
| 9 | 3.35 |
| 10 | 3.38 |
| Average Time In Seconds | 3.52 |
Although it's tough to detect the good aspects sometimes, this review has taught us how to identify one.
After reading the privacy policy section, you may not feel like knowing about the benefits of the application, but still, they are worth mentioning.
For Seed4.Me, it only takes 3.52 seconds on an average to establish a connection between the device and the server.
Amongst all the trials, the highest connection time was of 4.45 seconds, and all the other trials took less than four seconds.
Because of that, the connection time range is very small, nearly one second. One neither needs to wait nor need to think that in how much time the connection will get established.
It's an easy to connect application which changes your IP with just a click.
Bandwidth and Speed
Nowadays, people don't have patience, and the best way to learn "how to be patient" is to use a slow internet.
Here, we will introduce you to one of the slowest Internet that we have experienced.
While using the VPN, it's normal to face a reduction in the speed due to the layer of encryption. However, the reduction must not be huge enough that it affects browsing and streaming.
People are not willing to compromise with speed for privacy, and that's why the VPN services are striving hard to avoid any speed decrement.
But Seed4.Me is not one of them. After looking at Seed4.Me's server network, we were expecting that it will at least deliver half of the original speed. But that wasn't the reality, and the results are in front of you.
Although we did speed tests for the UK and the USA also, yet we were not able to add them. It was showing latency error for these countries, and there was no way to find the actual speed they offer.
So, after a lot of attempts, reloads, and yawning, we moved to the other servers.
As you can see in the image that the download speed after connecting to the closest server was only 4.93% of the original speed, we moved to an Asian server for the next speed test with some hope.
We realized that it was better to remain connected with the previous server. In this case, the download speed was even worse. For the original download speed of 57.30 Mbps, it provided us only 1.71 Mbps.
So, when it comes to speed, all you can expect is a throbber and slow browsing.
Security
Ticket support was only for the registered users, so we tried to communicate the support team via email, but it seems that they were not interested in providing us with security related information.
On the website, even if you keep scrolling through all the web pages, you may not find information regarding the encryption, key length, protocol, and other security elements.
Without that information, we can't judge the application's security standards. Perhaps, the standards are not good enough, so they prefer to keep them hidden.
Or there could be a possibility that they are so unique that they want to keep it up to themselves.
Well, we can't take the risk. If the application uses PPTP Protocol, and BlowFish encryption (which is the weakest combination), then the data won't be secure.
However, if OpenVPN is used with AES 256-bit key (most recommended combination), then only we can suggest you use it.
Also, there is a lack of information about the DNS servers. We have no idea whether they use 1st party DNS servers or 3rd party DNS servers.
Because of the unavailability of information, it won't be possible to provide any conclusion regarding the security. It's up to you whether you wish to take the risk or not.
User Interface and Experience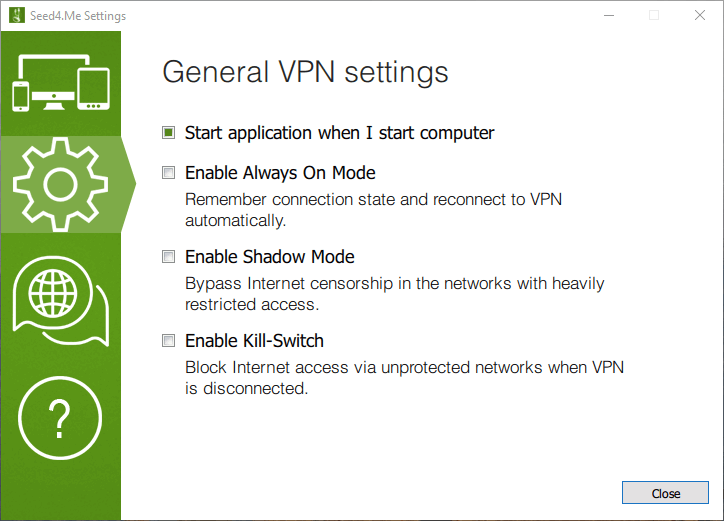 It jiggles and it wiggles whenever you move the mouse pointer on the client window. The user interface is playful, but we were expecting something useful.
The number of settings that the VPN service providers, acts as a symbol of product quality. It widens the functionality of the application.
The User interface's primary job is to make the users' life easier by providing him with all the required features under one roof. However, sometimes the user interface also works as a part-time magnet that attracts the audience.
If you don't trust us, CyberGhost's review is up with its cute user interface to back up what we just said.
Apart from Jiggling-Wiggling, Seed4.Me has no attractive ability. But there are some features under the Setting tab which are worth mentioning (Because that's all the client has).
Just click on the settings button which looks like a helm, to explore these options. So, the first one is related to client behavior. The "Always on mode" automatically connects the device to the selected server whenever you start the system.
Some applications have serious issues related to the kill switch. It is required to block the internet when the VPN connection goes off "expectedly."
But there are many passionate providers obsessed with their application which allow blocking the internet even if we manually disconnect to the VPN.
Thankfully, Seed4.Me is not one of them, and you can keep the kill switch on if you are concerned about the data leakage.
There is one more option which is the Shadow mode, and that's useful to hide the use of the VPN application. Helpful for the countries where the use of VPN is banned. While using this mode, you may face a decrement in speed.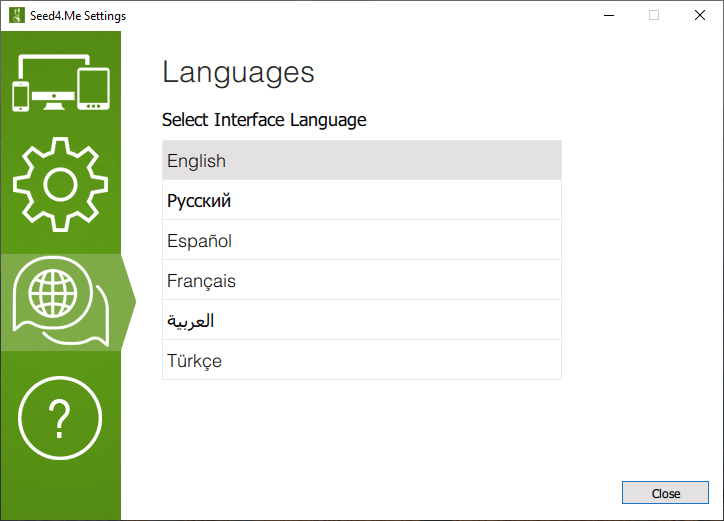 If you prefer VPN clients which are available in your native language, Seed4.Me could be useful for you as it provides the option to select amongst the six different languages. However, beating Windscribe in the language selection option is a tough task for any other VPN provider.
Platforms and Devices
Whenever we get a software program, we prefer the one which we can install on multiple devices. Platforms play a major role in the selection of VPN application also.
Seed4.Me offers limited luxury when it comes to platforms. Almost all users choose to use a platform between Windows, Android, iOS, and MacOS.
But there are some who wish to install it on routers so that they can automatically connect to the VPN without installing it on their devices.
There can be multiple benefits of installing the VPN on routers. Seed4.Me asks for permissions that gives them complete control of the device. The user would not want to allow it.
If it is installed on the router, users won't need to worry about the changes that the application may make if they get access of the device. That's why Seed4.Me will never make its application available for routers as it needs access to inject advertisements on the web pages that you browse.
Also, the router configuration helps to connect multiple devices in one go. Who doesn't wish to have this option? Perhaps, the current users of Seed4.Me.
Apart from downloading the client, you can also download PPTP setups for the above-mentioned platforms. However, we only recommend you download these setups if you are not concerned about your data's security. PPTP protocol is the most basic protocol that has many vulnerabilities because of which it's easy to bypass.
Customer Support
If someone asks us "whether we have seen aliens?" We will reply to him that "they don't exist." The reply also fits if some ask us about Seed4.Me's customer support.
We waited two days for their reply, but all we received was no response. Neither live chat nor ticket generation is available.
Well, in that case, you can't rely on their support team if you encounter any issue.
Or else you can find the address of the company from the Play Store and knock the door directly. Perhaps, you may not even find the correct address. The reason behind it is discussed in the next section.
What's the jurisdiction?
So far, we have mentioned that the company is located in the United States, and we still believe that. But while reviewing the product we have come up with a contradiction about the location of the company that we need to mention here.
Generally, it is suggested to use a VPN application whose jurisdiction is not amongst the "Fourteen Eyes" countries.
These 'Fourteen Eyes' countries have knowledge about every activity that their citizens perform online. That data can be collected from various sources (such as social media platforms), and VPN can be one amongst them.
By Seed4.Me's ToS, we are sure that they log our data, and they may provide this information to the secret agencies if they are located in "the United States."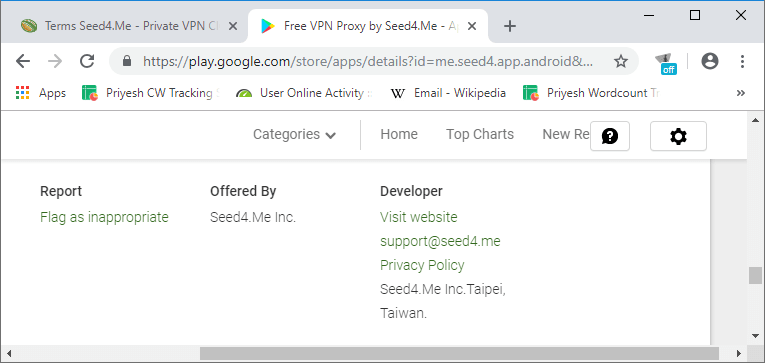 In the above image you may find that according to the Google Play Store, their location is "Taiwan."
Taiwan is a user-friendly country, and users don't to worry about the jurisdiction if it's the true location.
It's the only case where we found such contraction, so we collected information from the third-party resources regarding this.
However, all the third parties mention that the company comes under the law of Taiwan.
But after some digging, we found the concrete proofs which support what we believe. We visited the parent company's website and found some interesting information. Along with that, we have shared the content that verifies the real location. Have a look: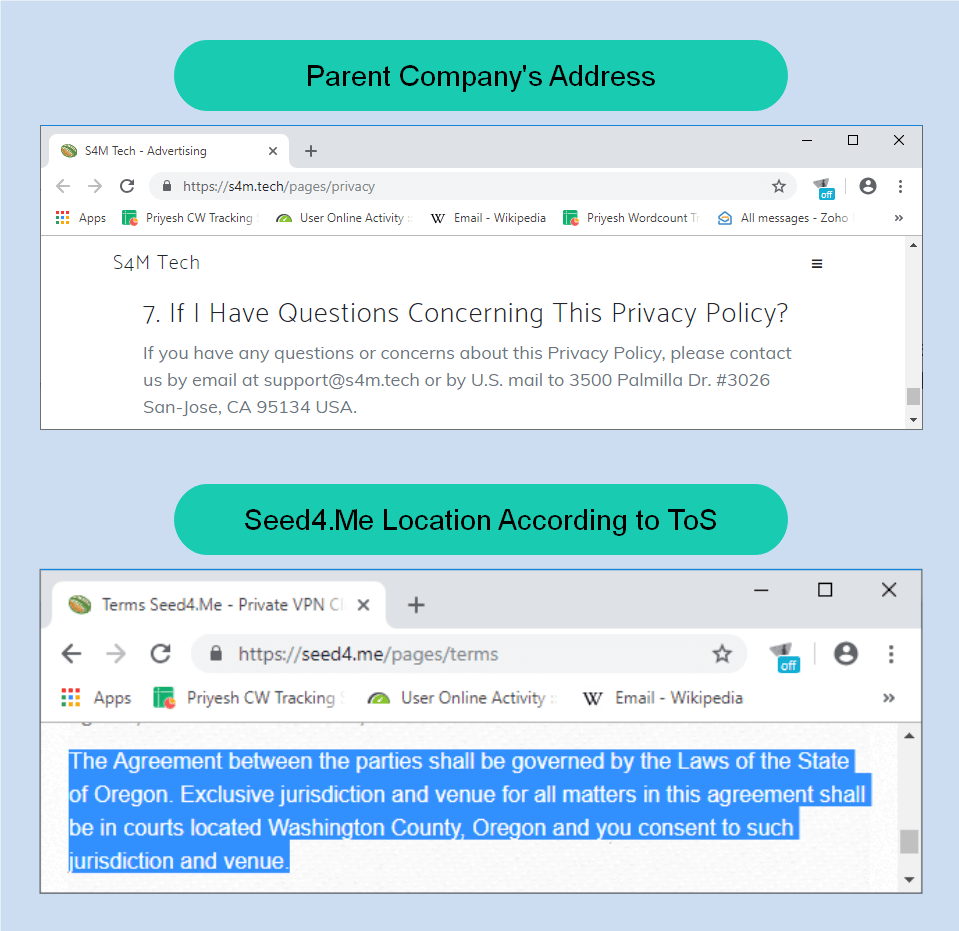 Now you have gone through the content yourself that shows the real face or location of the VPN provider. We leave it up to you whether you trust us or the other resources.
Conclusion
Seed4.Me claims to protect the users' privacy, but at the same time use their information for advertisements and retargeting.
They can collect all the information from our system and use it for their benefit. However, this sin is only conducted on free users. The premium users won't find any advertisements on their screens.
Still, one can not be sure about the logging of the data. If you believe that they are situated in the United States (like we believe), and not Taiwan, then it's a major issue.
The government can directly use the data collected by the application for spying on the users.
We can't even consider downloading it for other aspects as they are not good enough. The speed delivered was just five percent, and no one deserves a low speed even after having a good internet connection.
It's not useful to discuss more about the product and platforms. If they truly wish to safeguard the privacy of the users, the first thing they need to do is to add a privacy policy which states "zero logging."