Pros:

Limited trial version: – This VPN comes with a 7-day trial version for free users to ponder upon. This trial version does provide the same features and functionality like a paid version.
Inbuilt support system: It has features like an inbuilt support system which helps the user to contact or troubleshoot errors fast and save the trouble of submitting tickets for small issues.
Simple UI: – The VPN provides basic details like full usage statistics, packets sent/received on the usage screen in the menu option. A novice user can also use this VPN without any hassle.
Inbuilt Ad Blocking: – This VPN has inbuilt ad blocking system which helps in removing malicious and annoying advertisement, giving you a good browsing experience.
Security: – The VPN uses high-end encryption methods to safeguard the data exchange between the servers. They provide data compression methods to minimize the bandwidth load making servers run smoothly.
Cons:
Privacy: The VPN comes under the jurisdiction of the USA, one of the 5-eye nations which can hinder complete anonymity of the service.
Logs: It stores only connect/disconnect logs and usage details which are small but can definitely help to breach the privacy of the user.
Speed: When it comes to speed, be it connection speed or bandwidth speed, this VPN highly disappoints the user. In this era of fast internet being a priority of major masses, connection speeds of 17 seconds and around 90% bandwidth reduction is way too slow.
Additional UI features: Even though it has simple UI, essential things like choosing server locations, bandwidth usage, packets sent/received are supposed to be displayed on the main dashboard rather than separate pull-down menu.
No DNS leak protection: The VPN has no option for DNS leak protection or IPv6 protection.
Features: This VPN lacks in many features like browser extension, protocol change, tethering option, etc.
No Router support: The VPN cannot be used for multiple router configurations.
Customer support: Decent customer support with the only way to contact them via tickets.
Overview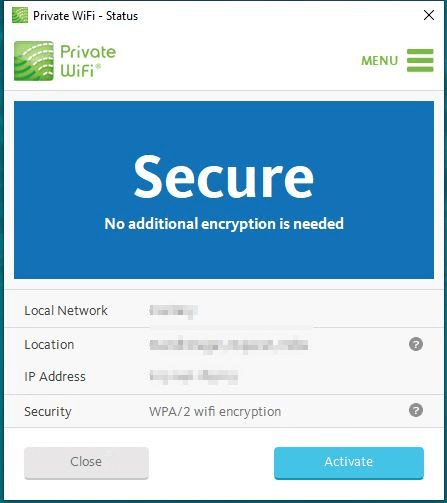 Private WiFi is the chief product of Private Communications Corporation, founded by Kent Lawson in 2010. The company headquarter is located in New York City, USA.
It was founded on the idea that public networks are highly insecure and leak multiple user data, which is needed to be protected by not only having a secure connection on such networks but also hiding the traffic data.
Boasting about its high security, Private WiFi not only enables to secure the non-secured public Wi-Fi networks but also provide with VPN to access online content with full anonymity.
Equipped with primary feature like encryption, ad block, data compression this VPN may help your temporary needs. This VPN does lack in many additional features to enhance the user experience and usability on multiple accounts.
In this review, we are going to check various aspects of this VPN service and verify whether its performance is up to the task or it's just another average product in town.
Servers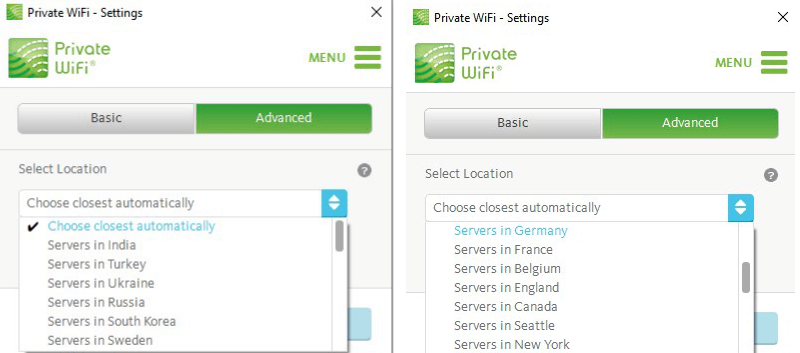 Private WiFi has servers spread across 13 countries with 30 individual servers spread across them.
They use proximity and server load algorithm which determines the best location to connect by checking the nearest place off to a server as well as the current traffic load on that server.
Since these servers are used only for VPN traffics, they offer more reliability in connection and speed, which can be hampered by usage of multiple functions on a single server.
The primary locations of the servers are the USA and Europe with many of the servers located in the US itself. This shows a limited reach of the VPN servers and also increases the load on these servers.
Some servers farther away from the central server have shown a drastic decrease in speed which needs to be sorted out to provide users from other continents to have a seamless experience.
The company comes under the jurisdiction of 5 eyes nation (USA, Canada, UK, Australia, and New Zealand). This may cause some of the user data to be accessed by government and snooping agencies.
Privacy Policy
Being headquartered in the USA, one of the 5-eye nations, not much can be expected if they will not hand over the user data for monitoring when summoned for the same.
They do not store any personal data logs like IP address, website visited, etc. but keep logs of connection attempts and total bandwidth usage.
As they have mentioned, they do require a subpoena and take the user permission to hand over the account information.
Being members of the Electronic Frontier Foundation and the Digital Due Process Coalition, they limit government interference in accessing user info.
However, storing logs of connection time and bandwidth usage can help the government in finding out your browsing pattern, and they can use it at their advantage, be it for legal purposes or for snooping.
Hence the privacy policy is neither too open nor too secured and can be accessed by agencies at their get-go.
Connection Time Analysis
| Trial No. | Time to establish a connection |
| --- | --- |
| 1 | 21.51 |
| 2 | 15.89 |
| 3 | 16.93 |
| 4 | 14.19 |
| 5 | 16.49 |
| 6 | 16.23 |
| 7 | 15.57 |
| 8 | 21.53 |
| 9 | 15.06 |
| 10 | 17.7 |
| Avg. Time (seconds) | 17.11 |
Connection time refers to the "average time the client side takes to connect to the server side successfully." For most VPNs, this time is supposed to be low being an average of 3 seconds considered to be fast and beyond 8 seconds taken as a slow connection.
A higher connection time leads to bad user experience. A good VPN must always prioritize in reducing the connection time to help users facilitate from their services quickly.
To measure the connection time for this VPN, we initially used the automatic choice of the server which is decided by the proximity of their server location to your place. Later on, we switched for various top choices for most users to determine the connection speeds.
The connection time to the closest location, in our case, was averaged to 17.11 seconds. This shows how slow the VPN is when it comes to both connection time and bandwidth speed. Such a slow connection time cannot be expected for either free or paid version of service.
For other places, from furthest location to midranges, the connection time averaged to around same as above. This eventually shows that all their servers have similar mediocre technology even for paying customers.
Any VPN taking this long for connection itself shows the terrible quality of their servers, which if not improved will suck away their paying customers. Even free users will choose other option with way better speed than this VPN.
Bandwidth Speed Test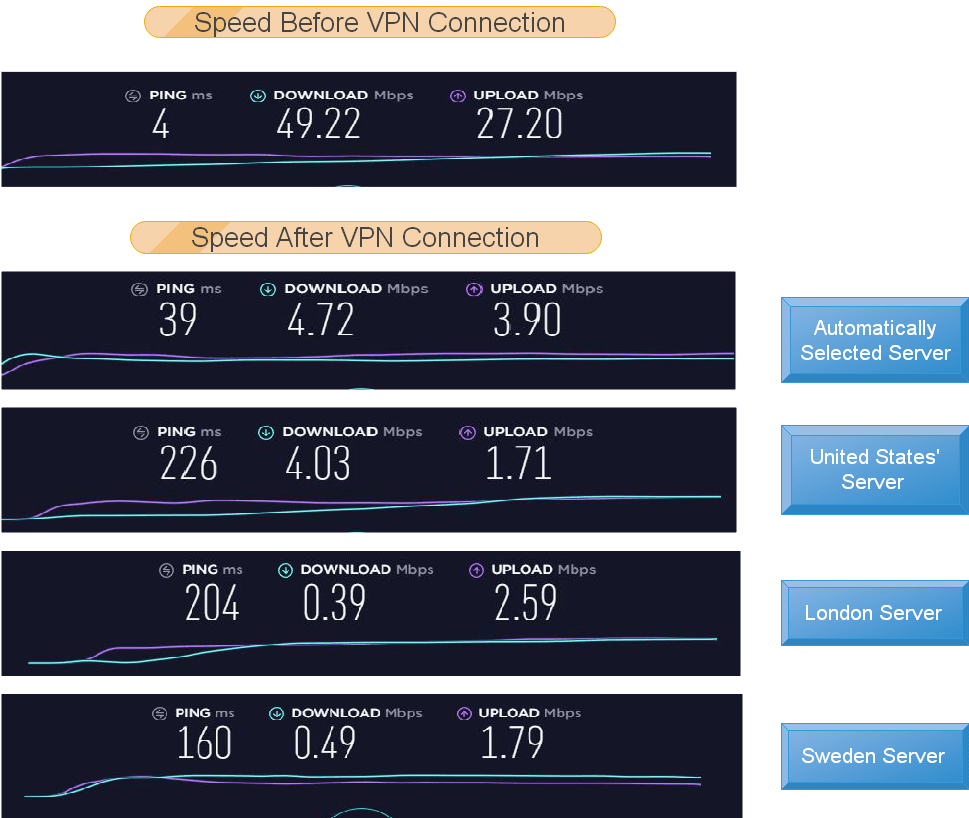 A good VPN will offer not only good security to its users but also makes sure that usage speed is not decreased in exchange for too much protection.
Bandwidth speed test provides us with information on how much data is capped/reduced by the server side which may decrease the usage speed compared to a deactivated VPN.
Most good VPNs have speed capped to around 5% to max 20% for both free or paid users. This artificial cap helps not only to reduce heavy load on some servers but also to prohibit malicious abuse by users.
Even though located in places with good server accessibility, to our surprise the speed reduction was high on free as well as pro version.
With server at our closest proximity, we got a 90.4% reduction in download speed and 85.6% reduction in upload speed.
However, the bandwidth tests depend on users' service providers, but in this case, we have an excellent internet connection to make sure there are no errors from our side.
Even servers in top locations like New York, London, Sweden also had capped the speed as above which is very bad for users since it virtually restricts their daily usage habits.
The bandwidth speed in New York was reduced by 91.1% in download speed whereas places like Sweden and London had around 95% speed reduction in our test results.
Other servers not only had much-reduced speed than above but also got timeout error many times which clearly shows poor capacity and performance of these servers. This means that they urgently need to optimize their servers to give users a hassle-free experience in using their services.
Thus, High end daily internet habits like watching online videos, Netflix, gaming activities get a huge setback and are virtually impossible with such bandwidth.
Security
Private Wi-Fi uses 128-bit SSL encryption.
SSL (Secure Sockets Layer) is a common security technology to form an encrypted link between a server and a client—which is usually a web server and a browser; or a mail server and a mail client. These security features are generally hard to crack.
This security encryption is also provided on the current network connection which prevents hackers from snooping on data exchange between public Wi-Fi and your system.
They use a four-prong approach for connecting and securing the data sent to the servers.
The first step is enabling protection via encryption services like AES-256bits keys. Then the user side security is detected to check if further protection is needed. Once this is done, the user side is contained via an encrypted tunnel. After that, the recovery part includes re-enabling the connection in case of lost connection from the user side or the encrypted tunnel.
On open networks in public places like a cafeteria, gym, stations, etc. the security threat heightens drastically since all of them are vulnerable to third-party attacks like snooping, MITM attacks, IP poisoning, etc.
This VPN does secure such public networks and help against such third part attacks.
Important security features which enhance the usage of VPN like kill switch, IPV6 protection, DNS leak are absent from this VPN.
They boast about these security features, but many products are available in the market which provide better security without connection issues.
So, if you are much concerned about really tight security and only want to unblock locked contents, without any concern for speed, you can rely on this VPN.
User Interface and Experience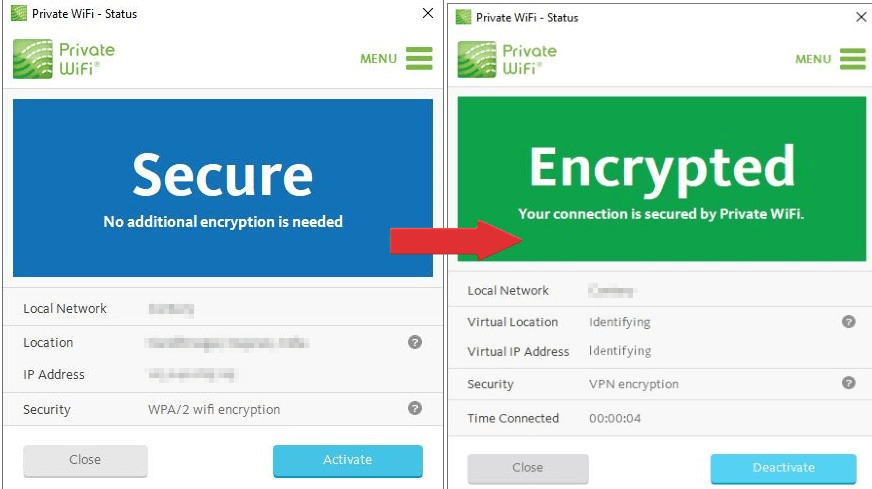 Private Wi-Fi has the most basic user interface which allows a simple one click-based functions.
The main screen displays the connection status along with a connect/disconnect button and a Menu tab at the top.
Under the Menu tab come options such as activate, settings, usage, account, help, about and quit.
Settings include options to load the service at startup, block ads and turning data compression off to limit CPU usage. The advanced tab under settings allows the user to select the server location based on his choice.
There is also account section which displays basic account details mentioned at the time of registration like email ID, platform, number of the device, etc.
Another useful option in this menu is help section which opens a separate window giving many options like troubleshooting, privacy policy, connection guide, etc.
Overall the UI is very plain and simple but lacks a more visual interface that can display the location connected via map, bandwidth data, connection time, etc. They also need to display the change location menu on the main dashboard itself rather than putting it under the settings menu.
Platforms and Devices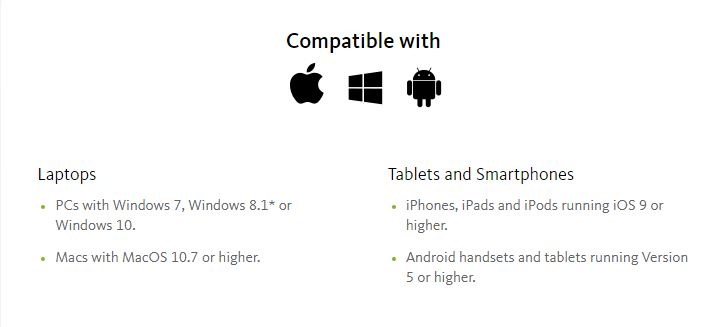 The VPN has limited support across few platform and devices.
For laptop and PC devices, it has support for Windows and MacOS.
For Mobile and Tablets, it is available for iPhone, iPad with IOS 9 or higher and Android devices with AOS 5 or higher.
The following protocols are avalaible for various device:
PC/Mac is OpenVPN.
iOS/Android is IPSEC/IKEv2.
Legacy clients L2TP over IPSEC.
It has no support for a router and hence cannot be used across multiple platforms like consoles, Smart TVs, etc.
There is no browser extension available, so a user may need to turn the protection separately even if they only need it for daily surfing tasks.
Apart from that, the VPN needs to extend its reach on Linux and its derivatives. The number of devices a single account can use on a trial version is five which is good. The premium plans include various schemes for different users based on their requirements of usage and device connectivity.
Help and Customer Support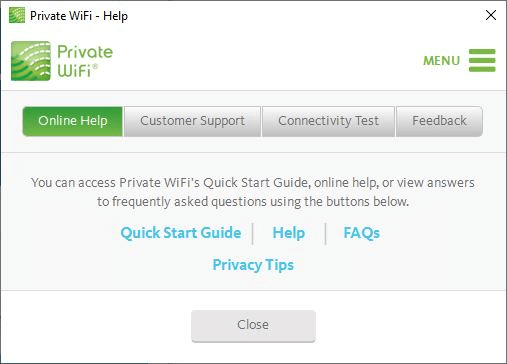 The customer support is only available via ticket registration on their website. There is no option for live chat support or remote monitoring help.
The customer support although limited to only one form is good enough to resolve your issues in one or two working days. In our case, we received the support for our product in a single day. They also resolved the issues for us.
The software itself has some basic troubleshooting measure available in the help section in the main menu. This help section contains multiple topics ranging from quick start guide, FAQs, privacy tips.
The quick start guide helps new users to learn to use the software. Apart from that, the FAQs section is divided into various parts like general, technical, privacy, purchase and license issues and troubleshooting.
However, they also offer a privacy section in help menu which guides users in following various steps like maintaining online anonymity on social media, browsing, perks of using a VPN, etc.
They also provide a connectivity test in the software to check for any connectivity issue from the client side.
Another option for support is feedback which is only email based.
All in all, the help section has enough information to educate a novice person in online anonymity and threats. However, more efforts are needed to be placed on customer support section by providing features like chat support, live feedback, remote testing, etc.
Conclusion
There is nothing noteworthy to be pointed out about this VPN. This application is only made for casual users who can use it for temporary anonymity.
The issues with connection speed and bandwidth are way too high to be ignored, and any paid user will eventually feel his money being wasted.
There are numerous better options available in the market such as ExpressVPN at similar pricings which render way more satisfactory performance and excellent services for your money.
Therefore, if you are a pro user who cares for your anonymity, want good speed for your usage and are looking for more user interface and features, this VPN is not for you. Casual user can try it, but the only thing they'll get is wasted time.
The primary area which needs to be covered properly by them is an increase in server capacity and performance along with less reduction on speed and faster connection time.
The customer support section also needs various overhauls to enhance paying customers' user experience.