Pros: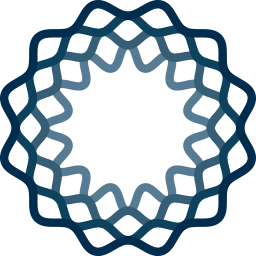 It uses DNScrypt, an authentication protocol which helps the application to avoid any data leakage due to any man-in-the-middle attack.
The "Kill Switch" option is the primary requirement for safeguarding the data from getting breached if the VPN connection drops without any warning. OVPN fulfills this requirement by providing an efficient Kill Switch.
OVPN provides extensions for three most popular browsers: Chrome, Firefox, and Vivaldi. Also, they are working on creating an extension for Opera also.
IPv6 data can also be tunneled using this VPN service. All you need to do is – activate IPv6 under the account tab.
The company has mentioned that the VPN service strictly follows "no log policy," and for that reason, they use the servers with no storage capacity.
You can also purchase the Multi-hop service in addition to the VPN client by paying $5 per month.
It provides physical security by not involving any third-party while establishing a server.
You can use the service without any bandwidth limitation.
They provide 99.5% server uptime guarantee and claim that if they won't be able to keep the commitment, the active subscribers will get additional subscription time for compensating the time when the server wasn't working.
They offer live chat support. However, it is notified that generally they reply under two hours. In our case, they were not present at that time and asked us to provide an email so that they could contact us.
The company promotes anonymity, and for supporting that, they only log email address of the user while making a payment. Their systems don't even save the payment details.
The extension has an ad blocker as well as track blocker which aids to enhance the user experience.
Cons:
The only protocol available for selection is OpenVPN which is, however, considered the best one. But it would be better if they include other protocols also.
They only have servers in seven countries for a specified user base. For these seven countries there are ten-twelve server locations which would not render a good speed all over the world.
Very few features are available which don't allow the user to have control over the application. It will be appreciated if they add specific features related to bypassing ISP throttling, and DNS configuration.
In our case, the speed that we experienced was not up to the mark. Maybe, if the servers would be located at a lesser distance, the speed would be more.
As the company is headquartered in Sweden, it isn't safe from surveillance program that the "Fourteen Eyes" conducts.
Overview: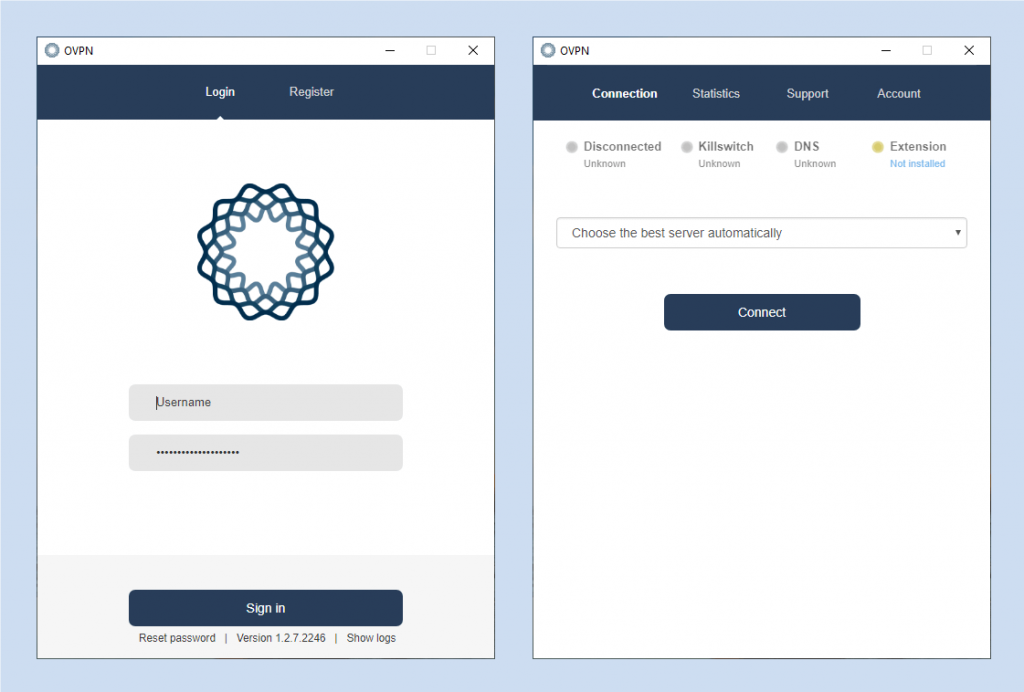 OVPN focuses on providing a reliable and transparent service to their users. However, as they are located in Sweden, one can't be sure if the government will act transparently or not.
The company has tried to establish trust by claiming that they use servers which do not have any storage facility. Because of this, they could not log any data even if they want to. Well, this claim is not in the form of text, but one can also see the server images on the websites.
This may look authentic, but you never know!
OVPN has the simplest client, but with limited features. Their extensions are also worthy of discussion as they offer specific features which are not present in the client.
Knowing about OVPN from different aspects will help you to decide if it's the right choice for you or not!
Server Locations: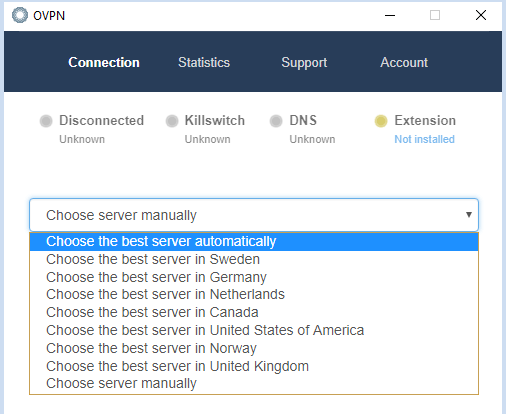 Servers are the most important elements of the whole VPN. Quality and quantity of servers decide the level of functionality and the internet speed that one gets while using the VPN client.
OVPN only has its servers in seven countries which are the United States, the United Kingdom, the Netherlands, Sweden, Germany, Canada, and Norway. In these seven countries there are ten server locations, and in total, sixty-seven servers.
Because of these many servers in specific countries, the server density is very high, especially for the European countries. In the United States, servers are located in Miami, and Los Angeles which can't cover the whole United States area, and only Southern part of the country is covered. It would be better for users living in the Northern part of the United States to connect to Canadian servers because of the lesser distance.
When one talks about European countries, the speed and functionality for Northern Europe are great but not as good for the Southern part. This is because the countries selected are all located in the Northern Part. However, if you are a buyer from these five countries, you will rarely have server related issues.
In the client, they provide the option to connect with the best server automatically. If you wish to connect to a server of any specific country, you can select the option of connecting with the best server from different countries where servers are available.
Also, if you wish to select the servers manually, you can connect with them by browsing through the list.
However, we aren't sure that even if one connects with the best server, he will receive good speed if he is located in the continents other than North America and Europe.
Payment Method and Refund Policy
They provide five payment methods including cash and bitcoin payment as they promote anonymity. Other than these two payment methods, one can pay using wire transfer, PayPal, and credit card.

If you are not satisfied, they provide a 10-day money-back guarantee, but only for new users. If you have used OVPN before, you are not eligible for the refund which is anyway justified. The refund is provided if you aren't satisfied with the product so, ten days would be enough to determine if this product is good enough for continuing or not.
However, if you are not satisfied, and or its service doesn't match with your requirements, you can claim the refund in the first ten days.
For the consumers who made payment using bitcoin, one will receive the same amount irrespective of the fluctuation in the exchange rate. For the refund of cash payment, one needs to visit the office which is located in Sweden. So, we don't think it would be a great idea to make the payment using cash.
Transparent VPN Provider
OVPN's website contains the data that shows that they are transparent towards supporting no log policy. The media available on the website contains the images of the server posted as the proof that the provider doesn't have any storage device installed on the system.
Even if the authenticity of the photographs can't be guaranteed, it looks genuine.
They use the application, "AppArmor" for better security of the users' data. They have installed a boot server at every data center which contains all their live images. These live images are also encrypted by XTC-AES 512-bit key encryption.
Such features add to the physical security as even if someone tries to gather data through servers, he won't be able to collect anything useful. That also delivers trust on the VPN provider as they transparently show the efforts that they perform to safeguard the data.
Connection Time Analysis
| Trial No. | Time taken to establish a connection (Seconds) |
| --- | --- |
| 1 | 38.55 |
| 2 | 24.63 |
| 3 | 19.68 |
| 4 | 18.77 |
| 5 | 26.92 |
| 6 | 20.42 |
| 7 | 20.49 |
| 8 | 22.7 |
| 9 | 33.55 |
| 10 | 27.38 |
| Average Time in Seconds | 25.3 |
On an average, it takes 25.30 seconds for establishing a connection between the client, and the server. That's one of the highest connection times, and that is not appreciated. Sometimes, when the application takes longer time, it notifies the user that the connection attempt will be aborted and then one needs to connect again.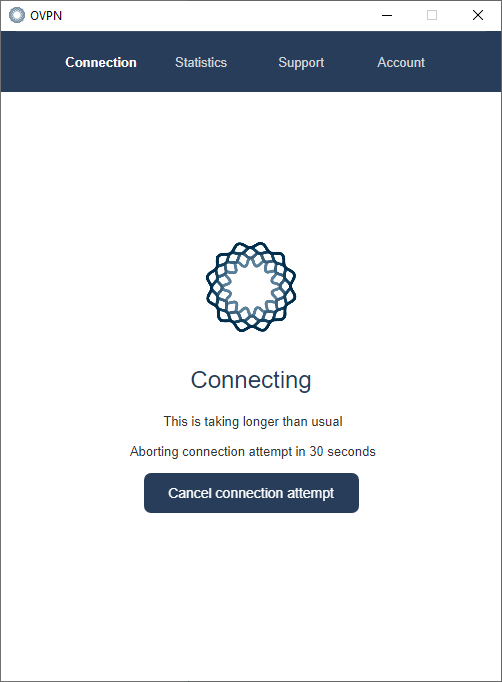 However, some of the other products such as VyprVPN has even worse connection times. In this case, such a high connection time was experienced because of the distance between our location and the closest server location.
Till now the server locations are only dedicated to seven countries, so it is possible that other countries won't experience an instant connection. If you need to connect with the VPN through OVPN within a few seconds, then your location must be from North America or Northern Europe.
Speed Test
For speed test, disappointment was enormous, but we can't conclude that every user will experience the same disappointment. As the application is only dedicated to seven countries right now, it is not necessary that users from other countries will experience a high speed.
The closest server location is 6400 km away which makes it tough for the user to experience a good speed.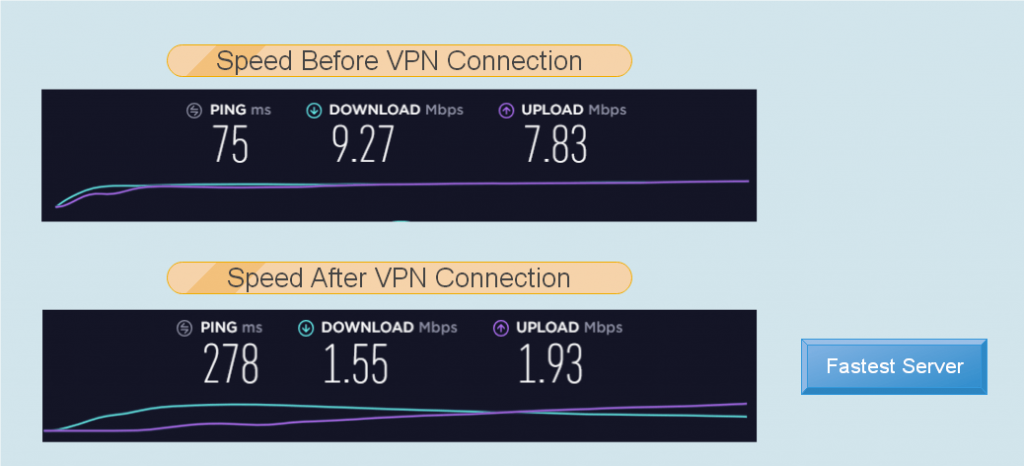 This product will only render an acceptable speed to you if you are residing in the countries in which servers are available.
In our case, only 16% of the original download speed was recorded. For upload speed also, 25% of the original speed was observed, this makes OVPN, an unworthy product if the speed is the prime requirement.
However, if someone stays in Sweden, there are rare chances that such a speed reduction will be experienced as OVPN has the maximum number of servers here in comparison of other countries. It has three different server locations in Sweden. That's why even if the neighboring countries get connected to it, a decent speed could be expected.
In the case of North America, even if there are server locations, the server density is not as high as in Northern Europe. So, if you are thinking of purchasing this product, and speed is your concern, try connecting with different servers before extending the plan so that you can identify the speed status.
However, we don't believe that one will get the required speed if he is outside Europe and North America.
Security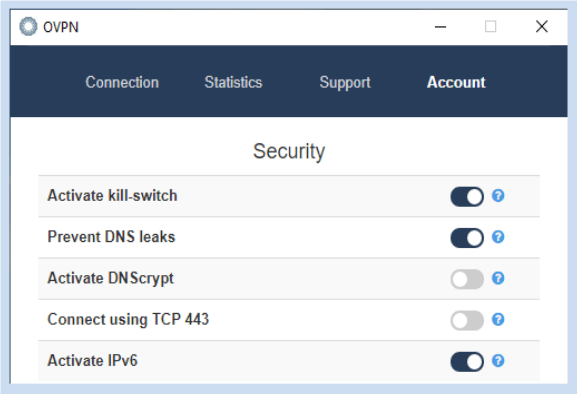 We have already seen that they strive to maintain the physical security of the servers by the implementation of AppArmor and encrypting the live images.
For software security also, they maintain the same level of security by providing AES 256-bit key encryption for changing our data into ciphertext.
For authentication phase, they use 2048-bit Diffie-Hellman key which maintains the secrecy of key-exchange. This also helps to avoid sending any data to the OVPN which might have led to the denial-of-service attack.
Other than that, they provide features such as Kill Switch which safeguards our data from data leakages when there is an unexpected drop in the VPN connection which may occur due to client malfunction. Protection from DNS leakage and IPv6 leakage also add up to the user's security.
If you install their Chrome extension you get will get rid of the cookies and website tracker. By using that, one can also block unwanted ads which may lead to harmful web pages. Hence, not just for applications, but it also provides a high level of security while browsing also.
User Interface and User Experience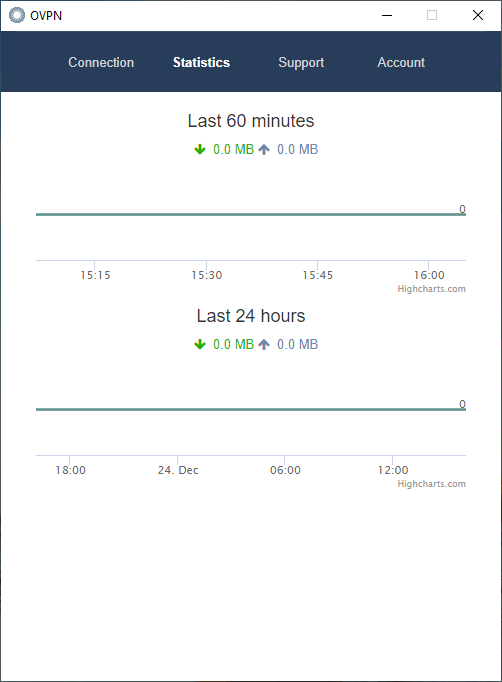 A simple user interface which doesn't have many features but takes cares about the usage status. One can track that how much data is utilized in last sixty-minutes and last twenty-four hours. This data is available under the statistics tab.
For better connectivity, they have also provided various options to connect with a specific server according to the users' requirement. That allows to easily explore the servers and discover the most efficient one for his location.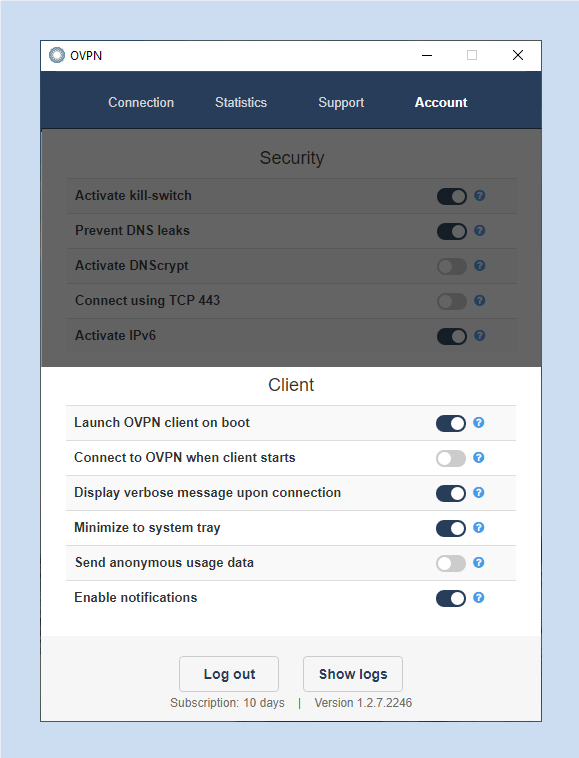 The user experience could be improved if they place servers in other parts of the world also. That will help to provide better speed to the user base all over the world. Till now, the servers are only available for specific locations, and that's why user experience varies a lot according to the place where the user is located.
If you are in the country where their server is present, then probably this product won't disappoint you, but if you are in other countries, user experience won't be up to the mark.
Platforms
Direct client download is available for all the mainstream operating systems: MacOS, Windows, iOS, and Android. Apart from that they also provide setup for Debian, an operating system based on Linux Kernel.
If you visit the guide page, you will get the complete idea about the installation process.
Many other Linux distros such as CentOS and Fedora are also available. Even for Ubuntu, they have three different clients: OVPN, via CLI, via GUI.
OVPN is also available for routers (Tomato, AsusWrt, DD-WRT, OpenWrt, PfSense) or else you can purchase the router that the company supports: Viflo, available at a price of $399.
Customer Support
[Image 10: ContactSupport-via-Client]
Customer support has the Live Chat feature, but the time when we were reviewing the application, live chat wasn't available for some reason unknown to us. When we opened the live chat window, it showed that one can't connect with the application now. We clicked on the try again button, but it didn't work.
[Image 11: LiveChat-NotWorking]
If one wants instant help, he can only rely on their guide and FAQ section. FAQ section was efficiently divided into twelve different sections. In total there are more than a hundred FAQs that you can find under different sections.
Guides are generally for describing the installation process of various clients available for the different operating system.
Other than that, you can always contact them through e-mail.
Conclusion
OVPN, with the availability for several platforms, is best suited for the users who wish to connect with VPN by installing OVPN in multiple operating systems. Its high security will save one from any data leakage, and no log policy helps to keep the users' data away from the eyes of the government.
Even if the company is headquartered in Sweden, due to their physical security, and no storage servers, the government won't be able to track the users.
Regarding the speed, our experience was not good enough, but that can be because of our location which is very far from any of their servers. It is expected that speed would be higher for North America and Europe.
They can add some more features to upgrade the functionality of the VPN application. However, if you install the extension along with the product, some more features such as ad blocker and disabling tracker will improve the user experience.