Pros

Limited Free Version: The free version of VPN has only 500MB data for one month.
Secure protocol: The VPN uses one of the msot secure GCM AES-256bit encryption to safeguard the connection.
Blocked IPv6: The IPv6 connection is blocked by default to ensure no leak of data across the connection to this port.
Limited P2P support: Limited P2P support is provided for the user to have data exchange via peer to peer exchange.
Jurisdiction: The VPN follows the jurisdiction of Germany which makes sure the privacy laws in favor of customers.
Cons
Horrible UI: The user interface is minimal and only offers notification tray usage, which can definitely infuriate some users.
Security: Even though it uses high-end encryption, usage of Google's PublicDNS raises suspicion as user data can anytime be compromised by third-party DNS usage.
No Kill Switch: There is no kill switch provided to safeguard against sudden disconnection of the encrypted tunnel.
DNS Leak: DNS leak occurred all the time in our tests. There is no option to turn it off.
No router support: There is no separate router configuration support available to use the service across multiple devices.
Limited Platform support: The VPN service is only available on Windows PC and laptop devices.
Missing UI features: Some of the UI functions like bandwidth packets, total data usage, proxy settings, protocol modes, etc. are not given.
Customer support: Customer support lacks troubleshooting and help guidelines. There is only one way to contact them which is a ticket submission.
Overview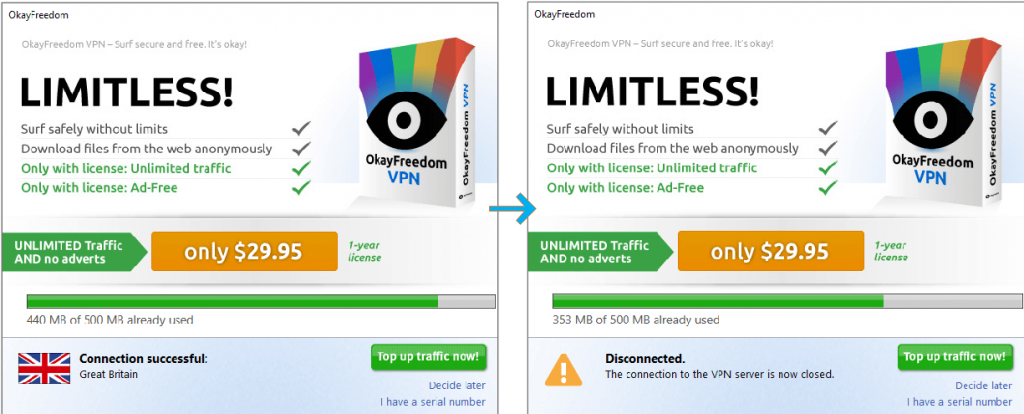 OkayFreedom is operated by The Steganos Software GmbH. The headquarter of the parent company is in Berlin, Germany.
OkayFreedom is used mainly for accessing blocked video content online. This VPN provides basic security by concealing the real IP address.
This VPN, equipped with basic features like encrypted connection, browser extension helps the user to maintain online anonymity.
By doing some testing in this review, we will check this VPN from every angle and decide if it is worth your penny.
Servers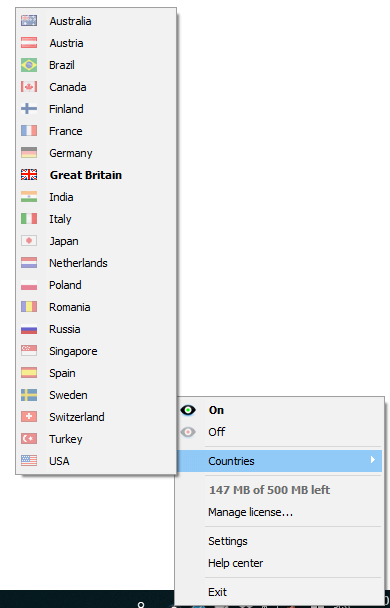 OkayFreedom has servers spread across 21 countries with individual dedicated servers for them.
There are various ways in which the server can be selected from the given list. The VPN detects the nearest location of the server automatically and connects to it when turned on.
The VPN tracks the nearest server to users' place and can switch the servers accordingly in case of any connection issues.
The only servers that do not provide P2P support are Swiss and Japan. A P2P is peer to peer connection to a server where all connected devices have the same rights at the same time as server and client.
The VPN has not provided the server intensity and traffic details, so users have to manually select servers from the list and connect to the most reliable server.
The VPNs central server is located in Germany, which saves the users from government interference in snooping on their identity.
The servers have shown an average connection speed but offer a decent bandwidth speed even for free users. The data reduction was low; however, the connection time load shows the servers need an overhaul to increase their performance and client connections.
Privacy Policy
The main office of the company is located in Germany which provides the VPN a good boost in privacy since local laws are highly in favor of online anonymity for the internet user base.
This makes sure that the government or other intelligence agencies cannot interfere or spy on any of the user bases without facing legal actions.
In a recent incident, the German court criticized social media giant Facebook over its use of user data without their consent and ruled it as illegal. This showed that local laws are very stringent when it comes to maintaining user privacy.
The privacy policy of the VPN mentions that they do not log any of the user data except the email ID of free users to give them offer/services.
One of the pleasant perks of this VPN is a facility of Pseudonymous user-ID. This type of user ID is derived from the Hash value of users' MAC address, on which the system is installed and is encrypted to make it fully non-traceable.
The payment options are also via an encrypted route using Pseudonymous User-ID which makes the details of paying customers secure and non-traceable.
However, the parent company Steganos uses the user data for its own purpose to decide offers and commercial for its customers. This data is not accessed by any third party.
That being said, the users can worry free browse the blocked content without fear of their personal details being leaked to any government agencies or third-party sniffers.
Connection Time Analysis
| Trial No. | Time to establish a connection |
| --- | --- |
| 1 | 19.89 |
| 2 | 20.82 |
| 3 | 17.44 |
| 4 | 18.86 |
| 5 | 19.79 |
| 6 | 19.02 |
| 7 | 18.91 |
| 8 | 17.94 |
| 9 | 19.77 |
| 10 | 20.75 |
| Avg. Time (seconds) | 19.32 |
Wonder how many times you have to connect and disconnect again and again to check which server is good for you? Imagine the situation where this process takes too long, and all your interest drops.
To avoid this situation, we have to see if the VPN server are responding properly or not. Some servers in remote areas may not even connect and can also give long connection time.
For this, we have to conduct small sample test to see of the aggregate connection time is good for a VPN or not. To do this, you just need to use a stopwatch to check time a VPN takes to properly link to the server. Check for small sized sample like 10 or 20 attempts and by changing the location.
In our case, we tested the connected time for an automatically chosen location. The connection time was averaged to 19.32 seconds. This connection speed is very slow for any VPN provider.
The same results were obtained when we tested the results for various other locations like the USA, UK, Switzerland, and Germany.
The connection speed plays a drastic role in user experience, and such low speeds disappoint both free and paid users. This can lead to userbase switching to other options in the market like ExpressVPN, for better services.
Bandwidth & Speed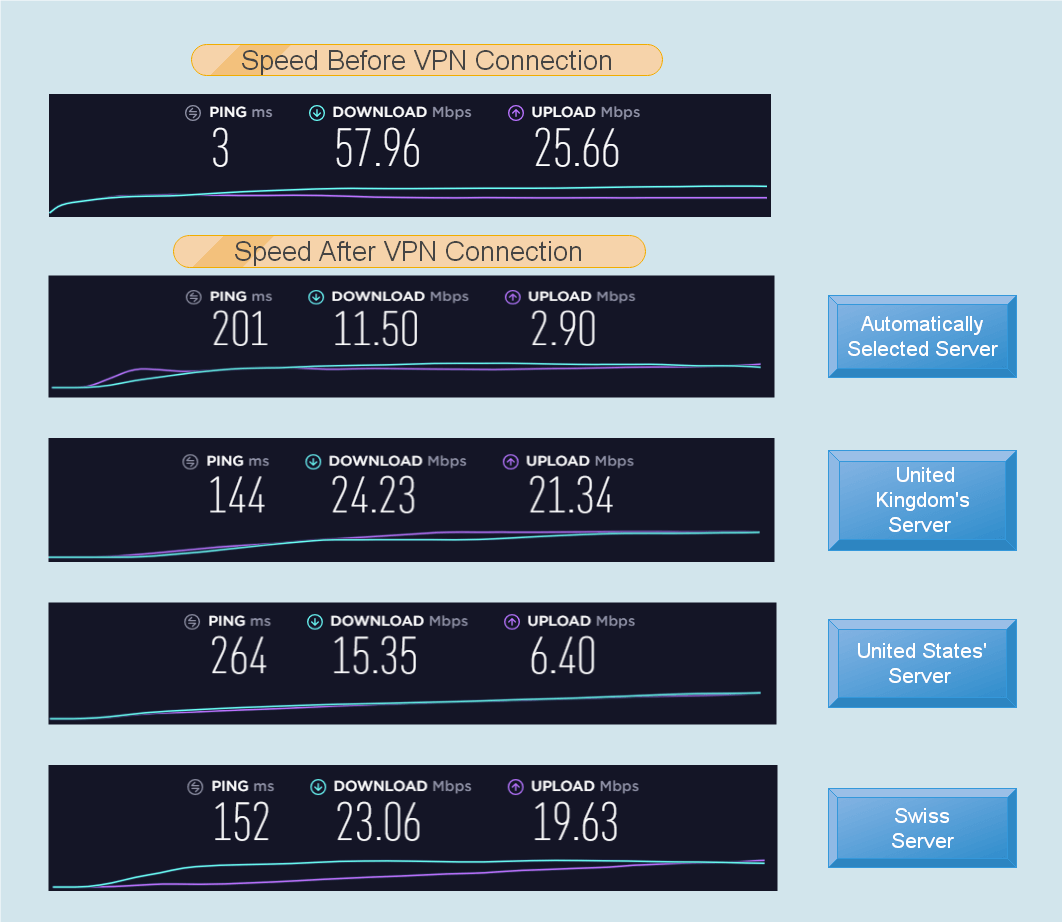 Grab a coffee and wait for page to load our that small file to be downloaded! Is that the indication you get from your VPN while using it?
When this happens, there can be number of reasons like network issues from client side, ISPs throttling the VPN IPs, low server response, poor capacity, and high traffic on VPN server.
Many times, it is needed to cap the bandwidth for free users, so they do not overuse it.
The speed reduction on various servers was different. This could be due to the individual capacity and performance of servers.
By default, we chose the servers closest to our location and also selected automatically by the VPN. This server showed 80.15% reduction in download speed and an 88.6% reduction in upload speed, compared to non-activated VPN.
Places like Great Britain and Switzerland showed much less reduction viz., 58.20% and 60.1% respectively. Apart from that, another server did not offer us any noticeable results than above.
In our tests, we were using an excellent connection to reduce any sort of malfunction from our side.
This showed that most of the servers needed much attention so that high traffic load can be avoided on a single server. The users can check on their end too for the fastest connection possible.
However, high bandwidth usage activities like streaming, gaming, etc. suffer a setback. This needs to be rectified to cover a wider user base.
Security
OkayFreedom uses AES-256-GCM encryption. This is one of the most popular and versatile encryption methods utilized by most VPNs.
In recent years, the GCM encryption has gained more pace than CBC encryption. The GCM encryption uses both CTR and separate authentication to secure the data more tightly than CBC.
Only advantage CBC system has its ability to be incorporated into a less resourceful system. This means that the servers are capable enough to handle high-end encryption along with providing good bandwidth to the user base.
The VPN incorporates the OpenVPN protocol only. The VPN uses Google's OpenVPN, which may raise suspicions of some the users. Being linked to one of the top companies to spy on their users constantly, many users will feel the breach of their trust.
Google's PublicDNS utilizes the user data, and the only change they do is swapping user identity which is like selling copper disguised as gold. So, if you experience some Ad targeting while using the product, you can be sure that this DNS collects the user data which will eventually fall in wrong hands sooner or later.
There is no provision for other security features other than this. The ipv6 connections are blocked which is a good thing since it will reduce the data leak issues related to IPv6 configuration.
They do not provide a kill switch function. A kill switch function stops internet access on a current system when the protection is turned off. Some applications have a kill switch which can close the current session of any application using the internet thereby giving further protection.
There is no DNS leak protection provided by this VPN. This combined with Google's OpenVPN can allow third parties to access the private information or use malicious attacks on the current system.
There are some logs files stored in the user system which includes important information like system address, processes, web URLs, etc. This log file is generated manually from the software, regardless of which, it can be utilized by a third person having access to the system and can compromise user privacy.
Concluding from above, one can say that the security services provided are the most basic and are given by the most similar products. To stand aside from the regular crowd, they need to implement more features like kill switch, DNS leak protection.
User Interface and Experience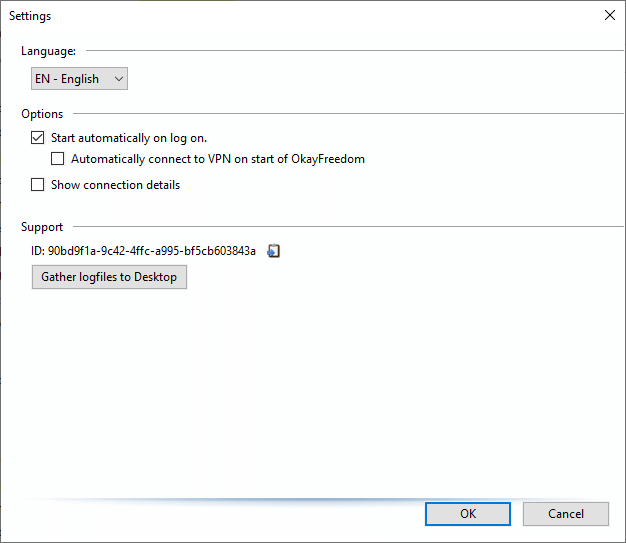 OkayFreedom has less than average UI experience. They do not even have the main software window and only have single pop-up of connection screen when accessed from tray notification in the taskbar.
The main pop up screen is loaded with ads for free version which is understood, but even for paid users, they do not provide even good user interface.
Being fathered by Steganos Software GmbH, the creators seem to have launched this as a minor product, and so it hasn't gained much love in terms of development.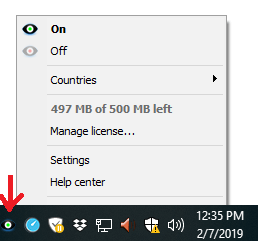 The lack of basic features of any VPN like usage details, data packets details, various tweaks in settings like proxy availability, program schedule are missing from the software.
This being said, the developers really need to focus on coming up with a much smoother and visually appealing interface to not only ease the daily usage but also offer users more features to tweak on.
Platforms and Devices
Most VPNs have their reach extended not only to regular PC and mobile devices but also to the most devices that can access the internet. This allows users to enjoy their anonymity across various platforms without worrying about switching devices to use the VPN.
The service provided by OkayFreedom is only limited to PC and laptops. They do provide a browser extension, but that too redirects to the main website making a fool of the users.
There is no mention of any support to other platforms like MacOS, iOS, and Linux. This shows an abysmal effort from developers to improve their product, rather than putting mediocre stuff in the market.
Such a lack of usability of the service, limited to a single device can be frustrating for many customers. Apart from that, the VPN doesn't even have the facility to use VPN on multiple PC devices even for paying customers.
Customer Support
What happens when you have some issues like VPN not starting, no encryption available, connection issues on the server side? You want customer support for such things which is essential for any software products in the market.
A good service provider needs to have its customer support spread across various forms like Email, Phone, tickets, Live chat, Social Media, etc.
The support system provided by OkayFreedom is only limited via a ticket submission. This is a minimal reach even for paying users. Any delay or lack of communication can be disappointing for users.
There is even not basic troubleshooting or help available, which can help self-sufficient users to rectify the issues themselves.
We contacted the customer support, and they replied to our queries within one working day. They did a fine job of resolving our issues.
However, we also wanted to test their performance on other support methods which sadly was absent.
Conclusion
The VPN, even though having high-tech encryption methods, lacks severely in multiple areas.
The main area to be focused on first is to improve the UI and add more features for the users. There needs to be a separate window for the home screen, along with a display of critical information and more visual details.
There is also a dire need to extend the support of the product across various platforms like iOS, MacOS, Linux, etc. Moreover, the license must be tweaked to provide multiple device connections on a single user account.
Lack of features compared to the top end products like NordVPN, need to be added if they want to progress in this market. Options like kill switch, DNS leak protection, proxy settings, etc. have to be incorporated.
Being in a country with strict privacy laws in favor of citizens, they need to ditch Google's PublicDNS and adopt other agencies which do not have links to the data selling market.
The browser extension provided surely trolls the user base and the frustrating UI where you need to close the main screen, again and again, to utilize tray options is infuriating for any customer.
There is rarely any silver lining to be highlighted here apart from the anonymous purchase of the paid subscriptions. If the developers of the parent company are serious about this product, with time we may see a complete overhaul of the VPN Application. Till then, only recommendations we give is to try other products such as ExpressVPN or NordVPN available in the market which not only offer better trial features but also have a much better user experience.