Pros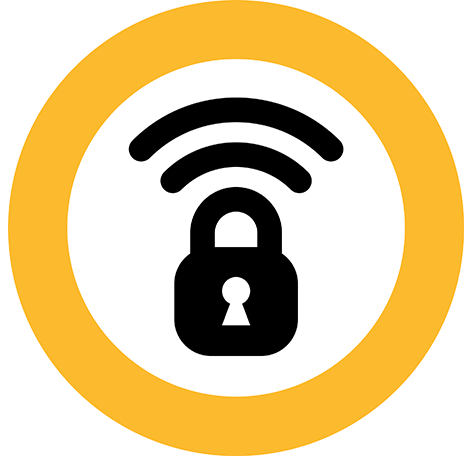 No log policy: No logs are stored which can reveal user identity and location except bandwidth usage and billing information accessible only to themselves.
Limited trial edition: There is a 7-day trial version available with all features unlocked for free users to test on.
No DNS leak: There is DNS leak protection incorporated in the VPN by default.
High-grade Encryption: The encryption features is of the highest grade in current products and ensures full protection of user data.
60-day Refund policy: The paid users have the option to opt out of the subscription within 60 days if they are not satisfied with the product.
Ad tracker protection: The VPN comes with an inbuilt ad tracker protection to block cookies and trackers that reveal user identity.
Separate DNS servers: The VPN uses NortonDNS which can give users a much more reliable connection and better protection.
Cons
Average UI: The VPN has very average UI, missing crucial information onboard like usage details, busy servers, etc. to aid users.
Privacy policy: The VPN comes under the jurisdiction of 5 eye nations, and so there are chances that the user information may be revealed as per terms and conditions.
No Kill Switch: There is no kill switch to turn the internet connection off instantly in case VPN is turned off or disconnected.
No router support: There are no separate router configurations available for router support across multiple devices.
Low bandwidth: The VPN has on an average low bandwidth across all servers.
Lack of additional UI features: Important UI features like the separate main dashboard, display of essential information on it, change in proxy settings, changing protocol system are all absent from this VPN.
Average customer support: Even though customer support is available in various forms but for good technical support and queries, only forums can help.
No P2P support: P2P is blocked, and even some streaming sites like Netflix aren't accessible on all servers.
Overview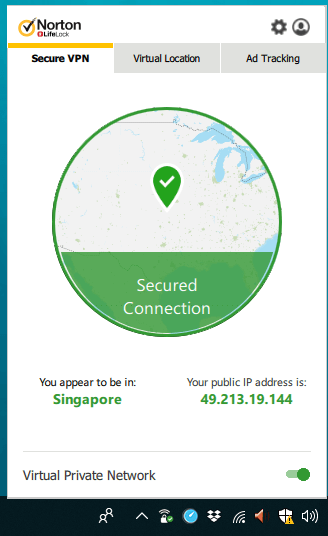 Norton Secure VPN is a VPN software that allows to maintain anonymity online and secure your data over online threats.
Norton Secure VPN is owned by Symantec Corporation,900 Corporate Pointe, Culver City, CA, USA.
Coming from one of the leading providers of computer security, Norton Secure VPN also enables users to surf the internet over any public or indoor networks without comprising their security and privacy breach.
This VPN is equipped with basic features like an encrypted tunnel, ad trackers blocking, securing public WiFi.
In this review, we are going to find out if the big claims of the security giant are true or not.
Servers
Norton Secure VPN has their servers located in 29 countries with dedicated servers for each of their locations.
The VPN has the option to either select the server from the given list or use the auto select function to connect to a server.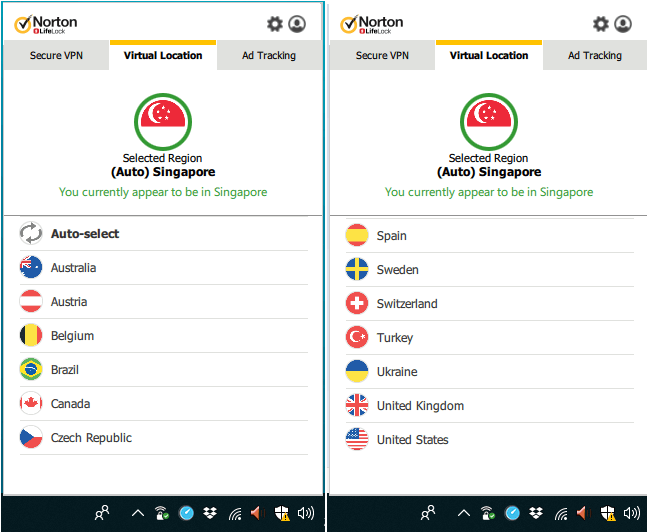 The VPN selects the server based on the proximity of the user to the server. In our tests, there seemed to be some problems in the auto search algorithm of the VPN, in which for some instance the server selection was timed out, and the VPN crashed.
The servers have shown a below average performance in both connection tests and bandwidth with VPN connection. We experienced a bug pattern in the VPN where connecting/disconnecting several times from servers, results in a pseudo-crash where none of the connection buttons work after that.
The central servers come under the blanket of Five-eye nations. Five eye nations are a coalition of USA, UK, Canada, Australia, and New Zealand. These nations actively monitor all internet data, be it protected or not, to conduct various surveillance and this information is exchanged by all these countries among themselves.
Due to this, it cannot be said that all your activities aren't visible to these agencies.
Privacy Policy
The privacy policy of any company determines, if the private data of a user like personal details, payment details, etc. are stored and exchanged or such information is not accessible to anyone.
Any VPN must have a strict privacy policy of not sharing a single dime of data to any third person except the user and company itself. Best policies are No Log policies.
Norton Secure VPN also has a No-Log data policy. They do store some user data like subscribers' billing information, device data like OS, name, languages, etc. They also store bandwidth usage and some temporary usage data for debugging purposes.
However, they utilize user data as above for promotional purposes. They also have third-party sources from which they exchange this data for their promotional purposes. These third-party services aren't disclosed and may hint towards an Ad targeting, which itself is part of data sniffing trend.
They have mentioned that they can release the user data in the condition of a subpoena, any threat involved with the usage of that data, legal lawsuits and any cybercrime case.
All these loopholes are to be expected in most VPN providers located in one of the five eye countries. Any of the above instances are capable of leaking user privacy to snooping agencies.
All in all, the privacy policies seems okay for any regular user who is only concerned with unlocking some web content.
Connection Time Analysis
| Trial No. | Time to establish a connection |
| --- | --- |
| 1 | 6.81 |
| 2 | 8.22 |
| 3 | 8.12 |
| 4 | 6.74 |
| 5 | 25.33 |
| 6 | 11.51 |
| 7 | 24.66 |
| 8 | 11.55 |
| 9 | 9.05 |
| 10 | 8.84 |
| Avg. Time (seconds) | 12.083 |
Connection time is referred to as the average time a client-side device takes to make a successful connection to the server side.
Connection time analysis helps us find the average speed and performance of various servers. This can be helpful in deciding the correct server choice for the user which enable them to secure their device faster.
For most VPNs, this time is supposed to be low, being an average of 3 seconds considered to be fast and beyond 8 seconds taken as a slow connection.
In our tests, the connection time was analyzed for an automatically chosen location. This connection time was averaged to 12.08 seconds on our system.
This shows that connection time is very average with this VPN. Similar results were obtained when connected to other servers. There were few instances when the algorithm was unable to find the proper location in auto mode and timed out with a crash of software.
Bandwidth Test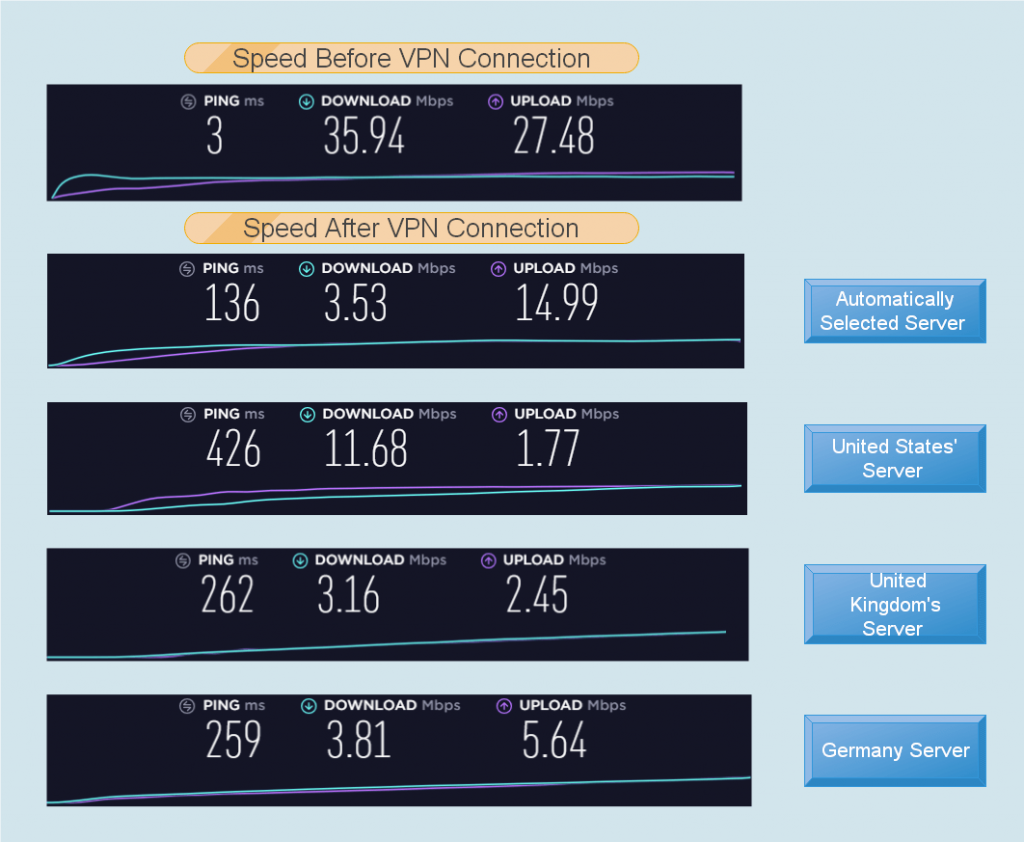 You secured your online privacy, but now it's almost impossible to download blocked content at such low speeds! What use is such a VPN that cannot provide a good speed to its userbase?
Bandwidth speed tests are designed to check exactly why your VPN doesn't help you access blocked content at a good speed or to find out if the servers are capable of handling high bandwidth activities.
A bandwidth test is conducted by checking and comparing the download and upload speed of a system, first without a VPN connection and then after a successfully connected VPN.
Usually, most service providers put an artificial cap on both free and paid users. This artificial cap helps in reducing overall server load and traffic on a single server.
However, speed reduction happens due to data being encrypted and some of the bandwidth lost in this process. This speed reduction is usual and depends on the server quality and their capacity to handle high traffic.
In our tests, For an automatically chosen server, we had a 90.17% reduction in download speed and a 45.5% reduction in upload speed. The servers in the UK and Germany showed similar results with the USA being an exception of giving only a 67.5% reduction in download and 46% reduction in upload speed.
Other servers apart from above, when tested had similar results. This shows that much attention is needed to improve the bandwidth speed for users for a fast browsing experience.
Also, high-end activities like gaming, streaming sites, etc. have less reliability and will often leave users frustrated.
Security
A VPN is no good if it is not able to encrypt/hide your data from third persons properly. Any other fancy features won't be able to save such a VPN if it offers less than mediocre security.
The kind of encryption methods used, the amount of user data stored, the logging of IP addresses, the data exchange with the third party, etc. all decide how secure a VPN is.
Norton Secure VPN uses AES-256bit encryption along with Norton DNS. This type of encryption is secure and as per the regular industry standards.
Norton Secure VPN uses a separate DNS named as Norton DNS. Having a separate DNS is advantageous for security, but the thing is that it behaves very cringy sometimes.
From many posts across forums, we have come across many people who were having difficulties in this DNS clashing with some default settings of the router or current machine.
Other than that, there are no additional security features like Kill Switch, IPv6 protection, etc. A kill switch essentially is like a fuse which can stop internet connection as soon as server and client connection is off. This helps prevent users from accessing their private content over the internet without knowing that their VPN protection is turned off.
There is DNS leak protection inherent in their service, but you won't see a separate checkbox in the settings menu. DNS leak can occur in some device, when some queries are sent from an unencrypted tunnel. DNS part is more secure here because they use a separate DNS for this VPN.
Also, there are some log files stored by them which can be accessed by their third-party services. In case these third-party services are information gathering agencies, your data is already gone, and then there's no anonymity left. They claim it for promotional and debug purposes and given to the fact that they are in US jurisdiction, some of your usage data and habits can land up in wrong hands.
Overall, the security features are average and only perk we see, is them having their own DNS servers, which if improved can further increase security and performance of VPN.
User Interface and Experience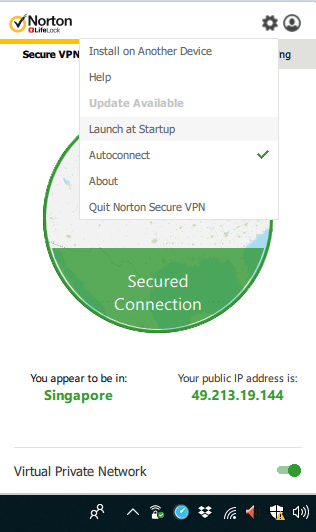 Tired of finding out the connect button of VPN or cannot figure out the proxy settings for it or need to see usage statistics of current device; all these things are a critical part of any good VPN UI.
The UI of Norton Secure VPN is very average. The main dashboard can only be accessed by clicking on the tray icon on the taskbar. The UI has only three tabs, which show connection status, server selection, and ad trackers data.
The usage of UI is not very smooth and often creates frustration for most users. It does not have any better features compared to top end products like NordVPN. There is only one drop down menu on the main dashboard which does not provide any useful or extra settings for the user.
The worst part is, you cannot drag the main window across any corner of screen. The window just disappears if you click elsewhere on screen. Most VPN have UI that support such multitasking features on single screen. Don't know why developers made such a UI, but it can be annoying for most users.
The VPN also lacks in providing the users with more visual and informative features like busy servers, current server traffic, packets exchanged on existing connection to a server, connection time, etc.
Thus, many more things need to be added to the user interface which can help users enjoy the product along with good usability.
Platforms and Devices
Being able to be used by multiple users, on more than one devices and across several platforms is what increases the usability and reach of a VPN service.
Most VPNs have their support extended to common computer devices like for Windows, MacOS, and Linux. They must also have support for mobile devices like AndroidOS, iOS.
The service offered by Norton Secure VPN is spread across day to day platforms like Windows system, MacOS, Android and iOS devices. They do not support Linux OS on computer devices.
The users can connect up to 10 devices across multiple platforms using the premium options. This feature can be helpful for various usages across a wider network.
There is browser extension available for Norton Services, but it has no VPN tab to protect only your browsing session.
However, they have no support for separate router configuration; advanced users may try to tweak some settings using Norton DNS, but we recommend having proper info and guidance before that. Also, we cannot use it across gaming consoles.
Overall, the reach of the software across various devices is good and can be improved further.
Customer Support
Software is not working, VPN leaking your location, application crashing after start? All these problems are out of solutions for most users and for which we all need customer support or atleast some geeky advice.
Customer support helps a user having a free or paid account to rectify their issues while using the software. These issues can be of any type ranging from technical to account related.
The customer support included by Norton Secure VPN is Online chat support, Telephone Support, Norton Forums support and Social media support on Facebook and Twitter.
Sadly, there is no direct Email ID available to contact technical support nor a remote monitoring help.
We used the chat support in our case. Firstly, the chat got a long time to connect to one of the representatives. It showed usual "high support traffic, please wait" (or say less support staff), for around half an hour.
Once connected to one of the representatives, we tried to solve our query regarding the constant crash of application when switching connection to different servers. The representative did not offer us any help except telling us to reinstall the product which we already did before many times. Then we asked for some usual security related questions regarding VPN software like their log policy, security features, encryption type, etc. and eventually got some satisfactory results.
The telephonic support was not available when we tried to contact them so we cannot say much about it. Social media had nothing more to offer than advertising billboards across the whole page.
Only exciting place for any technical issues and solutions we found were Norton Forums. There were many developers and users with good knowledge of the product and its common errors and we were able to rectify our problem easily. The community seemed helpful and had much better solutions than any of the other support system.
Thus, despite boasting about world-class customer support, only proper place we found for it, were forums, where more technical and knowledgeable persons were involved to help us out.
Conclusion
Ever heard of "Much cry and little Wool"? This is what we found out when we tested the premium version of this VPN software. As the name of Norton comes across, we may get a cheer on our faces thinking that we will get a top notch product, but sadly Norton has disappointed here.
From average UI to buggy software use, the product had very average performance during our testing compared to giants like NordVPN or ExpressVPN. The customer support wasn't able to rectify our problems, and only solution was to search ourselves through forums.
The bandwidth is still very low, and lack of P2P file sharing is a big bummer. The privacy policy allows them to share some of the user info with a few of their third-party dealers which some people may not agree to.
The support is not extended on routers and consoles which can affect some gamers.
Being such a big name in computer security field, Norton should have worked hard to improve their VPN. Not only the server performance needs to be increased, but also the functionality features with and quality of life updates to facilitate the customers need to be done.
At last, we would not recommend this product for any advanced users looking for an awesome multifunctionality VPN. For single person usage and looking for average features, you can try it for sure, given that you can also get a refund within 60 days of purchase if not satisfied with the product.