Taiwan is a prosperous island state in Asia. Even though it is officially a Republic of China, there are glaring differences between the two, especially in terms of the online ecosystem.
Unlike China, Taiwan offers freedom of expression to citizens and organizations. Media houses can openly criticize the government, and citizens can put out their opinions without much of a fear.
Internet in Taiwan does not come with a lot of restriction as is the case with China. In fact, Taiwan has got one of the best online ecosystems in Asia.
But you have already read the title of this article and must be wondering why one would even bother to get a VPN in Taiwan if the internet is so lovely and merry there.
We will get into the details of all the reasons which make one get a VPN in this state. We will discuss how VPN can keep you safe from some of the cybercrimes in the country, and how it can be useful for you if you are going to travel to Taiwan.
Recommendations
Let us first give you what you are here for. Here are our top 5 recommendations for the best VPN in Taiwan in no specific order.
1. NordVPN
More Info: Read Review | Visit Website
NordVPN is one of the best VPN services you will find. It takes care of all the features that you would expect from a VPN service.
It has got more than 5500 servers located around 60 countries in the world. They also happen to have servers in Taiwan. Having a server within Taiwan can be advantageous since you will get the maximum internet speed while keeping your identity private.
The vast server network is going to let you bypass a lot of geo-restrictions. They not only provide the user access to such an extensive server network; they sort the servers to make it easier for the user to find what she needs.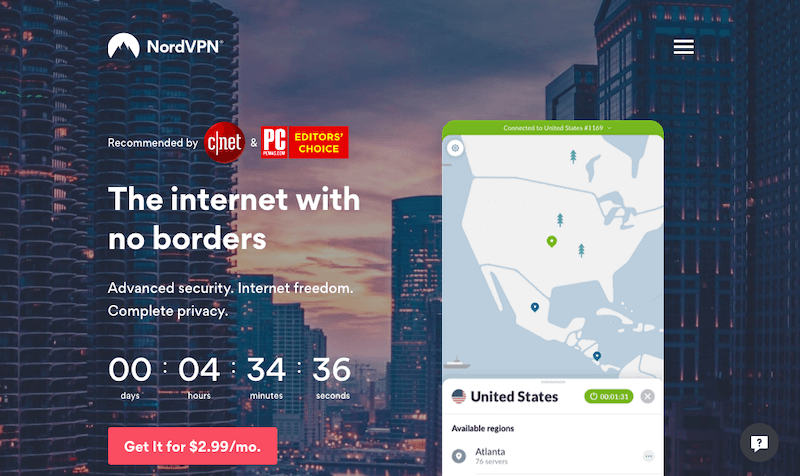 You will find servers optimized for P2P file sharing, to use it along with Tor, servers with dedicated IPs, Double VPN, and so on. All these specialized servers say a lot about the VPN service, as well.
NordVPN follows a strict no-log policy and comes with the best encryptions and protocols you can have. You won't experience a lot of latency issues when connected to this network and features such as CyberSec keep you safe from annoying and potentially dangerous ads.
2. CyberGhost
More Info: Read Review | Visit Website
This Romanian VPN service has been in business for quite some time now, and their performance does most of the speaking for them.
CyberGhost falls under Romanian jurisdiction, which allows them to keep all the information about a user's online activity private. The local law does not oblige businesses to maintain any records of what users are doing.
Speaking of servers, they have more than 4500 of them in 60 countries around the planet. Taiwan is obviously among one of those server locations. You can use any of these servers to hide your exact location from the rest of the world and enjoy safer and more open internet.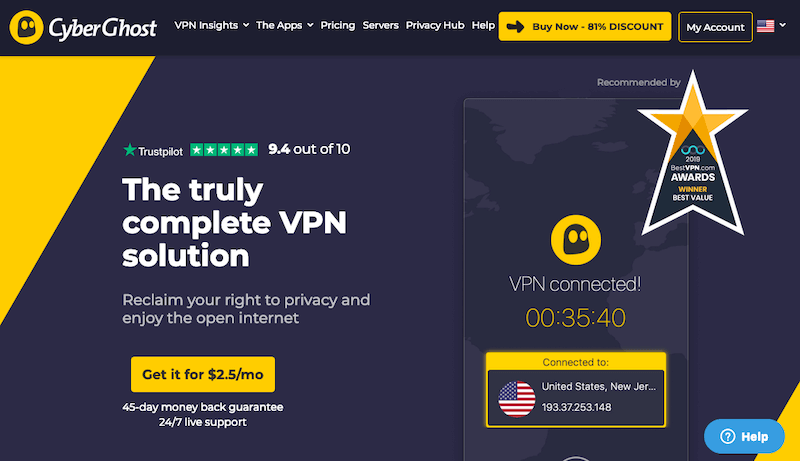 CyberGhost provides AES 256-bit encryption which is as good as it gets. It is virtually impenetrable, and available protocol options sweeten the deal even more.
CyberGhost goes beyond the usual obfuscation features of a VPN service and gives you protection from unwanted ads and trackers. Ads can be annoying, and when they start affecting the speed and experience that you are having, getting rid of them is the best things you can do.
We think you have an idea of how bad trackers are for your online privacy. CyberGhost has malware blocker too. All these safeguards present on the service provide all-around protection to you on the internet.
3. VyprVPN
More Info: Read Review | Visit Website
This Swiss VPN application provides you both privacy and security on the internet. The Swiss jurisdiction allows them to adhere to a strict no-logs policy. Since the service provider does not save any information about your browsing activities, there are no chances of anyone else getting their hands on the information.
One of the things which make VyprVPN stand out from the rest of the applications is the use of Chameleon protocol. It is an in-house developed protocol which specializes in getting through restrictive firewalls and censorships.
The usual options for protocols such as OpenVPN and PPTP are also present on this application. You also get DNS protection on this platform resulting in a much safer environment to explore the internet.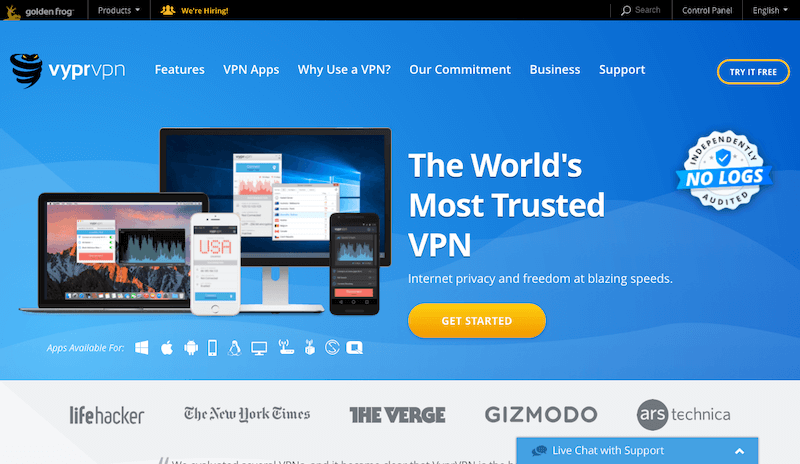 You will get AES 256-bit encryption on VyprVPN along with kill switch and Wi-Fi protection. All such features signify how serious is VyprVPN when it comes to user's security and privacy.
Adding to the chain of security features, there are NAT firewall and Verbosity on this platform. The NAT firewall prevents the entry of malware into the device whereas Verbosity allows the user to control the extent of data logging they are willing to have.
VyprVPN is safe as they come, and one of the better options keeping the state of cybercrimes of Taiwan in mind.
4. ExpressVPN
More Info: Read Review | Visit Website
ExpressVPN comes with a lot of impressive features. Let us start with the one which impressed us the most. They have got servers located in 160 locations around the world. The number of countries covered under this network is 94.
Just the extent of their server locations is mind-boggling. It brings with itself the opportunity to achieve so much more on the network. You can get across so many regional restrictions, watch your favorite show from anywhere in the world, etc.
It is not just the vast server network which gravitates users towards this service. You get multiple protocol options to choose from. Depending on what your need is, you can select a suitable protocol. There is no disappointment when it comes to encryption, as well.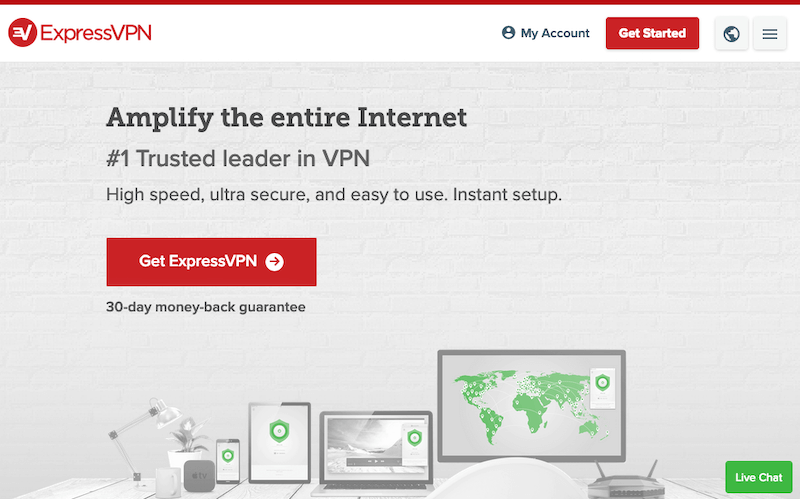 ExpressVPN is known for getting across strictest of restrictions. A lot of people use it to circumvent the limits imposed by streaming services. High speed is also necessary when it comes to watching content of streaming services.
ExpressVPN allows the user to make the most of your high-speed internet connection. You will be able to stream all the high-quality content you want without much of a difficulty.
5. PureVPN
More Info: Read Review | Visit Website
PureVPN is one of the very few Asian VPN services which are doing well. The service works good enough for Asian as well as European and North American residents.
They have servers in more than 180 locations around the world. The server network of PureVPN takes care of Asian users, which is something that one usually doesn't get to see on European VPN services.
The density of servers seems to be uniform for the entire network, which allows the user to take advantage of it in so many ways. You can quickly get across a lot restrictions and firewalls using their servers.
PureVPN works under Hong Kong jurisdiction, a state which is quite similar to Taiwan. The local laws of Hong-Kong do not make the VPN service store browsing activities of users.
PureVPN helps you remain anonymous on the internet and comes with enough security measures that it becomes extremely difficult for anyone to sabotage you through the internet.
You get military-grade encryption along with an array of protocols on PureVPN. There is a high probability that it will support all the devices you use including the Wi-Fi router.
Open Wi-Fi networks turn out to be the most comfortable hunting ground for cybercriminals. PureVPN protects your information from leaking on these unsafe networks by wrapping it under an encryption cover.
Internet in Taiwan
Let us shed some more light on what we briefly discussed at the beginning of this article.
Taiwan is a well-to-do state with most of its population experiencing excellent living conditions. They are updated with most of the technical advancements, and majority of people use internet in their day to day activities.
The quality of internet services in Taiwan are second to none. One can easily find a high-speed internet connection in the state.
As we have already mentioned, there aren't a lot of internet restrictions in Taiwan. You can access all the websites you want without a worry.
Most people assume that since Taiwan is a Republic of China, freedom and restrictions would be the same. But it's not true. Taiwan is comparable with China in terms of technological advancements, but when it comes freedoms and rights, Taiwan offers a much better retreat to its citizens.
Taiwan is a democracy, and the government in the state does not try to oppress citizens in any way. The government does not try to control what's happening in the media and circulation of free information on the internet.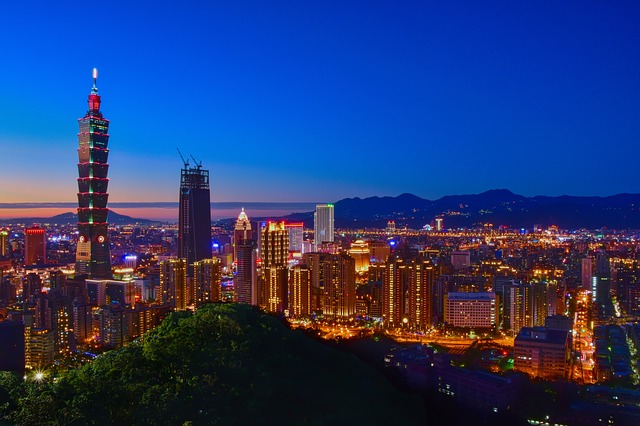 China's regional firewall is well-known most people who have even a little knowledge of online censorships. The Chinese firewall does not allow Chinese citizens to access a lot of websites and prohibits outsiders from getting on local websites.
The situation in Taiwan is entirely different. There are no restrictions. One can access local as well as foreign servers. Same holds true for outsiders trying to access Taiwanese content.
Everything is going fine with the online space in Taiwan except for one thing. Cybercriminals seem to be way too active in the state.
Taiwan houses a lot of businesses and enterprises. There have been a lot of incidents reported by these businesses of cybercrimes. Ransomware is in action in this region.
It is not just businesses which get affected by all these crimes. Cybercriminals are now utilizing IoT devices to find inflex points and to create armies for DDoS attacks.
The frequency of Cybercrimes in Taiwan is much more than the usual average in other countries. It seems that hackers are enjoying the restriction-free internet more than anyone else.
Why do you need a VPN in Taiwan, and how can VPN help?
You have already got one reason why one should use a private network in Taiwan. It is not as if a virtual private network will be able to save you from all kinds of cybercrimes.
There are so many ways that a hacker may use to compromise your online security. By using a VPN, you will take care of a line of attack that can be used against you instead of all of it.
A VPN application helps you remain anonymous on the internet. If there is a possibility of a cyberattack directly against you, then a VPN can protect you by not letting anyone know who you really are.
A private network routes your internet traffic through private servers, which helps you mask your IP address, as well. It prevents anyone from tracking you down to your exact location.
Just the knowledge of the fact that no one will be able to know who you are and where you are while using the internet should wave off the possibility of a lot of attacks.
For other cybercrimes, one can always take precautions and use the internet responsibly.
Free Wi-Fis and open public networks are easily available in Taiwan. You can find it in cafes, airports, stores, etc. While it makes life easier for citizens since they get access to the internet in most situations, it also serves a lot of easy targets to a cybercriminal on a platter.
Open Wi-Fi networks are as unsafe as it gets. However, with a VPN application installed on your device, you won't have to worry much about anyone getting a hand on your personal information.
A VPN encrypts all your internet traffic. The encryption makes it impossible for anyone to interpret what is it that you were doing on the internet even if they get a hold of it.
Advantages of using a VPN go beyond online security and anonymity. A VPN can help you make sure you don't cut back on entertainment.
We are all aware of how streaming rights work. It is not necessary that if a show is available on Netflix in one region, then it will be available on Netflix in some other region, as well.
It just happens that it is difficult for one media house to get hold of streaming rights in all the regions, it often leaves the content consumer in a tricky situation. Especially when the consumer is on the move.
Taiwan gets a lot of tourists every year, who come to the state for both business as well as pleasure. If you happen to be one of those people, then it might be a good idea for you to equip yourself with a VPN before going there.
Doing so would help you ensure that you do not have to miss one of your favorite shows because the streaming service doesn't have the right to air the show in that region.
You can use the VPN to connect to a server in the region where the screening is allowed and then enjoy the show.
We focused only on the major reasons which compel one to get a VPN for Taiwan. Your reason can be entirely different from what we just discussed in this article. A VPN can make sense for so many reasons.
How to pick a VPN for Taiwan
Here are a few pointers that you should keep in mind if you set out to choose a VPN for Taiwan, yourself.
The jurisdiction and no logs policy: One uses a VPN to ensure that no one gets to find out what he is doing on the internet. The parties which might be interested in getting this kind of information are ISPs, government agencies, and maybe some anti-social elements.
When you use a good enough VPN application, none of these parties get to know a thing about your browsing activities. But now the VPN service has got all this information, and therefore, you need to get a reliable service.
Most private networks choose not to save any data related to your browsing activity. It is the best-case scenario since there would be no chance of any information leakage as there would be no information in the first place, to begin with.
If the VPN service is based in a country with laws which allows the government to monitor online activities of citizens, then it might be a hurdle to your privacy. The mandatory laws may prevent the service provider from deleting your browsing activity from your servers.
You need to make sure that the VPN service you get has a strict no-logs policy and does not fall in a jurisdiction where the government might be hostile towards an individual's privacy. It should not be one of the 14-Eyes countries for sure.
The server network: The server network dictates how easy will it be for you to bypass censorships and local restrictions and how many options you will have while doing these.
When you connect to a VPN network, your online traffic is routed to one of these servers in the network, and server's location act as a pseudo location for your online activities.
If the server network consists of many locations around the world, it will be much easier for you to circumvent the geo-restrictions for those regions. This is what will allow you to stream your favorite content if it is not available on the service while you are in Taiwan.
A server network with a higher density of servers will let you enjoy a better-quality connection. There won't be any bottleneck issues because of high traffic density.
Encryption and protocol: Encryption and protocol are what prevent third parties from snooping in on your online activities.
Most VPN services provide military-grade encryption, AES 256-bit. It is impossible to get around this without the decryption key. However, some might even consider it an overkill for the job. The encryption is impenetrable and demands a lot of processing power. It also affects the speed of the connection.
AES 128-bit is equally safe encryption, but it yields better speed and is not as demanding as AES 256-bit. Our recommendation would be to go for the service which provides both these encryption types.
When it comes to protocols, you can consider them as secure tunnels through which your traffic is routed before it reaches the VPN server. This tunnel keeps the data away from the reach of those who want to know what's in it.
OpenVPN is the best choice when it comes to protocols. There are other protocols too, but if you are getting a VPN service, make sure that it has OpenVPN among other options.
Speed: Most of us are used to high-speed internet connections. No one likes the experience to be ruined because of slow internet.
No matter how good a VPN service is, there will always be a hit on the internet speed when you connect to a private network. Some VPNs affect the speed more than others, and you need to ensure that the service you pick does not bring down the speed too much.
Once you have got these basic features covered, you can look for additional features. Most VPN applications come with an internet kill switch. It prevents the user from connecting to the internet without the protection of a private network.
DNS leak-proof and IPv6 leak-proof applications provide an additional layer of security and anonymity to the user. With these safeguards, you can stay assured that no one will be able to know what websites you visit.
One can also assess the device and platform support that an application provides. Life will be much easier for you if the VPN application you pick works well with the devices you own. A lot of these services come with router support. It then allows you to connect to as many routers as you want.
Since it's you who is going to be using the application, it's necessary that all your needs are taken care of.