Pros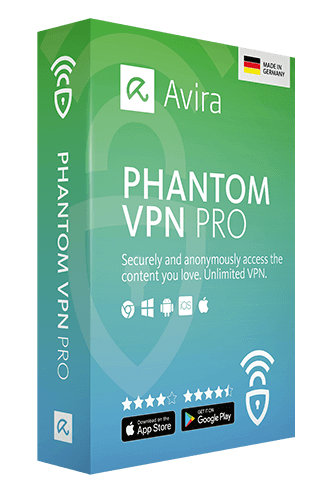 Even after the simple design, they have added the necessary Kill Switch feature and DNS leak protection. This ensures safety from any third-party which tries to get their hands over the data.
They also provide a free plan which allows accessing most of the features, but with a limited data volume.
Avira Phantom VPN has its servers distributed all over the world covering thirty-six locations in twenty-seven different countries.
They are easy to download and install, available for most of the popular operating systems such as Windows, Android, MacOS, and iOS.
Cons
They don't have many features such as changing protocols, split tunneling, and port forwarding. If added, this could make the application more efficient.
They need to add more platforms and extensions for increasing the user base. They only have Chrome extension which isn't enough as a large part of the population uses Firefox and Opera.
They do provide "no log policy," but there is third-party involvement for a software upgrade, payment, and distribution.
They do not provide live chat support, and even the e-mail support is only for users who have purchased the product.
Overview
Avira has already made a good name in the field of data security by providing the antivirus software which is used all over the world. However, in the field of VPN, Avira Phantom has a long way to reach on the top of the summit. As the company is in Germany, the headquarter is under the surveillance of the German government which is one of the fourteen eyes. It is not safe to use a VPN which comes under German jurisdiction. There could be a chance that your data would be delivered to NSA according to the treaty between countries which are a part of Fourteen Eyes. Avira's Phantom VPN has a basic design which only encrypts the data and changes your IP address. Most probably, unlike top players of the VPN technology which add inbuilt antivirus and malware protection, Avira is probably not going to add these features to its VPN product. It is because it provides separate products for these functions which already built a good userbase.
Different Plans Available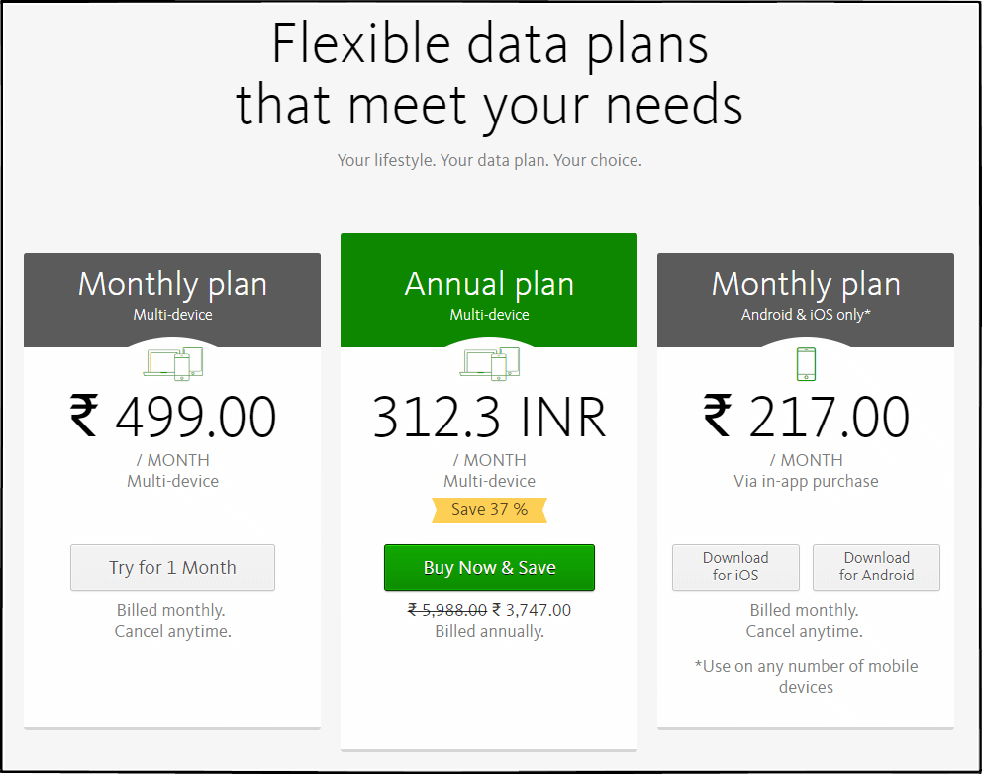 Avira Phantom VPN provides three plans out of which two are free with limited bandwidth, and no Kill Switch. If you download the client, you can use 500 MB per month, if you become a registered user, you can utilize 1 GB per month, and if you make a purchase, you can enjoy unlimited bandwidth. That's the only major difference between the three plans. Also, in the pro pack, you get the access to Kill Switch which helps to block the internet traffic if the VPN connection drops down. In the pro pack, you get the option to download the application just for Android and iOS or for all the available platforms. You can also choose between monthly and annual plan.
Servers
It's been three years since Avira launched Phantom VPN and till now, they have almost covered all the major countries where data security is taken seriously. Avira doesn't have multiple server locations for any country except the United States. In the case of the U.S.A., it has twelve different server locations in most prominent cities such as New York City, San Francisco, Miami, etc. It also has more than ten server locations all over Europe. However, no country has multiple server locations, and one can only select one server location for one country.
Unlike, many other VPN providers which mainly concentrate on North America and Europe, Avira has also considered Asia. By placing servers at Hong Kong, India, Japan, and Singapore, it has covered Central Asia as well as South-East Asia. But Avira has no servers in Middle-East countries. The potential user base in the Arabic, African, South American, and Oceanian countries, is neglected. The only server in South America is at Brazil and at Australia in Oceania.
Connection Time Analysis
| Trial No. | Time Taken to establish the connection (Seconds) |
| --- | --- |
| 1 | 18.95 |
| 2 | 19.36 |
| 3 | 21.12 |
| 4 | 17.82 |
| 5 | 15.74 |
| 6 | 17.56 |
| 7 | 11.79 |
| 8 | 17.15 |
| 9 | 17.06 |
| 10 | 16.66 |
| Average Time in Seconds | 17.32 |
Avira delivers an average time to establish a connection. There are many VPN clients who are more efficient regarding establishing a connection. However, Avira's performance isn't negative as it has not shown a connection timed out for any case. If you press the connect button, you can be sure that connection will get established. Avira has a server in the country where we are located, and distance wasn't above thousand miles.
If we connect with servers located at a far distance, and in other continents, the time taken for connection may be experienced more. In the case of South America and Oceania, a connection time lower or equal to this can't be expected. It's because of unavailability of more than one server locations in the country.
Speed Test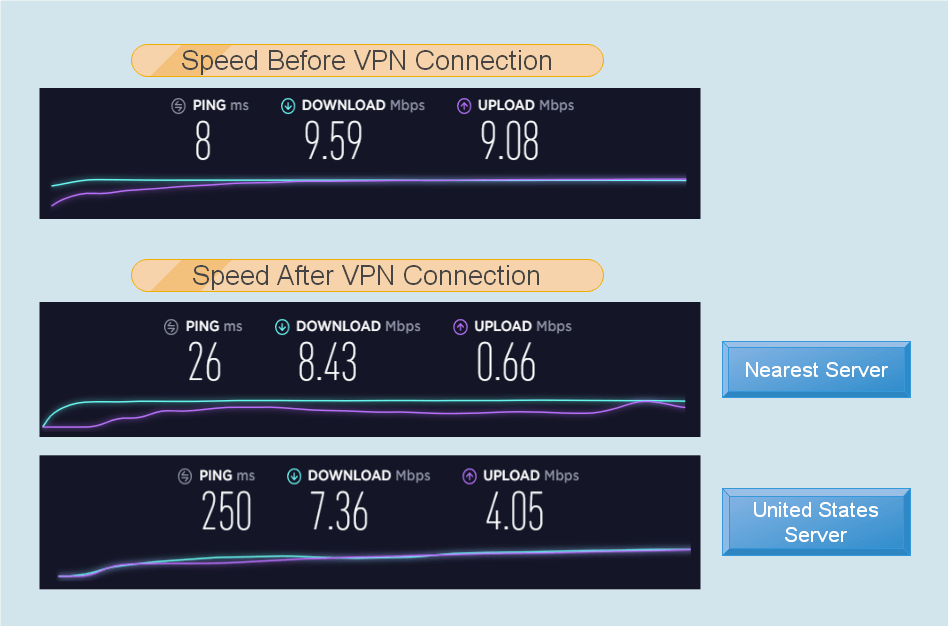 For the number of servers Avira Phantom holds, it is impressive that it delivers such a high speed. As the nearest server is in the country where we are located, and it's not even a thousand miles away, it is possible to experience such an immense speed. For an original download and upload speed of 9.59 Mbps and 9.08 Mbps respectively, they deliver a download speed and upload speed of 8.43 and 0.66 respectively. One can conclude that the download speed is very disappointing. However, we believe that this isn't the case every time.
When we connected our system to a United States server location, we didn't experience much loss in the download speed and also a higher Upload speed in comparison of the nearest server.  When we compare it with original speed, only a reduction of 24% in download speed and 54% in upload speed was recorded. It is far better than many VPN clients, and if Avira is going to increase the number of servers, and efficiency of current servers, it could be a top player in VPN technology regarding speed.
Security

Apart from Kill Switch, they don't offer any feature that could uplift the security. They claim to have inbuilt DNS leak protection. Also, they don't have a website completely dedicated to their VPN product, and hence, no information about the protocol used is highlighted. This to an extent, leaves us unaware about the level of security they provide. All we know is that they use AES 256-bit key encryption. Also, we were unable to contact them as they only provide support to their pro account users, and not to potential users. They keep some logs such as your online status, and the data volume that you utilize (track of data volume only for free users).
User Interface and User Experience
"On. Off. On. Off. It's that simple." They describe their user interface with this sentence, and that's true. When you start using the product, you won't need any long guidebook to learn about it. Even a person who is new to VPN technology could utilize it easily without any external help.
It's easy and time-efficient to download the client for any operating system. You can run the client as soon as it gets installed, and with a click, you will get connected to the nearest server. One can select the server from the list with the least ping or according to the requirement of content that one needs to access. It could not be any simpler provided along with no configurations and very few settings. However, simplicity reduces the capability in this case. There is no other feature such as split tunneling, P2P servers, inbuilt malware protection, etc. and because of this, it limits the area of use.
If these features could be added a better user experience could be expected. Also, with the limitation of customer support, the user experience is more degraded. The only thing that holds the user experience is the speed that it delivers which allows the user to stream without buffer and browse the internet without interruption. Also, the United States servers provide access to watch Netflix U.S.A. with good speed. They also claim to provide access to Channel 4, Channel 5, ITV Player, STV Player, Player.stv.tv. Speed and Streaming are the two efficient elements which support the user experience. One can also watch popular German and French channels which are geo-restricted and could not be viewed without VPN.
Platforms

The number of platforms are limited: Windows, Android phones, iOS, MacOS, and the Chrome extension. There was no description about the router configuration, and thus, we need to conclude that the client isn't available for routers. According to the information present on their website, they allow using the client in as many devices as we want. That's a big plus which could also resolve the issue of unavailable router configuration. The information was ambiguous, and maybe it's possible that it's only for Android and iOS only. However, the total number of devices for other plans is not mentioned anywhere.
Customer Support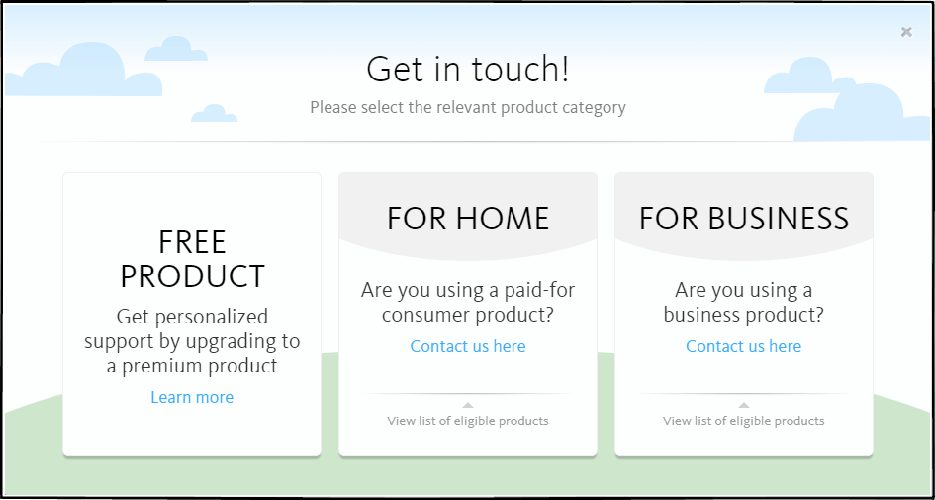 The customer support is available only for the premium users. No chat support is available, and ticket support requires to add the registered e-mail ID from which you have made the purchase. If you are looking forward to getting information before the purchase, it won't be possible as you may not receive any reply from their end. Support and bandwidth are the only things which are limited if you go for a free account. Let's say, you have made the purchase, still, live chat won't be available to help you out instantly. Also, the number of FAQs are limited, and only some of them are particularly related to the client, and many of them are general FAQs about VPN. Customer support could only be rated good if they provide instant help even to their potential users. In Avira's case, even if you are a loyal user, you may not get the help when required.
Conclusion
Avira Phantom VPN could be developed more by adding more features and widening the area of its usability. The website isn't informative, and thus, not only the client but also the website content is required to be improved. Regarding the value for money, the cost of VPN client changes according to currency. For example, if you purchase the client with Euros, it's €7.95, and for US dollar, its $10. However, €7.95, at present, is equal to $9. So, if one buys the product smartly, he would be paying less than others. But, still, for Phantom VPN, one should only pay more than $5 per month. The customer support cause decrement in value for money.
But if you consider the level of security as the prime concern, AES 256-bit key encryption is reliable. The other positive aspect for which one could buy Phantom VPN is its speed, and capability of unblocking streaming channels. If these are your prime requirements, you can go for this product without giving a second thought.