Pros

No log storing: Zero logs are saved which can compromise the identity and location. Only bandwidth data usage and billing details are noted which are accessible only to them.
High-end Encryption: The encryption used is of highest type like in similar products.
Kill switch: They have provided kill switch option to prevent any IP leak when the VPN is off.
Privacy policy: Being not a member of the five-eye alliance, they are much safer from prying eyes.
Limited P2P support: They do provide P2P support, but they also discourage any illegal activities using that.
Variable security option: They have provided an option for users to select form OpenVPN or IPsec encryption.
DNS leak protection: The VPN has inherent DNS leak protection and IPv6 too, but they have no separate options to select them in the settings menu
Cons
Ordinary UI: The VPN has very basic UI, not having details like usage log, server status, etc. to aid users.
Finite router configuration: There are no different router configurations given for individual routers.
Bandwidth limit: The VPN very average bandwidth across its servers.
No Additional UI trait: Many UI functions like a proper dashboard, displaying critical data, proxy settings, switching protocols, etc. are not present in this VPN.
Lousy Customer Support: The customer support is only available in ticket submission and Email form and no troubleshooting guides.
Costly plans: The plans are way too expensive for average features.
Less platform support: The VPN has minimal reach across various devices and no standalone application for iOS users. They also have no support for Smart TVs or Gaming consoles.
Limited account connection: They claim to provide unlimited device connection on a single account, but we could only connect to 3 devices at a time using the same user account.
Sneaky Refund Policy: Anonymous VPN has a shady refund policy with some strange conditions which rarely any company imposes.
Overview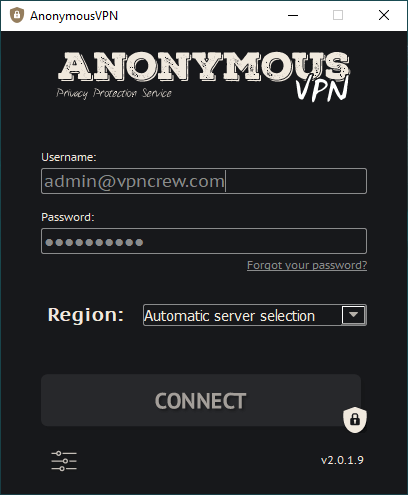 Anonymous VPN is VPN service provider under Gate 100 Inc. They are based in Seychelles.
With "Dude," the bearded guy as their mascot for anonymity, they claim to secure all user data and assure them no one including themselves can see the traffic.
The VPN can connect to secure proxy connecting to various servers, Kill switch, protocol switch options, and IPv6 protection.
They also claim to provide unlimited bandwidth and connection speeds with a strict No Log policy.
For this review, we did some rigorous tests and will see if all these claims are not a mere hoax.
Servers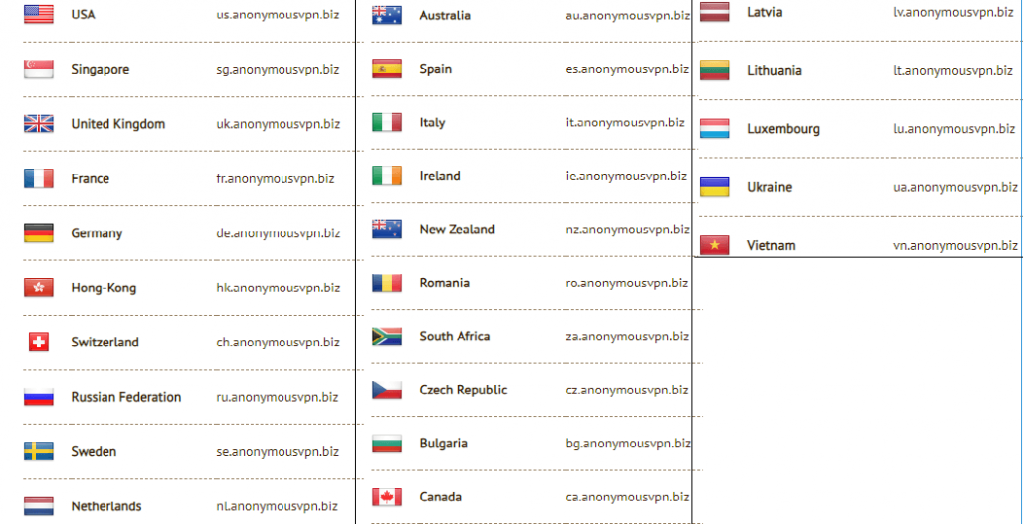 Anonymous VPN has around 25 servers spread across the globe.
These servers have dedicated individual servers for them to reduce the server loads and increase the performance.
The VPN has the option to select the servers manually, or you can use the auto-find option instead. The auto-find option uses the clients' location and finds out the nearest server to that location. Then, based on the load on that server, they connect the client to the server that can give the best performance.
The server showed an average performance in bandwidth and connection time tests. Even though they charge high, they have not given a satisfactory performance for the customers.
The central server of this VPN is in Seychelles. The jurisdiction there is privacy friendly. It does not fall under any of five, nine, fourteen eye nation alliance. Since they are located in the province in a remote area, most foreign intelligence authorities won't bother to snoop your data.
Privacy Policy
The privacy policy protects the confidential data of users' name, payment details, etc. whether they are exchanged, or such data is not available to anyone.
For a VPN, rigid privacy policy and not exchange of data to a third person except the client, is trustworthy. No Log policies is what most VPN must have.
They have stated that they use a No-Log policy while maintaining the customers' data. The No-Log policy dictates that the service provider will not store any personal information about the user.
However, they have stated that they use some of the user data for promotional purposes. For this, they use personal details like Name, Email ID, etc. They process this information to do maintenance, administer, detect frauds and cyber crimes, etc. Any third parties do not share this information.
Thus, the privacy policy seems very user-friendly. With additional perk of local jurisdiction outside of any surveillance countries, coupled with No-Log policy, it does help maintain user's anonymity.
Connection Time Analysis
| Trial No. | OpenVPN (AES-256) | IPsec (AES-256) |
| --- | --- | --- |
| | Time to set up a connection (seconds) | |
| 1 | 15.27 | 22.14 |
| 2 | 13.3 | 12.86 |
| 3 | 17.75 | 7.8 |
| 4 | 12.8 | 6.9 |
| 5 | 14.55 | 7.35 |
| Average time | 14.735 | 11.41 |
Generally speaking, Connection time decides the time taken for a connection between the client machine and to another server. In our case, this machine is whatever device you are using to connect to the VPN server.
In connection time analysis, we will find the speed of various servers by noting the connection time taken for number of trials. The user can decide the correct server to connect which can help to secure their device.
For a VPN, connection time analysis shows around 3 seconds as a fast connection and above 8 seconds is taken as a slow.
The Anonymous VPN has two options to connect to their encrypted servers. One is the Open VPN protocol, and another is the IPsec protocol. In our test, we connected to both connections and tested out the connection time.
The average time for Open VPN protocol was 14.7 seconds whereas, for the IPsec protocol, it was 11.41 seconds. Such connection time is very low when compared to top VPNs like NordVPN, ExpressVPN, etc. In a few situations, the connection could not be made for certain servers. To be sure we tested out our internet connection and it was working fine.
Bandwidth and Speed Test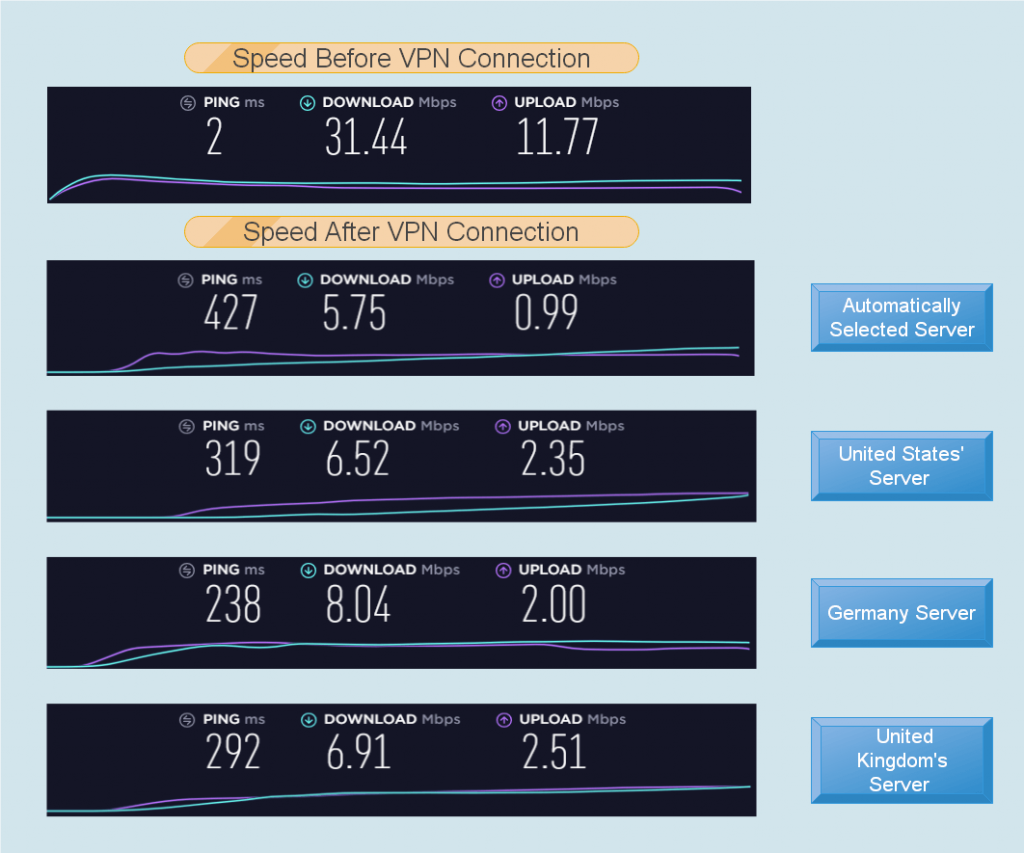 Many VPN provide very high security in encryption but then the bandwidth is compromised and as a result, the download and upload speed become ridiculously slow.
Bandwidth tests are designed to check the speed of various servers and to see which servers offer a better speed than other ones.
For a bandwidth test, we must first check our own internet connection bandwidth without the VPN and then check it again, after using the VPN.
Many times, the bandwidth for free users is restricted and so we tried it on a paid trial version. The speed restriction keeps the free service abusers in check.
Speed reduction happens because the VPN first encrypts the data sent to its server and it has to take some part of your bandwidth for that. This can be reduced by using best quality servers that can handle such high performance.
For our tests, we first went with the automatic choice option for server selection. For our connection without VPN, we had 31.44 Mbps download, and 11.77 Mbps upload speed with a 2-sec ping.
For the first iteration for automatic server choice, we got 81% reduction in download speed and a whopping 91% reduction in upload speed. For servers in USA, UK, Germany, we got 79.2%, 78.02% and a 74% reduction in download speed.
Similar results were obtained on other servers with some servers like Latvia and Romania having trouble even making a connection.
These results show that the server performance was average. There were few servers like the UK and Germany who gave us consistent results in speed. High bandwidth activities like gaming and streaming suffered a lot and were virtually impossible. The high charges they take for services need to be redirected first to improve their servers.
Security
What use is a VPN if it cannot hide user data from third persons or snooping agencies or themselves properly and allows any data leak. Any other fancy features are pointless if the security provide is below average.
The encryption protocols, user logs, the leaking of IP, third person involvement, etc. are all responsible to make a VPN secure.
Anonymous VPN has implemented two protocols for security. One is OpenVPN, and another is IPsec.
Both of these offer AES-256bit encryption and are highly secure. However, there are some rumors that NSA already has worked out to decode the IPsec encryptions since it also uses L2TP which is totally insecure before encryption.
IPsec has certain disadvantages like less modern encryption, difficult portability, more port acquisition than OpenVPN, etc. Most of the time, it's better to use OpenVPN. When there are some connection issues, you can surely try the IPsec one.
Apart from that, there are some critical security features viz. Kill Switch, IPv6, etc. A kill switch has the function to halt internet connection once the server and client link is disconnected. This can prevent users from visiting any private content on the internet unaware of a disconnected VPN.
There is no mention of DNS leak protection and IPv6, but in our tests across various sites, we did not find any such leaks. DNS leak often appear in devices which send some queries via an unencrypted server. These things should have been mentioned in the FAQ area of support or at least in the settings menu.
They also have a strict No log policy. However, they have some third-party resources on their website. Their policy mentions that any data collected by these third parties cannot be guaranteed of safety and preventing the leak of user identity. This just could be avoided by providing a separate department inside the company itself for these services and remove any third-party access.
Overall, security seems good enough to secure your data. Make sure not to engage with any third party on their site to avoid any leaks. You can also interact with customer support if you wish to delete all your account related info.
User Interface and Experience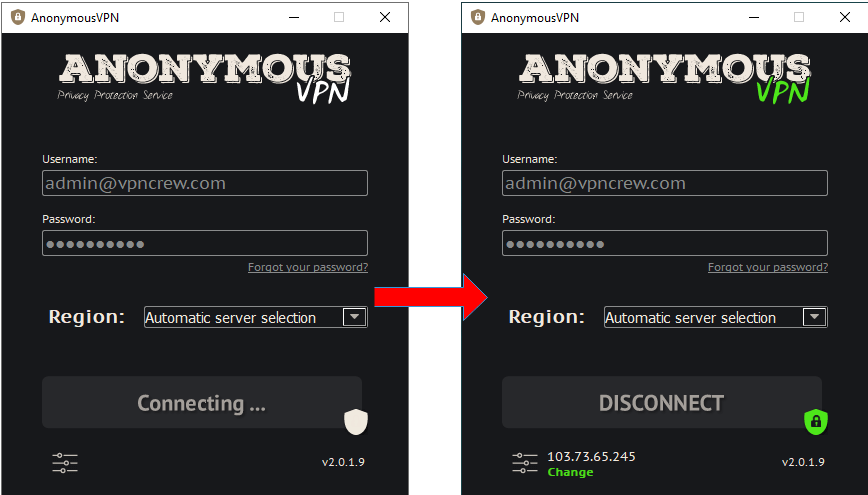 Good UI is what most people prioritize along with a secure VPN. Ability to tweak any settings with novice experience is sign of a simpler UI and a good setup guide.
The user interface of Anonymous VPN is pretty basic. They have not included any flashy things to attract user attention.
The main dashboard of the VPN has Login field to enter users' Email and password to get into the user account and initiate the VPN connection. There is a connect button on this window which can only be selected if you have entered the login field (quite sneaky from the developers!!).
It also has the option to select the servers as per users' choice. The version details of software are also present of this main window.
Then there is a settings button just below connect option in the bottom left corner of the main window. When you click it the custom settings menu options pop on the right side of the window.
The three general options found here are: – start the app at reboot, auto connect after reboot and remember the account credentials.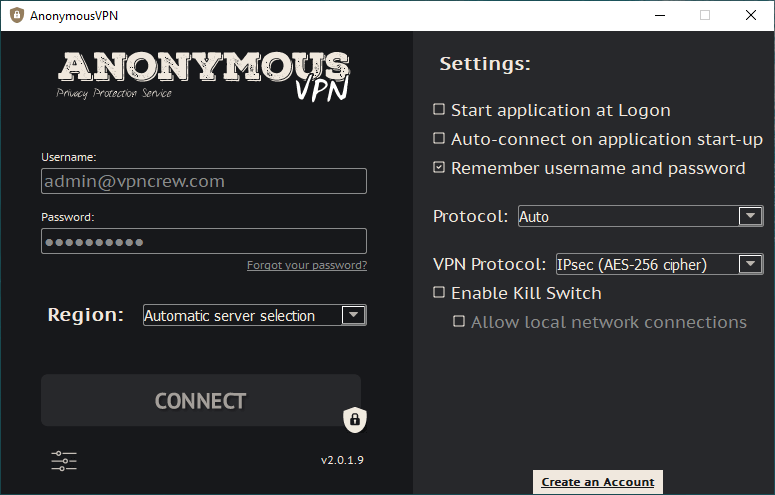 The other main options are VPN protocol and Kill Switch option. The VPN protocol has two options to select OpenVPN or IPsec. The users can further select Port type like UDP or TCP in OpenVPN option.
The Kill switch is primary to any good VPN service since it can sever the internet connection any time the server and client connection expires. This is handy, since sometimes when you visit some content, you wished to hide, and it's still loading and the connection with VPN server breaks; In this case, the full details of the user along with content will be visible to ISPs, etc. without the encrypted tunnel.
Users can, however, allow the local connections over an internal server using the same option available under Kill switch.
No matter how simple the UI is, the visual aiding factors like constant bandwidth display, a graph showing packet exchange data, Visual map with server status and traffic, etc. are missing from this VPN.
Given the amount of price they charge, they should have made the UI more visually appealing and should have added more feature than the current mediocre setup.
Platforms and Devices
In this wireless era, most devices are connected and can be synchronized by a single user account like your mails, app backup, online storage, etc.
Nowadays, the VPN companies have to provide support for all major platforms like windows and apple devices along with secondary devices like a router, console,etc.
The VPN has offered its services across various platforms like Windows, Android, and MacOS. The VPN has no support for Linux and limited support for routers. It also has no support for other devices like smart TVs, Gaming consoles, etc.
Surprisingly, there is no app for iOS users. They do not have a browser extension for free and paid users.
Thus, the reach of the VPN is still limited. Apart from that, one user account can only have three active connections. Even though they state that it is to provide better services to others, but that is just a miserable excuse.
Customer Support
In day to day life, we all experience some problems related to some softwrae or application. Most of the time, some are very simple issues and can be rectified by ourselves but some need expert help.
Customer support is exactly what we need so that our issues can be resolved with correct instructions and we do not mess the problem further.
The Anonymous VPN has provided customer support only via two methods, i.e., Email and ticket submission. Both of them are pretty average and response time is highly unpredictable.
Many users have complained that they never got any response from the support team. The FAQ section has some decent guide. Most of the question are flashy and are generally of no use for any of the advanced users.
There is no troubleshooting guide for users with technical difficulties — no forums to discuss with other users and developers. There is no Live chat support, not any phone support.
The refund policy is also way too shady for anyone. They have added some strange conditions like below 500 MB usage, below 100 connections to sever. The worst is that there is no refund for trial users. Even if it only $2 for a 3-day trial, but still that amount may matter to many people.
Conclusion
A good VPN not only provides security to its users but also endows them with multiple features. Given that they also offer the best customer support to the users, a good VPN also has aesthetic controls.
In our tests, we found that the VPN had an average performance in terms of connection speed and bandwidth. Some servers had connection issues and also had much worse performance than others.
The refund policy is a big sham and hurts the customers on every end. They even charge you again after subscription end without notice via Email, which should not happen since that's against consumer ethics.
The customer support is horrific, and they have not replied to our queries to date. The lack of troubleshooting guides and forums make it worse for users to find quick solutions to their issues.
Finally, we would not recommend this product given that the features are very mediocre compared to the price they charge and very shady customer support. They need to improve their product a lot before they can think of rivaling the big giants like NordVPN, ExpressVPN, etc. Not only the UI of the software needs an overhaul, but the servers must also be improved. If you seriously want to try it (no refund on trial by the way!), go ahead and sink that $2.