Pros

Provides a strong protection against any type of ransomware, whether known or unknown, and helps to recover your files. Comes with free 5GB cloud storage.
Cons
Only available for Windows operating systems with at least Windows 7 OS installed.
Overall
Helps to protect your system from ransomware free of charge, with strong protection algorithm that can deal with various types of ransomware, especially the popular ones.
Acronis Ransomware Protection is a free security software that helps protect your system from the type of malicious software that locks your access to the system and demands a ransom from you if you want to recover such access. It is created by Acronis International GmbH, a security software company founded in Singapore in 2003, and subsequently incorporated in Switzerland in 2008. The software keeps your Windows machine clear from any type of ransom-demanding type of malicious software and immediately secures your access back to the system when it is infected.
Completely Free to Use and Fully Tested
Unlike many other security products that require you to pay for yearly subscription fees just to access the entire features of the product, you can use Acronis Ransomware Protection completely free of charge. You don't need to pay for the yearly fees just to access all the features or enable all the protection system. Moreover, it is fully tested on all types of malicious ransomware, so you don't need to worry that it might miss any detection in your system. It comes with a free 5GB cloud storage, and you can buy more space if you need it.
Block Known and Unknown Ransomware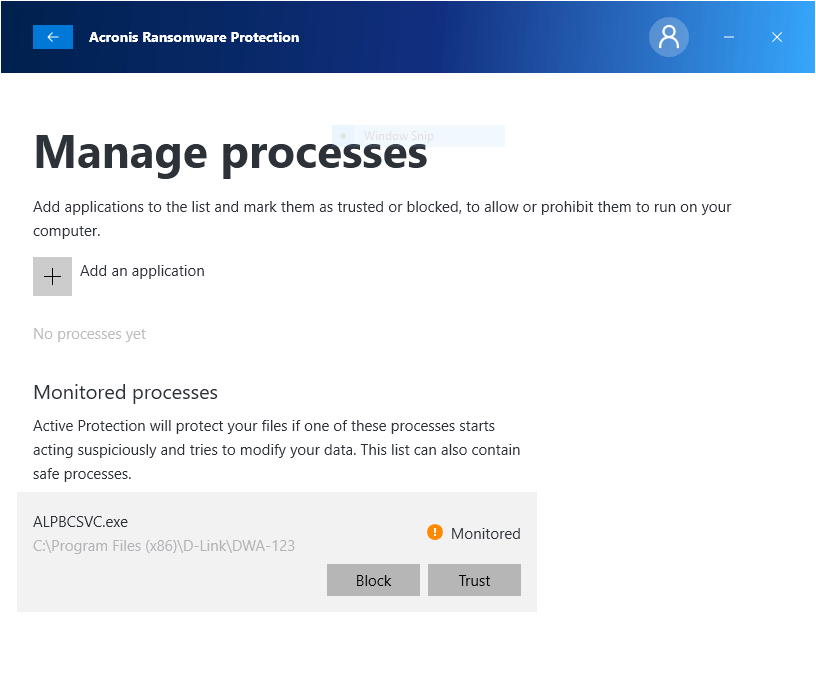 The thing about ransomware is that it spreads like wildfire once it infects a network of computers. For instance, WannaCry is a popular type of ransomware that has infected more than 300,000 computers worldwide, and it was spreading very fast. The good part of this software is that it can block both known and unknown type of ransomware once it enters your system. It has an intelligent real-time guard that can detect any suspicious behaviors on your system right away. Then, it will stop the attack immediately and do the necessary steps to fix any damages that might have been done by the malicious software.
Automatic Backup to the Cloud
Many people are willing to pay the ransom for their locked file access because they are putting very important files in their local storage without backing them up. The Software has a built-in cloud storage access that will automatically back your important files up in the cloud every 15 minutes. In this way, your important files will always be safe and accessible for you at any time. Also, the software offers up to 5GB of free storage that you can use to store your important files, which is usually more than enough for most people. You can always expand the storage space if you need it later.
Restore File Access Automatically
When the ransomware attacks your system, you will immediately lose all access to the file system unless you pay for the demanded ransom. In many cases, the ransom can be in any amount. The average amount that the victims need to pay is about $1,000. This is especially true if the malicious software is designed specifically to attack business establishments that have lots of important files stored in their local storage. However, with this security product, you don't need to worry as it can detect any attack from this type of malicious software immediately and restore the access to your files automatically. So, you don't need to comply with their demand.
Real-Time Guard with Dual Protection
The strongest feature that you can get from Acronis Ransomware Protection is the real-time guard with dual protection system. This system is designed to keep your machine free from any type of ransomware, and with its real-time protection system, it can detect any incoming attacks and work on resolving the problem immediately. The dual protection system can detect suspicious processes within your system whether it is a known malicious process or not. It is also a perfect companion security product for your current anti-malware or antivirus protection. It works hand-in-hand with other security solutions to keep your system running in the best condition.
Conclusion
When it comes to dealing with ransomware, which can potentially risk your data safety and privacy, as well as cause big financial losses for you, it is always better to take the preventive step to keep your system protected all the time. Acronis Ransomware Protection is a security software that is designed to do just that. It helps to protect your Windows computers from various ransomware attacks, whether known or unknown. It also helps to keep your important files backed up automatically in the cloud. It has the real-time protection system that keeps your system safe from any possible attacks. Overall, this security product is recommended to be installed in your system now if you want to keep it free from any types of ransom-demanding malware, and best of all, it is completely free to use.