Pros

The main feature that Acevpn showcases is its smart DNS which is free of cost, but only accessible if you purchase their VPN plan.
Its ultimate VPN plan also allows performing torrenting and P2P connection.
It supports all the popular VPN protocol which are OpenVPN, IPSec IKEv2, PPTP and L2PT.
They claim that there isn't much reduction in the speed even after enabling VPN or while using smart DNS.
One can also make payment through Bitcoin which allows maintaining the anonymity while making the payment.
Acevpn doesn't log any user's traffic or monitor their bandwidth usage.
Cons
The ultimate VPN costs twelve dollars which doesn't deliver value according to the money paid as it is one of the most expensive deals when it comes to purchasing a VPN client. However, premium VPN is very cheap, but it only allows to access servers from three countries which are the U.S.A., U.K., and France. Also, it doesn't allow torrenting and P2P connection.
It collects personal information which even includes name, address, and IP address.
Servers are only present in 26+ countries at 50+ locations which aren't enough to provide a good speed for a huge user base.
You can't directly download VPN client and utilize it. One needs to download the setup and configure it for the particular protocol for using it.
Overview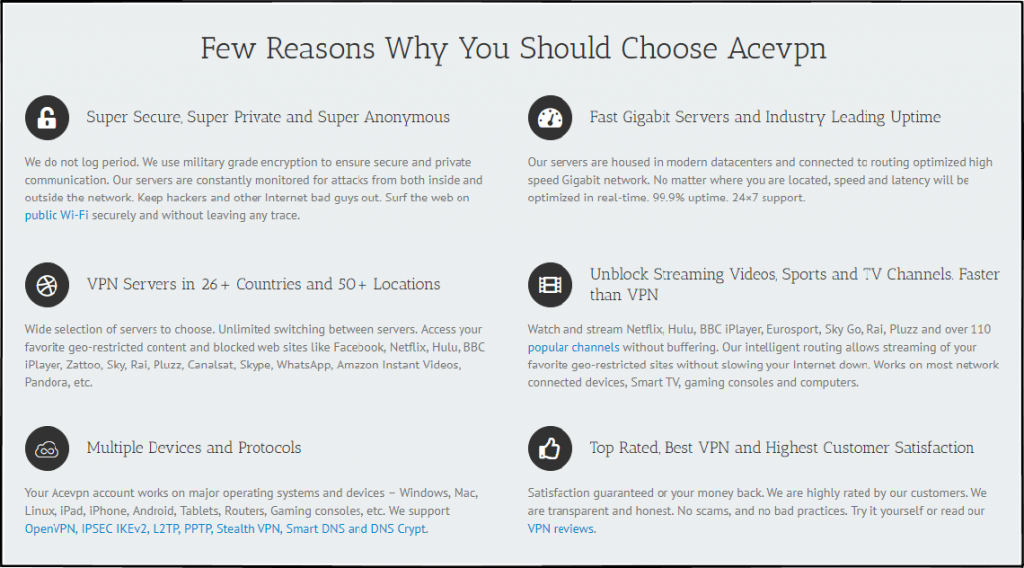 Acevpn is headquartered in the United States. That means there isn't any safe path from the United States government. As it is situated in one of the Five Eyes countries and thus, complete privacy from the government surveillance can't be expected. Acevpn has a user base in the United States and major European Countries. With its Smart DNS, it makes attempts to make geo-restricted streaming content accessible to its users. It claims to bypass restrictions put by major streaming channels.
Servers

They mainly focus on North American and European user base. In North America, you can have a look that they have covered all the major areas of United States by placing thirteen servers in different parts of the country: California, Florida, Colorado, Georgia, New York, etc. They have also covered central and northern location by placing servers in total sixteen European countries.
However, this product is not at all recommended for the users located in Asia, Africa, South America, and Oceania. It is because there are only eight server locations in these four continents. On the other hand, it would deliver an incomparable speed for the United States and Europe.
Pricing and Plans

Well, who provides any service for free? Acevpn provides Smart DNS which unblocks many popular streaming channels. However, to get access to that, you need to purchase their VPN product. You have the option of buying two different plans:
Premium VPN is one of the cheapest market plans available in the market. However, ultimate VPN is one of the costliest VPN plans, even expensive than the most prominent and well-established VPN providers.
When you purchase Premium VPN, you get access to all the features, but you can only access a few servers, and no torrenting and P2P is allowed. If you wish to get access to their smart DNS, it is a worthy plan for you. As you can get the access of all the restricted content of all the popular channels by purchasing it. However, it has smartly placed limitation which has not caught everyone's eye. Even if you get the complete access of using smart DNS, you won't be able to stream any content apart from the United States', the United Kingdom's and France's content because of unavailability of server access to other countries. So, if you wish to access channels such as TV3 and Zattoo, it would disappoint you for sure. Also, torrenting and P2P are not allowed so, all it does is hiding your IP address and allowing you to stream the United States and the United Kingdom's content.
If one wishes to have complete use of its Smart DNS, he needs to purchase the ultimate VPN plan which costs approximately $12. However, by having a look at the number of servers and features that it provides, we really don't recommend paying just because of its smart DNS's service.
Smart DNS

115+ channels that stream sports, movies, TV series and Videos could be unblocked by using Acevpn's smart DNS. Previously, we thought that it would allow us to visit content from every country wherever the server is located. However, it's not true, but still, it has many major countries on the list.
United States
United Kingdom
Australia
Canada
Denmark
France
Germany
Ireland
Italy
Netherlands
Spain
Switzerland
Having a server in South Korea provided an impression that they must be having a streaming server there but unfortunately, Korean Drama isn't accessible (playing dramatic music) from Acevpn's DNS. However, if we have a look at the bright side, you can access fifty different streaming channels from the United States. They have also covered other major channels from European countries which are the most visited ones.However, in the case of Netflix, only the U.S. Netflix is accessible.
There is no need to download any separate application for Smart DNS. It comes along with the VPN client which you could install through setup provided for different platforms. However, it is not possible to check every channel, and the only way to find it out is to purchase the application, use it and identify it.
Now, they claim that it's a free service, and they also claim that it could access 115+ channels. What if what they claim goes wrong? If you purchase VPN service to get access to smart DNS, and after that, if you are unable to stream the channel for which you have paid, you won't get any refund. The reason behind this: it's free. Yes! You have paid for VPN product but not for smart DNS so, even if it doesn't work, you can't argue with them as you haven't paid them anything to maintain their smart DNS. Smart move, right? Well, we are smarter than them to bring forward the aspects that may cause loss to the users.
Security and protocols
They provide no log policy. However, security gets somewhat compromised as they store real name, address and other personal information including the IP address. Also, they are located in the United States, so, there is no way to save yourself from strict government surveillance.
When it comes to protocols, they offer different setup for different platforms. OpenVPN is available for all the platforms, and they specially provide OpenVPN china for Chinese users for MacOS and Windows. They provide PPTP (not recommended) for all the platforms except MacOS and Windows Phone. For a good balance between speed and security, L2TP is present. Recently they have also added IKEv2 for Windows. The flexibility available because of these many protocols allows the user to set the bar of security according to his need.
Platforms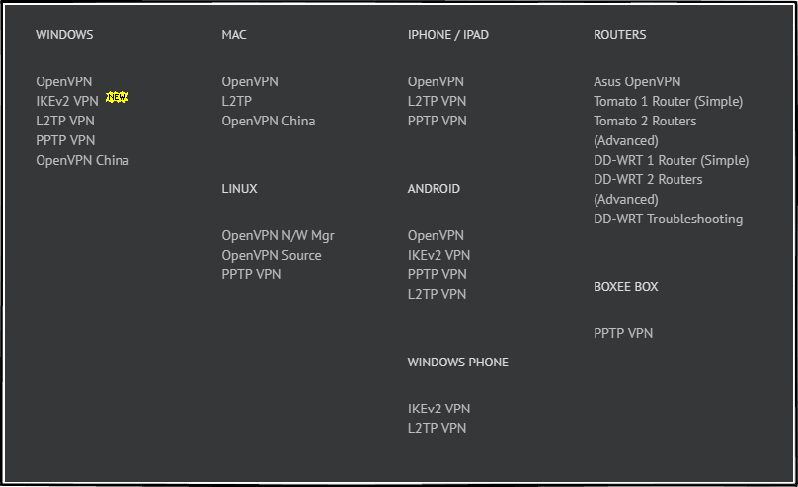 It's surprising to see the number of channels that it unblocks. However, the number of platforms on which the application works is not huge enough to covers every user's requirement. The major disadvantage is that the direct client installation is not available. You need to configure Acevpn after downloading the setup for different platforms. Also, all the protocols are not available for every platform.
If we talk about windows, five different setups for five different protocols are available. They have a separate setup with the name "OpenVPN China" which is specially developed to bypass China's restriction over the use of VPN. It is also available for MacOS. However, for MacOS, only two other platforms are available which are OpenVPN and L2PT.
It's safe to download and use the setup if it uses OpenVPN or SSTP protocol. But, if any other protocol is used, the level of security decreases and that is what's happening with Windows Phone and Boxee Box. For Windows, only IKEv2 VPN protocol and L2PT are available. Even if they are considered safe, for Boxee Box, using Acevpn won't be recommended as it only has PPTP protocol option.
Acevpn also supports the use of routers: Tomato, DD-WRT and Asus OpenVPN. For Asus OpenVPN only one type of configuration is available, but for the other two, you get the option of choosing either simple or advanced configuration. Through routers, you can connect with gaming consoles such as Nintendo, Xbox, and PS3. You can directly configure for Sony PS3 by following these steps, but for this configuration, you must have prior knowledge of networking. We suggest saving the default server address and the settings in case if any failure in configuration occurs.
Customer Support
A product with no live chat is a product with no instant help. In our experience live chat matters a lot when you face problems related to network or data leakage. With no live chat, the only option left for the user is to go through the content uploaded on its website or reach them out through e-mail. We e-mailed them regarding the list of gaming consoles which could be accessed using their service. The reply provided a link, directed us to the page which has the list of channels that they unblock. Complete satisfaction was not experienced and could not be guaranteed in Acevpn's case. Also, it was more directed towards selling the product rather than helping the user.
Their support section contains customer forum which doesn't have many questions and thus, it isn't reliable. Their blog section contains more than a hundred articles which the user can read to find out about the development of the application and also, give an idea to resolve problems that you could come across while using the application. They need to develop their FAQ section which has a lesser number of questions even if you compare it with an exam paper.
The knowledge base is filled with articles regarding setting up clients with different platforms in different operating systems. They also contain information related to troubleshooting and using Torrent and P2P servers.
This much information isn't enough, and it took six hours for them to reply to the e-mail. That isn't as fast as expected. So, if you are stuck somewhere, you won't be getting any help in the same hour.
Conclusion
Acevpn, if they are what they claim to be, then it could be purchased. However, until now, in our experience, it is the most expensive VPN service amongst all the VPN providers. The reason behind it is the smart DNS. Even if they claim that its free, they are charging 12$ for ultimate VPN plan. This much high price won't deliver a "value for money" feeling.
Also, direct download isn't available, and you need to configure the setup for different protocols. That's a difficult task for someone who isn't familiar with the network settings. This makes sure that it is not a user-friendly product. However, if they can access a channel that isn't available with any other DNS, you could consider purchasing it depending upon your requirement. However, with the VPN's aspect, we don't recommend paying such a high price.