Pros: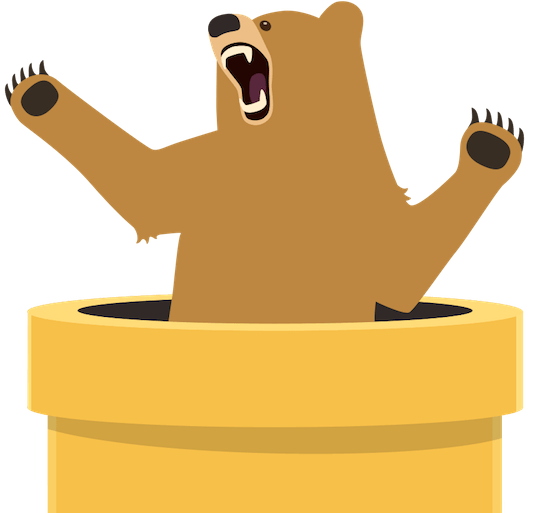 TunnelBear provides a free plan for all the users with the accessibility of every feature.
It provides a feature called "GhostBear" which is used to make your data less detectable on the network. However, a slower speed could be experienced, and it should only be used when the ISP is blocking or throttling the connection.
An amusing interface that renders a user-friendly experience.
Cons:
We have not found any in-build features related to protocols so; one can't switch protocols using the TunnelBear client.
Its pricing is a bit higher for the features it provides. VPN providers like NordVPN and ExpressVPN having huge server network, and loaded with many exclusive features are just costlier by few more cents.
TunnelBear still needs to add more servers for better speed. It has already established its server in 20+ countries, and provider is claiming that it will keep on expanding.
Website: Visit Official Site
Overview:
TunnelBear is a VPN service provided by TunnelBear Inc., an online security company based in Toronto, Canada. Their goal is to make internet free and "Bearable." The branding icon of Bear that TunnelBear uses everywhere speaks for the company and it's a really smart tool for marketing. However, this might have caught the attention of million people and converted them into trusted users, but in-depth review of the product is important to bring out the real image of Bear.
Let's find out fast this bear is?
Does he hold the "pawer" to be our Internet protector?
Or will he go to hibernation at the time of real need?
Here, we are going to review possible aspect of TunnelBear by which you can decide whether this bear is a worthy pet or not.
Free Plan Available
TunnelBear offers a free plan and allows you to access all the features including the exclusive ones. This requires one tough job, and that's sign up, but after that TunnelBear is all yours up to 500MBs.
After using 500 MB of data, TunnelBear won't allow you to access any data through its client. You need to upgrade your plan to the paid version if you wish to have unlimited usage.
Also, in the free plan, only one connection is allowed, and for more connections, the paid version is always available on its website. The free version is beneficial for the people who need to use the Internet for browsing purpose. Every device can have a different account as it's free, and so, it there will not be any requirement of using the same account for multiple devices.
TCP Override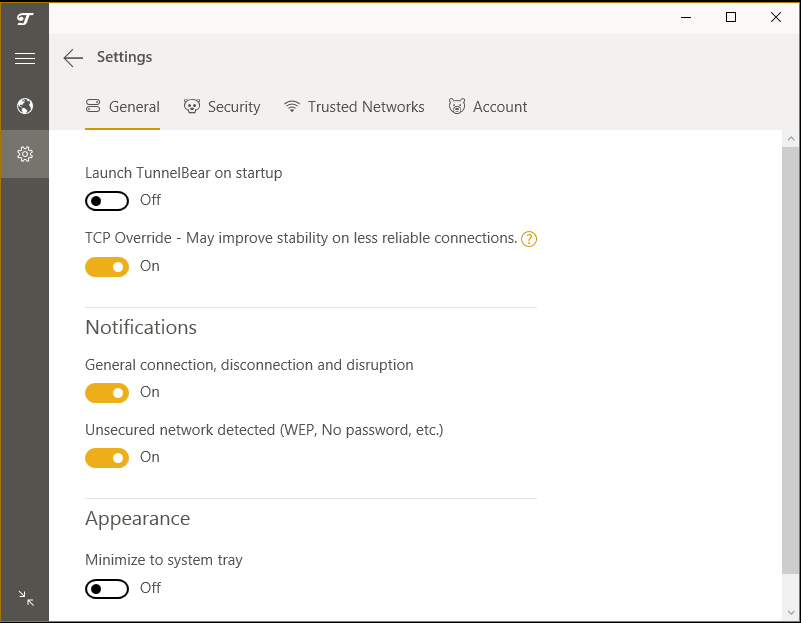 TCP override feature is the one required when your ISP is facing technical issues. At that time, you will need to enable it, and it will switch to TCP instead of UDP. These are two types of OpenVPN protocols in which TCP has comparatively higher security, but then it again shows a decrement in speed.
It helps to setup connection if your virtual private network appears broken after you enable TunnelBear. This works efficiently when you need to connect with unreliable connections or to bypass ISP throttling.
However, this setting is only available for Windows desktop and MacOS client only, and not for other platforms.
TunnelBear Security Features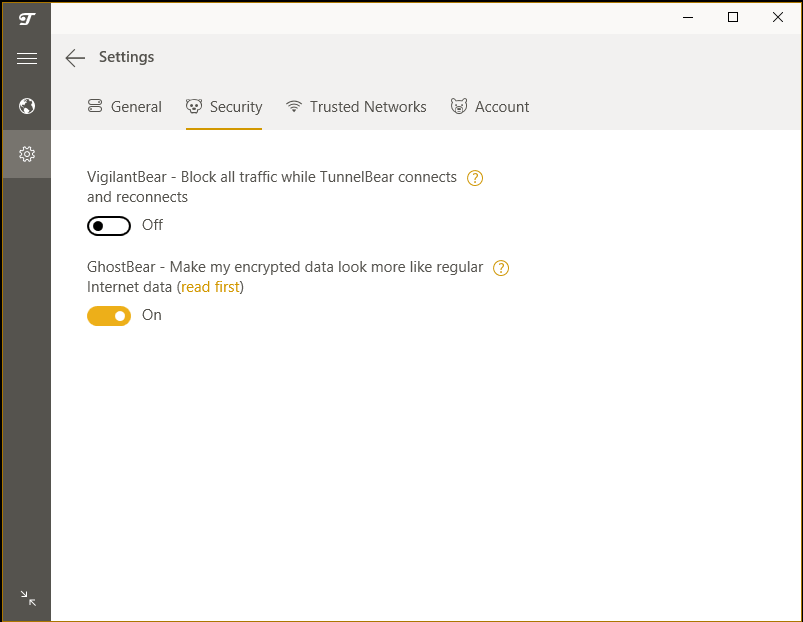 These security features are the same as the features provided by the other VPN providers. What's new in this is the "Bear." Its branding style by symbolizing bear as a protector is unique and remarkably effective.
However, we need to discuss the efficiency of this "Bear protector." VigilantBear is a feature which blocks the traffic when you move between two networks, and when you get disconnected from the virtual private network. Its working is similar to the Kill Switch which we usually find in every VPN. This feature is not available for iOS
There is one another security feature, "GhostBear" that helps to make your data less detectable. We understand the use of work "less," but here no defined statement was found that how much effect it will cause to the visibility. They have just provided the information that only to use it when you are unable to connect with TunnelBear or if the connection is unstable because while using GhostBear, its functionality decrease, and renders low speed.
When we come across its usage and found GhostBear's use somewhat similar to TCP override even though the methodology that how it works is claimed to be different.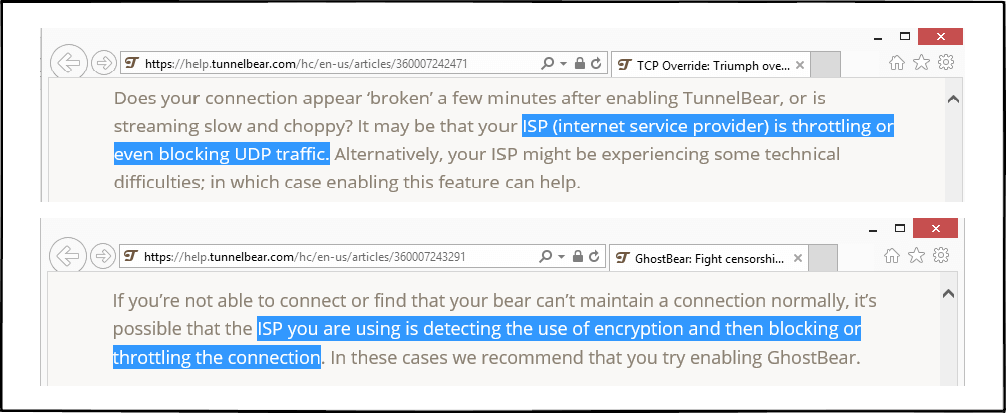 Connection Time Analysis
Here, you can call the bear just with snapping the fingers. It is one of the fastest response times that we have experienced so far beating most of the VPN providers including VvprVPN and CyberGhost. This is because TunnelBear takes the connection related issues very seriously. That can be said according to the security functions they have provided.
TunnelBear establishes a connection with the average of 3.88 for the auto-connect option. This may vary according to the country to which you are going to get connected. When we tried to connect with the farthest server, it took around ten seconds. Still, establishing a virtual private connection to any server in the world requires very few seconds in the case of TunnelBear.
TunnelBear Speed Test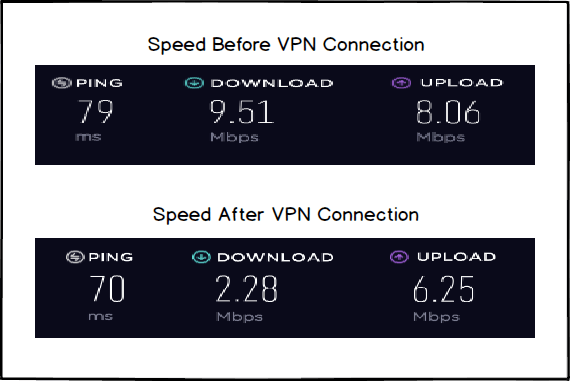 Even though, TunnelBear strives hard for establishing an efficient connection, speed related issues are there which are required to be solved for better functioning. This VPN provider was tested for free Windows client version, and its conclusion may differ for different platforms.
There was a server provided in our country, so it wasn't the distance which was slowing down the speed, and we aren't sure why TunnelBear requires making such a compromise with speed. As it was mentioned in the app itself to use "TCP" and "GhostBear" if one experiences the connection related issues, we tried to turn both features on. They established a connection, but not a reliable or stable one, and sometimes we were not able to connect with the Internet when the Bear was roaring.
TunnelBear Speed Test Error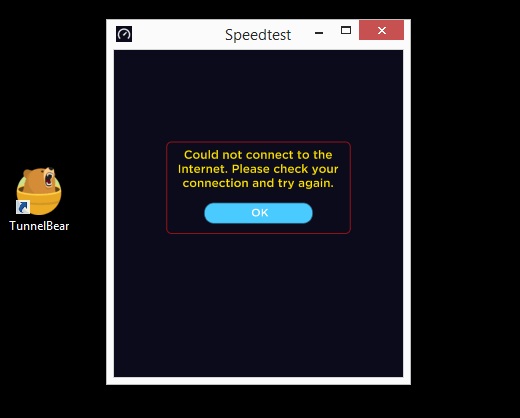 Somehow after some trials, finally the speed test showed us the results which were disappointing. Downloading speed was reduced by 77% from 9.51 Mbps to 2.28Mbps, and uploading speed decreased by 23% from 8.06 Mbps to 6.25 Mbps. One can use it for browsing, but for downloading and streaming purpose, TunnelBear needs to dig more tunnels (more servers) all over the world, and that can only boost the speed.
Security
Standard encryption which is recommended by security experts worldwide: AES 256-bit key is used to encrypt the data. This is the unbreakable encryption which safeguards anyone's data better than any other encryption.
It uses OpenVPN protocol which is the most secure one among all the protocols provided with UDP and TCP configuration.
No log policy always adds reliability in the customer's mind, and TunnelBear provides complete assurance about it. A security audit was performed by the Cure53 team, and results showed that it isn't easy to break TunnelBear's security walls. The results were published in July 2017, and you can have a look over them in this report.
User Interface and User Experience
TunnelBear's interface is its branding symbol, and it's most amusing in every aspect. When the users start using the client, the cute bear protector appears and makes them addicted to it. With easy to use screens, you can explore every feature easily, and won't face any configuration related problems which we face while reviewing Hide.me.
The server list is kept simple; however, sorting it in different ways would have helped the customer to find the best server for his requirement. There are servers only in 20+ countries, and it can be expected that after more servers find their place in the list, sorting will improve the user experience.
The cute Bear animation while connecting, and disconnecting is appealing to a complete section of users, and that has helped TunnelBear to build a strong customer base. It gives a good completion to CyberGhost's humorously spooky elements.
Platform
Like every other VPN provider, TunnelBear supports every major platform, and it's not an issue to create clients for different operating systems. What's important is implementing all the features in every client that you have provided in one client. However, in TunnelBear's case, Windows client is more efficient than any other clients due to the presence of features which are unavailable in other clients.
Even though tunnel bear allows five simultaneous connections (for the paid version) at one time, it's not sufficient if you are purchasing a VPN provider thinking about a group of people using it. That's why people always go for VPN providers who are compatible with routers. However, Bear can't dig tunnels in the router, and you have to install it in every device separately. Also, if you are planning to watch Netflix with TunnelBear, you will be disappointed when you open the Netflix application.
Customer Support
Again!
A VPN provider without live chat. One can't "bear" the frustration of contacting through ticket whenever he has a problem. It doesn't come up with another solution but with a better ticket system.
Ticket system was tested, and they replied within a few hours. The answers were explanatory, and links were also provided. However, the live chat system always works better for communicating the support.
It can also take more or less time depending upon the time zone differences. If you are in the same time zone of TunnelBear, and you have an issue during the working hours, you will get a reply instantly. However, if you are in a different time zone with different working hours, then it may take a little time for them to reply as the working hours for you and them differs.
Conclusion
TunnelBear has an amazing user interface but also has issues when it comes to speed, and platforms. To be in the race, TunnelBear needs to upgrade the number of servers, and should also develop the router configuration. That's the only possible way that makes it as efficient as the Top VPN providers.
However, TunnelBear's free version is a real savior that one can download directly from their website for any device. You can use a bandwidth of 500 MBs in a month with one account. It's every less that we know, but at the time of emergency, you can call the bear out of hibernation anytime you want, and it will guard your data as efficiently as possible.