Pros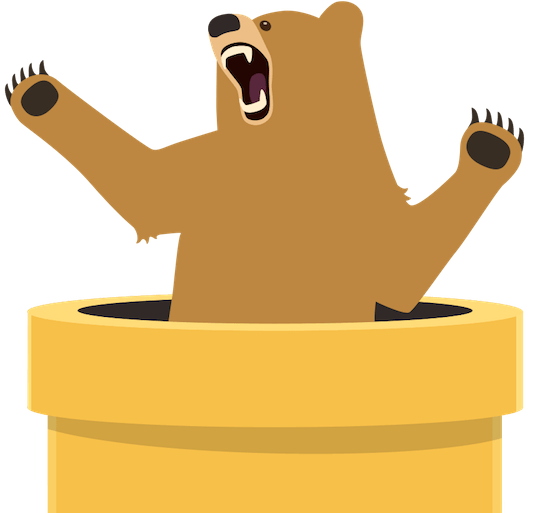 TunnelBear's Free Plan: You get the option to use every feature for free that TunnelBear has added in its application. The only limit that exists here is the bandwidth, but you can get rid of it by purchasing the premium version. However, the free plan is sufficient to judge whether the client meets our requirements or not.
GhostBear Feature: It offers a feature called "GhostBear" which is used to make your data less detectable on the network. However, a slower speed could be experienced while using it, and it should be used only when the ISP is blocking or throttling the connection.
Astonishing User Interface: In our experience, the UI that TunnelBear developers have constructed is not only user-friendly, but it's also a branding tool for the client. It's attractive outlook effectively attracts the users, and also makes it more interactive than the other VPN applications.
TunnelBear's VigilantBear: They know how to present the different features with a unique identity. VigilantBear is actually 'an internet kill switch' that helps to block all the data when the TunnelBear connects or reconnects, i.e., it helps to avoid data leakage whenever the VPN connection drops.
Manage Connection with Different Networks: Not all, but perhaps some of the networks to which you connect won't require the VPN connection. Networks such as home Wi-Fi and personal hotspot are trustworthy and using the VPN for these networks is unnecessary. You can easily add them to the list of trusted networks provided in the "Settings" option.
TunnelBear Browser Extension: For improving your browsing, along with the application, you also get the choice of adding an extension for Chrome, Firefox, and Opera. But you only get the option to switch between the servers, and no other settings are implemented in the browser.
Cons
No Protocol Selection: The only protocol option provided in the application is "TCP Override" which allows you to switch to TCP OpenVPN from UDP OpenVPN. Other than this, no protocols such as PPTP, L2TP, SSTP, etc., are added. If those protocols are also included, the user will get the alternative options if one protocol doesn't work.
High Price: Its pricing is a bit higher for the features it provides. VPN providers like NordVPN and ExpressVPN having huge server network and loaded with many exclusive features are just a few more cents costlier.
Unacceptable Speed: TunnelBear has the 'Auto' feature which automatically selects the server. In most of the cases, the server with the lowest latency is selected. However, the speed provided by the selected server is not acceptable. For the United States and the United Kingdom server locations, download speed wasn't even half of the original speed.
Not Available for Routers: As we know that if we configure VPN setup on a router, we get the benefit of connecting all our devices to the VPN directly through it. However, this option is not available even for the paid users, and one needs to install it separately for all the devices.
No Functionality related Features: Features such as 'split tunneling' and 'port forwarding' lets the user enjoy the required control by widening the boundaries according to which an application is utilized. If TunnelBear adds these attributes, the usage of the client will improve.
Overview
| Quick Overview | |
| --- | --- |
| Protocols | OpenVPN, IPSec/IKEv2 |
| Platforms | Windows, Mac, iOS, Android, Chrome, Firefox, Opera |
| Jurisdiction | Canada |
| Logging | No |
| Encryption | AES 256 |
| Connections | 5 Devices |
| Locations | 22+ Countries |
| Servers | 20+ |
| Netflix/P2P | None |
| Payment Options | Credit Card, Bitcoin |
| Support Options | Support Ticket |
| Pricing From | $4.99/month Billed Yearly |
| Guarantee | non-refundable |
| Free Trial | Yes With Limited Features |
| Website | Visit Website |
TunnelBear is a VPN service provided by TunnelBear Inc., an online security company based in Toronto, Canada. Their goal is to make internet free and "Bearable."
However, Canada is one of the "Five Eyes" countries. These countries conduct surveillance programs on the citizens. That's why, even if we use TunnelBear to protect our data, the government of Canada has the option to enter in the tunnel anytime they wish to.
The branding icon of Bear that TunnelBear uses everywhere speaks for the company, and it's really smart to use it for marketing. Even though this might have caught the attention of million people and converted them into trusted users, but in-depth review of the product is important to bring out the real image of Bear.
Let's find out how fast this bear is?
Does he hold the "pawer" to be our Internet protector?
Or will he go to hibernation at the time of real need?
Here, we are going to review all the possible aspects by which you can decide whether this bear is a worthy protector or not.
Servers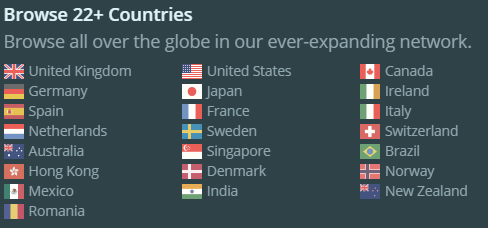 If we move our eyes across the globe, we will find twenty plus countries where the TunnelBear has dug its tunnels, i.e., established its servers.
Instead of focusing on a particular location, TunnelBear has distributed its servers in five continents. However, this may cause an imbalance between the number of users and servers available for them.
If we take you to Europe, you will find no deficiency in the number of added locations. However, the exact locations and its number are not provided to the users, and we only know the name of the countries where they are placed.
In Europe, the server locations in all the directions; in total, TunnelBear has added them in twelve countries. But the number is not that high in comparison to many other providers who strive to place servers in all the prominent countries of Europe.
That's because Europe always has a huge VPN userbase which needs a high number of servers with a proper server density.
If we move west, we will see that North America is full of potential users who are ready to purchase VPN applications for safeguarding privacy. But we aren't sure if they are ready to compromise with speed for that.
We do not know if the United States and Canada have multiple server locations, but the high speed will be experienced only if there are ten plus server locations (as the area is also vast). One server is also added in Mexico which can be utilized by the Mexican users and other southern countries of North America.
Now, let's move to the east, and see what they have got for Asian users. Japan, Singapore, Hong Kong, and India are the Asian countries where tunnelBear has its servers.
However, the question remains the same: Are there multiple servers available for these countries? Still, placing servers in four countries is sufficient as there are not many users from Asia.
Other than these countries, one can find servers in Australia, New Zealand, and Brazil.
They first need to enhance the user-server ratio for Europe followed by North America. Only after that, they should focus on the market of the other continents.
Right now, for Asian users, it may deliver a good speed, but they need to add more servers to satisfy European and American users.
Free Plan Available
TunnelBear offers a free plan and allows you to access all the features including the exclusive ones. This only requires you to do one tough task, and that's sign up, but after that TunnelBear is all yours up to 500 MBs.
After using 500 MBs of data, TunnelBear won't allow you to access any data through its client. You need to upgrade your plan to the paid version if you wish to have unlimited usage.
Also, in the free plan, only one device is allowed, and for more devices, the paid version is always available on its website. The free version is beneficial for the people who only need to use the virtual private network for browsing purpose.
Every device can have a different account as it's free, and so, it there will not be any requirement of using the same account for multiple devices.
TCP override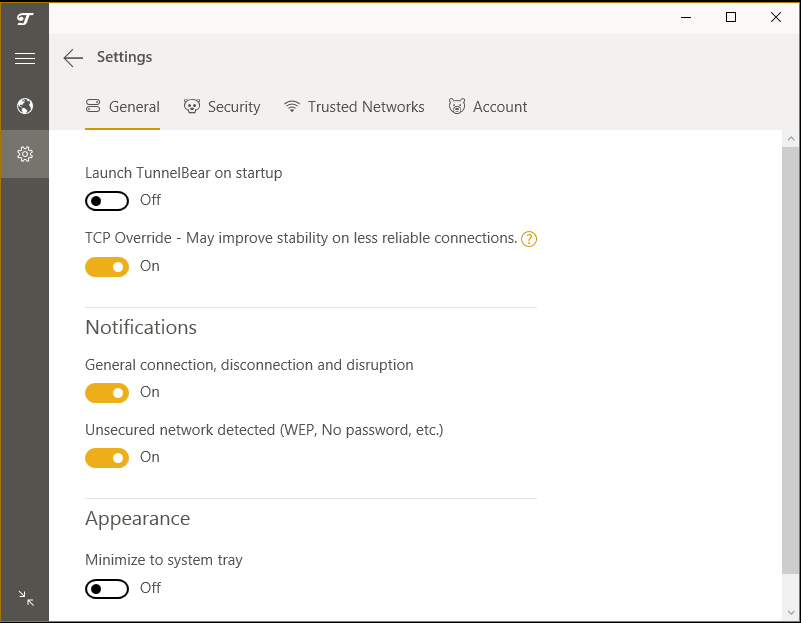 TCP override feature is the one required when your ISP is facing technical issues. At that time, you need to enable it, and it will switch to TCP from UDP. These are two types of OpenVPN protocols in which TCP has comparatively higher security, but then it again shows a decrement in speed.
It helps to setup connection if your virtual private network appears broken after you enable TunnelBear. This works efficiently when you need to connect with unreliable connections or to 'bypass ISP throttling.'
However, this setting is only available for Windows desktop and MacOS client, and not for the other platforms.
Security Features and Their Working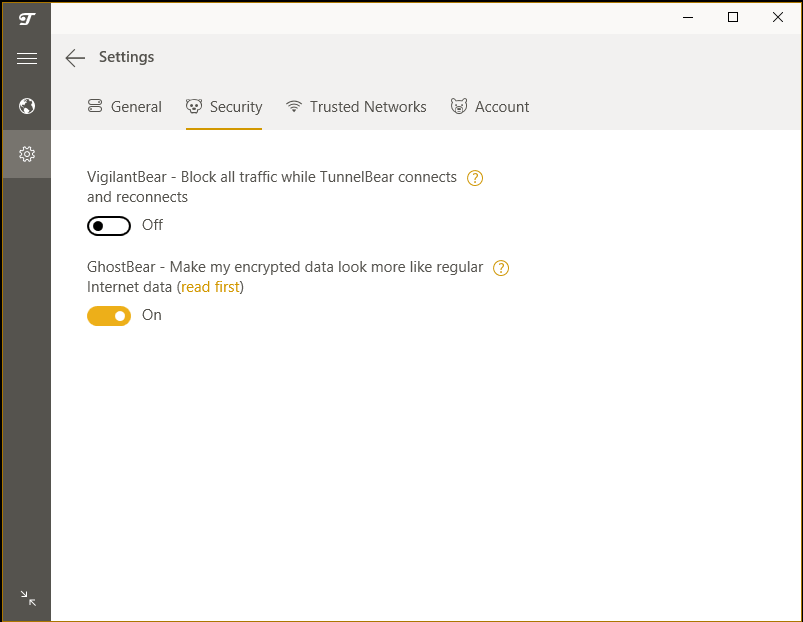 These security features are the same as the features provided by the other VPN providers. What's new in this is the "Bear." Its branding style by symbolizing bear as a protector is unique and remarkably effective.
However, we need to discuss the efficiency of this "Bear protector." VigilantBear is a feature which blocks the traffic when you move between two networks, and when you get disconnected to the virtual private network. Its working is similar to the Kill Switch which we usually find in every VPN.
This feature however, is not available for iOS.
There is one another security feature, "GhostBear" that helps to make your data less detectable. We understand the use of work "less," but here no defined statement was found that how much effect it will cause to the visibility.
They have just provided the information that only to use it when you are unable to connect with TunnelBear or if the connection is unstable because while using GhostBear, it renders low speed.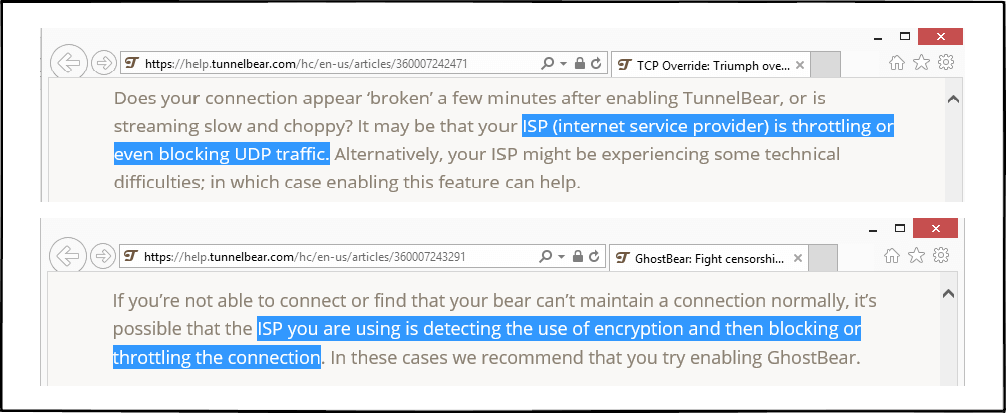 When we came across its usage, we found GhostBear's use somewhat similar to TCP override. However, the methodology that how it works is claimed to be different.
Connection Time Analysis
| Trial No. | Connection time (seconds) |
| --- | --- |
| 1 | 9.75 |
| 2 | 3.91 |
| 3 | 4.46 |
| 4 | 2.69 |
| 5 | 2.46 |
| 6 | 3.65 |
| 7 | 4.61 |
| 8 | 2.76 |
| 9 | 2.19 |
| 10 | 2.34 |
| Average time in seconds | 3.88 |
You can call the bear just with snapping the fingers. It is one of the fastest response times that we have experienced so far beating most of the VPN providers including VvprVPN and CyberGhost.
This is because TunnelBear takes the connection related issues very seriously. That can be said according to the security functions they have provided.
TunnelBear establishes a connection with the average of 3.88 for the 'Auto-connect' option. This may vary according to the country to whose server you are connecting.
When we tried to connect with the farthest server, it took around ten seconds. Still, establishing a virtual private connection to any server in the world requires a very few seconds in the case of TunnelBear.
TunnelBear Speed Test Error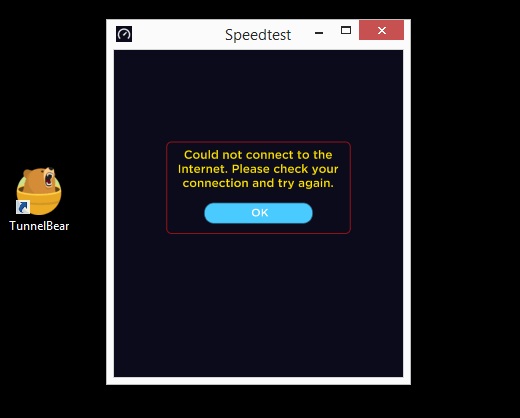 Even though, TunnelBear strives hard for establishing an efficient connection, speed related issues are there which are required to be solved for better functioning. This VPN provider was tested for free Windows client version, and its conclusion may differ for different platforms.
There was a server provided in our country, so it wasn't the distance which was slowing down the speed, and we aren't sure why TunnelBear requires making such a compromise with the speed.
As it was mentioned in the app itself to use "TCP" and "GhostBear" if one experiences the connection related issues, we turned ON both the features one by one. They established a connection, but not a reliable or stable one, and sometimes we were not able to connect to the internet at that time.
TunnelBear Speed Test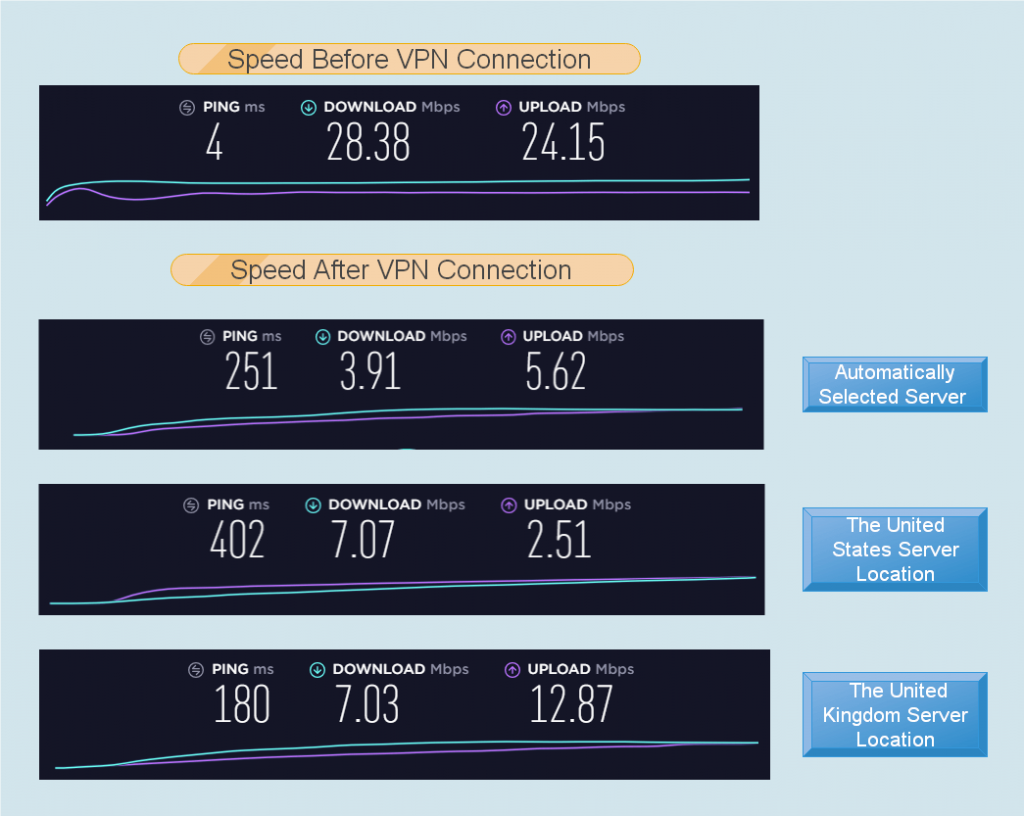 As we have already discussed the experience we had while connecting with the TunnelBear, we were not having high hopes for the speed after connection.
There is an 'Auto' option which we have mentioned in the list of pros. So, initially, we connected the system to the server which was automatically selected by the application.
It was connected to the server located in our own country, so there wasn't a huge distance. Also, we don't expect that there are a lot many TunnelBear users in our country. That means the server should deliver a good speed.
The speeds before connection were 28.38 Mbps and 24.15 Mbps for downloading and uploading respectively. But after the connection, the download speed (3.91 Mbps) which we had received is not even sufficient for average quality streaming. Also, there was a huge reduction of nearly 77% in the upload speed. That may cause issues while sending attachments and media files.
The only way to get rid of such a low speed is to maintain the servers properly and increase their capacity.
The other two speed tests were performed for the United States server location and the United Kingdom server location.
Both the tests provided us with the results showing the reduction of 75% in the download speed. That's huge, but in our case, the original speed was high, and so 7 Mbps after the connection was recorded which was satisfactory as we can browse as well as stream content with this speed.
For good upload speed, we suggest you connect to the United Kingdom server as the reduction was 50% which is lesser than all the other cases. In the United States case, the decrement was 90% which we are sure that you can't accept.
Security
Standard encryption which is recommended by the security experts worldwide: AES 256-bit key is used to encrypt the data. This is unbreakable encryption which safeguards anyone's data better than any other encryption.
TunnelBear uses OpenVPN protocol which is the most secure one among all the protocols provided with UDP and TCP configuration.
No log policy always adds reliability in the customer's mind, and TunnelBear provides a complete assurance about it.
A security audit was performed by the Cure53 team, and results showed that it isn't easy to break TunnelBear's security walls. The results were published in July 2017, and you can have a look over them in this report.
Again, in October 2018, a security audit was conducted on TunnelBear. As the company has joined McAfree, there are high chances that the security is enhanced.
User Interface and User Experience
TunnelBear's interface is its branding symbol, and it's most amusing in every aspect. When the users start using the client, the cute bear protector appears.
The server list is kept simple; however, sorting it in different ways would have helped the customers to find 'the best server' for his requirement. There are servers only in 20+ countries, and it can be expected that after more servers find their place in the list, sorting will become an essential tool that they need to add.
The cute bear animation while connecting, and disconnecting is appealing to a complete section of users, and that has helped TunnelBear to build a strong customer base. It gives a good completion to CyberGhost's humorous-spooky elements.
Platforms and Devices
Like every other VPN provider, TunnelBear supports every major platform, and it's not a big deal to create clients for different operating systems. What's important is implementing all the features in every client that you have provided in one client.
In TunnelBear's case, Windows client is more efficient than any other clients due to the presence of features which are unavailable in other clients.
Even though TunnelBear allows five simultaneous connections (for the paid version) at one time, it's not sufficient if you are purchasing a VPN provider thinking about a group of people using it.
That's why people always go for VPN applications which are compatible with routers. But the Bear can't dig tunnels in the router, and you have to install it on every device separately. Also, if you are planning to watch Netflix with TunnelBear, you will be disappointed when you open the Netflix application.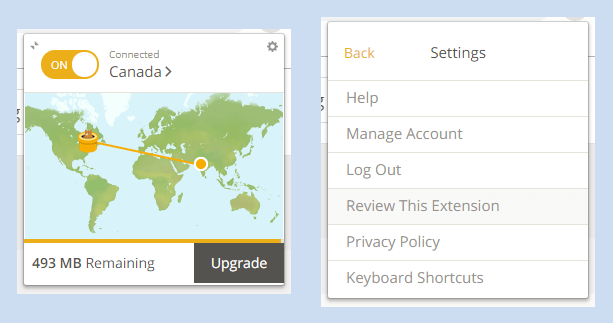 For Browsing, TunnelBear has developed an extension which you can add on Chrome, FireFox, and Opera. You have the option to change the servers but features such as "GhostBear" and "TCP OVerride" are absent.
Still, if you need to access geo-restricted content with a faster speed in the comparison of the speed that TunnelBear delivers through the client, it's a recommended option.
Customer Support
Again, a VPN provider without live chat. We can't "bear" the frustration of contacting through ticket whenever we have a problem.
Ticket system was tested, and they replied within a few hours. The answers were explanatory, and links were also provided. However, the live chat system always works better for communicating the support.
It may also take more or less time depending upon the time zone differences. If you are in the same time zone of TunnelBear, and you have an issue during the working hours, you will get a reply instantly. However, if you are in a different time zone with different working hours, then it may take hours for them to reply.
Conclusion
TunnelBear has an amazing user interface but also has issues when it comes to speed, and platforms. To be in the race, TunnelBear needs to upgrade the number of servers, and should also develop the router configuration. That's the only possible way that makes it as efficient as the Top VPN providers.
However, TunnelBear's free version is a real savior that one can download directly from their website for any device. You can use a bandwidth of 500 MBs in a month with one account. It's very less, but at the time of emergency, you can call the bear out of hibernation anytime you want, and it will guard your data as efficiently as possible.