Pros: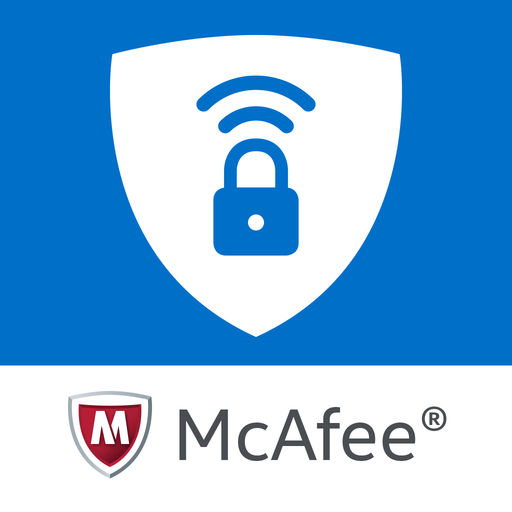 Free Plan Available: Although it is offered for seven days, and comes with bandwidth limitation, it can be used to establish a VPN connection at the time of urgency or to test the service. It was stated on the website that it's only for one device, and server switching is unavailable, but we haven't experienced any such restriction.
Easy Sign up: You just need to download the application on your device, provide an email (not necessarily PII) and password, and it's ready to start protection.
Cost-effective Annual Plan: Even though the monthly plan seems expensive ($7.99), the annual plan has a very less price in its comparison. You will be billed $47.88, and that means it's just $4 for a month.
Live Chat and Phone Support: Customer support is the prime requirement for customer satisfaction. McAfee has added both Live Chat Support and Phone Support, but only for the premium users. They also provide instant help by asking us for the remote access to our devices.
Own DNS Servers: Appreciatively, they have their own DNS servers, and so, you don't need to worry about the DNS request logging.
Cons:
Very Few Settings Options: When you will go through the "settings," you won't find the opportunity to make many changes. Hence, a user control can't be expected while using Safe Connect.
Not Available for MacOS: Even though it is available for Windows, iOS, and Android, they do not have a client for MacOS which is one major limitation as many users prefer using MacOS above other operating systems.
Unreliable Connection: Sometimes it connects in less than ten seconds, sometimes in a minute, and sometimes it doesn't connect at all. Because of that, the user needs to reconnect it again manually. It is not recommended if you are looking for a VPN application that connects fast with a consistent connection time.
Unacceptable Download Speed: We tried connecting to the VPN using various server locations, and maximum attainable download speed was nearly 25% of the original speed.
Can't Find the Kill Switch: The customer support provided us the information that Safe Connect doesn't have an internet kill switch. That means when it disconnects and reconnects or when the VPN connection drops, data leakage may happen. It is due to the outflow of data from the tunnel.
Overview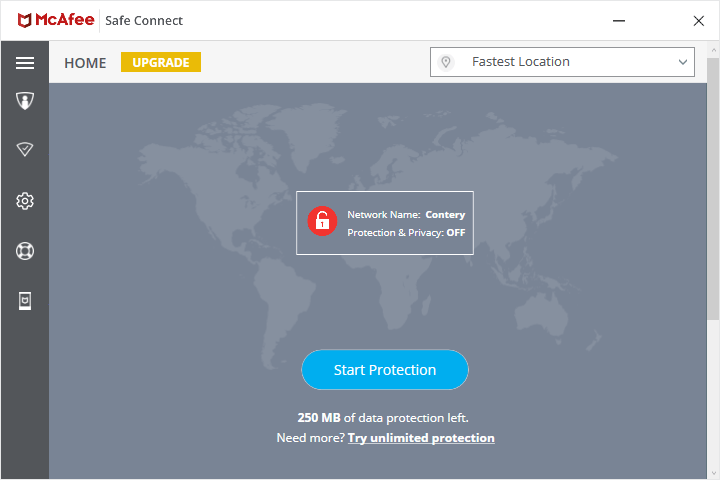 While McAfee is a prominent product from a leading anti-virus software company, What we realized is, It isn't highly safe connecting to the VPN using McAfee Safe Connect. The reason is the jurisdiction that keeps its eyes on every citizen. The company McAfee LLC owns McAfee Safe Connect which claims to protect the users' data from the third-parties.
However, it is headquartered in the United States, and so, the company may provide our data to the government.
There are multiple pores through which data leakage may take place, and these must be filled if the complete protection is required.
We will study each pore and learn how much compromise we need to do if we use this service.
Not just this, there are some other aspects which are compromised when this VPN application. We will check the client also and bring forward the attempts that the application has done to provide you a "Safe Connect."
Servers
According to the website, they offer eighteen virtual server locations. However, while using the client, we discovered that there are twenty-two countries where servers are located. We assume, this mismatch could be because, the company has recently upgraded their network a bit but still haven't updated the stats on official web page.
The number of total server locations is not mentioned, and you can only know about the countries.
Also, for the free version, it is stated on the website that they only offer 'one optimized virtual location,' but we were able to switch between different servers. We were also able to establish a connection with every server.
Hence, you don't need to worry about the server limitation while using the free version.
Out of twenty-two countries, twelve countries are from Europe where servers are placed. There is a possibility that there are multiple server locations in any of these countries. But we don't get the option to select them by our choice. We can only select the country, and the application will select any of the server locations present in that country.
Out of the other ten countries, three are from North America, and in our experience, it is mandatory to have multiple server locations to satisfy the user base of North America. Due to the large area with huge VPN userbase, if there is a single server location in the United States, then the users won't get acceptable speed.
Same for Canada; large area and large user base requires multiple server locations. The provider needs to place servers in all the directions for the users present in different states.
For Asia also, four countries are selected for adding servers. Four servers would be enough if the servers are maintained properly.
Well, if you are a VPN user from Oceania, you may not consider downloading this application as there are no multiple server locations in Australia, and hence, you will be left with low speed.
One server standing alone in isolation is placed in Brazil. However, this server could be useful for North American users also. Hence, it's a good move.
The only way by which you can connect to the server is by manually selecting it or by clicking on the "Fastest Location." By selecting this option, probably your device will connect to the closest server or the server which is having the lowest ping.
But, saying that that it would deliver the highest speed won't be true. You will know about this in detail in the "Speed Test" section of our review.
Privacy Policy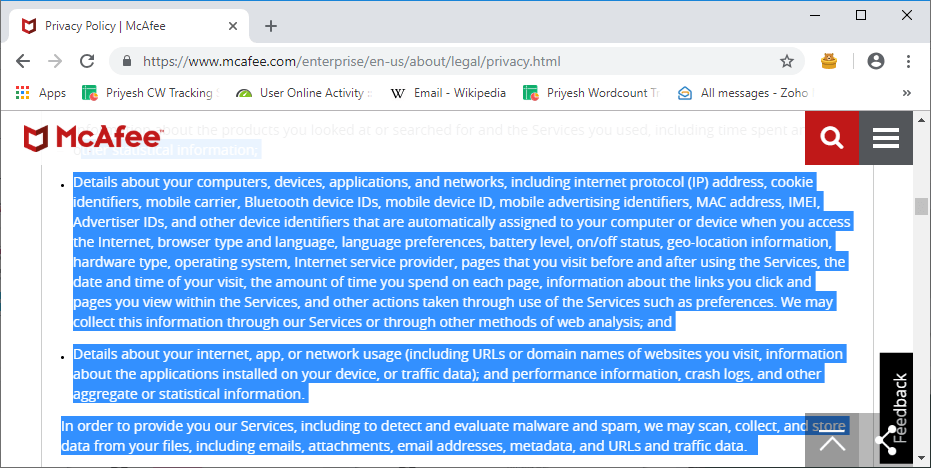 When you go through the privacy policy, you will discover 'heavy logging,' and that means the company stores a large amount of information about you if you are utilizing their service.
Especially for mobile devices, when you install McAfee Safe Connect, you need to provide them a lot of permissions by which they get the access to your files.
Even for the desktop, there is no safety from the logging data. After installing McAfee, besides the information you provide, it can also get its hand on your IP, geo-location, device ID, networks to which you are connected, your ISP, and much more information that you would not wish them to know.
They clearly state that one of the major purposes of logging the information is advertising and retargeting. McAfee shares an identifier that is assigned to our device which lets McAfee show advertisements according to the websites we visit.
This is the violation of prime goal of a VPN provider: to provide privacy. Because of such heavy logging of data, we can't rely on McAfee to protect our privacy.
Connection Time Analysis
| Trial No. | Time taken to establish a connection (Seconds) |
| --- | --- |
| 1 | 13.52 |
| 2 | 8.52 |
| 3 | Error |
| 4 | 8.97 |
| 5 | 8.01 |
| 6 | 48.58 |
| 7 | 57.21 |
| 8 | Error |
| 9 | 10.78 |
| 10 | 55.76 |
| Average Time In Seconds | 26.41 |
Just look at the table, and you can conclude yourself how reliable the connectivity is. For the first trial, the application took 13.52 seconds which is an acceptable connection time.
With the second trial, we experienced an improved response as it was connecting in less than ten seconds.
However, the third trial was contradicting where it showed an error that "connection cannot be established now" and asked us to try again later.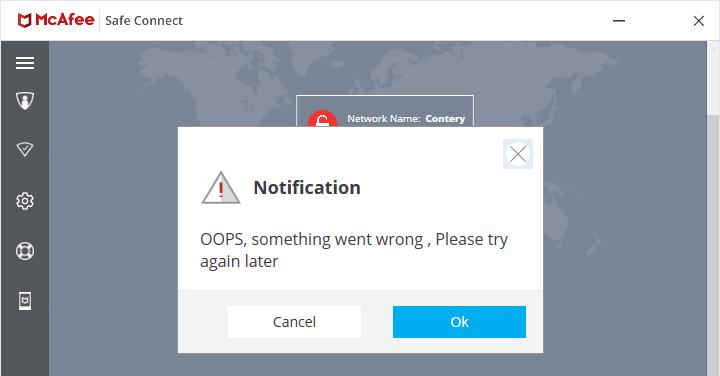 Sometimes, this may happen due to weather conditions or system failures, and putting that in mind, we moved to the next trial.
Results were excellent for the next two trials, but after that, the connection time increased significantly delivering one of the poorest connection times till now.
It increased to 48.58 seconds, and this issue is unavoidable. With the next trial, the response became even worse. It took nearly one second to establish the connection for the fastest server option.
We thought that this could be because of the selected server, but for the other servers also, the results remain the same.
The only solution to this lies in improving the client. After clicking on the "Start Protection" button, the application stopped responding without forming a connection. After that, it automatically worked and started reconnecting, and that's the reason why connection time was so high.
Also, it is not useful to discuss the precision as it would be very low because of such a large range.
Bandwidth and Speed
For the free users, bandwidth limit exists at 250 MBs for a month. We know that this much data will finish off with just a good quality video of ten minutes, and thus, free trial can only be used to judge the client and its functionality.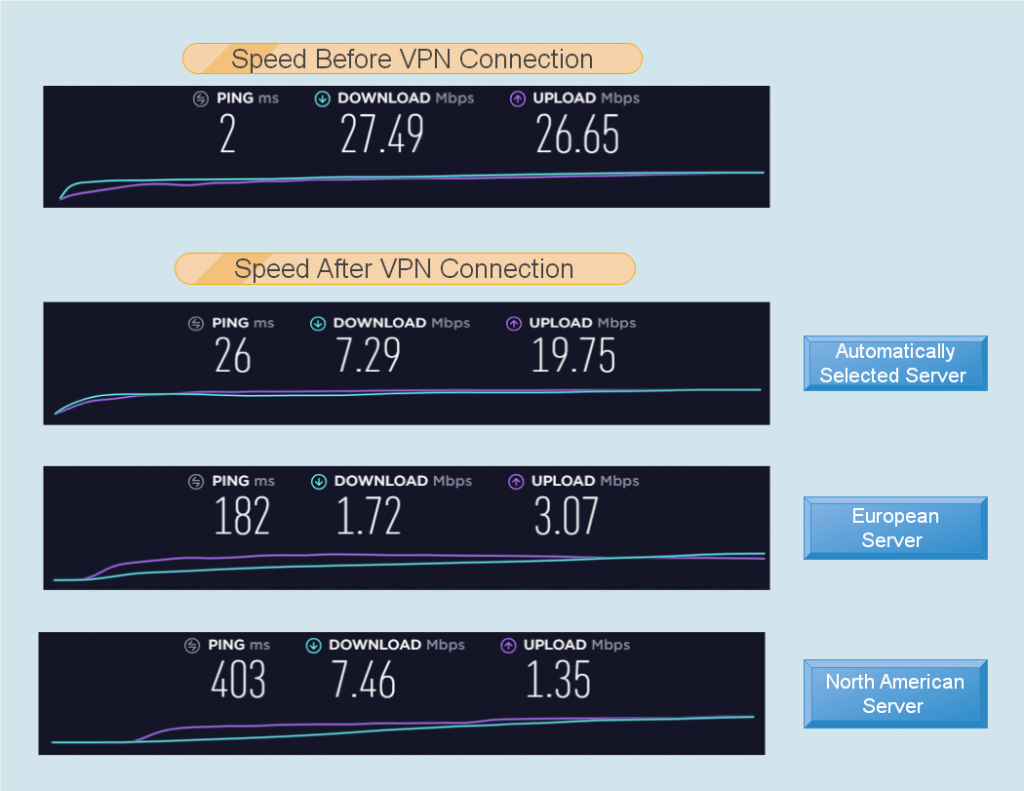 According to the website, there is another limitation for free users which is server selection. So, we were not expecting that we will get the opportunity to test speeds provided by various servers, but only for the automatically selected server.
However, we were able to switch among all the servers. Without connection, the download and upload speeds were 27.59 Mbps and 26.65 Mbps respectively. After clicking on "Start Protection" button, a connection was established with the server of our own country.
This server was considered as the fastest one according to the client's algorithm. But the results were telling a different story.
What we received was 7.29 Mbps download speed which was 26.42% of the original speed. Because of this result, we were not having high hopes for getting a good upload speed. But, the result was surprising.
The upload speed delivered by this server was 19. 75 Mbps and the reduction was of 24%. We can consider this speed acceptable, but better output speed must be provided if it's their 'fastest server.'
After this, we discovered that switching servers is possible, but the data left was limited. So, we sped up and connected to the United Kingdom server.
And we are not really looking forward to connect to it again.
Download speed was 1. 72 Mbps and Upload speed were 3.07 Mbps, and the reduction in both the cases was more than 85%.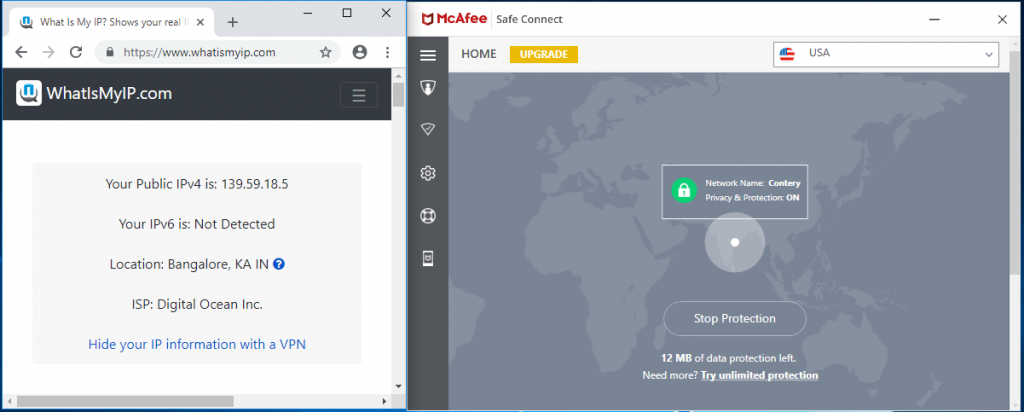 We moved towards the United States, but for the first attempt, it was showing a non-US IP even after getting connected to the United States server.
The second attempt worked, and the IP changed to New York. Now, comes the speed test results which provided us with the best outcome for the download speed.
It delivered the download speed of 7.46 Mbps which was higher than what we received by the automatically selected server (with a difference of .17 Mbps).
But for upload speed, the result was even worse than the United Kingdom server. It was the lowest upload speed obtained among all the trials. We received a speed of 1.35 Mbps which is just 5% of the original upload speed.
So, looking at all the trials, it can be concluded that it's better to connect to the fastest server as both upload and download speeds were maintained at a good level.
Security
Even though they have their own DNS servers, it is useless as if not the third parties then they themselves log our information which we have already discussed in the "Privacy Policy" section.
The information about the protocol is neither provided on the website nor in the client. Generally, OpenVPN protocol is best-suited options, and so, VPN application prefers to set it as the by default protocol.
But from the FAQ section of Hotspot Shield, we had discovered that there is a possibility that McAfee uses Catapult Hydra.
We can't provide you the surety about this as the customer care execute was himself unaware of the protocol used.
Also, for Hotspot Shield and Kaspersky Secure Connection, which have implemented Catapult Hydra, the speed is astonishing, nearly equivalent speed before and after connection.
By taking this is a consideration, we can't be hundred percent sure as the speed that Safe Connect delivers is nowhere near to the equivalent speed.
The information about the encryption is also not added anywhere, and we can just assume it to be of high-grade considering the reputation of the company. However, no concrete claim can be made about it.
If the user wishes to enhance the security himself with the help of configuring the client using the settings provided, then he will be dissatisfied as there are no features added related to security.
They don't even offer a built-in kill switch, and so, it's not completely safe against the hackers who may attack the device when the VPN connection drops.
When security is considered, it's ironical that the VPN's name is Safe Connect, and it doesn't have options to safeguard the connection.
User Interface and Experience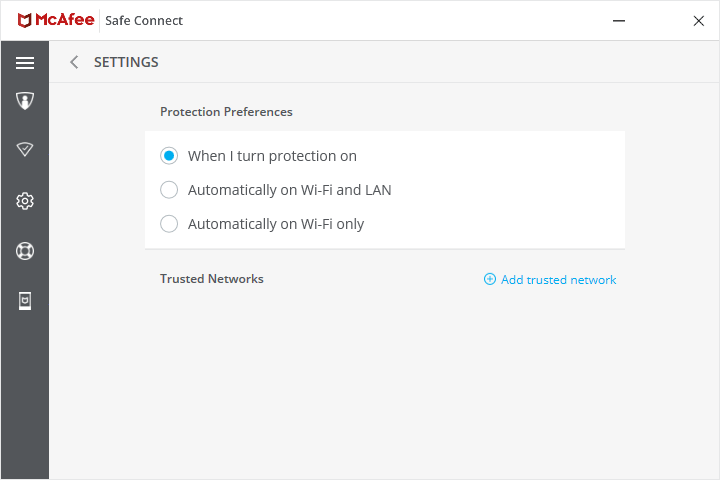 It's simple and easy to explore. Best for the users who just wish to encrypt the data and hide their IP address from the ISP and other third parties.
With one click, all the data can be tunneled through the virtual private network created by the application. As soon as you click on the "Start Protection" button, it will automatically select the fastest server for you, and connect your device to it.
You also get the option to choose amongst the servers from the list of countries. However, you can't select the exact server location.
Also, there are no other server selection, sorting or filtering options present by which the user can identify the required server.
The user interface contains a menu with five tabs, out of which only one tab has options that allow us to make changes.
In the settings tab, you get the option to allow the VPN to connect automatically and add trusted network for which you don't need to use the VPN.
So, with no more features, McAfee Safe Connect doesn't permit its user to enjoy a customizable virtual private network.
If they would have added some features related to connectivity (Ex: Protocol and Port Selection), security (Ex: Kill Switch), functionality (Ex: Split Tunneling), and server selection (ex: Sort by Latency), then the user interface could be acceptable.
As of now, it's very basic and needs a lot of feature additions to satisfy the customers.
Platforms and Devices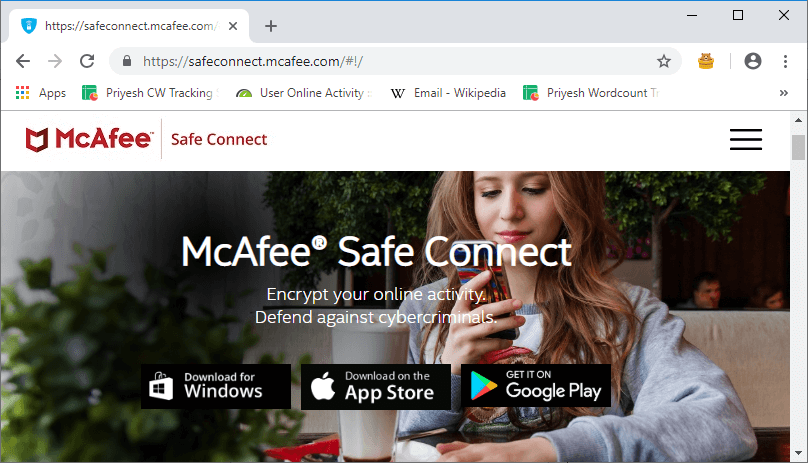 The client is only available for Windows, Android, and iOS. The application covers none other than these platforms.
So, if you are a MacOS or Linux user, you will be disappointed to hear that this product is not for you.
You don't even have the option to install configuration files on any platforms. That's why even OpenVPN GUI can't be used for MacOS and Linux.
If you are thinking of installing it on routers, and then using it on your devices, no, it's not possible as it's not even available for the mainstream router firmwares such as DD-WRT.
They also need to add browser extension which may aid the users to have a secure browsing experience.
Customer Support
Safe Connect is owned by McAfee which has a huge user base for its antivirus product which already has customer support of its own.
Setting up customer support for McAfee Safe Connect would have been easy for them.
However, it's among very few providers who have phone support also in addition to live chat support.
It should be noted that according to the plan description, the support is only for the premium users, and free users can't take advantage of it. But when we contacted the support, they replied to our issue courteously within a few minutes.
They even offer remote access support so that they can check the issue themselves and solve it efficiently. We were not expecting such a good support system for Safe Connect.
However, there was lack of information such as knowledge about the encryption used by the application which the executive doesn't know. It also took some time for him to reply about the 'DNS servers query.'
If the chat disconnects in between, the support can even contact you via calling. But it's up to you if you are ready to provide the PII or not.
From their end, no major disappointment will be rendered, and remote access request shows that they are ready to help their users in every possible way.
Conclusion
Apart from customer support, they need to work on every attribute. They must start it by 'disabling log collection' as it neglects the reason why we even use the VPN.
Adding features that offer more user control should be the second thing.
After that, they must work on finding the solutions for delivering better speed, probably by improving the server infrastructure. There is no need to target for 90% speed of the original speed, but it must be at least acceptable.
Then they can go on with adding servers, and options to sort and filter them.
A long road to go it seems. But if we talk about the current client, there are many elements which are missing and recommending this product is something impossible.
If they start improving now, perhaps better client can be delivered with several features, in addition to this amazing customer support.