Pros: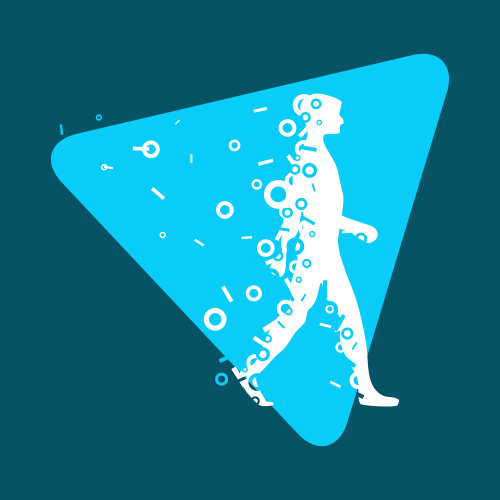 Highly configurable features are available that provides the complete user control over the application and allows him to set it according to his specific requirement.
Easy to use split tunneling feature with advanced settings are available.
Custom port selection is available for IKEv2, OpenVPN, and SoftEtherVPN protocols.
Auto-connect option let you establish the VPN connection when you start the system or the application.
Availability of Stealth mode helps you to bypass ISP throttling.
Cons:
It only has extensions for Chrome and Firefox and not for Opera Min and Internet Explorer
You can only use 2 GB of data for the free version and plus plan allows 75 GB data transfer. However, you can enjoy unlimited data transfer by purchasing the premium version
Only three server locations are available in free version.
Website: Visit Official Site
Overview:
HideMe is a virtual private network service provided by eVenture Ltd., an online security company founded in 2008. The purpose of the company is to help the internet users to access all the websites that are available on the internet without having to be restricted by the government or the ISP.
On top of that, the goal of the company is to provide the best privacy and security protection for the users, making it possible for them to browse the internet anonymously. It offers the combination of security and speed with full security protocols to use. It is simple to set up with zero logs and various server locations around the world.
Privacy Check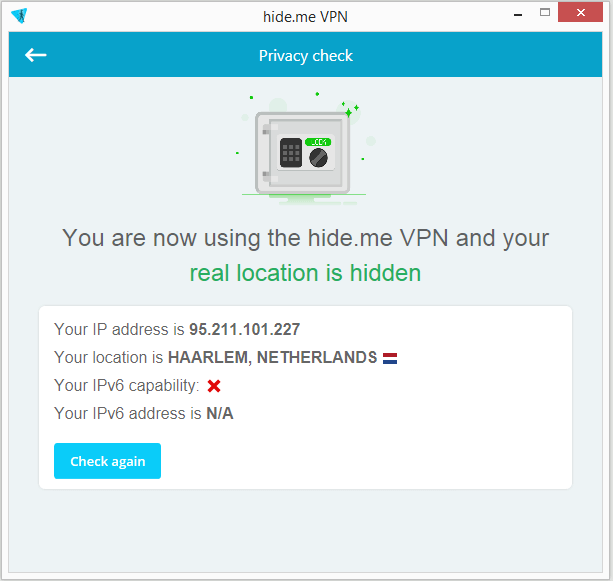 When you are not connected with the VPN provider, your true IP address will remain visible on the bottom left corner of the main screen. As soon as you get connected, it will show the changed IP address instead of the original one. When you click on the "Details" button, a pop up will appear showing you your changed IP, its location, status of IPv6 capacity, and IPv6 address.
Fallback Protocol
When the initial connection fails, the app tries to connect with another protocol at the same time. You may need to compromise with speed if that occurs but it at least it confirms the connectivity. You can select the fallback protocol of your choice. It automatically connects to provide the best speed and security.
Advanced Network Settings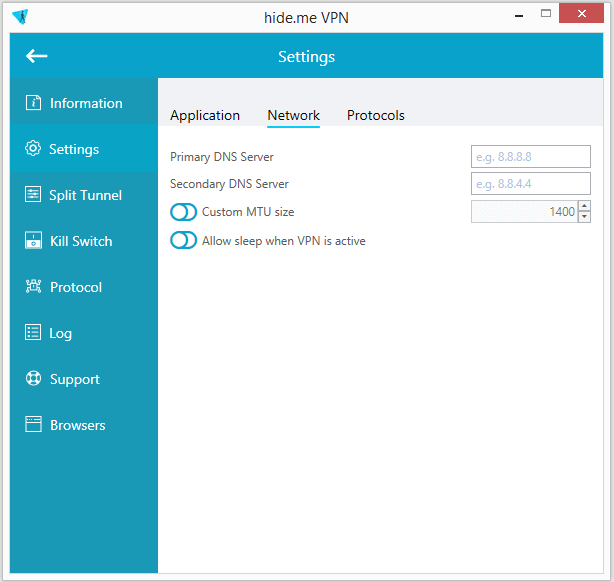 Adding primary server DNS and secondary server DNS of your choice are the distinctive elements that not many VPN providers provide. You also have the option of altering the data packet size by configuring MTU, which is 4000 by default. It also has an option of allowing sleep while VPN remains active. These advanced network settings are required to be changed but only when asked by the Hide.me's customer executive.
Protocol Configuration
Protocol configuration is available IKEv2, OpenVPN and SoftEther VPN protocol. You can also disable or enable stealth mode even while VPN is turned on. Stealth mode is recommended to bypass ISP throttling. By default, for IKEv2 and IPSec SA port numbers are 76 and 443 respectively that you adjust anytime.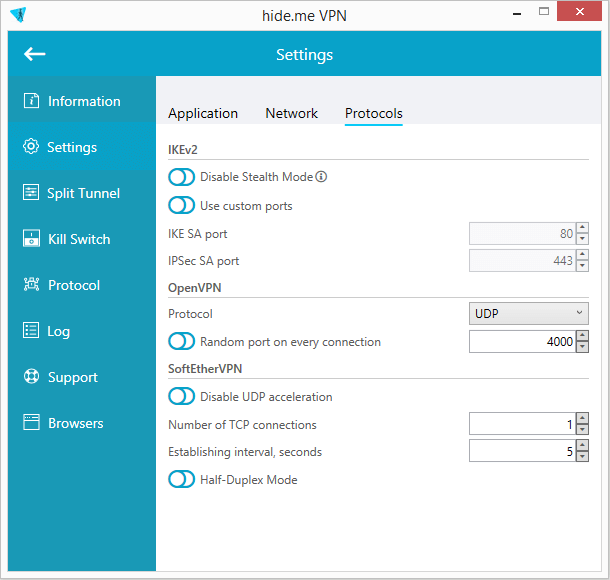 For OpenVPN, the option of using UDP and TDP are available for which you can choose to have a random port connection every time it gets connected.
In the case of SoftEtherVPN (You first need to download SoftEther TAP Adapter for using this VPN Protocol), UDP acceleration is available, and some TDP connections could be increased up to 8. Half-duplex mode is also available through which you can allow data transfer only in an open direction enhancing the security aspect. The protocol settings directly affect the performance of the app. Careful use is required, and as Hide.me has provided so much control to the user, it could cause positive as well as negative effects.
Split Tunneling
Split tunneling is the requirement through which you can access both, the regular network as well as the VPN network. Here, it is delivered with a few advanced options, and it is one attribute for which Hide.me could be recommended for users who required a well functioning Split Tunnel. You can simply click the "+Add" button to add the app to the list. Now you have two options:
Do not allow the selected apps to use the VPN
Only allow the selected apps to use the VPN
Now all you need to do select one according to your requirement or else you can choose all apps to use VPN but well, if there isn't this option available, I would automatically be using VPN for all the apps so, the purpose for this particular option isn't clear.
When you click on the "+Add" button, you have an option of selecting only windows apps. That automatically filters all other apps and let you choose for some specific apps.
Kill Switch Configuration
Killswitch is a savior when the VNP unexpectedly stops. It's present in most of the VPNs but Hide.me has additional features which make secure. When the Kill Switch comes in action, it stops all the Internet traffic, and that helps to avoid any data leakage. When the Kill Switch is triggered, you can enable any script making it more secure. This can be done directly by browsing the script from the local drive. You also have the option to configure its visibility (Hidden or Visible). You can also choose to enable a different script when the Kill switch is turned off. The only issue is in some case; you can't run it in hidden even if you choose "Hidden" option for "Visibility."
Complete Internet Freedom with No Logging
This VPN service can help you to break free from the internet restrictions as imposed by your government or ISP, meaning that you can visit any website that you previously cannot visit when using the regular connection. Moreover, there is no censorship in your online activity, meaning that you can enjoy any website on the internet as they are meant to be enjoyed. However, Netflix is not available for Hide.me VPN provider, but for accessing Netflix, you can use SmartDNS. Also, this service has gone through various security audits that ensure it doesn't have any hidden logging system to monitor your browsing data. With no logging for your browsing activity, you can ensure that your online activity stays private and secure.
Connection Logs
Make a note that if you are getting the access to your connection logs, Hide.me is also saving it in its database. However, these logs do not provide any harmful information, and you can give away them anyway. The connection logs can be copied to clipboard if you wish to create a document regarding that or else you can you can clear them all. But, clearing then from your screen doesn't deliver the meaning that they will be removed from the provider's database also.
Connection Time Analysis
The instant response is bliss, and that's what we are getting here. If you are someone who could not wait for start browsing and you always require VPN connection instantly then using Hide.me would be beneficial for you.
In the analysis, you can see that the longest connection time was 8.36 seconds which isn't even the shortest one for many of the VPNs. However, in a few cases, it took longer time or else connection failed but that is a very rare case and hence, Hide.me is reliable for establishing an instant connection. And, it should also be mentioned that it takes a few seconds to get disconnected.
If you are using the free version, it may show the error which is shown below.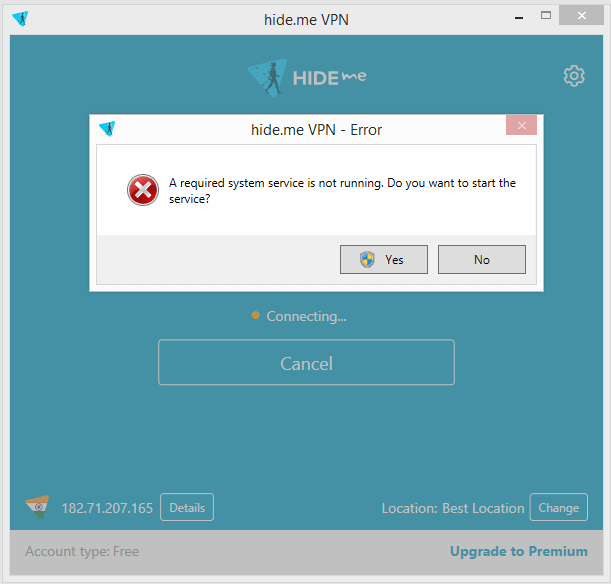 It may be because of the high traffic on the free servers. If you face the same error use "Task Manager" and "Force Quit" for Windows and Mac respectively to shut down the application. After that you can try to re-connect it otherwise one won't be able to use the client. The other option is to change the server location while it shows connecting and if you would be lucky, you will get connected.
If you use the paid version, this problem may get solved as the traffic gets distributed over all the servers available worldwide.
Speed Test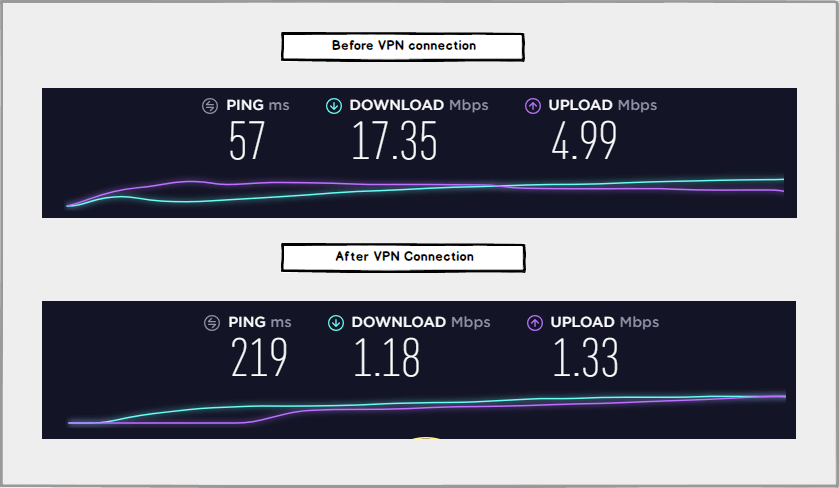 Speed is one of the important deciding factors when it comes to the selection of a VPN provider. Unfortunately, if you are going to use the Hide.me's The free version, you are going to experience tremendously reduced speed. It's because of the limited number of servers, but you go for Plus or Premium version, this might not be the case. The downloading and uploading speed without connection were 17.35 Mbps and 4.99 Mbps respectively, but it has reduced to 1.88 Mbps and 1.33 Mbps respectively. When you get the access of plus version, you get chance of using all the servers, and then this reduced speed will not come in your way for browsing, torrenting, etc.
Security
Hide.me uses AES 256-bit key which is the highest level of encryption that encrypts all your data, and for advance security, there are many configuration options that one can find in the settings menu. It offers most of the well-known protocols such as OpenVPN, IKEv2, SoftetherVPN, and SSTP. If you need to bypass firewalls, SoftEther is the most reliable one, and when it comes to performance and security, OpenVPN stands high.
The security features such as The Kill Switch, Custom Script Selection, and Port Selection makes it a trustworthy VPN provider.
Also, DNS Leak test and LAN blocking secure your data from reaching to any third-party.
Platforms
They cover almost every Major platform developed by Apple and windows. It is also available for Ubuntu and Blackberry, and thus, all the users with different choices can use it.
The problem of one simultaneous connection is solved by installing this application in a router which could be done in three easy steps:
Selecting the Operating system
Choose the protocol (OpenVPN preferred)
Watch the step by step tutorial to install it.
Once you get connected, you can manage your VPN connection with OpenVPN. For an established connection, it shows a green color.
It also provides extensions for our favorite browsers: Chrome and Firefox which are used in most of the cases. However, an extension for Safari isn't available right now.
Customer Support
You can reach out the customer support through live chat, generating a ticket and by joining the community. They will ask for the information about the registered E-mail and reply to your query though it after you select the category of the query (Billing, Sales, and Technical).

When we opened live chat, the same dialog box appeared which was there was "generate ticket" option. It took some time, but after that, I received a reply to my query through E-mail. "Join Community" could also be a better option. Here, communities work in two different languages which are English and German. The users of other languages might face a problem here. They are divided into five categories: Announcements, Tutorials, Support and Question, Off-Topic and Proposals. After you join the community, you can ask a question to other users or else read the questions discussions already present. You can also put suggestions and proposals of new ideas that you wish to include in the app. This way Hide.me helps their users, and at the same time, they will they take steps towards their own improvement. As far as direct support is concerned, you can E-mail them the query directly to which they always reply as soon as they can in my experience.
Conclusion
Hide.me is one of the best VPNs when it comes to providing facilities for a free version. Even though it's free, Hide.me provides most of the features and only lock very few. There are very few VPNs which provide No Log policy for free versions. The premium and plus versions are only required if you have a requirement of more than 2 GB per day or if you wish to access all the servers. Premium version has a better speed due to the availability of more servers, and it also allows the function of protocol forwarding.
In terms of security, very few VPNs provide so many configurations related to protocols and leak protection. However, speed is an issue that customers may face. If your major aim of purchasing a VPN client is to transfer data safely without anyone's interference, Hide.me is recommended but then you need to compromise with the speed to an extent.
It is completely adjustable and customizable for your needs, especially with the port forwarding feature that allows you to activate the SOCKS5 proxy and other proxies in your connection. All in all, if you want to use a high-quality VPN with good security and privacy features, this is the one that is recommended for you