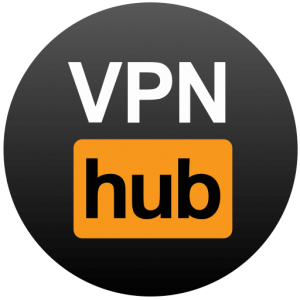 Pros
Provides free and unlimited VPN connection with personal data protection and multi-platform support. Encrypts all your internet activities on the go.
Cons
The free VPN plan is only available for mobile devices and you need to pay for premium subscription to use this VPN service on the desktop. Platform compatibility is still limited.
Overall
Provides a fast and reliable VPN connection for mobile devices and desktops, with unlimited bandwidth and server location selection for the free version.
Official Website: Visit Website
VPNhub is a VPN service provided by App Atomic Limited, a software company that focuses on creating high quality mobile apps for Android and iOS. The purpose of this VPN service is to give users the fast, free, and unlimited VPN connection on their mobile devices. It helps the users to keep their personal information and data encrypted while browsing the websites that are being blocked by the government or the ISP.
Free and Unlimited VPN Connection for Mobile Devices
The free version of VPNhub is primarily geared toward mobile device users who want to access secured and encrypted internet on the go. When you use the mobile app for this virtual private network service, you will be able to unlock the unlimited and free private connection without having to worry about the bandwidth limit.
The mobile version of the service is available both for the Android and iOS platforms, and you can simply download this app from the respective app store. The free and unlimited version is ad-supported.
Support for Both Mobile and Desktop Devices
Aside from giving the fully unlimited bandwidth for the mobile users, this VPN service is also available for the desktop users. The only difference is that if you want to use the desktop version, you need to have the premium account in order to unlock all its features. However, you can try this service for 7 days for free on your desktop.
The supported desktop operating systems are Windows and MacOS, with no support for any other platforms, such as Linux and their derivatives. The premium desktop version of the app is available with faster speed than the free version.
Protection for Your Personal Data While Browsing the Internet
The main function of VPNhub is to help you browse the internet without having to worry about various third parties that are trying to take a peek on what you are doing online. In other words, when you use this virtual private network, you won't have to deal with online surveillance system and tracking, meaning that you can browse the websites anonymously.
With this private connection, browsing the internet will never be the same. This is because the government, ISP, and corporations cannot track and monitor what you are doing online. Moreover, this app offers the no logging policy which means that your online activity won't be logged by this app as well.
Improvement for the Overall Internet Speed
Aside from helping you to access the internet safely and securely with a superior encryption system, there is another benefit that you can get from this VPN app. It can help to improve your overall internet speed, meaning that if you think that your ISP is throttling your connection for whatever reason, you will get the full speed back in your internet browsing by using this private connection app.
The improvement of the overall internet speed can be done because you are not accessing the internet through the normal ISP connection. It gives you a smoother experience when doing various online activities, such as video streaming, online gaming, online shopping, online banking, and so on.
Select Various Server Locations Easily
One of the main functions of this virtual private network service is to keep your online activity anonymous. It does that by hiding your true IP address with the IP address from their private servers. So, you can be seen as someone who is accessing the internet from a certain location that is different from your real location. For instance, you can use the US server to mask your IP address so that the websites you visit think that you are accessing the internet from the United States.
There are many server locations that you can choose with this service, and you can switch between them easily. Different locations provide you different experience, especially when it comes to accessing the region-locked content.
Easy to Use and Set Up
It is very easy to install and use VPNhub app. You simply need to download the app from the app store and you just need to switch on the private connection. There is no complicated setup that you need to follow. Once it is installed, you can use it in just a single touch.
You will automatically be able to hide your IP address and keep your online activity anonymous. You can go to Settings to switch between different servers and continue your browsing in just a few touches.
Bypass Any Online Restrictions Anywhere You Go
Whenever you are, you can use this VPN app to bypass any online restrictions and improve your online security at the same time. If your government restricts you from accessing some websites, you can just activate this private connection to gain access to those restricted websites instantly.
This is also true when you travel to other countries. You can easily bypass the local internet restrictions using this app. However, some countries that have very strict internet restrictions might not allow you to use this app, such as China, Iran, Saudi Arabia, and few others.
Conclusion
If you want a free and reliable private connection for your mobile devices that offer unlimited bandwidth, VPNhub is one of the best VPN apps that you can use today. It is fairly new in the virtual private connection market, but it already shows its quality right off the bat. However, if you want to have the full benefits of this private connection application on your desktop, you need to sign up for the premium plan.
Overall, this VPN service gives you all you need to browse the internet anonymously. It encrypts and protects your data without logging any of your browsing activity. It is also a good way to just bypass all types of online restrictions while you are traveling or on the go. It is definitely better than the similar free VPN services that offer their private connection for free, but with a limited bandwidth and unreliable performance.