Pros
Freemium version: Unlocator comes with a 7-day free version with all features unlocked.
Worry-free setup: Even without having a separate application, it is easy to custom install the configurations on any device.
Diverse device usage: Unlocator is available to use on many platforms and devices.
Multiple connections: One can use the Unlocator service on as many as a device he wishes.
Wider Channel Support: It has support for 200+ channel services with more to be included soon.
Complimentary VPN: Unlocator also has a separate VPN configuration for users who have trouble in using DNS services.
Anti-logging terms: Unlocator is obliged by its privacy policy to not store/log any user data to maintain anonymity. They do store bandwidth details and net usage to prevent malicious use.
Cons
Lacks multiple router setup: Unlocator still has a few of routers left to support their integration fully.
ISP blacklisting: Many ISPs have blacklisted the DNS service, and so you might need to use the VPN.
Mediocre costing: The subscriptions seriously need much better options and discounts.
Average help desk: Customer support is only accessible via ticket and live chats.
Restricted P2P over DNS: Unlocator restricts p2p or torrenting for its VPN services.
Mediocre VPN: Unlocator has provided a mediocre VPN in case the DNS service does not work. This VPN is not so secure and just a temporary getaway.
Overview
Unlocator is DNS service operated by a Danish IT company named Linkwork ApS, based in Copenhagen, Denmark.
DNS services provide a change in DNS so that any geo-located restrictions can be turned off without using a VPN service. DNS service help to redirect the clients' web requests from its own servers.
The DNS service also has a seven-day trial version where users can check if to the service us worth buy or not.
Unlocator has support for over dozens of different devices and can be accessed on many platforms.
Regional Settings and Channels Support

The Unlocator DNS Service offers various settings for different regions and avoids any traffic load over single DNS.
There are much greater contents to stream all over the web. Many of these contents are affected by geo-restrictions. To combat this, we can either use a VPN service or change the DNS to access that content.
For a DNS service, most users only need to do some configurations change in the network settings and voila! You can now stream the geo-restricted content and that too at high speed than a VPN.
Unlocator has provided support for 30 countries on different streaming services.
Unlocator DNS service can incorporate most web restrictions via one time change in DNS configurations. Although, many streaming and web services blacklist such IPs and DNS addresses and so you may need to utilize a VPN as a last resort.
For sites like Netflix, Unlocator has enabled special beta service for better accessibility to the paying customers. Some regional channels do not work over common DNS, and so they have given separate DNS addresses for those local channels.
A single DNS change cannot unlock every regions' content. Many services employ a strict method to filter any non-genuine location, and so one may need to switch to many DNS to see if they are working for that content or not.
Not only you can change the DNS for PC based devices but also for many machines like Consoles, routers, mobile devices, Smart TVs, etc. The broader area they cover, it will undoubtedly give customers independence to use the service anywhere at the get-go.
Unlocator provides support for over 220+ channels across many nations. It includes availability for popular channels like Hulu, ABC Go, HBO, VUDU, BBC iPlayer, Netflix, Spotify, Amazon Prime, MLB, etc.
The information regarding the server location was confidential, and we also did not find it on their website, nor their customer support disclosed it.
To see a full list of channels available, visit here.
Performance
DNS services usually have no speed restrictions but many times things like users' internet, connectivity issues, problems in re-routing, etc. can affect the performance after changing the DNS.
DNS change is only used to re-route the traffic to spoof the location of the user and does not provide encryption. That is why we would not experience much difference in speed.
Unlocator does not provide the streaming service but only helps with geographic checks. As mentioned above, several factors can decide the performance while using the service.
Routing change will happen from time to time and very likely that you may experience some change in bandwidth when it happens.
In current testing, we found that the bandwidth was similar when changed to different DNS and some of them were not responsive, maybe due to ISPs blocks.
Response Test
Many of the DNS services claim to have provided you with the fastest speed but how to check such claims?
To check this out, a DNS response test was done by us. For this analysis, we have used "namebench," a DNS testing tool. This tool can test to check DNS response time and advise which DNS is fastest for the current machine. A DNS response tool is used to log the average response time of various DNS.
For our test, we had selected the top 2000 website from Alexa; this will avoid any biased results in case of locally stored DNS cache. The Nameserver has an empty field to input the DNS servers for which response time is to be compared. The query field must have a minimum entry of 200, and we used the default 250.
The entire duration for the test to be completed is around 15-20 minutes. Once the test is finished, the tool saves all the data in the temp folder of your windows OS. In that folder, you can see the .html format file that will give you visual data like a bar graph, point graph, etc. The data is automatically displayed after the test results.
The essential points to be checked on the result page is the recommended server, response distribution chart, Average response time graph.
For skeptics, we were using a 50Mbps broadband connection for this test, and so we doubt if any results were altered due to slow connection
Recommended server showed us UltraDNS-2 to be fastest for our machine.
The response time graph had shown UltraDNS-2 as fastest with around 260ms time while Unlocator DNS had around 480ms time. Also, OpenDNS and GoogleDNS were better than this.
The last graph for response distribution evaluates x% of queries below 3500ms. Here too, Unlocator failed to surpass UltraDNS-2.
Sadly, Unlocator even though providing good speeds and content unlock was not the fastest DNS for our location. The results can be affected by many things like server locations, ISPs type, Local DNS cache, etc. but we tried our best to avoid all these issues.
Security and Privacy Policy
DNS services require changing some of the internet configurations and some people may be a skeptic to see this as some data threat. They may suspect a system hijack or remote access, or someone may do a MITM attack and snoop all over your data and maybe use for malicious purposes.
Many such exploits are usually not from the server side, but there are ways in which the exploits can be minimized. The DNS servers also need good security to protect the user data and not allow any malicious attacks.
Unlocator has assured that these third person attack via their server are not possible and MITM attacks cannot be stopped via non-VPN service.
Unlocator also has a Smart VPN. This VPN is used in case of DNS hijacking. The VPN provided is not in separate software form but only required a change in some of the network settings. The VPN can only select a few of the listed countries, whose content you want to be unlocked. There is not much input available from the user side.
Being only a backup method for an unlucky user, who could not use the DNS service, not much is to be expected from this VPN.
The privacy policy can help us identify specific anonymity guidelines, third-party involvement, data exchange policies and let the user understand how their information is going to be used.
Unlocator gives some data to hosting providers for service checks and functionality. They also use some data processors to exchange user information. Both of these parties are under an NDA bond and are not allowed to sell, transfer the data to anyone except the company.
You can check the full list of data processors here.
Unlocator DNS have access to some of the client info like:
Email: To give offers and deals to the client and also maintain records of their subscription.
Name & Location: This may raise some brows, but as per information in our talks, they assured it is for tax and billing purpose only. They do not share it with anyone.
Credit card: Some of the necessary transactions' details of your payment method like a credit card, debit card, etc. are used. This information gets deleted after the purchase and never stored in their server.
The IP address of clients: the IP address is needed to give the client a proper connection to the server and also for API keys.
The privacy policies of this DNS service follow Denmark's jurisdictions. Denmark is one of the EU countries that encouraged logging of user data to fight cyber-crime and terrorism. This allows any service providers to log the user data for a year. The jurisdiction is not at all privacy friendly in this country.
The DNS service employs a No-Log policy. Under this policy, they do not store any user logs except some for the identifiable personal level to prevent abuse patterns. These few logs are deleted after 24 hours with no backup.
Thus, the security and privacy policies are good enough to safeguard some of your data on their server and prevent any malicious uses of your personal data.
User Interface and Experience

Even though a separate setup is not expected for a DNS provider services, a separate dashboard on the main website that can display account information, a region currently supported, DNS check, etc. can be plus points.
Unlocator also provides a personal dashboard on their website.
The UI panel has tabs like My account, region settings, Advanced settings, Smart VPN, Profile and Billing Info and Affiliate info.
The first option in the dashboard shows details on the current DNS and IP address of the user, along with the status of account type, i.e., trial, or premium.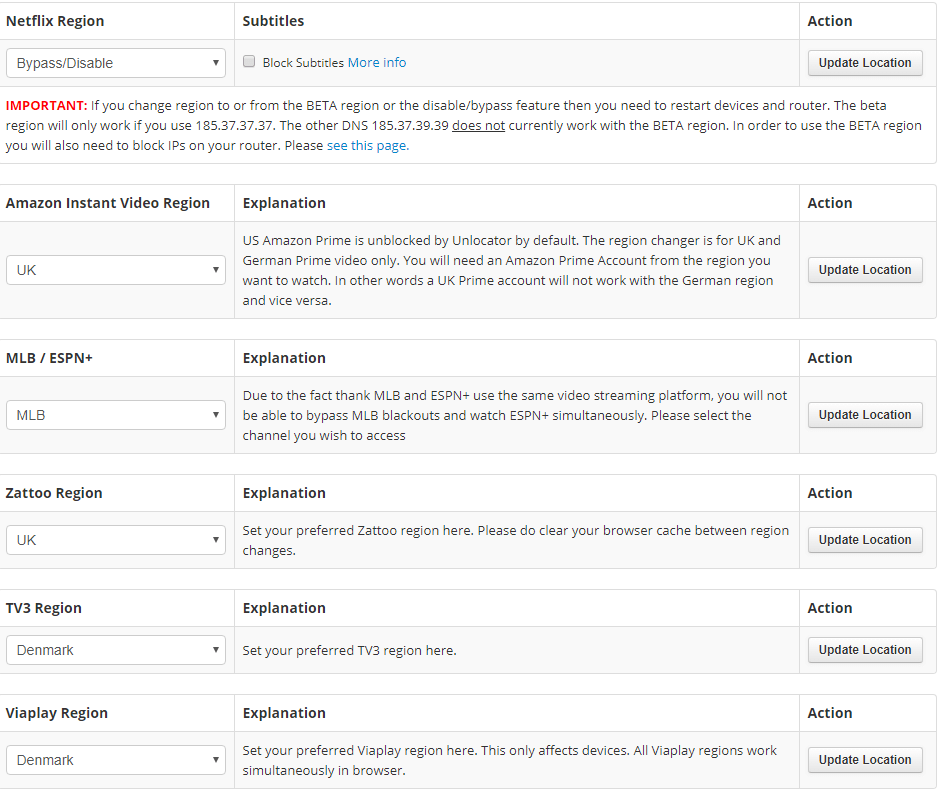 Next comes the region settings which have multiple options to select the streaming services according to the region. Some of the streaming services are not available via a single DNS change. These services have the same channel platform, due to which, we need to select the entire region package that comes with multiple channels along with your desired channel.
The Advanced settings options include the API keys for the current user account to update the dynamic IP of the user every time they visit via different IP address. There is also an option to synchronize it with DynDNS or any other dynamic DNS services.
The Unlocator provides users with Smart VPN service. There are times when your ISPs figure out that you are using third-party DNS services and so they will indulge in DNS hijacking technique.
DNS hijacking involves dynamic redirection of traffic to their own servers, usually employed by ISPs. Such tactic is employed to give Ads on non-existent domains or to block users just to get kicks out it.
This can be bypassed by using Smart VPN by Unlocator. They have provided a detailed guide on how to set up this VPN connection.
The Profile and Billing Tabs include the users' personal data like Name, address, credit card info, list of IPs saved by users, etc.
They also have an option for customers to become affiliates and do branding for their products with a good paycheck.
Subscriptions
Unlocator has limited subscription options like a trial version and a paid subscription. The trial version lasts only 7-days.
Both of these versions have the same features, and they do not subsidize the bandwidth for free users.
The base price of the product is $4.95 /month subscription. For longer duration, another deal provided is for six months and 12 months.
The six months package has a price set at $27.50 with 7% savings and the 12 months package have $49.95 with 16% savings.
They also offer a discount for first-time subscribers with only $37.46 for 12 months with 40% savings
So, if you are thinking for a long-time usage of their services, the best option is to opt for a yearly subscription to get extra savings.
Platforms and Devices
How easy it can be if we could unlock any geo-blocked content over the internet at any where, any time and for any device, we want? This is only possible if the DNS service you paid for, had broader device support.
Unlocator has extended support over most internet connected machines. The service of Unlocator is extended to many devices as below:
Single user Devices:
Operating systems: Windows, OS X, Ubuntu.
Media Players: Apple TV, Amazon Fire TV, Chromecast, Boxee, etc.
Gaming Consoles: Xbox, PlayStation, PS Vita, etc.
Smart TVs: LG, Google TV, Samsung TV, etc.
Phones and Tablets: Androids, iOS, Windows Phone, and Kindle.
To use it over many devices simultaneously, the support is provided on various routers like Huawei, D Link, Asus, Linksys, TP-link, Netgear, Cisco, etc.
Thus, a user can enjoy the service across several platforms with little effort in setting up the layout for every device, by directly integrating into a router.
To access the full list of supported platforms and routers, please visit this page.
Setup Guides
In this section, we will review some setup configurations and how much effort they take for a novice user and decide if they can be eased up a bit by more clarity in expression.
The more the devices, the more different setup configurations will be needed for each one of them. Below are some of the devices and their setup techniques:
Windows devices:
Select the "Start" menu and go to "Settings."
Click "Network and sharing" after that.
Choose" WIFI or Ethernet" as per your connection type and click "Change Adapter settings." Right-click the desired network and press "Properties."
Uncheck IPv6 – A must do step. Click on IPv4 option and select "properties."
Input the below details in DNS section
Primary DNS Server: 185.37.37.37 &Secondary DNS Server: 185.37.39.39
Android devices:
Go to the settings option in the App drawer menu. Press on Network & Internet.
Press "WiFi" and hold on to the connected network for 2 seconds.
Press "Modify Network." Go to the "Advanced Options." Below IP settings, select static.
Insert the following data in the DNS servers' field, DNS 1: 185.37.39.39 & DNS 2: 185.37.37.37
Routers (D-Link):
Enter your web browser and input "http://192.168.0.1" or "http://192.168.1.1" based on the model of router, into the address bar. If you cannot access the Routers' internal page, see the help sheet in the box or online to see exact URL for it.
The login credentials are different for different routers, use the manual to input correct credentials.
Click on the "Manual Internet Connection Setup" option.
Insert the given DNS servers -185.37.37.37 and 185.37.39.39
Click Save and then do a restart of the router.
The users need to unlink the WiFi-router from MyDlink services. This service sometimes clashes with the given settings and may disable the Unlocator DNS service.
Do not forget that "Enable DNS relay" is turned off under network settings.
For find detailed guide on configuration settings of various devices, visit here.
Customer Support
Have you ever fallen in situations where you cannot find the correct setup guide, get an issue even after following instructions from the main website or get constant crashes? Such things are and will be common, and for that, we need a customer support team to help us out.
The DNS service has very limited setup and rarely needs support team for configuring the setup. However, there can be times when you are facing network issues, or server not responding, your DNS blocked by ISPs, etc.
Unlocator has given only basic help service over Email support, and also via live chat help.
The Email ticket offers queries' submission sent to customer support directly to help the customers in finding solutions.
The Live Chat support can interact with the customer support executives on a chat window, accessible from the main website. Ask any question or troubleshooting help you want, and the support team will surely help you.
For our review, we contacted the support team via both of the above methods. The Email support resolved our issue within 2 hours of our ticket submission. Besides, we used chat support too and got connected to one of the customer representatives. This support guy quickly answered our product related queries and helped us resolve one of our issues where we could not open certain streaming facilities even after changing DNS.
They also have Facebook and Twitter pages, but they redirect them to chat and Email support.
Even though customer support is only limited to chat and Email, they did an excellent job in weeding out our problems.
Conclusion
Unlocator is a smart DNS service that helps user bypass geo-location restrictions. It does not process or encrypt the data like a VPN service but only helps to redirect the traffic.
Apart from the pricing, we did not find any significant issues while using this DNS service. The configuration setup is effortless and can be done by novices. The amount of channel support is considerable and covers top channels across various countries.
Being a provider of DNS service as their primary goal, the VPN which they provide in case of DNS hijacking seems ok. They have not mentioned any steps to configure this VPN for the latest system of Windows and MacOS.
The privacy policies don't matter much because all traffic is not encrypted and is visible to your ISPs. However, as a third party, they do not store your personal data.
The only thing that could have made it better was to have a separate software along with all features like they provide on their website. This software can be installed directly on compatible devices and automatically change the DNS settings without troubling users.
They have problems with unblocking Netflix. They have a separate beta testing for Netflix. However, Netflix is very stringent and blocks any form of location spoofing techniques like a proxy, VPN or DNS change. They have not mentioned the Netflix support on their list of supported channels.
At last, we would recommend trying a trial version before a paid subscription. The paid services are a bit costly, and so they need to come up with more cheaper plans. The service is definitely worth it, and most people seem to have enjoyed it.