Pros

Cost Effective and Multiple Plans: It is one of the cheapest ways to get access to geo-restricted content. Also, there are multiple plans available among which you can select the one which provides the right balance between the period and the cost.
Additional VPN Service along with the SmartDNS: Without paying any extra bucks you can use their VPN application also which has a vast server network. So, you also get an option to enhance your data security.
Unblocks most of the Prominent Channels: That's why we use SmartDNS service, and Smart DNS Proxy performs its job very well when it comes to unblocking.
Thirty-Days Money Back Guarantee: Even after providing a fourteen-day trial, you have the option to request a refund before thirty-days. This gives you the option to test the VPN application also. If you are not satisfied, you can email them and get back the paid amount.
Jurisdiction: Jurisdiction may not matter much if you are using SmartDNS service, but while using the virtual private network, you need to take care that it must be out of 'Fourteen Eyes' countries. Smart DNS Proxy's parent company is headquartered in Seychelles, and the country doesn't have any strict data retention laws.
Unlimited Simultaneous Connections: You can connect any number of devices with the help of one Smart DNS proxy account. However, in the case of VPN, only five simultaneousconnections are allowed.
Detailed Configuration Guides: For every platform, there is a comprehensive configuration guide which provides step by step procedure of setting up DNS servers on your system.
Huge Server Network: In both, VPN's and smartDNS' case, server network is huge which ensures high performance and reliability.
Cons
Not available for Windows and Blackberry Phone: Although the service is available for most of the platforms, they missed these ones. However, you can use their DNS servers by configuring them on routers.
No Netflix available on WD Players: Due to a physical limitation you can not access Netflix and most of the other restricted content. So, the use of Smart DNS Proxy service would be limited in case of this platform.
Overview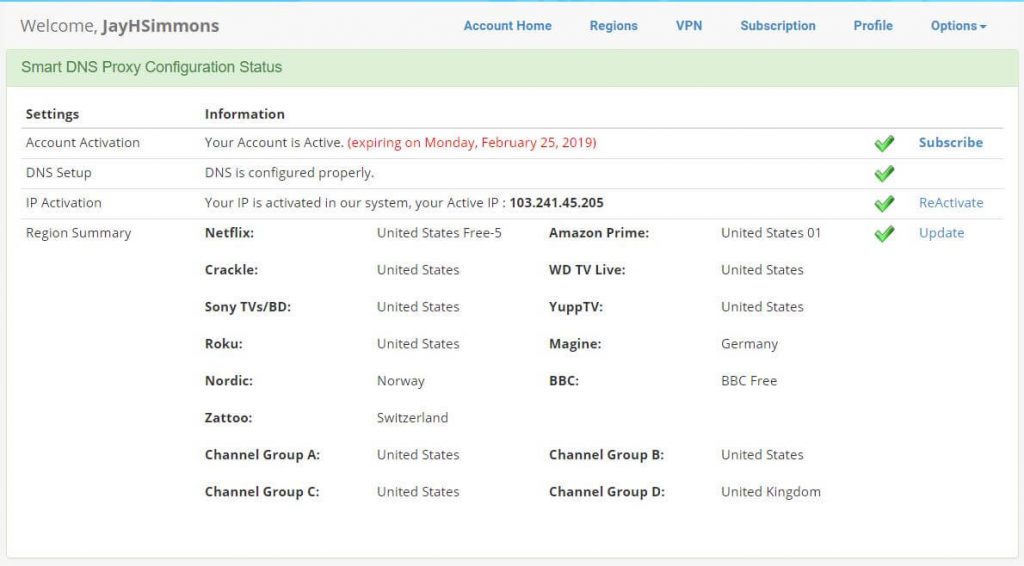 It is annoying that whenever we load a channel only to find that "this service is not available in your area." Even after paying for the service, you won't be able to access it because of the geo-restrictions.
There are streaming channels and websites which are available only for particular regions. The SmartDNS services work to make it available all over the world.
Smart DNS Proxy is one such service which is owned by Global Stealth Inc. You can use it from anywhere in the world to view the content of multiple channels which are listed on its website.
However, we must tell you that Smart DNS services will not increase the anonymity and security of your data. For that, they have introduced a VPN application that you can use along with the smartDNS.
While you are outside the permitted reason and….
If you wish to have your favorite TV shows on your screen, don't want to miss the match for which you were waiting for days, and need to stay active on social media websites, using smartDNS could be the best solution.
But it is not necessary that every smartDNS product will fulfill your requirements. To know more, just scroll down to find if the Smart DNS Proxy works perfectly for you or not.
Pricing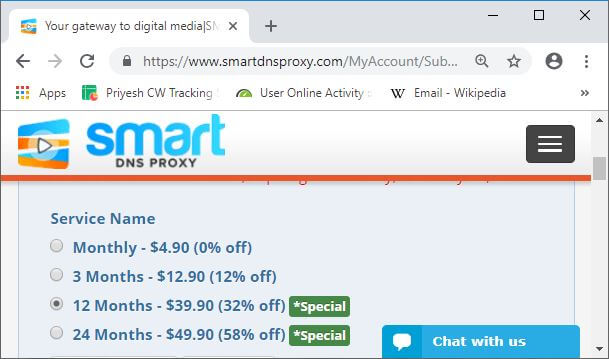 Pricing is one of the main factors that anyone would take into consideration before purchasing a product.
Generally, smartDNS services are inexpensive and fit in everyone's budget. However, it is only worthy to pay for it if they allow the required access.
Let's discuss in detail about the pricing so that you can decide whether it is a good choice to exchange the money for the access that it provides.
Initially, if you wish to examine the functionality, you can start with the fourteen-day trial. Well, at least it will allow you to watch shows for two weeks without peeping in your pocket.
This could be the best option if you are out of the country (whose content you wish to watch) just for a few days. But the regular travelers need to buy the product as the trail is only for one time.
There are four different plans available which make it flexible for the user how he wishes to spend the money.
If you want to give some more time to check the application, you can purchase the monthly plan to come up with a concrete decision.
For that, you need to pay $4.90. Keep note that the billing cycle works monthly and not according to the number of days. For example, if you purchased the subscription on twelfth, then it will be renewed again on twelfth, and not after a fixed number of days.
After this one month of streaming using Smart DNS Proxy, lots of popcorns, and sleepless nights, you can decide whether you wish to continue with the product or not.
You have the choice to cancel the subscription, or else it will recharge your account for the next month. If you are willing to continue, it will be done automatically.
However, if you have long term plans, it would be better to get a one-year or two-year plan. For the long run, these plans would be cost effective.
For the one-year plan, you need to pay only $39.90, and for two years, it is $49.90.
The only other option to get access to the restricted shows is to travel to the country whose channel you wish to watch. Guess, purchasing a Smart DNS Proxy would be cheaper.
Well, what if you get an additional product along with it? If you purchase the Smart DNS proxy, you will be allowed to use its VPN service also.
In that way, in addition to bypassing geo-restrictions, it will also deliver privacy to you. And the best thing is, you don't need to pay anything extra!
Privacy Policy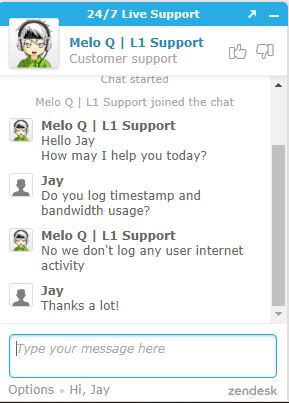 Even though there is not much information available in the privacy policy, we found the golden words we were looking for:
"The Website does not, and will not, actively monitor user activity for inappropriate behavior, nor do we maintain direct logs of any customer's Internet activities."
By communicating the support team, we got the additional clarification that they do not even keep the timestamp and bandwidth usage.
That's beneficial while using both, SmartDNS and VPN client.
Guess the jurisdiction of such the service which holds such strong privacy? Well, it is the loneliest, isolated country with amazing beaches: Seychelles.
Seychelles has user-friendly laws, and it is easy to keep the data confidential as the government doesn't conduct any surveillance programs on their citizens.
However, if in case the law asks for the users' details, Smart DNS Proxy is bound to provide whatever data it has in its system.
Also, if they smell violation of Terms of Service, they may track your activity, so be careful about this point.
Refund Policy
Sometimes it happens that a product doesn't match with our requirements. At that time, it is unworthy to pay for it.
If you have already made the payment, and after that, you realize that you got the wrong product, you may wish to get your money back.
However, sometimes it is easy, and you can get it back just by a click. It is called "No-Questions-Asked Refund policy;" the one which ExpressVPN provides.
Here, when you are purchasing Smart DNS Proxy make sure that you take the benefit of the trial version first so that you will get a complete idea about their service.
If you skipped using the trial version or found any limitation after the purchase, you can get your money back. But you won't get it with a click.
Only new users are allowed to request a refund. If you are a paid subscriber for more than a month, getting a refund won't be possible.
For the annual plans, the refund window is open only for the first thirty days after purchase.
Now, for getting your money back, you need to write a letter or an email regarding the cancellation.
This is done to prevent any misuse of the refund policy which they have implemented for the benefits of users.
Make sure that they get back to you acknowledging your refund request.
Servers
For SmartDNS
Unlike VPN, smartDNS servers do not encrypt the data.
But these servers are efficient enough to unblock the protected content which is limited to a particular area or country.
In total, they have DNS servers in twenty-two country. Support team explained to us that they have servers at multiple locations to avoid ISP throttling.
In case if the ISP throttles the connection, the user can connect to the other servers. Amongst the twenty-two countries, the United States has the highest number of servers, and that's obvious as everyone is behind the content that the United States generate.
Even Canada has four server locations as smartDNS are used heavily for Canadian content also.
Some other countries such as Australia, India, and South Africa also have multiple servers. As we have not come across performance related issues, we can conclude that the current number of smartDNS servers is enough.
For VPN
For VPN, even if the provider adds thousand plus servers, it may not be sufficient. It completely depends on the user base on how many servers should be added.
Currently, there are thirty plus server locations which are enough bearing in mind that it is the initial stage of their VPN product.
An appreciable fact is this that their server network is not confined to certain countries. It is expanding all over the world which looks promising. Because of this Smart DNS Proxy may deliver good performance for their VPN users also irrespective of location or country.
Platforms and devices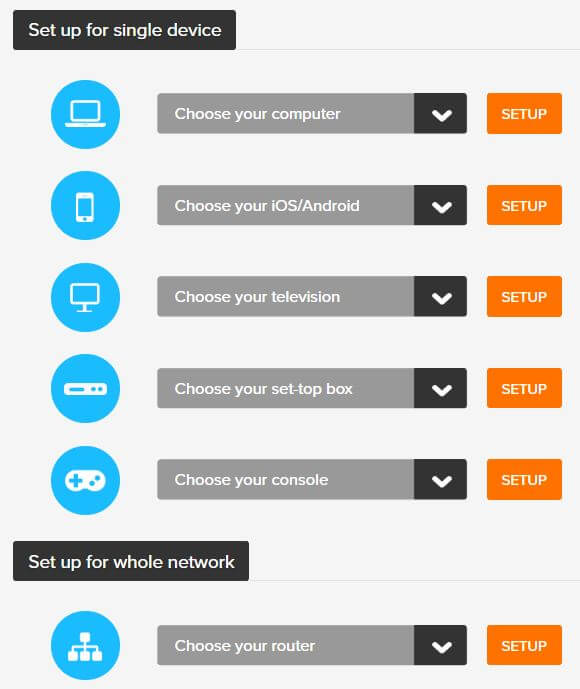 Wait a minute! What if smartDNS is able to bypass geo-restrictions, but it is only available only for a limited number of platforms?
Obviously, you can't purchase an additional device just for utilizing smartDNS. Smart DNS Proxy is well aware about this fact, and so they have made it available for most of the platforms that you can think of.
Desktop
If you are using Windows versions which were introduced before Windows XP, you have no option to configure Smart DNS Proxy in that case.
Other than that, if you wish to configure it on Windows XP, Vista, 7, 8.1, and 10, it can be done easily.
All you need to do is to find the interface through which your device is connected to the Internet in the adapter settings. You can easily discover them in the Network and Sharing Center available in the control panel.
Already tired? Well, there is not much to do now. Open the properties by right-clicking on the interface.
The list placed under "This connection uses the following terms:" has multiple terms, and you will be able to find Internet Protocol Version 4.
Double click it to add the DNS server addresses: 23.21.43.50 (Preferred) and 54.229.171.243 (Alternate).
And you are done here! Well if it sounds so tough, you can use their setup guides which provide video tutorials also.
You also get the option to install it on MacOS, Chromebook, and Ubuntu. Setting up DNS servers for them is as simple as this one.
Mobile Devices
They have provided a prominent place to Windows when we talk about the desktop. But in the case of mobile phones, they might have assumed that Windows Phone users are not performing streaming as the Smart DNS proxy isn't available for it.
The information is the same for Blackberry users.
If we take you the bright side, they have covered most of the mobile phone market by offering the service for Android and iOS users.
Note: If you are using Android 4.0+ then the setup would be different from Android 2.3+, and so, you need to configure it accordingly.
However, there are certain cases when the service may stop in between, and we don't want you to curse us regarding that. That's why we are already providing the information that the service stops working as soon as the IP changes. To restart the service, you need to update your IP every time through your Smart DNS Proxy account.
Sounds like a headache? Well, we have another solution for you. PureVPN has a built-in smartDNS in their VPN application. All you need to do is to create an account, download the application, select the streaming channel, and it's done.
PureVPN doesn't require configuration, but we are not sure that if the range of streaming channels that it supports is equivalent to Smart DNS Proxy.
Television
All the big TV brands with different names: LG, Samsung, Sony, Panasonic, and Toshiba, can be used to access the restricted content.
You just need the Internet connection, and guidance to set up DNS servers on them.
It may differ somewhat in case of every smartTV. However, it neither requires much time nor high skills.
Just find where the network settings are added. In those settings, you need to select the network to which your smartTV is connected and add username and password.
Scroll down to DNS settings which are generally present in the IP settings. Add two Smart DNS Proxy servers (which are the closest ones). Save the settings
Now the last and the toughest step: Restart the TV.
Set-top Box
So far, we have come across the platforms which allow easy configuration. However, there are some exceptional cases where you may face challenges.
For devices: Amazon Fire TV, Apple TV, Boxee Box, it is recommended to use Smart DNS Proxy service through routers (you will learn about that in the next sub-section).
Perhaps, because it will provide an easier application. All you need to do is to connect the device to the configured router, and you are ready to go.
But Smart DNS Proxy know that there could be a possibility where you don't have access to the router. That's why they have provided guides explaining on how you can separately configure DNS servers on these devices.
These many platforms and wide functionality were providing us with high hopes till the time we realized that there are some notorious products on the list.
None other than Roku and WD TV Live Player. There is no way to configure DNS servers directly on the device and the only option left is to use them through a router.
Even after configuring DNS servers on routers, it is not sure if the Netflix and the other United States content will be available on Roku. That's because Roku redirects the requests automatically to the Google DNS servers.
To avoid that you need to configure routers for Static IP Routing.
In the case of WD TV Live Player, even the Static IP Routing won't work. That's not a limitation of the DNS service, but the hardware constraints about which provider can't do anything.
Chromecast and Google TV are the remaining platforms, but as suggested earlier, it is better and easier to use them directly through the routers.
Router
After this long discussion about different devices, we have reached the king of devices that offer shelter to every device by directly connecting it to the internet.
If you make any change in the router, it will be applicable for the device also.
In that way, if you configure DNS servers on routers, you can directly take the advantage by connecting all the other devices to it.
Just log in to the Router Admin Panel and find the DNS settings. By simply adding Smart DNS Proxy Servers, you can route all the traffic through them instead of the servers provided by the ISP.
Now restart the router and connect other devices. You are ready to use all the restricted channels.
Make sure that you select the closest DNS servers for better performance.
Consoles
For consoles, you can configure DNS servers on PS3, PS4, PS Vita, Wii, Wii U, and XBOX 360. However, the same rule applies to them also.
Directly connect them to routers and save yourself from configuring them separately. However, if you wish to configure them locally, you can take the reference from the detail setup guides available on their website.
The information is provided in step by step explanation. You can also take the benefit of video tutorials added on the top of the same page.
After configuration, make sure you log in to check whether DNS is configured properly or not. It will be available on the main screen.
If it shows Green Tick in front of "DNS Setup" then it means you have done the job perfectly.
Just one more thing after that! In the IP Activation setting, you need to click on the "Activate" button. After that, one more green tick will appear, and IP will get changed.
In total there must be four green ticks. Other two green ticks are for account activation and Region Summary. You can only use the service after you get four ticks on the "Account Home" web page.
Sounds like an examination result 😛
But we can at least do this much for the TV shows about which we love to gossip and make predictions.
Regions and Channels
From the list, you can see that it efficiently bypasses most of the restrictions which are implemented by various channels.
If you go to the service page, you will find a list of two hundred plus channels which can be unblocked using Smart DNS Proxy.
Well, we cannot test their claim for each and every platform, and so we have selected some of them. The service has shown its efficiency in the results obtained after testing it.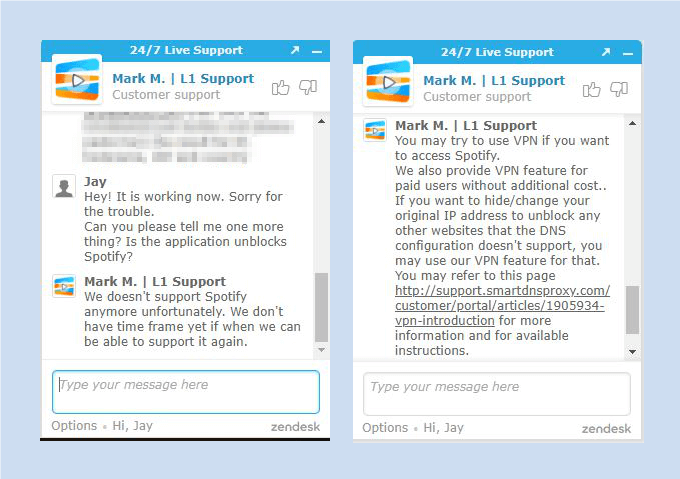 The only sad part is its unavailability for Spotify. Through support team we got the information that it was supported before but not anymore.
However, there is a happy part also. Subscribers can use their VPN application which is capable of masking the true IP and providing a new IP which is shared by multiple users.
You may use Spotify if you connect the system to the VPN server of the country whose Spotify version you wish to use.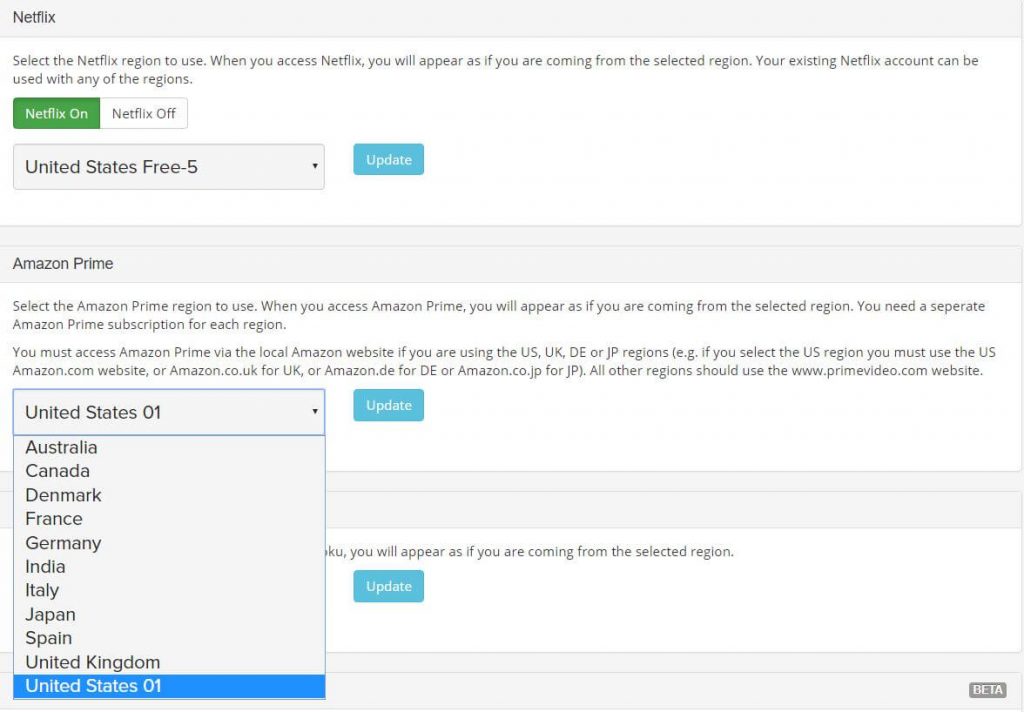 However, after configuring the DNS servers, restart the system, and log in to your account. You need to select the channels from the "Region" tab provided under the "My Account" Section.
The channels which use the same streaming platforms are placed in the same list; you can't use the Crackle Australia and the Crackle United States simultaneously from the same device.
However, it works normally if you connect through two different devices.
From the list, you need to select the region whose streaming channel you wish to access. After selection simply clicking on "Update" will complete your job. They have really made it easy for the users to find the required channel.
However, you can't select every channel one by one as it's a tiring and time-consuming task.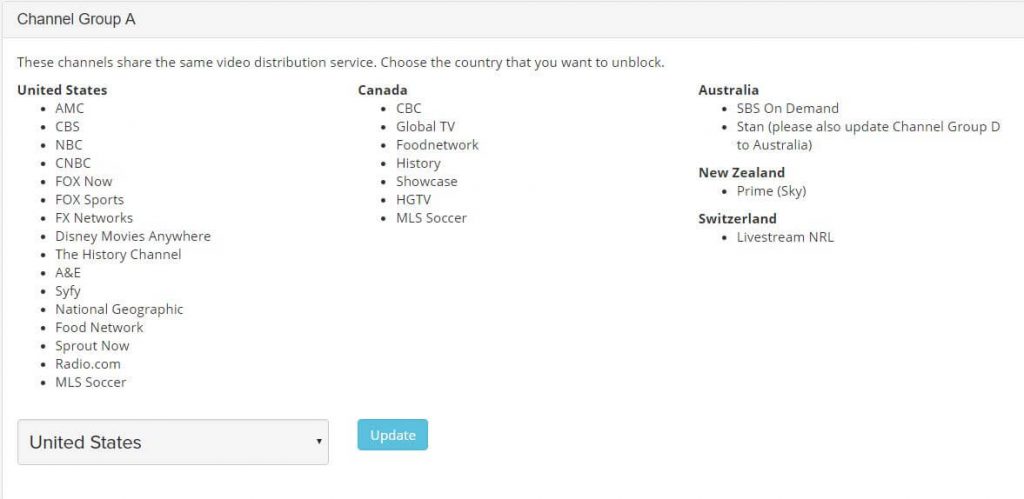 There is a solution to this also. Just scroll down, and you will find different Channel Groups (A, B, C, & D). You can directly select one and update it.
By selecting a particular group, you can easily unblock all the required channels in one go.
Using it with VPN
SmartDNS works to deliver geo-restricted content to its users. VPN works to encrypt the data using encryption.
If you get both the services under one roof which a comparatively cheaper price, we think that would be a better option rather than purchasing them separately.
You can directly download the VPN client for Windows, iOS, MacOS, and Android.
There is a long list of servers available in the 'Support' section by which you can find the prominent server.
Not only this, they even allow torrenting and offer optimized servers for this purpose. For torrenting, they provide Socks5 Proxy and Squid3 Proxy. We have not found any VPN service besides this one which offers Squid3 Proxy.
It is amazing to find that they strive to add features. The internet Kill switch added acts as a barrier between the device and the internet.
This barrier comes into action whenever the VPN connection drops, and that saves us from data leakage.
However, readers must know that as of now they are only providing the Beta version of the VPN application.
Customer Support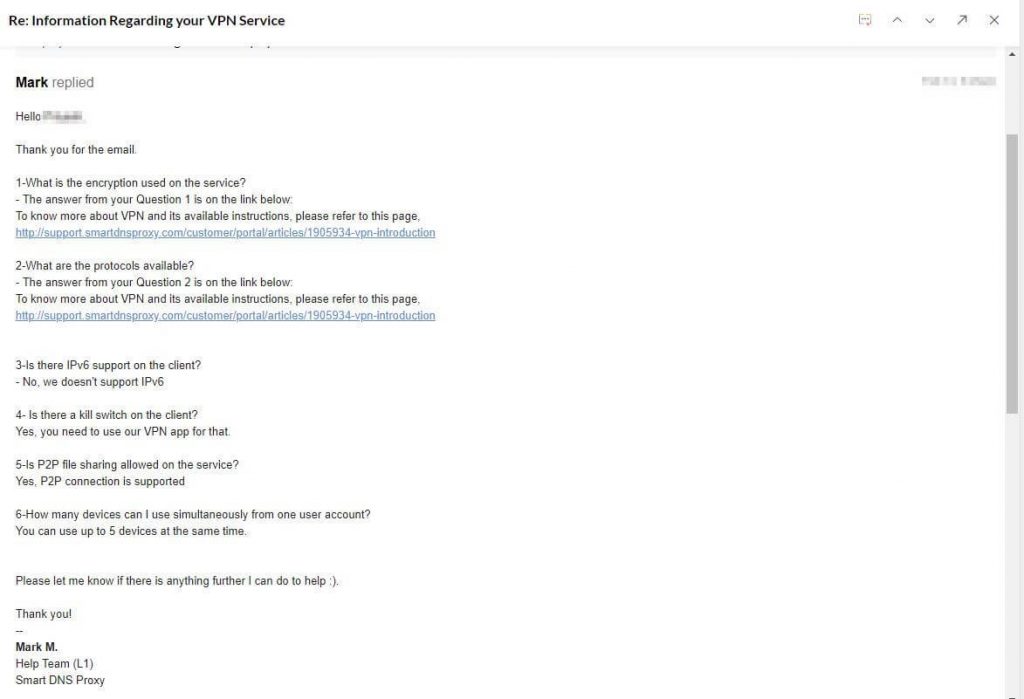 Although we have explained the procedure of configuring Smart DNS is some of the devices, for detail description, you can visit their "HOW TO SETUP" page.
This page is provided on the website for the ease of the users. Here, from the various categories, they can find the required setup guide.
Above the step by step procedure, you will find a video tutorial regarding the setup procedure. We don't know why but some of the videos don't have sound. However, they are still good enough to guide you.
The explanation is provided along with the screenshots, so you can easily find how to move forward.
Still, setting up DNS servers could be a tough task for some of the users. Playing with network settings may spoil the playground, i.e., your system. That's why one needs to be careful while setting up DNS.
Even after using it carefully, sometimes issues may arise, and that time a savior (support team) is required.
Now, it is always good to chat especially when you are allowed to rate the chat. In the case of Smart DNS Proxy's support team, you will get fast and to the point replies which will always make you click on the "Thumbs Up" button.
But if you are not satisfied with the live chat support, you can always contact them through the email, and they will get back to you with the answers to your queries.
Apart from these options, you can directly go to the support section. There you will find an immense number of articles which may solve your concerns.
Conclusion
It is really smart to that one service has the efficiency to bypass the restrictions implemented by all the other services.
They effortlessly provide a way to their users to browse content which is blocked by the service provider.
By simply adding the DNS addresses in the network settings, we were able to watch whatever we wished.
This made our screens free form the control of the geographical location. For users who are unable to access services such as YouTube, Google, and Facebook, they have brought the easiest way to overcome the preventions implemented by the government.
When such a service comes with security layers of the virtual private network, it may also save our data from the third-parties. However, until now it is in the test phase.
Hope, Smart DNS Proxy will bring us a complete package of privacy, security, and free internet in the near future.