Pros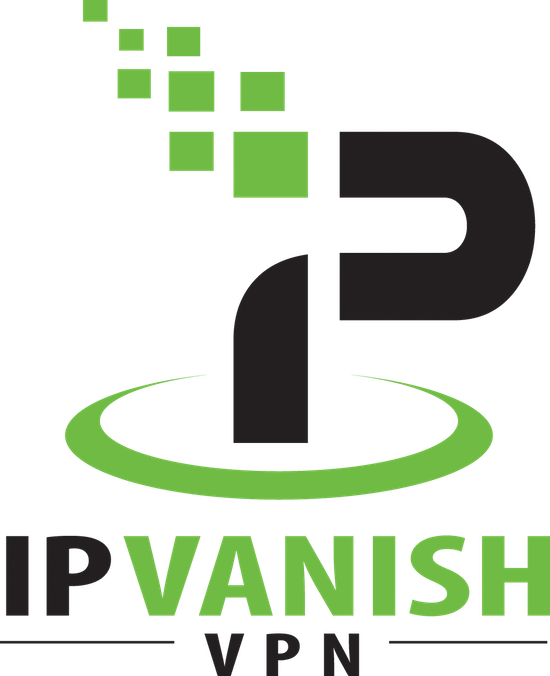 It provides multiple ways to sort and filter the servers through which a user could identify the best available server.
The availability of an extra layer of authentication in SOCKS5 web proxy ensures that only authorized users access the server.
You have the option of connecting with the fastest server from a specific country.
VPN provider owns its DNS server which saves the user from any third party involvement.
Kill Switch removes the chances of data leakage if IPVanish goes down unexpectedly.
Cons
There are no browser extensions provided. However, if you use the app, then it will surely encrypt the data transmission that flows through the browsers.
Live support (Level 1) requires some training as they are could not provide informative answers to every question. However, when they could not answer it correctly, they generate a ticket and after that second level team take cares of the issue.
Overview
| Quick Overview | |
| --- | --- |
| Protocols | IKEv2, OpenVPN,L2TP,IPSec,SSTP,PPTP |
| Platforms | Windows, Mac, iOS, Android, Windows Phone, Linux, Chrome, Routers,Smart TV |
| Jurisdiction | USA |
| Logging | Some Logs |
| Encryption | 256-bit AES |
| Connections | 10 Connections |
| Locations | 60 Countries |
| Servers | 1100 |
| Netflix/P2P | P2P Available |
| Payment Options | PayPal, Credit Card |
| Support Options | Live Chat, Email Support |
| Pricing From | $ 6.49/mo Billed on yearly basis |
| Guarantee | 7-day |
| Free Trial | No |
| Website | Visit Website |
IPVanish is a virtual private network service provided by IPVanish VPN, an Internet security company founded in 2012. Since the first time the company offered their virtual private network service, the company has known to be one of the best VPN providers with the fastest VPN speed. It is because of the efficiency of servers and smartness of their placements all over the world. The goal of the company is to help users secure their online activity so that they can browse the web privately and anonymously, without having to deal with any restrictions.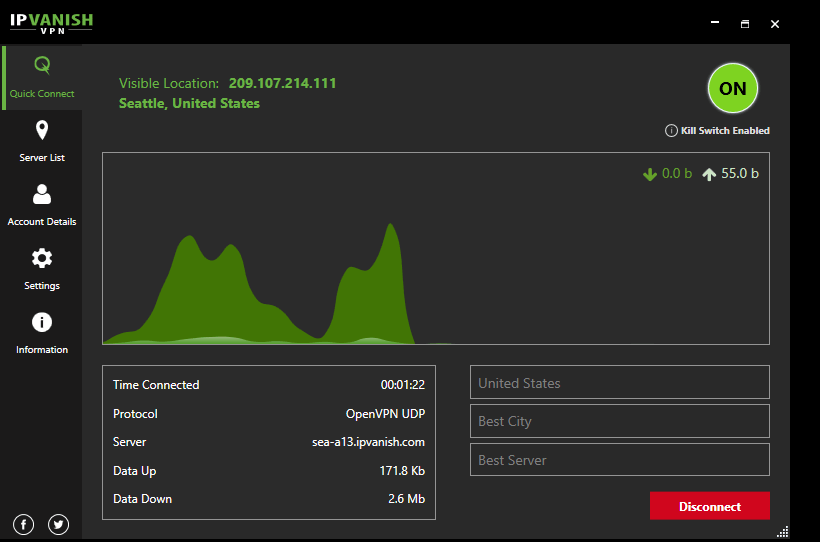 With time IPVanish has improved a lot. Previously they did not own DNS and used to rely on a third party DNS which was a significant drawback of the provider.
With time, they have embedded their DNS that ensures that no data transmission will occur via any third party. The implementation of the Kill Switch and multiple features for protecting any data leakage are the main features of this VPN provider.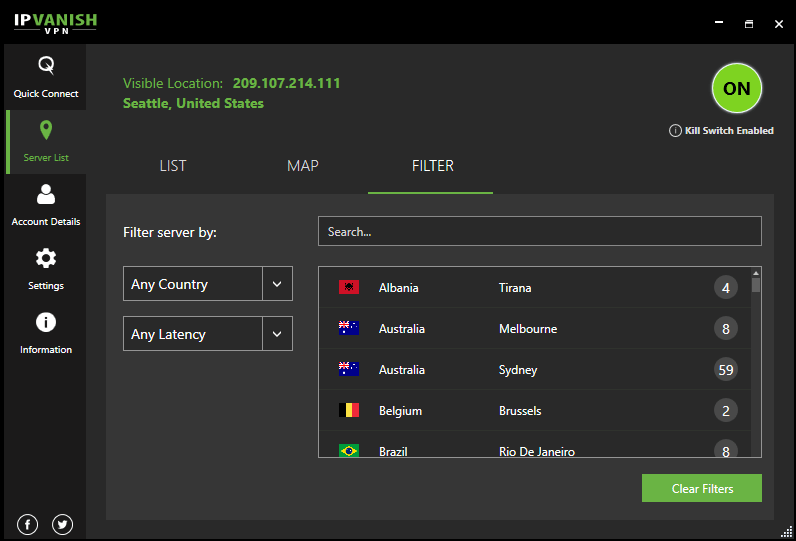 Sorting and Filtering Servers
The Speed and reliability highly depend on the server. One can connect with the fastest server automatically by going through the setting options >General >IPVanish Startup >Connect to the fastest server. You can also choose to communicate with the last server to which your device was connected. It also provides an option to connect with the fastest server from a specific country. Let's say; you need to access the content which is only available in Germany. Then, you will connect with a server that's located there. However, you may experience a poor speed, and then it requires the manual task of identifying the fastest server from that country. IPVanish performs the job of comparing all the servers and connecting the best one available. This option is also provided in IPVanish Startup settings.
You also get the options of sorting the servers in different ways which are:
Country Name (Alphabetic order)
Response Time
Load Time
Favorites First (Alphabetic order)
This shows that user requirements are taken as the topmost priority, and every possible action is taken to remove the manual work.
You can also filter the servers by selecting the Latency criteria provided, but most of them have a latency of more than 200ms.
Connect directly using Map
Again, it's a step towards better user experience as the user could directly connect to the server by finding it from the map. Though, you won't find any information about the speed and latency if you directly connect with it from the map. It only helps you to find the exact geographical location of the server.
SOCKS5 web proxy
It is a unique security feature that is not offered by every VPN provider, but as IPVanish has achieved to provide it, it marks a better level of security. SOCKS5 helps to hide the IP address when the user makes P2P and VoIP connections. If someone has the access of the server to which you are connected, then there is the possibility of data leak through that. However, SOCKS5 web proxy servers provide an extra layer of security: SSH (Security Socket Shell) protocol because of which the servers can only be accessed through verification. However, if even after this anyone gets through SSH protocol, there will be rounds of encryption that he needs to bypass. Such addition shows that IPVanish has an active hand towards safeguarding your data.
IPv6 Leak Protection
IPv6 came into existence to solve the issue of a finite number of IP addresses available. There is a considerable number of websites which are using IPv6 and but if your VPN provider is not concerned about that, then data could get leaked by redirecting your search to any other malicious webpage. IPVanish has the leak protection for IPv6 so that one could browse freely without worrying about the leakage.
For turning off the IPv6 Leak Protection, you can directly go the setting option. Choose the connection tab and uncheck the box placed before "IPv6 Leak Protection." But it can only be done after you switch off the VPN connection. In the first place, you should never be doing that as it is making your data transmission safer.
Kill Switch
Kill Switch is required to ensure that no data gets leaked when the VPN goes down unexpectedly. Whenever the VPN connection gets lost, local IP could be traced by ISPs. Anyone who is interested in finding out your usage history can get a chance of getting all the information after VPN stops functioning, but internet traffic is still on. That's why most of the VPN providers' are implementing the Kill Switch to establish complete security in every aspect. It must be noted that it's not an additional feature but a necessity that every VPN providers must have. IPVanish has got it as an essential setting that could be turned on and off anytime even while the VPN connection is working.
Block LAN Traffic
Now, this is a particular variety of Kill Switch which focuses not on Internet traffic but LAN traffic. Data may get leaked through LAN also and thus when VPN connection goes down; it is helpful is safeguarding the data from local hackers. This is one unique feature that many VPNs lack and it directly adds to the security.
Zero Traffic Logs
IPVanish doesn't keep track of your information and your online activities. Through the "Diagnostics" tab, you can have a look at the activities which the VPN provider has performed, or you have performed using the VPN provider. If that information is available to you, it must be open to the provider also, though it is not harmful and only stored for research and better functioning of the software. IPVanish gives you complete privacy and freedom in your online activity. You don't need to deal with any privacy rights violations while using this service on a regular basis.
Connection Time Analysis
Connection time is an important aspect which provides information that how fast the VPN provider would respond. The response time may vary with the server selected. Here, we have chosen the fastest server at the moment and found average response time by connecting it again and again.
The difference between average connection time and any trial taken is not more than 2 seconds which shows that the connection is stable and it doesn't fluctuate much. You can predict that when it's going to connect. With an average connection time of 11 seconds, IPVanish shows the least connection time among most of the other VPN providers.
Speed Test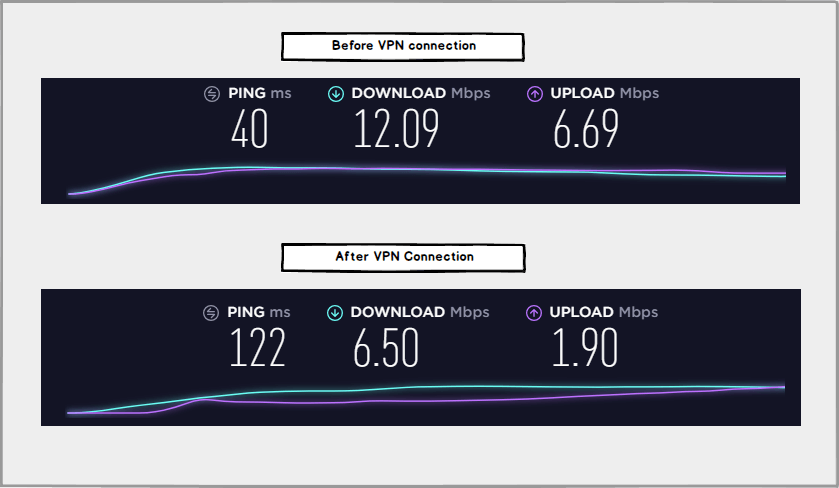 IPVanish has been known to provide one of the fastest private connections to their users, which allows them to browse the web without having to worry about slowdowns. There is no ISP throttling while using this service, and the private servers are optimized so that it can deliver the best performance for your online activities. We compared the Internet speed with and without the VPN connection and found that without a connection, download and Upload speeds are 12.09 Mbps and 6.69 Mbps respectively. It is evident that if one establishes a layer of encryption, the speed is going to reduce and here it reduced by 5.59 Mbps and 4.79 Mbps respectively providing us the speed of 6.50 Mbps and 1.90 Mbps for downloading and uploading respectively.
This is pretty good when it comes to the speed because while using many other VPN providers, a decrease of 80% was also experience. However, for the title of the fastest VPN provider, IPVanish needs to establish more and more server. There is always the possibility that the speed gets highly reduced at one particular location but on the other hand, you may experience high speed from another location. It has servers all over the world and has multiple servers in many developed countries. So, for countries such as Canada, U.S.A, Germany, France, Australia and other major European countries, it comparatively offers high speed, and that's why its user base keeps on growing in those countries.
Security
The private connection provided by IPVanish allows you to encrypt all of your data transmissions perfectly because it uses the highest protection for your network, which is the 256-bit AES encryption system. This is the type of encryption that is best to be used for protection against hackers and cyber attacks, and many security experts have recommended it all over the world. With this encryption system, you don't need to worry that anyone can snoop into your network, listen to your online communications, and track your browsing habits because he or she can't do that. In fact, this type of encryption is the best encryption system to hide your IP address and real identity online.
Apart from them, it uses own DNS servers: 198.18.0.1 and 198.18.0.2 as the primary and secondary DNS IPs. It wasn't the case before; it used to rely on a third party DNS which was the major issue that buyers were facing. Even for high speed, no one will be ready to compromise with its security, and so IPVanish developed own DNS.
With IPv6 leak protection and DNS leak protection, IPVanish has blocked all the paths from where data could get leaked, and that's how it offers security as well as speed.
User Interface and User Experience
User interface and user experience are always based on the efficiency of the app by which it could help you to make the working simplified and reduced the manual handling. One can watch the real-time download and upload sleep on the main screen, can also examine it through the graph. That helps in the server selection process. When it comes to the selection of the server, they have made it easier by sorting them in four different ways that were mentioned above. That is easily identifiable and certifies high ability of user interface. The availability of map is an amusing part that also helps you to directly find the servers from their location in the map instead of going through the list (If that task looks boring). All the settings are simplified under three tabs:
General
Connection
Diagnostics
This helps the user to locate the required setting without putting much thought to it. Settings provide the complete control to the user by letting him switch on and off any feature that he wants to. Even if it's irrelevant, in a few cases some features are required to be changed. IPVanish has considered it and that significantly helps in enhancing the user interface.
Platform
The good thing about this private connection service is that you can use the app and software on all platforms and devices that you have. So, you don't need to worry about not being able to use a private connection on your smart TV because the VPN software can be installed on your router. So, when you connect the smart TV with the router, your connection automatically becomes private. This is true for all devices that are connected to your router. No matter what platform or device that you use, there is always a way to use this private connection on your device.
Moreover, even if you need to use it in public places or during travel it allows the user to connect with ten simultaneous connections on multiple devices. It supports Windows, Windows Phone, Mac, iOS and Android and thus, even if there is no router, the same efficient connectivity could be ensured. The only disadvantage is that they don't provide browser extensions, so you need to connect with the app before using the browser.
Customer Support
IPVanish has a well-defined methodology when it comes to its customer support system. The support system follows a procedure that renders better user experience and also solves the query in a systematic way.
Open the dialog box on the bottom right corner of the screen on their website.
After that, they will ask for your name and the E-mail which will not be verified so if you want to remain anonymous, you can fake it if you want.
Type your message, and they will reply you, but in a few minutes.
If your query isn't solved, they will guide you by re-directing to the articles provided on your side, but even if issue stands still they will generate a ticket.
Your query is then forwarded to the second level, and they have advanced knowledge about the service, so it will get solved there for sure.
It may look time-consuming and sometimes it is, but the answers are always accurate, and there will always be someone to solve your problem, 24 hours a day.
Conclusion
When it comes to protecting your real identity online, IPVanish is one of the best VPN services that you can use today. It offers lots of features that ensure your privacy and safety in your online activity. Also, it provides the fastest speed and unlimited bandwidth to ensure that you can use your network connection in the best possible way, for various purposes. It also offers top-notch security protection features that can keep your anonymous identity online without any chance of IP address or DNS address leak. All in all, when it comes to hiding your IP address online and keeping your online activity secure and encrypted, IPVanish is the best choice of VPN service that you can have.