Pros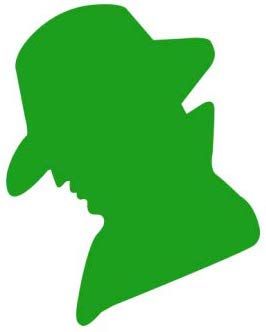 Different server categories are available which allows the user to select the server according to his requirement. It helps the user to get connected according to what his prioritizes: speed, security or ability to stream.
All the important protocols are available which again helps in prioritizing particular requirements. In addition, they provide ShadowSocks protocol which helps to bypass China's censorship.
They provide good user control when it comes to the behavior of the application by providing connectivity features and permission options.
ibVPN has own DNS servers which could be also be used for blocking ads.
They provide different plans according to the users' necessity. You can purchase standard DNS, VPN for Torrent, IBDNS smart DNS or Ultimate VPN (which is the combination of first three with some additional features).
Netflix Originals is accessible from any part of the world. One can also use Hulu and BBC iplayer using ibVPN.
One day free trial is available if one wishes to utilize and experience how efficient the application is.
Cons
Split tunneling option is not provided. It could have provided better user control if that feature gets added to the application.
There are three servers in the Tor over VPN category. We tried to connect the system, but it had shown network error. However, after a few hours when we tried to establish a connection again, it was easily established with all three servers.
Only Ultimate VPN plan has the option of five simultaneous connections. Other plans provide only one simultaneous connection. If you wish to use ibVPN in seven or more number of devices, you need to go through its business plans.
Overview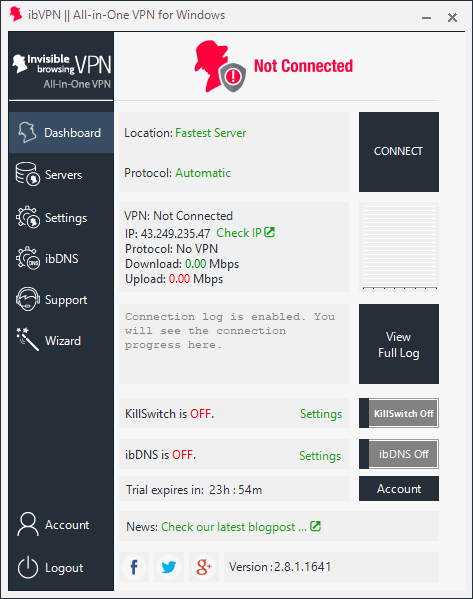 ibVPN had made continuous attempts to provide more and more facilities and features to its users since the year 2010 when it was launched. After the launch, they have done a continuous upgradation in protocol settings, and servers were visible. Situated at Transylvania, a beautiful city located in Romania, ibVPN is far away from the Five Eyes, Nine Eyes or the Fourteen Eyes.
They have added servers especially for using Tor and it is one of the first VPN providers who had established a double VPN server technology. Also, the implementation of ShadowSocks adds an advantage for Chinese users.
In this review, every aspect of ibVPN would be judged thoroughly and conclusions about speed, customer support and reliability would be done. We would also go through the exclusive features that ibVPN provides which comes under the Wizard Tab.
Different Servers for Different Requirements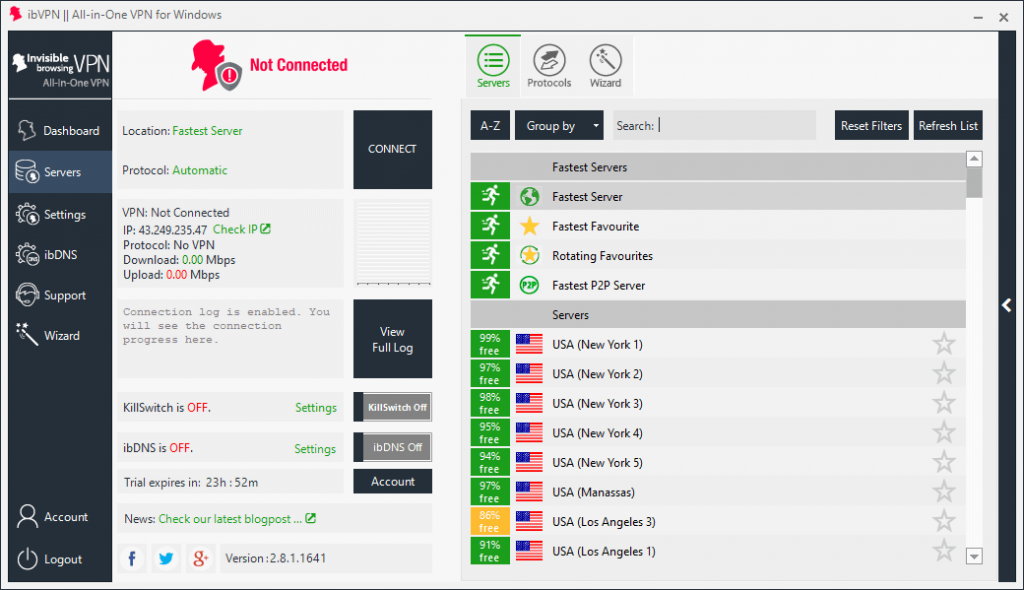 As soon as you open the application, it will provide the choice of connecting with the fastest server. For that, it checks all the servers, which ironically for the first time takes a minute. However, after that, if you try to connect with it again, it will get connected within a few seconds. Apart for the fastest server for standard use, they also provide the option to connect your system with the fastest P2P server. That connection is useful for downloading any content.
Favorite server list allows you to select the server with which you wish to connect manually. This server list is useful when you need to access the content of any particular country. You can mark the most prominent server of that country and add it to the favorite list. That helps the user to connect directly instead of scrolling down the server list again and again. The rotation feature allows you to connect with different favorite servers after few minutes (time could be set according to you) after you get connected with the VPN client.
Above the server list, one can find a "Group By" option also that helps to group it in different categories:
Tor Over VPN Servers
P2P Servers
Gaming Servers
Double VPN Servers
Tor could be used along with any VPN server, but these specialized servers help to the performance of Tor. When Tor is used with a VPN client, the browsing speed gets reduced tremendously because of four layers of encryption: Three layers of Tor and one layer of VPN. To avoid this reduction, ibVPN currently has three special servers dedicated for being used with Tor.
A long list of P2P servers is available, and anyway, one can easily connect with the fastest P2P server by directly looking for it in the server tab above the list. However, if one wants to connect with specific country's P2P server, it could be found from the list.
There is only one gaming server which was established in the Netherlands in the year 2015. After that, they have not added any gaming server till now. Maybe, there isn't much requirement of this kind of servers but still, every user who needs to utilize VPN for gaming, they have to rely on this one server if they purchase ibVPN.
Using double VPN servers could be an option if high security is required. In this category, the data travels from one client to server 1 and from there instead of going to the destination server in reaches to server 2. From server 2, the data travels to the destination server. It looks like that it would slow down the internet speed. Well, it is true that a significant percentage will reduce internet speed but that comes with efficient security.
Apart from these servers, you will find two more servers in the Wizard category. These servers are for streaming content from the specific countries. In the USA the streaming server could be used for accessing Netflix Originals and Hulu. It also has a dedicated server for accessing BBC iPlayer. However, you can't access Netflix U.K. or Amazon Prime U.S.A or many other geo-restricted channels.
The sorting of the server could also be done in Alphabetical order. Sorting and dedicated server lists help to provide a better user experience. However, there are only 173 servers which are very less than many other VPN providers, and it also affects the internet speed if there is a huge number of users using the same server. Also, in our experience, we faced network error while using Tor over VPN. If the number of servers could be increased especially in Tor over VPN category, better connectivity could be received.
Pay According to Requirement

They provide flexible packages which let the user pay according to his requirement. If the person wishes to use VPN for streaming, then there is no need for him to pay for torrenting servers also. In total, there are five different packages available:
Standard VPN
Ultimate VPN
Torrent VPN
IBDNS Smart DNS
Business VPN Plans
If we select to use the standard VPN client, then we could efficiently hide our IP address, but we won't be able to use Smart DNS or do secure Torrenting. For Torrenting purpose, one could buy Torrent VPN plan, and for heavy streaming IBDNS Smart DNS is available. However, if you wish to use all three in one package then you need to buy Ultimate VPN package. With ultimate VPN package, you also get the extra facility of Tor Over VPN server and Double VPN servers also to all the facilities of the other three plans. It allows to connect with five devices with one account but if you need to connect more devices, purchasing business plan could be a good option.
In business plans, you get three choices: VPN 7, VPN 15, VPN 25. The number denotes the number of devices in which VPN client could be downloaded. The only difference between the Ultimate VPN and the business plans is the number of devices in which they could be installed. Thus, it could be an option that one could purchase ultimate VPN, install it in the router and in this way, everyone could easily utilize it without paying for business plans.
All Possible Protocols Available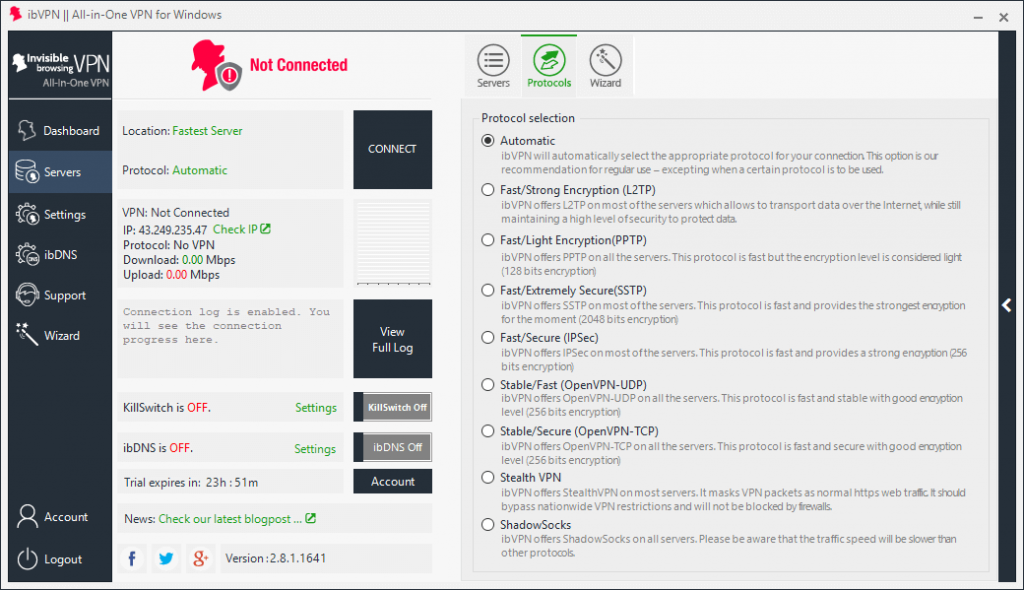 We never came across any VPN provider which provides these many VPN protocols. ibVPN provides nine protocol options (including automatic selection) which have different levels of AES encryption. Starting with the most insecure PPTP to the most reliable OpenVPN, ibVPN provides all the major VPN protocol.
For high speed, you can use the PPTP protocol. However, it is not a safe protocol due to less level of encryption. When you don't wish to compromise the security, then you must use OpenVPN protocol, but it comes with compromised speed. When a good balance of speed and security is required L2PT and SSTP protocols could be considered.
It also provides Stealth VPN protocols which allow the data to get mixed with the standard internet traffic. It makes the use of VPN less detectable. It is mostly used in the countries where the use of VPN is banned. For countries such as China and Russia, this protocol provides security to the users to safeguard themselves from the eyes of the government. ibVPN provides a special VPN protocol, ShadowSocks whose special function is to bypass China's firewall. It is like SOCKS5; however, it is simpler and also with a layer of encryption.
The Efficiency of Dedicated Streaming Servers
ibVPN has its smart DNS which allows you to do efficient streaming. However, in the wizard option, there were only two different options present for streaming through ibVPN. When we connected to the United States' streaming server, we were able to access Netflix and Hulu. However, when we connected with the United Kingdom's Netflix server, we were able to access BBC iPlayer but not the Netflix. Also, they need to add the content of other countries also such as Japan and the Netherlands. These countries have highly exclusive Netflix content and viewers all over the world. Also, if there is just one particular server for accessing United States' content, then efficiency could not be promised.
Leak Protection
The primary reason why anyone uses the VPN is to encrypt the data and hide the real IP address. Also, who wants anyone to know about their online activity. However, there is a possibility of IP leak and DNS leak which let the third-party know about the website that you are visiting and from what location. ibVPN offers DNS leak protection settings so that your online activity could not be tracked. Also, you have the option of disabling IPV6 traffic ensuring to fill all the insecure pores.
Client Behavior Settings for Better User Interface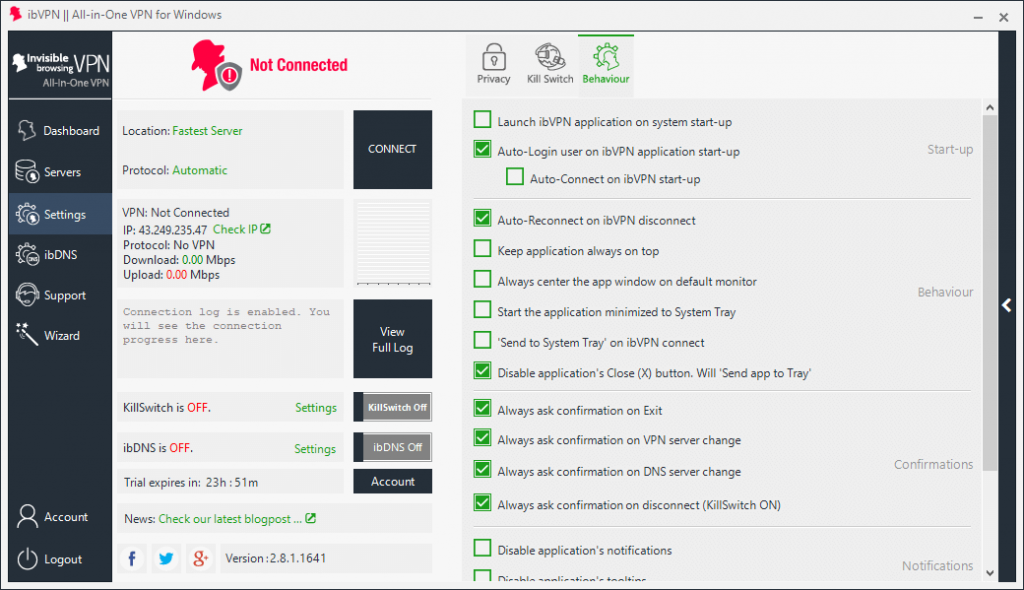 These basic settings are available in all every VPN provider. Still, it is required to be discussed as it provides flexibility to the user and helps him to have control over VPN client. You can have the flexibility that when you wish the application to get started. The auto-login facility helps the user to establish a connection as soon as the system starts or if he wishes to use the application only when he opens it, then he could select the auto-connect option for establishing a connection when the application is started.
Behavior options are here related to a portion where you need to display the application. It is possible to position it above any other screen while you perform any other task. Also, you can select it to remain in the center of the screen. After you get connected with the VPN, it will automatically get minimized depending upon your requirement. The functionality of (X) close button could also be changed. Even if these options are not related to the primary use, they add in the user interface of the application.
Connection Time Analysis
Server
Attempt 1
Attempt 2
Attempt 3
Attempt 4
Average Time
Time Taken (in Seconds) for Establishing Server Connection
Fastest Server
14.52
9.61
17.43
12.14
13.425
Fastest P2P Server
11.76
12.06
10.38
11.12
11.33
Gaming Server
12.32
12.03
12.28
12.51
12.28
Double VPN server
15.37
11.76
10.84
11.64
12.4
Tor Over VPN Server
10.17
10.11
11.78
11.3
10.84
U.S.A Streaming Server
11.43
10.45
10.32
9.46
10.41
U.K. Streaming Server
10.77
10.99
10.43
11.19
10.84
Server for Bypassing
China's Firewall
10.19
8.84
11.27
9.43
9.93
It is ironic that the average time taken to connect with the fastest server is maximum and more than the average time to connect with servers from other categories. We grouped the server by each category and selected the topmost server of the grouped category. Then established a connection which provided us with excellent results. For any category, every trial is close to the average ad that ensures a reliable connection. The average for any category has not exceeded above 13 seconds which is comparatively better than many VPN providers.
Speed Test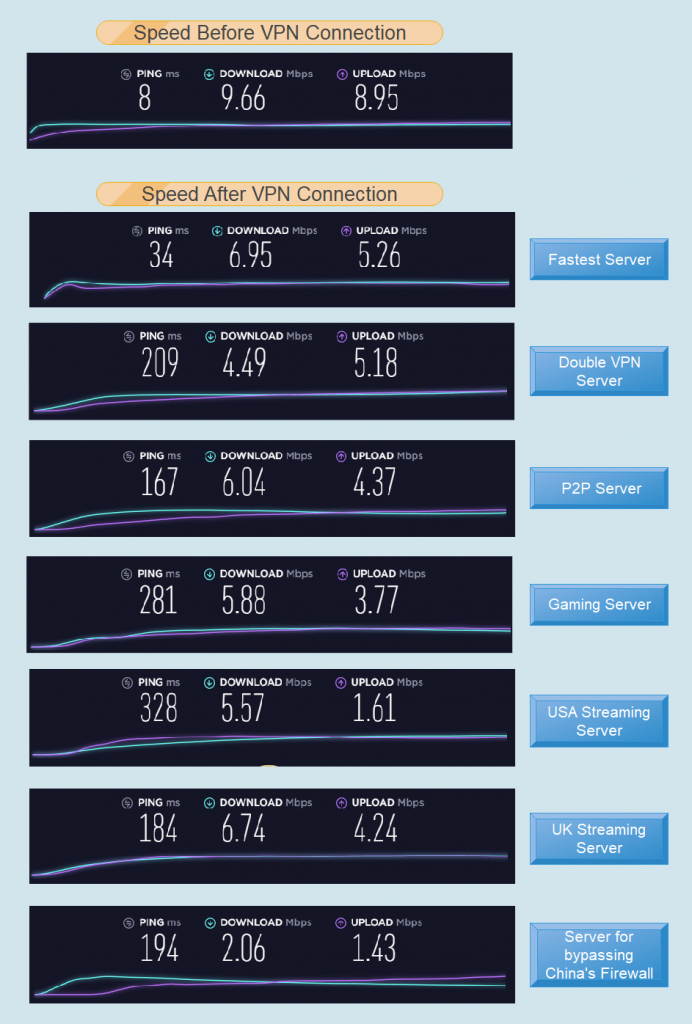 Speed test for the various server category is taken, and the results weren't disappointing. There was a reduction in speed. However, it is efficient according to the number of servers ibVPN has. The fastest server to which it connects automatically provides a download speed 71% of the original speed which could be considered sufficient when you are having an extra layer of security. When double VPN server category was used, the download speed was reduced by 54% which was expected as the data travels from one server to another server before reaching to the destination server.
Even though, they have only one gaming server, one United States Streaming Server, and one United Kingdom Streaming Server, the reduction in download speed were only 40%, 42%, and 30% respectively. That shows that servers are efficient to handle a huge number of users. The change in download speed while using VPN highly depends upon the distance between the servers. Our location and these servers are on the different continent because of which there are thousands of miles between our location and the servers.
When we talk about using ShadowSocks protocol, the reduction was significant due to a high level of encryption. With a reduction of 79% in download speed, using ShadowSocks protocol won't be recommended. However, it is due to the high level of security that it provides, and it is even tough for the government to detect the use of VPN.
If we talk about the upload speed, it is nearly 50% of the total speed for most of the cases. However, again, for the ShadowSocks, it shows a decrement of 85%. If you are concerned about the speed and living in a country where the use of VPN is restricted, then you could also try using Stealth VPN protocol if the ShadowSocks provides compromised speed. But you must know that the level of security will decrease with the increase in speed.
Security
ibVPN provides most of the important protocols, and for additional security, Stealth VPN protocol and ShadowSocks are also added. These protocols allow the data to get mixed with the standard internet traffic and makes it less detectable. Even with this feature, they don't compromise with encryption (however, ShadowSocks has a lower level of encryption than other VPN protocols) and for most of the protocol, they use RIJNDAEL encryption which is adopted as Advanced Encryption Standard by NSA. However, the key length may change with the change in protocol.
Using OpenVPN is the best option when security is concerned as it comes with AES 256-bit key which ensures no major threats while using it. PPTP is the oldest protocol, and thus, ibVPN recommends only to use it if the device doesn't support other encryptions. PPTP has major security issues and light encryption level. Other than that, it has SSTP which is considered as secure as OpenVPN protocol.
The facility of Kill Switch and safety from IPv6 traffic also add up in rendering better security. They use own DNSs, and that's why no third-party involvement fills the pore that could allow third-parties to store our activity. However, like many other VPN providers, they could also upgrade their product by adding features which help to avoid malware attacks.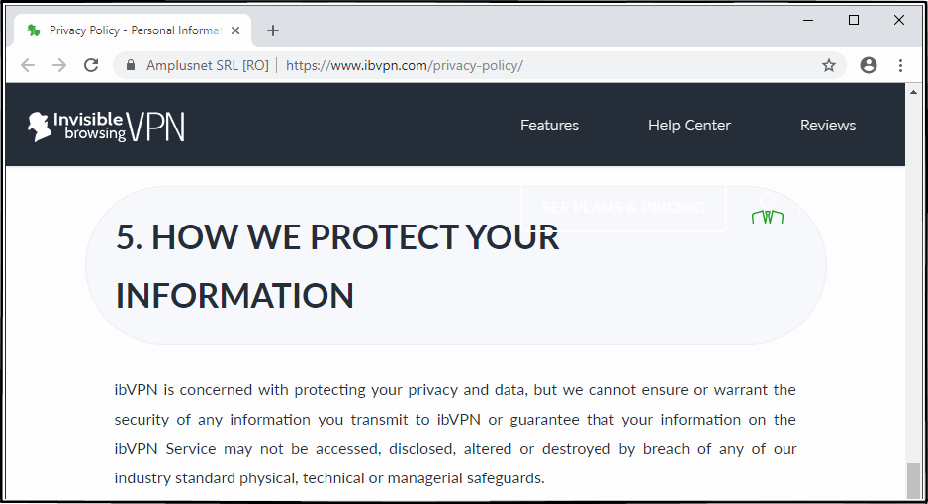 Also, "no log policy" helps secures your data from others, mainly data mining companies. If the government ask them to provide a track of your activity, then they need to render your data to the authorities. As the headquarter is in Romania, generally no such issues are expected or experienced. They share non-personally identifiable information to third-parties to understand the activity of the users on the ibVPN's website. Also, they do not warrant or guarantee that safety of our information from getting breached.
User Interface and User Experience
ibVPN renders a simple user interface directed towards its sole purpose of providing the utilization of VPN technology. Adding multiple server categories, sorting options and server grouping feature makes it easy to explore the required server. Among all the VPN providers, ibVPN has the most advanced and efficient categorization of servers. Thumbnails used by the product are attractive and deliver its purpose just by the image.
When it comes to user experience, many aspects come together to render the final experience. If we discuss the features, adding port forwarding, Split Tunneling and Malware protection could enhance the ease and efficiency of the application. The current features such as display options, behavior options, and Kill Switch shows that the ibVPN is already on a very good stage from where the development is easy.
Platforms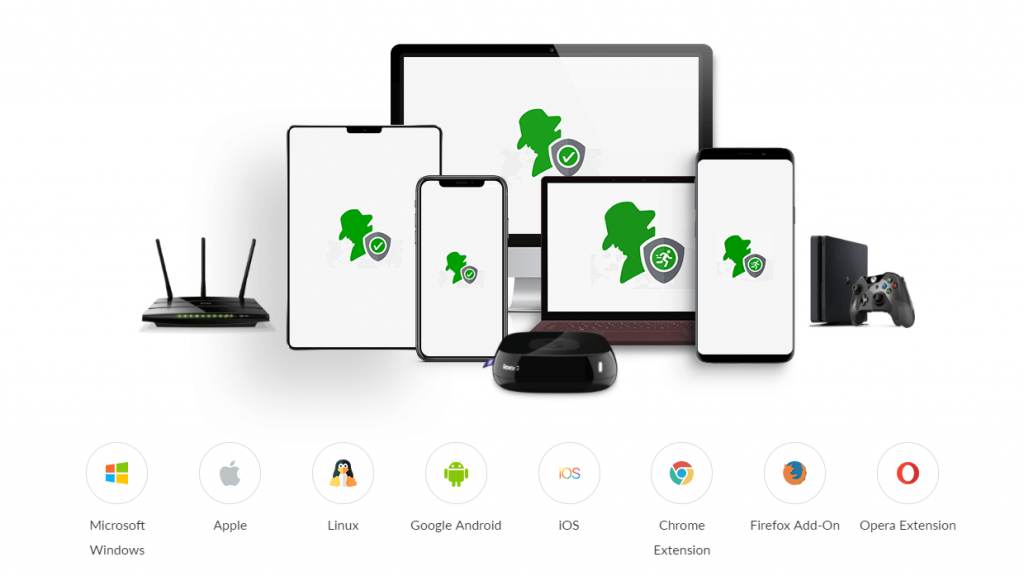 In addition to all major operating systems (Linux, Windows, MacOS, iOS, and Android), they provide extensions for all the major browser (Chrome, Firefox and Opera Mini) also. However, they don't have extensions for Safari and Internet Explorer. They also render VPN product for Smart TVs: Apple TV, Apple TV 4, LG Smart TV, LG WebOS Smart TV, Samsung Smart TV and Sony Smart PV and Gaming Console: PS Vita, PS3, PS4, Xbox 360 and Xbox One. The number of platforms they provide is sufficient enough to cover a huge user base. ibVPN also offers router configuration for Asus RT-N66U, Linksys E2500 Wi-Fi and Netgear WNR3500L Wi-Fi. They must increase the number of platforms for routers as it is lower than many VPN providers who provide router configuration for above ten different routers. Also, the price differs for all three routers which you could check on their website.
Customer Support
Customer Support is the most efficient part of any service that any company provides. It is important to ensure customer satisfaction for improving business, and only efficient customer support could guarantee it.
Till now, I found ibVPN as a good product overall. However, after talking with customer care, we were disappointed when it comes to courtesy and reliability. We will have a look on live chat also but initially let's have a look on ticket generation. We asked them a question regarding privacy policy about which we were confused. They replied to my ticket after seven hours. However, I was expecting a reply within an hour as it is for other many other VPN providers. They replied to me with courtesy and with elaborated answers over email. However, it wasn't the same when it comes to live chat.
They Claim to have 24/7 live chat option, but it isn't true. Live Chat wasn't present the whole day while we are writing this review. On the previous day, I checked the availability of live chat, and it was not there. When it appeared again, I asked the customer support executive about the unavailability of live chat to which he replied that "It was present all the time. We only close the chat while having lunch." We agreed to this and waited the whole day, but live chat didn't appear. However, according to them, it was present all the time. They have not provided a reason for this, and so we can't say that their live chat is reliable. Also, there was a lack of courtesy.
Conclusion
ibVPN is still in the development phase. When it comes to protocols, they render the maximum types in the comparison of most of the VPN providers — also, the different plans that they offer to provide flexibility for the user to pay according to his requirement. Even if the number of servers is 173, speed and connectivity are not at all compromised. However, when the user base increases, they need to increase the number of servers placing addition of streaming and gaming servers at priority.
They need to add more features that we have already discussed above which could render a better user interface. Also, one can't accept the customer support to be rude and unreliable, and human resource needs to be improved first. It took them six hours to reply us which is not at all acceptable at the time of emergency. They explained to us that our question was not of high priority and that's why it took so long. We would recommend this product for the countries where usage of VPN is restricted because of its efficiency to hide the content amidst the standard traffic.