Pros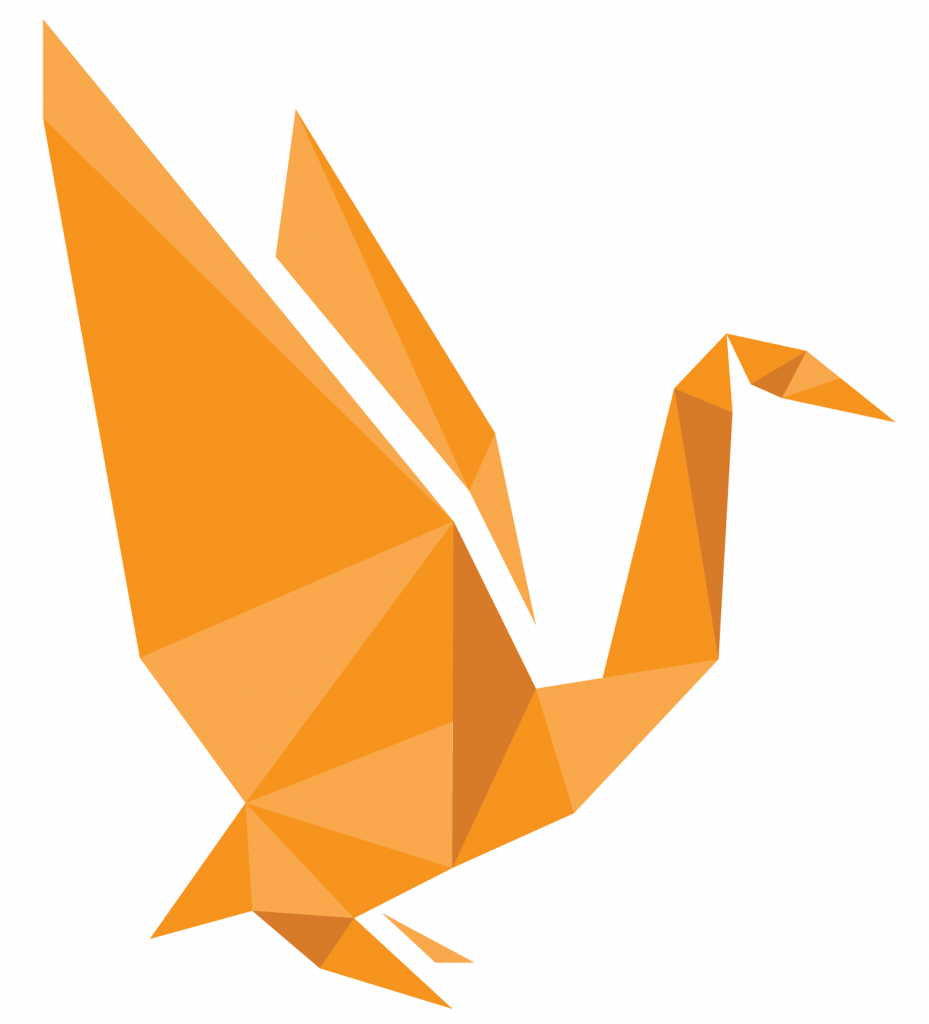 "Smart Server List" option lets the user connect with the fastest server automatically. Generally, it connects with the closest server. However, in some cases, the client could get connected with another server if the closest server is down.
They provide a streaming server for various countries such as the United States, the United Kingdom, and the Netherlands.
It provides a quality speed when connected with the fastest server. However, while one is connected with the streaming server, the speed may not be equally good, but still, acceptable.
Around ten P2P servers are provided, distributed all over the world facilitating their usage to every VPN user.
The Kill Switch option is present which acts as the data savior whenever the internet connection drops. You can even enable it or disable it while you are connected with the virtual private network.
They claim to provide the best customer support. In our experience, apart from some contradictions, and misleading information which we have discussed in the customer support section their customer support acted reliably. They also offer live chat which one can't find with every provider.
You can use an unlimited number of devices with one account. Well, this is something which we have never expected that any VPN provider would provide.
Netflix USA and Netflix UK are accessible by using streaming servers located in the respective countries.
Cons
GOOSE VPN's headquarter is located in the Netherlands which is one of the "Nine Eyes" countries. That means strong government surveillance could be expected.
It doesn't provide features such as Split Tunneling and Port Forwarding which widens the usage of the client.
They don't provide any option by which servers could be sorted. If this could be added to the client, it would be easy to identify the server according to the requirement. However, they provide "play button" symbol before the streaming server and have "P2P" written before P2P servers.
Overview
| Quick Overview | |
| --- | --- |
| Protocols | IKEv2, L2TP, IPSec, PPTP, OpenVPN |
| Platforms | Windows, Mac, iOS, Android, Chrome, Routers, Linux, Smart TV |
| Jurisdiction | Netherlands |
| Logging | No Logs |
| Encryption | 256 AES |
| Connections | Unlimited Connections |
| Locations | 22 Countries |
| Servers | 22+ |
| Netflix/P2P | P2P Available |
| Payment Options | Credit Card, Debit Card, Paypal |
| Support Options | Live Chat, Email Support |
| Pricing From | € 2.60/mo Billed for 3 years |
| Guarantee | 10 Days Money Back |
| Free Trial | Yes |
| Website | Visit Website |
They claim to be the only VPN provider with Dutch origin. Also, they provide customer support with the Dutch language.
As the main goal, according to them, is to provide an unrestricted internet with quality service. The quality service has several pillars, and one of the most prominent pillars is Customer Support which GOOSE VPN is proud of.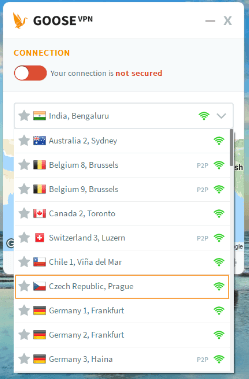 GOOSE VPN, headquartered in Rotterdam, Netherlands is owned by GOOSEVPN, which focuses on a quality customer support.
Along with that, they maintain the simplicity which allows users to utilize the application even if they have minimal technical knowledge of the VPN technology.
Here, we tried to review every aspect by which the benefits, and limitations of the product could be transparently shown. Even though, it is a good product there are few contractions which may or may not affect the user. However, if you wish to know about them, just go through the review,and it will guide you to take the correct decision.
Servers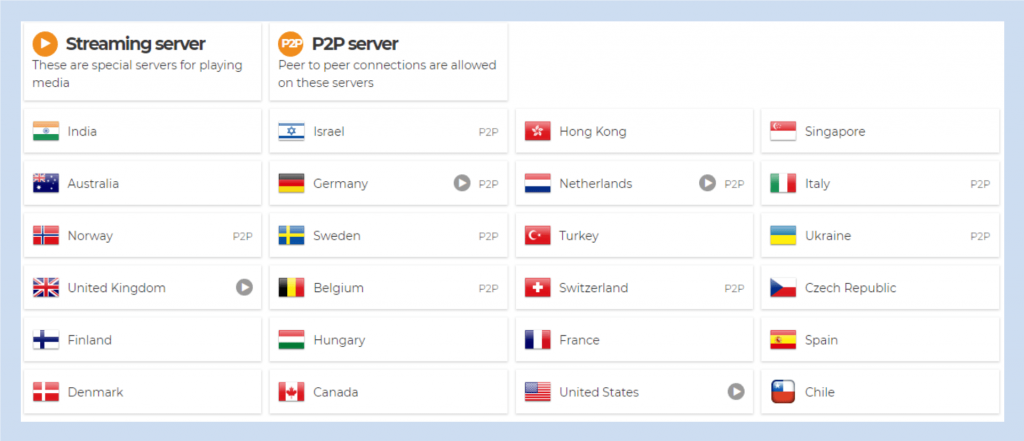 In total, they have servers in around twenty countries located in different continents (except Africa and Antarctica). Out of twenty countries, P2P servers are provided for nine countries:
Asia: Israel
Europe: Germany, Netherlands, Italy, Norway, Sweden, Ukraine, Belgium, Switzerland
And the streaming servers are also added for the countries which have exclusive connect. With these streaming servers, if you are outside the country, then also you can access the content even if it's available for a specific country. Well, probably you will get access to your favorite channels through these streaming servers:
They have not disclosed the server locations, but the number is claimed to be above fifty. Most of the servers seem to be in Europe as out of all the countries; sixteen countries are located there. This explains that they wish to uncover the internet of the European region.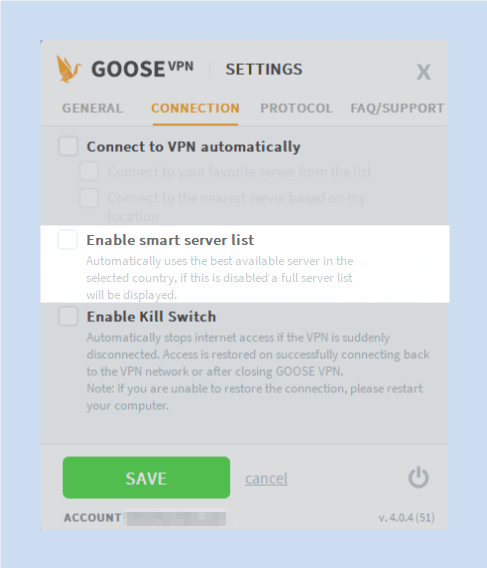 However, it is obvious that no VPN provider would forget about adding servers for the United States. Even if the number is not known, one can expect to have 10+ servers in the USA.
With the "Smart Server List" option, you can connect with the fastest server available. However, it won't be possible for you to connect with another server from the same country manually. You only get the option of connecting with the country. After that, it automatically connects with the server which is closest to you.
That time, in the map provided in the client, you can look at the location of the server. If you connect again with the server of the same country, and it's different from the previous one, you can't switch to that server manually.
But, a different option for connecting with streaming servers is provided.
Free Trial and Refund Policy

They provide 30-day money-back guarantee!
That sounds fun and almost like a free trial. You can utilize the application for the month, and if you are really satisfied then only you need to continue. Or else you can ask for the refund if you don't like the service.
Wow! That sounds great but hold on for a second. It's not that great.
If you are planning to use it as a free trial and thinking of making a decision based on your experience after the trial ends, this free trial could cost you $13 which is the price of one month's service.
Now, even after the provision of 30-day money-back guarantee, you may not get the refund if:
You use more than 100 MB of data in that month. According to their refund policy, if you utilize more than 100 MBs of data, sorry, but you would not be eligible to ask for any refund.
We expect GOOSE VPN to showcase that the trial period only allows the user to use less than 100 MBs. This will safeguard them from disappointments and helps to maintain a neutral image of the company, if not positive.
Liability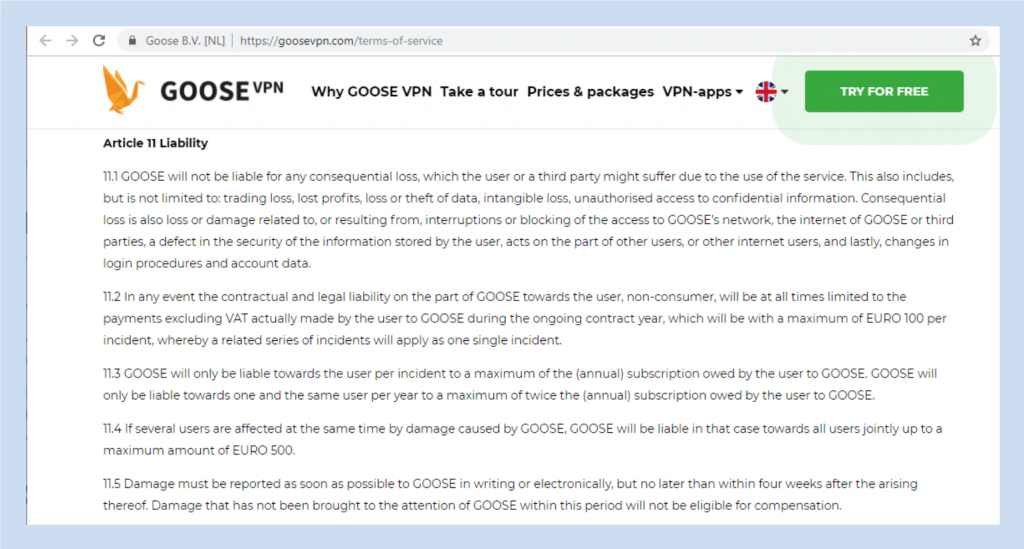 If you are using any service, and any harm is caused to you by using it, you are surely going to blame the service provider, and would also ask for compensation. However, in GOOSE VPN's case, you can't do that as they would not take its responsibility.
It's ironic that they claim to provide security. However, they are not ready to take charge if they don't fulfill what they claim.
Also, even if there is any legal liability where GOOSE needs to pay to the user, the payment would not exceed more than €100 (excluding VAT) per incident.
Although the event affects multiple users, the total payment would not exceed more than €500 in total.
One needs to report this damage within four weeks after the incident occurs so, if you come across the knowledge about the incident after four weeks, you can't technically claim a single penny.
As the GOOSE VPN claim that the customer is the priority, we expected them to take charge of the incidents which may cause because of their failures while the user uses the application.
Unlimited Devices

"In how many devices, can we use GOOSE VPN from one account?" I asked
"Unlimited!" Customer support executive replied within a few minutes.
"Simultaneously?" we texted curiously. And they replied "Yes" to it.
However, there is a prior condition that you must know before installing the application in every device you see.
There is a bandwidth limitation.
Well, they have not provided a limitation of the specific amount of data that you could utilize, but if you utilize more than 1% of the total bandwidth of GOOSE VPN's network, then probably they could charge you extra. So, be careful about the amount of data that you use.
Connection Time Analysis
| Trial No. | Time Taken to Establish a Connection (Seconds) |
| --- | --- |
| 1 | 15.68 |
| 2 | 12.89 |
| 3 | 13.19 |
| 4 | 13.81 |
| 5 | 12.84 |
| 6 | 14.14 |
| 7 | 13.33 |
| 8 | 16.28 |
| 9 | 14.19 |
| 10 | 15.85 |
| Average Time in Seconds | 14.22 |
The average connection time is below fifteen seconds which is comparatively better than many of the VPN providers. However, the best ones get connected within three to five seconds.
The reason behind this could be a smaller number of servers, and a greater number of users. If the user-server ratio is kept adequate, such issues don't appear. Well, but in this case, the speed was perfect, so this could not be the issue.
However, maybe the improvement in the client is required.
That would surely establish a connection within a few seconds.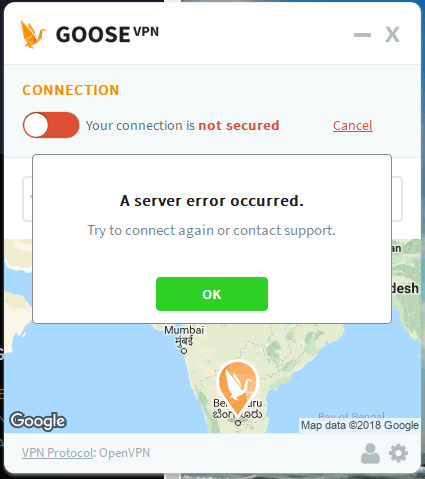 However, while we were connecting with the streaming server, it took more than the average time. Also, it showed us error a few times which was related to OpenVPN. When you need to connect it with a streaming server, it won't allow you to connect it with OpenVPN sometimes.
At that point, change the protocol to IKEv2.
After that, it will get connected with the streaming servers.
Speed Test
Ping maybe more, but for browsing purpose, the download speed is generally good enough. We experienced a reduction of just 12% when it comes to downloading speed, and only 23% when it comes to uploading speed.
However, for streaming servers, the speed was significantly reduced, and at most, you can watch 720p videos for USA streaming server and UK streaming server.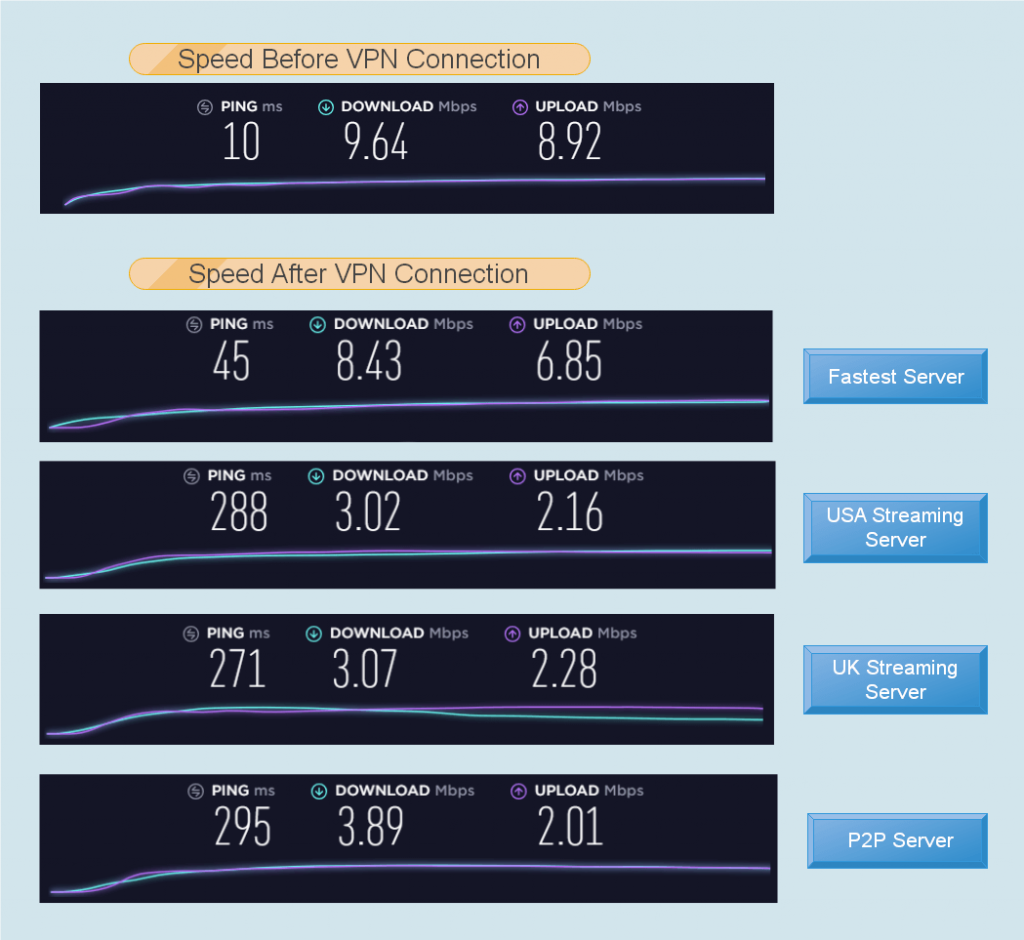 Also, P2P servers are required to be improved as they are just providing the download speed of 3.89 Mbps, and upload speed of 2.01 Mbps.
The number of servers in Central and Northern Europe is more in comparison of other locations, and that's why, regarding speed, this VPN provider is best suited for European countries.
Security
As most of the VPN providers are using AES, it has become one of the standard requirements that one should look for, before purchasing a VPN client.
GOOSE VPN uses the AES encryption, but the level of security changes with the change in protocol.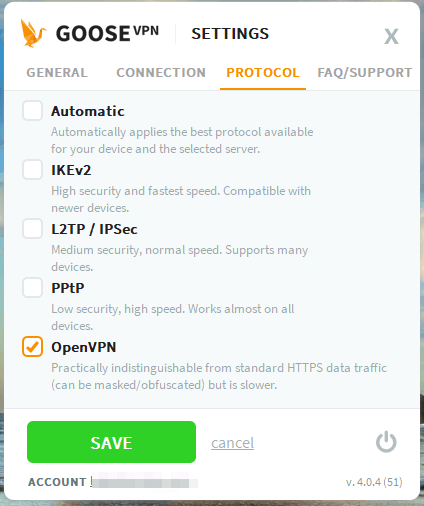 There is an automatic selection option under the protocol tab which lets the user gets connected with the best protocol according to the user requirement. The change in protocol occurs according to the speed, and security level. If the high security is required, one can use OpenVPN. If speed is the priority, then PPTP protocol is present. However, it will compromise your security. For a balance between speed and security, one could use IKEv2 and L2Pt protocol.
They also provide an effective Kill Switch which doesn't allow any connection with internet in case if VPN connection drops.
Also, a strict no log policy adds into security letting the user freely visit the content. However, as they are situated in the Netherlands, 100% privacy can't be assured, and one doesn't know if the data is safe from the government or not.
They won't be taking any liability of any data breaches, which develops a second thought that how to secure the data is if one uses their client.
User Interface and User Experience
The minimal features and availability of a few configurations makes it easy to use for every person who just wishes to take the benefit of the facility and doesn't wish to discover unrequired aspects.
The options such as smart server list and automatic connection act as small additions to the user interface.
When it comes to user experience, while connecting with the streaming server, one can experience error related to OpenVPN. At that time, one just needs to connect it again or select a different protocol.
Speed and Customer support are good enough to deliver an above average user experience. They also provide live chat to keep the user experience positive. Also, one could easily explore all the information related to their service on the website.
Platforms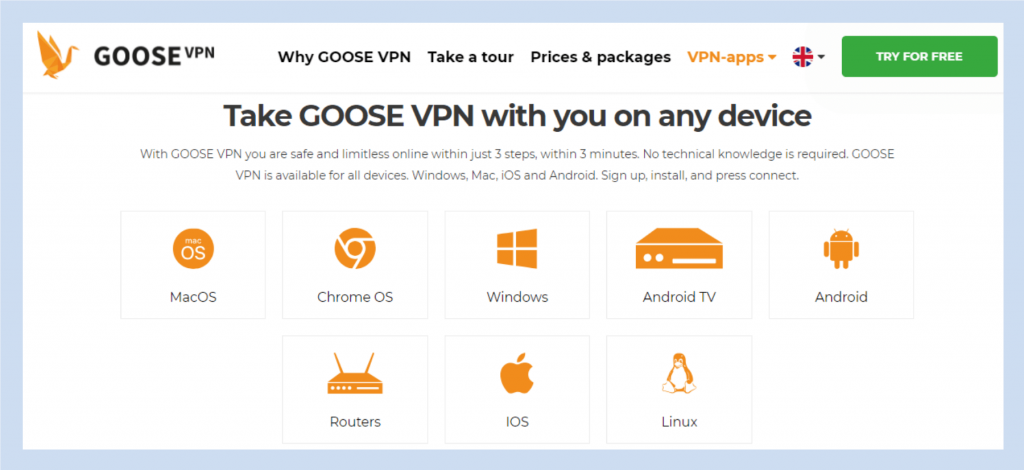 Not that many, but still, covering the important ones.
Also to….
Android
Windows
MacOS
iOS
and Linux,
They also provide it for few routers and Android TV. You can easily install in on:
Asus
Tomato
Netgear
D-link 600
DD-WRT
However, they don't provide any browser extensions as it's not required, if you connect the system with the application.
If one wishes to use it for gaming consoles, he can connect the device with routers, and here you go.
Also, you can download manual setups for different versions of their operating systems for different protocols. For Android and iOS, only OpenVPN manual setup is available.
It is even available for ChromeOS.
Customer Support
Without any doubt, they have tried every possible method to provide the best customer support. However, there were a few contradictions that we wish to bring forward:
Availability of telephonic support for the business plan: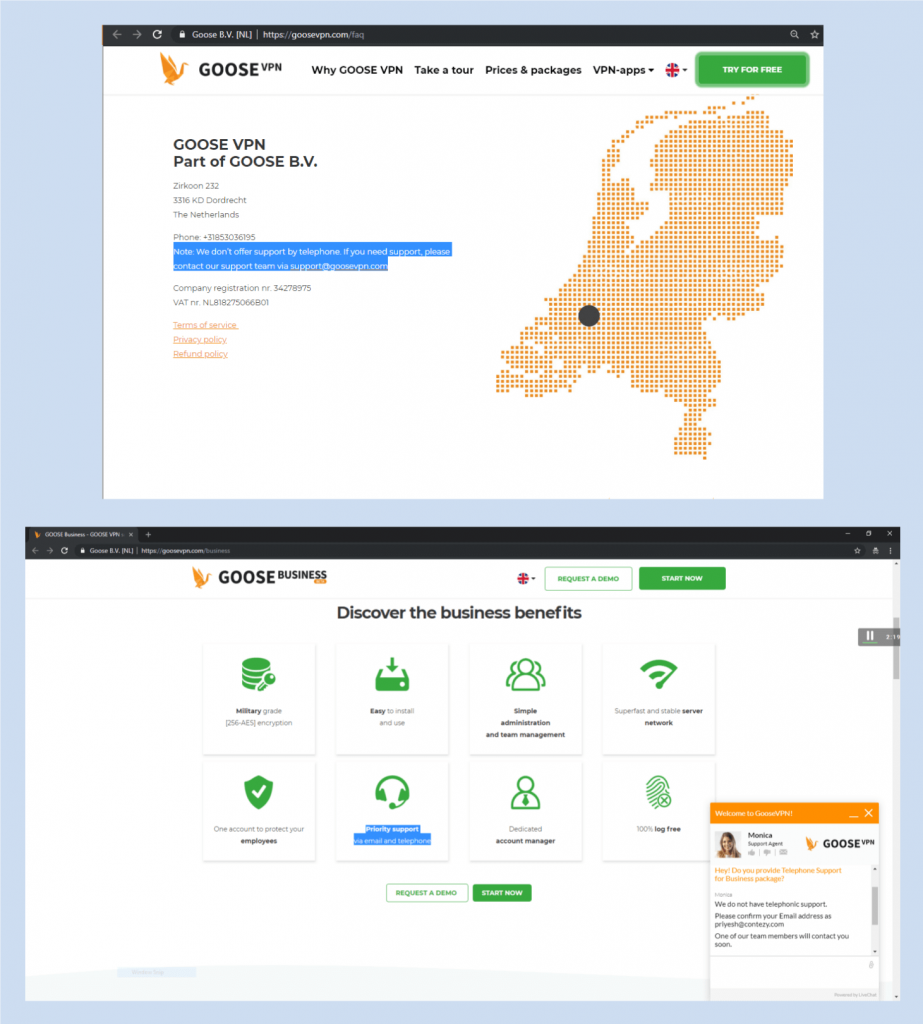 Their website provides the information that they also provide support via telephone. But, on the same website, we learned that they do not provide it. Also, customer support executive confirmed that they do not provide any telephonic support, so this information was misleading.
Live chat was available all the time, but for a few times, when we visited the website, we were unable to contact them as the dialog box showed that "their customer support isn't available right now." If that's because of lack of human resource or it's a technical issue, they need to fix it for claiming 24/7 customer support.
Other than these issues, customer support executives are courteous.
They delivered elaborated answers and provided the required links. Also, they reply within seconds or in a few minutes providing a very fast response time.
However, the case with e-mail support is not the same. We asked them about the encryption, and they provided information about the protocols which we already knew. They usually take 5-6 hours to provide a reply to our e-mails which could also be improved.
Initially, we asked about encryption to customer support via live chat. Instead of the name of encryption, they described the key length that they use. After I corrected the executive, she asked me to contact via e-mail. Some more training would be required for better answering.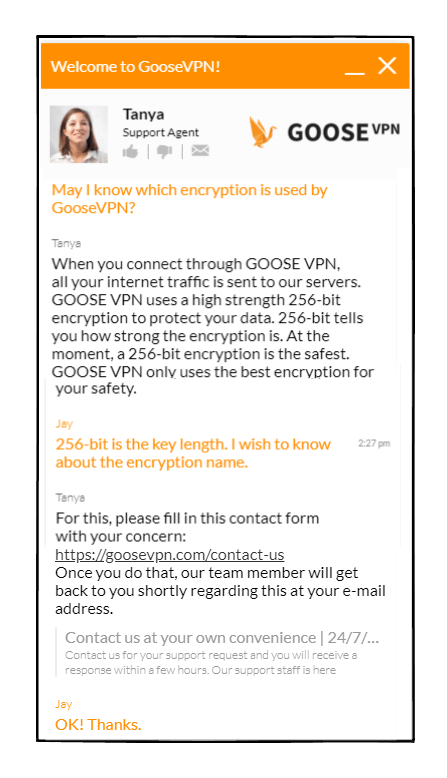 Conclusion
They are providing outstanding speed, and easy to use interface. However, because of a lot of contradictions between the showcased commitment, and the background information, complete reliability could not be ensured.
Also, we expect them to take charge of any data theft that could occur during the usage of their application as that's the prime reason why we are using their application.
Addition of a few features would not harm the simplicity but will also add to the efficiency of the application.
GOOSE VPN is still in the development phase, but before taking further steps, certain changes should be made in the privacy policy, and website content according to the discussion that we had during the review.