Pros

Limited Trial Version: Getflix provides a free of cost trial version for seven days. Users can check out the services here.
Ease of Setup: The DNS service settings are effortless to configure across various devices.
Multiple Platform Support: The service can be used across various devices and platforms with ease.
Broader Channel Support: Getflix has support for over 225 channel services with more being added soon.
Extra VPN Support: They provide separate VPN support for users who experience DNS hijacking.
No Log Policy: They do not store any personal user logs like browsing habits, website data, etc. except saving machine IP address for easy recognition of the users' devices.
Great Customer Support: They have employed excellent customer support to help users.
Cons
No Support for Certain Routers: The service still has no support for many routers.
Limited Device Connection: A single user can use the DNS service on only three devices on the same account.
Limited ISP Support: The service has a list of specific ISP that does not work with their settings.
Average Pricing: The pricing of the product is average and can have much better offers.
Limited P2P over Smart VPN: Getflix has allowed only partial p2p on its VPN, supported by only a few servers.
Less Secure VPN: The VPN service is not as secure as a typical standalone VPN product.
Overview

Getflix is a DNS service operated in Australia provided by Global Stealth, Inc
Having an active user base in Australia and New Zealand, this service is also enjoyed by many users from different part of the world. By using this service, you can unlock any video streaming or music content online, regardless of your location.
There is no speed reduction imposed on this service, and you get a free trial version for fourteen days.
This DNS service comes with support for various streaming content across multiple platforms to make sure the viewers do not have any restriction to watch their favorite shows at any time.
Regional Settings and Channels Support
The Getflix DNS Service offers different regional settings to incorporate support for various regions.
Not all content can be available for a single region. Most streaming sites follow a strict policy to inhibit non-regional content to be streamed on their platform.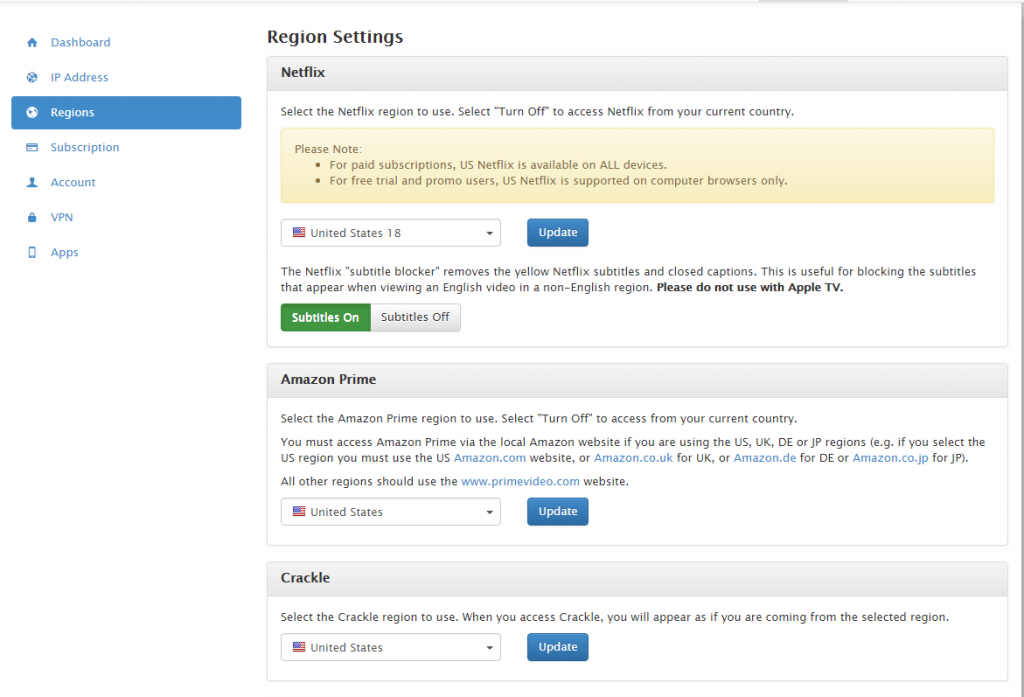 A DNS change service provider must incorporate ways in which the majority of content can be accessed by the users on a single DNS, rather than changing the DNS for every region.
Getflix has provided support for around 20 countries to incorporate different streaming services.
Getflix uses an algorithm where it has enabled support for most region locked content to be accessed by a single DNS. However, there are some exceptions where rigid policies and stringent security measures by some of the sites can lead to the blocking of such DNS by these websites.
For sites like Netflix and Hulu, Getflix has been trustworthy for both free and premium users. Based on the availability of certain streaming sites, they have given separate support for some regional channels.
However, some of the streaming channels use the same platform for video streaming. As a result, the users have to select a particular region which contains a list of the unblocked channel, only available for that region.
Apart from that, they also provide certain ways to change the location of app stores for some devices so that you can also access the restricted apps in your region without any extra charges like for gaming consoles, smart TVs, etc.
The channel support has extended to over 200 channels from various countries. They have support for the favorite channel like HBO, Hulu, ABC Go, BBC iPlayer, VUDU, Netflix, Amazon Prime, Spotify, MLB, etc.
They have not mentioned any details of their server locations. We tried to get this information, but it was probably not a piece of disclosable information.
For a full list of channels supported, visit here.
Performance
The performance of the streaming services when accessing content may change based on various factors like regional issues, connectivity issues, routing, etc.
Most of the time change in DNS brings rare instances of connectivity issues, but anything can happen for any machine.
The streaming services are not happening through Getflix. They just take care of the geographic checks – that's all.
The quality of the stream depends on a lot of factors such as bandwidth, routing, network load and distance to the region you are streaming from.
Routing might differ from time to time when you connect. This can be due to bottlenecks between you and the service you are streaming from and many other factors.
In our case, we got a similar streaming performance before and after changing the DNS.
Response Test

The DNS service that you are using may claim to provide you with the fastest browsing experience, but how to check out such claims? Sometimes, the DNS you are using is not the fastest and can affect the surfing experience on the internet.
For this reason, we have conducted a DNS response test. In this test, we have used an opensource code "namebench." This code has given us the facility to check the fastest DNS response time for the given user. The code employs the DNS ping tool to find out the average response time across various domains.
In our case, we selected the top 2000 website Alexa choice to make sure the test will not give preference to the stored DNS cache and alter the results. The first Nameserver option can be used to fill the DNS servers whose response time you want to compare. In the query field, we had used the value of 200.
In took around 15 minutes for the test to be completed. The test results are saved in the temp folder of your machine which also contains an HTML page to show all the data in a nice visual form. This code also saves the tested data on an Excel sheet which is way too long and tedious to discuss.
The main results show us the recommended server, Average response time bar graph, and response distribution chart. Just a quick heads-up that we are using a fast 60Mbps connection for our tests, so do not worry about any speed distortion from our side.
Recommended server showed us Internal DNS to be fastest for our machine. However, both OpenDNS and GoogleDNS were shown faster for our location.

The average response time bar graph showed Internal DNS as fastest with around 210ms time while Getflix DNS 212.71.249.225 (UK) had around 430ms time. Even OpenDNS and GoogleDNS were faster than this at 330 and 240ms response time.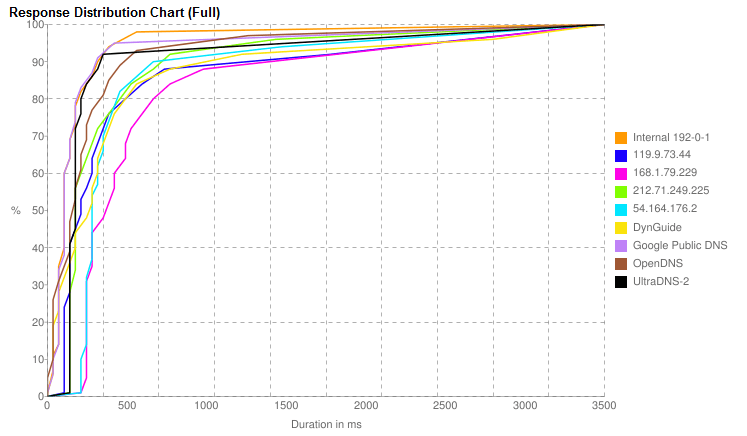 The final graph of response distribution shows x% of queries in the given time, showing stability of the DNS. Here, Getflix showed some average results than OpenDNS and GoogleDNS.
Thus, the DNS showed an average performance in these tests and certainly the OpenDNS and GoogleDNS showed better results than Getflix DNS. This will not have too much impact on download speed, but the surfing speed is slightly better for DNS servers having less response time.
Security and Privacy Policy
Changing some of the internet settings to involve a third party except your ISP may scare some of the users. What if they hijack my system and abuse it? What if someone uses a MITM attack to read all the data routed via these DNS servers and find out every detail of the session?
Such things are to be covered when securing the servers that provide the DNS services. Third person exploits are to be prevented anyhow since the data exchanged is not encrypted like a VPN so anyone can easily read it if they manage to intermediate the traffic.
The DNS service claims to have no security loopholes to exploit the server system by any of the methods possible, which can leak user data to third party sources or hackers.
The privacy policy is critical to use any services which help us maintain certain anonymity and avoid the illegal use of personal data by third parties.
The DNS exchanges certain data with hosting providers to ensure the service is running on your device. They also have certain data processors to transfer personal data. These processors are under agreement to safeguard such information.
Getflix claims to have store specific user info like:
Email: For promotional and account related uses. Promotional offers can be turned off by users at any time.
Name and address: This two information collected may seem scary to some users, but they claim it to be used only for affiliate purposes and to create a VAT compliant invoice in case of a paid service.
Credit card Info: They store the credit card info only on payment gateways. The credit card info never touches their servers.
IP address: To provide the DNS service and for API purposes, they need to have access to the user IP address. They claim to do this for support and to prevent malicious abuse by users.
Further, They have the following statement for user data exchange with third parties

This showed that they have a concern about users' privacy even when they are in one of the five eyes nations. They have said in our chat, that they will not share any details with local authorities even when forced to do so.
All the information that they have in their system is already encrypted and hashed so no one in the company and outside sources can access it. They have developed the VPN service especially to aid users who want to keep further anonymity, showing their care for users' privacy.
User Interface and Experience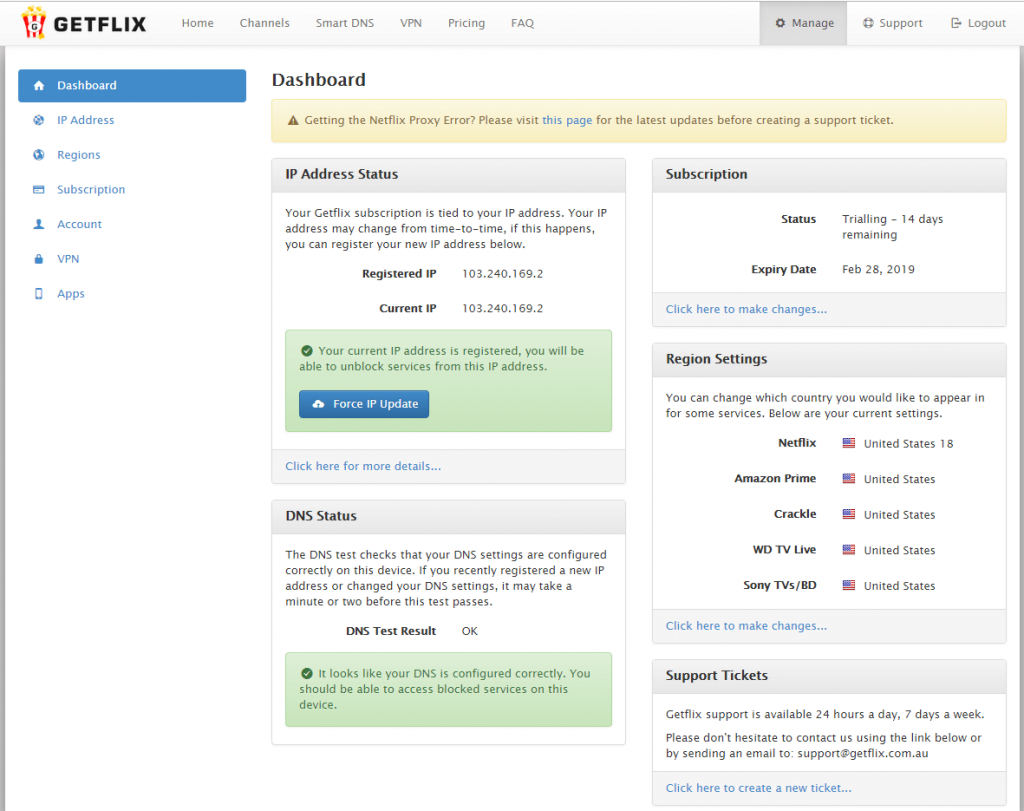 Most DNS Services have simple webpage UI. This is because they do not need to have separate software for their services since most settings can be configured by the users without any haste.
The main dashboard appears when logged in to your user account via the home page. The main panel shows details like Current IP address status, Current DNS Status, Subscription status, Regions status.
The next tab has IP address section. In this tab, you can see the choice to update the current IP. They also have given an API link, unique for each user. Other than that, you can also use the option to add manual DNS services like DynDNS or No-IP to update the IP address automatically. There is a separate log generated on the same page which shows earlier used IPs and their history.
The third tab has region settings as explained earlier.
Next tabs are about subscription and user account. They have details of users' info like Name, address, phone number, etc. with billing information like credit card info.
The last two tabs have VPN info and its set up guide and the option to download the service app on platforms like Android, iOS, MacOS, etc.
Smart VPN
There are times when the DNS provided by the services will not work since the ISPs can block or hijack these DNS.
Most of the time it is part of DNS hijacking. DNS hijacking is a method used by most ISPs to redirect all the traffic forcefully through their own DNS. This ISP DNS is generally Ad filled for nonexistent domains and sometimes is done intentionally by ISPs with a grudge against users opting out of their DNS services.
To counter that, Getflix has given a feature called Smart VPN. This VPN is split in two ways of its functionality, viz. DNS-over-VPN and Full VPN.
DNS-over-VPN is a smart service VPN which uses VPN over DNS only. This allows the users to surf the internet at regular speeds since the data is not encrypted and just passes through a DNS-over-VPN. This is not a full VPN service that encrypts and passes your data through remote servers. It just moves the DNS through a VPN service to unblock it.
Another one is a Full VPN service. This service is only unlocked for premium users. The trial version users can only benefit DNS-over-VPN. The Full VPN comes with all significant functionality of a VPN. They use OpenVPN to configure the settings for full VPN.
The Full VPN has more security features and several protocols available. The main protocols are PPTP, L2TP, SSTP, Open VPN UDP. Users are free to select any of these protocols as per their needs. The DNS providers have recommended OpenVPN UDP for maximum security features, but users can try L2TP or SSTP depending on the ISP services.
To set up the OpenVPN, you need to have the OpenVPN software installed which can be easily found over the internet. Use the configurations files provided by Getflix and load them directly via the OpenVPN application.
You can configure this Full VPN and DNS-over-VPN on many devices like Windows machine, MacOS, Android, iOS, and routers.
The VPN provides the support for over 30 servers spread across the world. They have inbuilt support for DNS leaks and block IPv6 connections.
Overall, this VPN service is used only for severe monitoring cases by ISPs or as an alternate if the DNS service does not work, so do not expect it to be on par with big fishes in VPN market like ExpressVPN, NordVPN, etc., but the VPN does its job quite well.
Subscriptions

Getflix provides various types of subscriptions for its user base. Among these, primary options are Trial subscription, and other is paid subscriptions.
There is virtually no difference between the trial services and paid ones. Both have all features unlocked and full customer support. The main difference they have is that the trial version does not have Full VPN feature.
The service they provide has lucrative pricings. Personally speaking, the subscriptions costs are quite affordable for most people along with the excellent service they provide.
The pricing starts with a free trial version. Then they have set $4.95 for a one-month subscription.
The three months subscription has $12.95 with 13% savings and six months plan costs $22.95 with 23% savings.
For long term users, there are two plans, viz. for twelve months and 24 months costing at $39.90 and $54.90 respectively. Both offer good savings of 33% and 54% respectively.
The blocked content is going to be stuck for a long time, so users who need to satisfy their streaming cravings are highly recommended to use the long-term subscriptions to benefit the discounts.
Platforms and Devices
To make sure the services are accessible by users at their get-go, supplying support for multiple devices and on several platforms is an essential feature.
Getflix has given support for nearly every device that runs using the internet. The service of Getflix is extended to many devices as listed below:
Single Devices:
Operating systems: OS X, Windows, Ubuntu.
Media Players: Amazon Fire TV, Apple TV, Boxee, Roku, etc.
Gaming Consoles: Xbox, PS vita, PlayStation, etc.
Smart TVs: Google TV, LG, Samsung, etc.
Phones and Tablets: Androids, iOS, Kindle, and Windows Phone.
For Multiple Devices option, the support is across various routers like D Link, Huawei, Linksys, Asus, Cisco, Netgear, etc.
Thus, a customer can enjoy the DNS service across multiple platforms without too much trouble in setting up configurations for every device by directly using router support.
For further details of various devices and routers, you can visit this page.
Setup Guides
Setup guides are steps to configure the correct setting for a device so that the user can benefit from the DNS service without any hassle.
For various devices, the setup configurations are different. Here, we will list out some of the setup guides to help you understand the process.
Windows:
Go to "Start" and click "Settings."
Select "Network and sharing" from there.
Choose from" WIFI or Ethernet" depending on your current connection and select "Change Adapter settings." Right-click the selected network and choose "Properties."
Uncheck IPv6 – this is an important step. Select IPv4 and click "properties."
Use the given DNS settings you need to access for a given country under DNS section here.
Android:
Find the settings option from the App drawer list. Click on "Network & Internet."
Select "WiFi" and select the connected network. Tap and Hold it for 2 seconds.
Select "Modify Network." Tap "Advanced Options" from there. Under "IP settings," chose "static."
Use the Getflix DNS servers provided in the list as above.
TP-Link Router:
Go to your browser and enter "http://tplinklogin.net/" or "http://192.168.1.1" depending on what model of router you have. This can be found over a router box or instruction manual.
Use the router credentials to login into the router page.
Go to "DHCP" in the left menu and select "DHCP settings. "
Use the given settings for DNS servers as per your content location.
Save the settings and restart the router.
The users must restart the system and login again on the Getflix page and update their IP.
Make sure to "Enable DNS relay" is turned off in network settings Tab.
The users can configure the correct settings for their current device.
Customer Support
How to figure out the settings for DNS? The connection does not work after using the DNS? Many such issues can arise in everyday usage of the service, and not all users can rectify them. For these reasons, we need customer support.
Customer Support aids the user to solve any personal product related issues or to guide them when there is a malfunction of the service.
Getflix provides basic customer service via Email support, and another is using live chat support.
They also have social media support for Facebook, Google+, Twitter, etc.
The Email support uses ticket submission which can be sent to customer support for finding solutions.
In Live Chat support, we can interact with customer support executives via a chat window. You can ask any product related query there, and the representatives will help you solve the issues.
We used both Email and Live Chat support. Both are quite easy to use.
For Email support, we had sent some of the technical issues we faced while using DNS and VPN. The customer support helped us out within 3 hours of our ticket submission.
We then tried to test the Live Chat support. Initial experience was that it was a bit buggy and had a slow response. The customer representative showed a good attitude to all our questions and helped us cheerfully.
The social media support was similar to Live Chat support, and the customer care frequently responded to many users on these platforms.
Overall, we had a pleasant experience in every form of customer support system. Getflix has indeed employed proper measures to connect to their customers and help them with any product related issues.
Conclusion
Getflix being more prominent in bypassing Geo-restricted content has earned our and many customers' goodwill. They did an excellent job in making sure that users can enjoy popular streaming sites like Netflix and Hulu along with other regional channels of different countries.
The DNS service has quite easy set up guide for most of the device that uses the internet. They also have given a VPN as a backup which is still mediocre than top VPN products. It would have been better if they had a separate standalone VPN setup.
The region settings are straightforward to configure, and the service comes with the 14-day trial period is impressive too. They have very lucrative pricings which can be afforded by many users across the world.
The best part is they do not log any user data even when part of five eye nation. The customer support is very helpful and can be contacted in multiple ways.
That is why, if you are looking for a useful product to access the geo-restricted content, along with a VPN facility, Getflix is your right choice and will not disappoint you.