Pros
In addition to OpenVPN, it also provides three other protocols which serve different purposes. OpenWeb, StealthVPN, and WireGuard are available in the application for providing flexibility to the user.
Flexibility is also implemented with the help of interface options which let the user have better control over the application.
There are different options related to different protocols which could only be altered when the particular protocol is selected.
Astrill VPN also provides sharing options which allows one to utilize the virtual private network in a remote device by adding a proxy in that device provided by Astrill Client.
They also provide a free version for Android devices.
Add-ons such as dedicated IP and Dedicated server can also be purchased which one could get according to the requirement.
You could also access .onions sites without using Tor by connecting with the VPN without the fear that any third-party would discover the usage.
For all the four VPN protocols that are provided for windows client, you won't experience much reduction in the download or the upload speed.
They even provide a number of servers for Asian users also. They have concentrated on most of the prominent Asian countries along with the European and the United States.
They provide WireGuard protocol that renders instant connection as soon as you click the ON button.
Another additional feature that Astrill VPN provides is its ad blocker, but that is only available for OpenWeb protocol.
You can also select the different sites which you wish to include or exclude from tunneling while you are connected with VPN. That's helpful when you don't mind any third party knowing about your access to any particular website.
They provide own DNS servers and also allow to directly connect with other DNS servers by selecting them from the list. However, it is only recommended to connect with other DNS servers when Astrill DNS servers aren't working fine.
You can also adjust MTU packet size which could render better speed while using the VPN.
One can connect with an unlimited number of devices with five simultaneous connections.
It also offers a business plan which allows up to 200 accounts using a single e-mail address. Also, it's cost effective as it comes at a cheaper price.
Cons
You can only sort the servers in Alphabetical order. However, when you right click on the toggle button, it will show some recommended servers for different continents.
There is no recommended option for P2P servers, but you need to manually connect with them by selecting them among the all star marked servers.
They provide simultaneous connectivity with five devices, but you are only allowed to connect with one router at a time.
They don't provide browser extensions even for mainstream browser extensions such as Chrome and Firefox.
Overview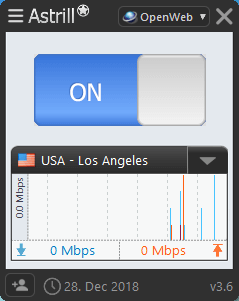 Astrill VPN is one of the first players of the VPN technology league. The company, headquartered at Seychelles, was started in the year 2009 with the aim of providing unrestricted internet to the people all over the world.
The application is provided with vast number of features, out of them, some are unique and possibly available only when one uses Astrill VPN. Unlike other VPN providers, they have server locations all over the world targeting not only North American and European countries but also Asian countries.
| Quick Overview | |
| --- | --- |
| Protocols | OpenVPN, StealthVPN, OpenWeb, L2TP, IPSec, SSTP |
| Platforms | Windows, Mac, iOS, Android, Linux, Routers |
| Jurisdiction | Seychelles |
| Logging | No Logs |
| Encryption | 256 AES |
| Connections | Unlimited Devices |
| Locations | 65 Countries |
| Servers | 320+ |
| Netflix/P2P | P2P Avavilable |
| Payment Options | Credit Card, Bitcoin, paypal, bank Transfer, Perfect Money, AliPay |
| Support Options | Live Chat, Email Support |
| Pricing From | $ 8.33/mo Billed Yearly |
| Free Trial | 7 Day Free Trial |
| Website | Visit Website |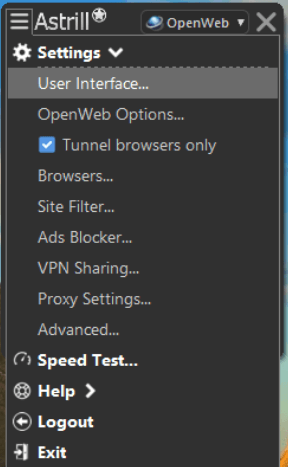 The protocols that they provide is also a special attribute which comes along with high speed and reliable connection.
Even after all these features, there are a few drawbacks and limitations of this application. These limitations may affect different users differently, but that could be only known to you after you go through every aspect covered under this review.
So, let's check out if this application is for you or not.
Server Selection
Under the toggle button, you will find three different buttons: Recommended, Favorite and All.
We don't find these selection options highly useful. To discover more, we right-clicked on the toggle button and found that the recommended servers were distributed according to the continent. This is a lot useful when you need to connect the system with a particular continent. It is also helpful if the recommended server is located in the country whose content you wish to access.

Other than that, servers could be sorted in Alphabetical order. After you sort the servers in the Alphabetic order, below the recommended servers, you can find of servers starting from A and ending with Z (according to the country name).
P2P servers could be easily found out by selecting the star marked servers present in the list. However, for streaming, you manually need to find the server of the country whose content you wish to access. Even after finding the country manually, it is not necessary that streaming channel works for the server that you had selected.
If the streaming channel doesn't work for the server with which you established the connection, then you need to connect with the other servers of that country manually, and that's where a user could have the problem.
It's not possible for the user to connect with every server every time. For instance, if you need to access Netflix USA, then you can't afford to connect with each server to see if the Netflix works for that server or not. The only way to avoid it to provide a separate list of Streaming servers.
The interesting fact about Astrill VPN's servers is the number of servers in Asia, Africa, and South America is comparable with the number of servers located in Europe and USA. Most of the VPN providers focus on the USA and European user base, but for Astrill the case is different.
In addition to North American and European user base, they have also targeted a user base that they could get through Asia.
They have placed twenty plus servers in Japan and ten plus servers in Taiwan. Also, they have multiple servers at Singapore, South Korea, India, and Hong Kong.
These many servers make the product ideal for Asian users when speed is concerned. This is the same scenario with North American and European users.
Let's not forget about Oceania users. They are also offered servers in Australia and New Zealand. In South American servers are located in Brazil, Chile, and Panam. That's how they are covering all the major countries with 300+ servers. A few VPN providers render servers more than a thousand, but still, they aren't able to match the speed with Astrill VPN. Perhaps, that's because of the smart placement of the servers or due to different types of protocols provided by them
Plans, Pricing, Add-ons and Refund
Unfortunately, Astrill VPN is one of the most expensive VPN providers. Perhaps, it's the most expensive one existing with a price above $15 per month. However, the price of the annual subscription is around $9, and thus, you get a benefit of $72 if you purchase the annual subscription.
There is a six-month plan also, but you would only get a benefit of around $36.
Apart from basic pricing, there are some add-ons also which you may wish to purchase such as dedicated IP address.
Multiple users share the IP address which Astrill VPN is going to provide you after the purchase its standard plan. However, when you purchase a dedicated IP, it won't be shared by anyone. The only benefit that you will receive is a higher speed.
A similar option is also provided: purchase a dedicated server. However, it is not at all required if you are going to purchase it for personal usage.
For business users, it has advanced plans which allow making 200 accounts through one e-mail address. This is a cost-effective plan as you only need to pay $5 for every account per month.
Apart from these plans and add-ons, there is one more option that you may like to purchase; they call it multi-hop VPN. By this add-on, your data will be transferred from one VPN server to another VPN server before reaching to the destination server. That reduces the risk of any data leakage which may occur during the data transfer.
Protocols and Their Options
Availability of different protocols is the special attribute that other VPN providers lack. Astrill VPN has all four:
OpenVPN
OpenWeb
StealthVPN
WireGuard
eminent VPN protocols. In addition to these VPN protocols, if one wishes to use PPTP, SSTP and IKEv2 protocol then one can download the manual setup from Astrill VPN's website.
However, if your system is compatible with any of the four VPN protocols which are available for the client, then there is no need to install the manual setup.
Also, these eminent VPN protocols are more trustworthy than the tradition protocol.
OpenVPN is universally accepted, and it is provided with the VPN client. It is because of the high level of security that it provides. It comes along with AES 256-bit key which doesn't allow any breaching.
OpenWeb protocol is developed by Astrill itself in the year 2009. Like OpenVPN, it's traffic is also encrypted with AES-256. In addition to that, it is a "connectionless" protocol. According to Astrill, it gets established within a moment without compromising with security or speed.
Stealth VPN is provided by a few VPN providers who focus on the user base where the detection of VPN usage could cause problems. Stealth VPN efficiently mixes the encrypted data with the regular traffic and makes it unnoticeable.
Wireguard is known for its simple design which makes it more performant than OpenVPN. Its construction is secure and doesn't allow any data leakage.
All these protocols are available for most of the platforms. However, if you wish to use traditional protocols, then manual setup is always an option, but the availability differs from device to device.
You can check the table to see if it's available for the required device or not:
Protocols/
Platforms
OpenWeb
OpenVPN
StealthVPN
WireGuard
Cisco
IPSec
IKEv2/
IPsec
L2TP/
IPSec
SSTP
PPTP
Windows
Yes
Yes
Yes
Yes
Yes
Yes
Yes
Yes
Yes
MacOs
Yes
Yes
Yes
Yes
No
Yes
Yes
No
Yes
Android
Yes
Yes
Yes
No
Yes
Yes
Yes
Yes
Yes
iOS
Yes
Yes
No
No
Yes
Yes
Yes
No
Yes
Linux
Yes
Yes
Yes
Yes
Yes
Yes
Yes
Yes
Yes
Router
No
Yes
Yes
No
Yes
Yes
Yes
No
Yes
Settings also change according to the selection of the protocol.
There are separate options for every protocol which are only available when you select the respective protocol.
For OpenVPN, you get the option of selecting either TCP or UDP according to your speed and security requirement. Security could also be altered by changing the level of encryption. However, there was no need of providing blowfish encryption as it's not at all reliable. Level of AES encryption could be changed by changing the key length. However, we suggest you keep it default or select AES 256 for high security.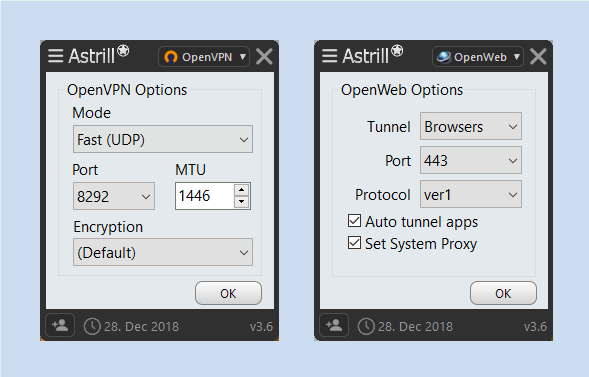 With OpenWeb, you get the option of utilizing VPN for browsers or all the applications. OpenWeb is available for two different versions, and you are free to select it. You should only select ver2 in case of ISP throttling or if any antivirus is not allowing the data to be received by the destination server.
As we mentioned that a few VPN providers offer StealthVPN, but, for us, Astrill is the only VPN product which offers it with UDP and TCP setting along with the permission to change the port number and MTU settings. These all options are added to enhance the user experience while browsing. You can change the MTU packet size if a page doesn't load or get stuck.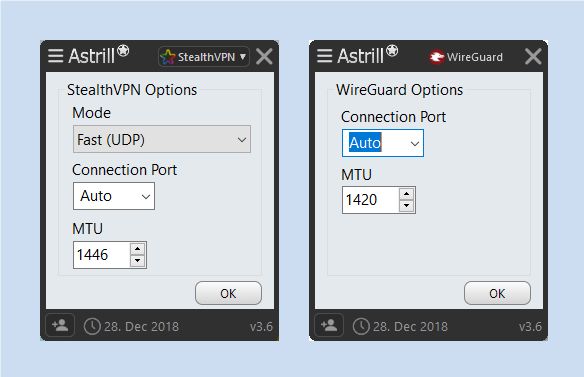 Similar MTU options and port selection is also present for WireGuard. However, VPN sharing option is absent for WireGuard which is available for other three VPN protocols.
Availability of these protocols may change according to the country.
Filter Experience
One obviously wishes to improve the browsing experience by making it safer and better. Well, some of the websites require tunneling, and for some, unencrypted data would be harmless. For that purpose, you can filter the websites which you don't wish to pass through the tunnel. This provides a higher speed for the websites which are not tunneled.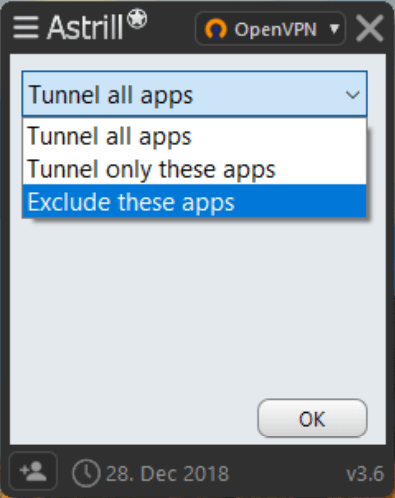 Also, the filtering of applications is possible by which one can select which application should pass through the virtual private network and which should not. It is helpful when you need higher speed for an application; you can exclude it from tunneling. There is also a possibility of selecting the particular applications for tunneling.
They also provide an ads blocker feature which was only available for OpenWeb protocol. However, when we enabled it, no change was experienced, and all kind of advertisements keep appearing as usual.
The issue wasn't even solved even after contacting customer care.
VPN Sharing and Port Forwarding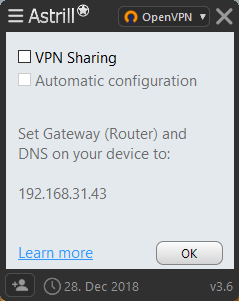 They provide the easiest way to access VPN through other devices without installing any client.
All you need to do is to check the sharing option and input the port and the proxy in your mobile device for accessing VPN through it. You don't need to worry about the number of devices as it won't be counted as a device. This feature is not available for WireGuard protocol.
Another way to access a system remotely is through port forwarding option. With the help of port forwarding, you can access the screen of a remote desktop in your system. That's how whatever activity that you perform on the system located at the other end will also get encrypted. One can't perform port forwarding while using OpenWeb VPN.
DNS Settings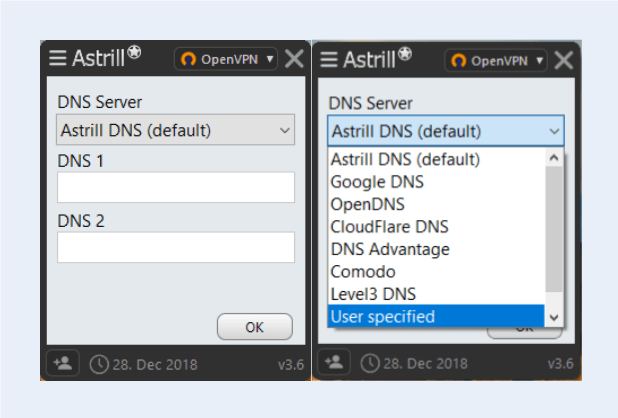 DNS leakage is the major pore through which data leakage could occur. We suggest the user should not use the VPN clients which utilize third-party DNS servers.
Astrill owns primary and secondary DNS servers, and it is not at all advised to change it. If you explore the DNS options, you will find that you can add any third-party DNS through the options. However, one should only do that if Astrill DNS servers are unable to establish a proper connection.
They provide an inbuilt option for selecting DNS servers from this list:
Google DNS
Open DNS
CloudFlare DNS
DNS Advantage
Comodo
Level3 DNS
User specified
If you don't wish to select any server out of the first six, you can directly specify the DNS which you wish to utilize by adding it's primary and secondary address.
If you don't wish to change DNS, then select, "Don't Change DNS" option provided at the end of DNS list.
This option is absent for OpenWeb Protocol.
Proxy Settings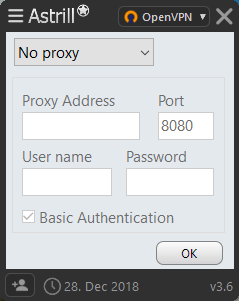 For a better network connection, Astrill lets the user connect with five different internet protocols:
HTTP
HTTPS
SOCKS4
SOCKS4a
SOCKS5
Generally, HTTPS and SOCKS5 protocols are preferred to establish a TCP connection between client behind a firewall and outside server. The firewall prevents the connection with the outside server directly, but through these protocols, it efficiently gets connected. However, unlike HTTPS, SOCKS5 is unable to understand and interpret the data traveling between the client and the server.
These settings must only be used when one is unable to establish a connection to a particular website. All you need to do is to add the proxy address to which you wish to connect along with username and password.
Advanced Options
If you switch between servers or turn OFF the VPN connection, then you can specifically close the tabs which you had opened while the VPN connection was established using "Keep connection" option. However, the websites which were already using before the connecting the VPN will function normally.
"HTTP Keep-Alive" feature allows the user to surf with a faster speed while he is connected with the VPN. It should only be disabled the data while using when "too many connection" error occurs.
You can also automatically clear the cookies through "Auto Clear Cookies" option. Whenever you change the server or turn ON the toggle button, the cookies will get removed. But []this feature is only available for Internet Explorer and Safari browser.
Access .Onion without Tor
And a completely exclusive feature!
Well, we have tested VPN products which have particular servers for establishing a faster Onion connection. However, most of them require using Tor for accessing the secret websites.
Tor, due to different server nodes has a slow performance and if a VPN is added along with it, it may become slower. For faster access to .onion sites, you can use Astrill.
This feature is a special attraction of application which is worthy to use. While you are connected with Astrill, you are allowed to use Chrome, Firefox or any other browser instead of Tor. That's how .onions sites could be visited with efficient speed.
Astrill Router and Refund Policy
You can purchase VPN routers through Astrill's website:
TP-Link TL-WR703N
Netgear R6400
However, for purchasing it, you need to pay an additional price as an extension of the VPN plan. For TP-Link TL-WR703N and Netgear R6400, one needs to pay $50 and $219 respectively with no shipping charges. Also, there are some hidden charges such as taxes and brokerage fees.
However, this is not the prime concern.
Even if the products get damaged during the shipment and handling, no refund would be provided, and Astrill doesn't take its responsibility. If during delivery, the customer isn't available, and it gets returned to Astrill, $50 would be charged to resend it which is a very high price.
Even if the product is damaged and the warranty could be claimed, you would be responsible for the shipping cost required to send the router back to Astrill.
Because of these reasons, it's risky to buy Astrill routers as their warranty conditions are very specified and the product failure will cause loss of money, if not for repair then at least for shipping.
Connection Time Analysis
For different protocols, the time taken to establish the connection is different.
Trial No.
OpenVPN
OpenWeb
StealthVPN
WireGuard
Time taken for establishing a connection (seconds) with different protocols
1
16.42
-
10.34
Error
2
11.23
-
12.24
Error
3
14.44
-
10.96
3.36
4
9.89
-
14.9
5.15
5
15.89
-
16.05
2.89
Average
13.57
-
12.89
3.8
For OpenVPN and StealthVPN, the connection time is above average, and it generally gets connected within a few seconds. There are VPN clients which take lesser time than these connection times. However, 13.57 and 12.89 are acceptable.
When it comes to WireGuard, surety decreases due to error rate experienced: 40%. However, it only takes a few seconds whenever it gets connected.
For solving this issue, they have OpenWeb protocol that gets connected within microseconds. With a click, data tunneling will start, and if you wish to end the connection, again it will happen within no time.
Speed Test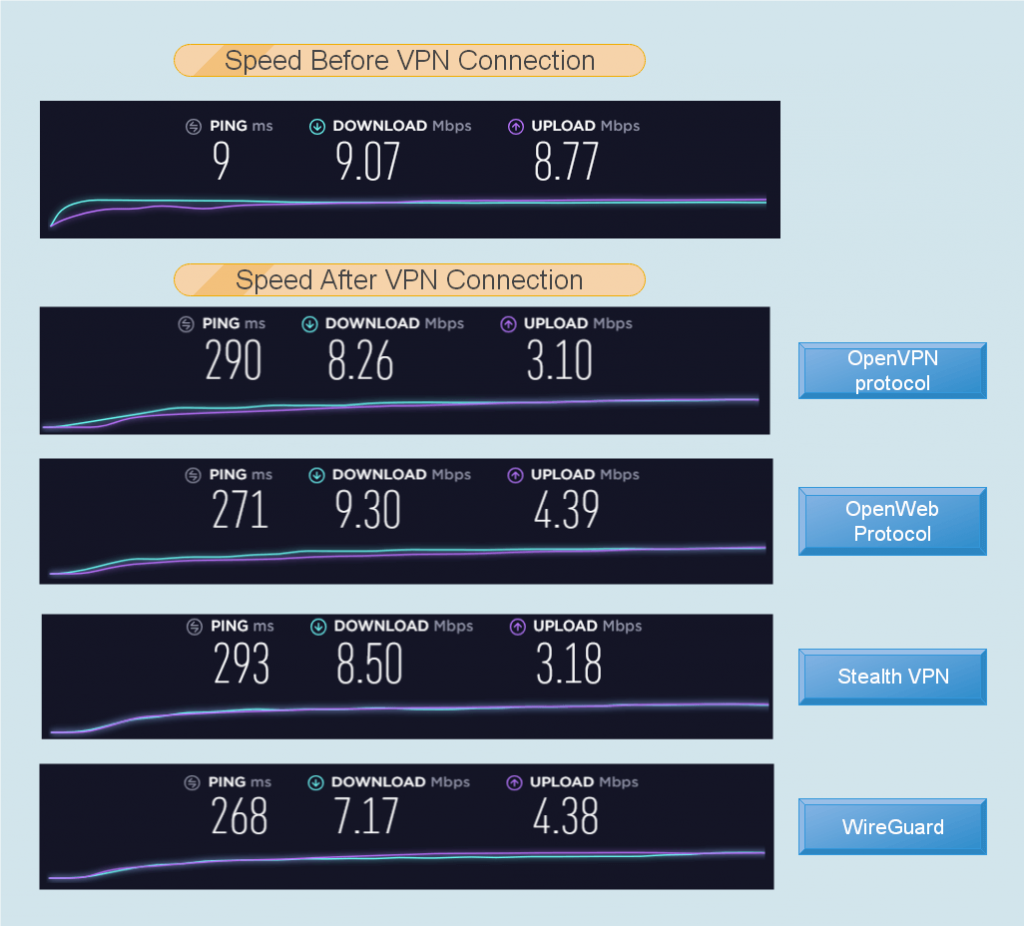 Astrill is highly efficient when it comes to speed.
An acceptable speed is experienced for all the protocols which Astrill VPN is providing. For OpenWeb we have even experienced a higher speed than the original speed. It could be possible that while we were testing the speed through OpenWeb protocol, the original speed was higher. However, still, it could be ensured that no significant decrement would be there.
Among the other protocols, WireGuard is the most inefficient which lowers down the download speed by 1.90 Mbps and upload speed by 4.42 Mbps. This decrement is acceptable as it is because of the layer of encryption that WireGuard provides.
However, even if with this much speed, you are not satisfied, you can always use OpenVPN and Stealth VPN protocol where the reduction of just 9% and 6.63% in download speed was observed. For upload speed, huge decrement was noticed but still acceptable: 64.65% in case of OpenVPN and 63.74% in case of Stealth VPN.
There might be some dissatisfaction when it comes to upload speed. However, for downloading, it's a trustworthy VPN provider.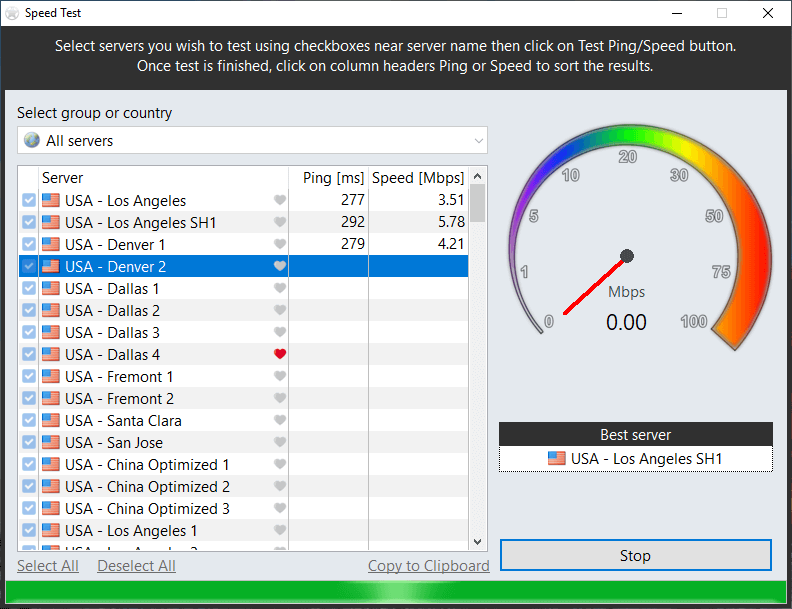 They also provide one built-in speed test window in which you can select all the servers, and speed test for all the servers will be performed one after another. That's how you can judge which is the fastest among all.
If you wish to connect with the fastest server from some specific country, then you can select all the servers of that country, and then perform speed test for those servers.
You can also identify ping time for these servers using the ping test.
Security
Security provided by a VPN client highly depends upon:
Protocols
Encryption
Leak protection Features
Involvement of third-parties
As we have discussed, Astrill provides unique and powerful protocols which are efficient enough to bypass various firewalls and remains hidden amidst the standard traffic over the internet.
Except for WireGuard, all the other protocols are available with AES 256-bit key encryption which is the most secure one among all other encryptions. For OpenVPN, Blowfish is also available with different key lengths. This ensures that no third-parties could breach while data travels through the tunnel.
One's cookies will also be removed automatically that helps to keep your browsing activity secure.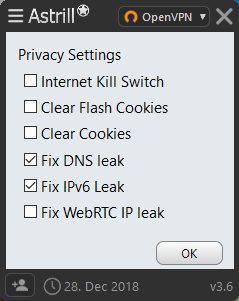 Different leak protections are also provided which safeguard the data leakage that may occur through different components of the complete path:
DNS leak protection
IPv6 leak protection
WebRTC leak protection
These leak protection tests keep a check on the privacy of our browsing activity, our location, and our IP address.
User Interface and User Experience
We must start with the layout of Astrill's screen which has positive as well as negative aspects.
Astrill's application windows are simple and directed towards the function for which it is provided. They don't contain any unnecessary information or additional data. Because of it, it looks clean. Furthermore, every feature is divided under a separate category rendering easy exploration and utilization.
However, the screen size is not customizable, and an option to enlarge the screen should be present.
The aspect where the user interface fails to deliver ease lies in the server sorting option. There are only a few ways to sort or filter the server which was discussed in the server section.
However, if more options such as different lists of streaming servers, P2P servers, and best ping servers could be added, one can select the required server with no effort.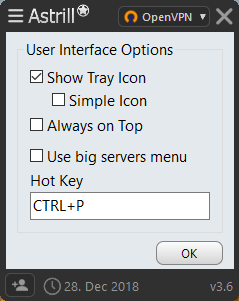 This negative piece is neutralized by providing "User Interface" options. These options change the behavior of the client according to the requirement of the user. Even if the servers are not sorted, you can have an enlarged view of the list by using "Use big server menu" option. That helps to go through different servers without much scrolling.
The other options such as "Always on Top" and "Hot Key" helps a lot if you need to change any setting or server while using VPN again and again. You can set a hotkey, whatever suits you and clicking that hotkey will directly open the window. Or else, you can always keep the client above other screens which can be hidden on the sides of the screen.
There are other options such as application filter (which acts as split tunneling) and site filtering which also adds to deliver a better user interface.
For a better experience, a reliable connection is required. In Astrill's case, using OpenWeb, a connection could be established within a few microseconds.
For different protocols, MTU packet size could also be adjusted which adds to speed and a better speed delivers better user interface.
However, user experience also depends upon the customer service which, according to our research isn't up to the mark when it comes to router purchase.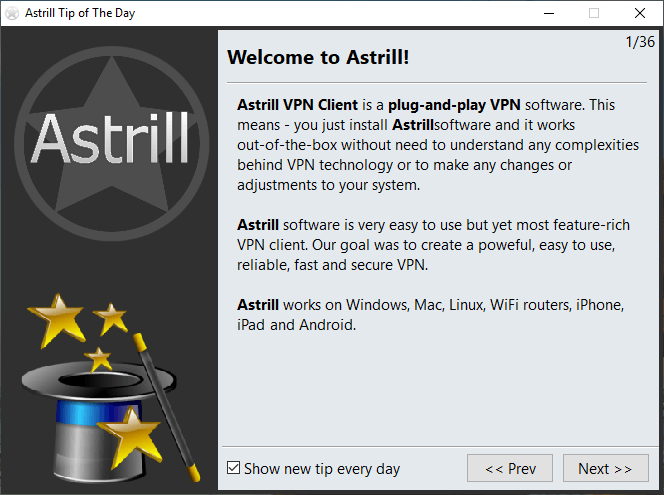 On the other hand, for helping the users, they have also provided a guidebook along with the client which could be discovered in Help > Show Tips.
Platform Support
There are six major platforms on which the Astrills focuses:
Windows
MacOS
iOS
Android
Linux
Router
For each platform the availability of features and the protocol changes. Windows and MacOS client contain maximum number protocol and features. However, such flexibility to the configuration is not available for other platforms.
They provide a free version of every platform without any limitation in the bandwidth. However, there is a limitation to features and the number of servers.
When it comes to the number of devices, its unlimited with five simultaneous devices. In the case of routers, the limitation exists that you can't connect with more than one router with one plan. Maybe it's to avoid sharing of the account between two different users.
However, one can use VPN sharing and port forwarding option to access VPN through other devices.
Also, if you wish to increase the number of devices, one can create up to 200 accounts through one e-mail address which comes which is cost effective with 66% saving per account.
One should know that this client is not for following countries: Belarus, Sudan, Syrian Arab Republic, Togo Burma, Cameroon, Cote D'Ivoire, Cuba, Benin, Burkina Faso, Democratic Republic of Congo, Ghana, Niger, Nigeria, Iran, Iraq, Liberia, North Korea, Senegal, and Zimbabwe. And if you downloaded it, then your service could be terminated anytime without refund.
Customer Support
They offer live chat support which is a relief of sure, but it would be a rare occasion if you get the reply instantly. Generally, you need to wait in the queue and only after clearing the previous queries, customer support will entertain you.
They also provide a "ticket system" or "Leave us a message" option which you can use if the queue is long and you don't prefer waiting for your chance.
However, if you explore the application and help section, there you will find tips and router guides.
They also have a long list FAQs along with video tutorials that may help you discover the features and solve the issues without reaching customer support.
Conclusion
When it comes to features, you won't find any VPN provider better than Astrill.
The speed that they provide is also something for which they can feel proud.
The user interface is simple by distributing features under various tabs which let the user easily explore the options and use them. Just a better server sorting would make the application's interface better and also the user experience.
Also, there is the requirement of adding more customer executives so that they could provide better and faster customer support. That will definitely help the users to find out a solution in no time, and that also adds to respect for the provider. This is the best way by which they could earn loyal users.
Regarding security and privacy, they have provided many features which are not present in other VPN providers:
Security: Advanced VPN protocols
Anonymity: Utilizing .onion websites without using Tor
Privacy: different leak protection.
However, even after these many features, it is all up to you if you are ready to $16 per month or $8.33 for the annual subscription.