Pros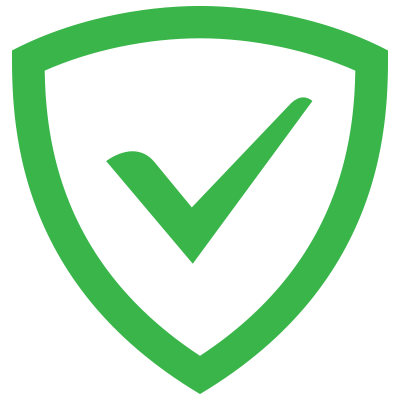 As the name says, AdGuard blocks ads.
The Stealth Mode in AdGuard helps to prevent tracking of your online activities from various hackers, spammers, and other online thieves.
The Browsing Security feature helps in safeguarding one from infectious, malicious, and phishing websites.
It also provides a Parental Control module if one wants to set control on how other members in the family use AdGuard.
It is available for all the major platforms – Mac OS, iOS, Android, Windows, and even has browser extensions.
It offers a free trial and also a free extension for browsers but with limited features.
Cons
There is No Live Chat Support present which seems necessary to us in order to get instant replies from the support if the customers have an issue.
Overall
In today's times, where most of our days are spent staring at screens, the ads have also grown to be that way, and most advertising firms have taken the online route to grab consumer's attention. But we are at a point where ads have become a medium of interruption rather than of proper use. Also, by ads, one is able to track user's online activities, and thus one's online presence is also risked.
To save you from the ads' world of distraction and help your online browsing even more secure, AdGuard has come up with a range of products. Initially started in Kommunarka, Moscow Region, Russia. It is operating from its headquarter in Cyprus at present.
AdGuard comes with a good number of features for blocking ads and pop-ups such as Ad Blocker, Browsing Security, Stealth Mode, Parental Control, and Extensions.
We will dive deep into each of them in this review.
Ad Blocker
Ad Blocker could be considered as the magnum opus if AdGuard was an art company. Nevertheless, the main idea behind it is that it's the Ad Blocker which is the central system. The Ad Blocker removes all the unwanted ad banners, messages, and pop-ups to which one is indifferent.
Ad Blocker blocks all the ads and pop-ups that you want to filter out. It does all of this even before the website is loaded and helps in dodging a lot of traffic. Thus, the web pages load faster and improve your internet browsing speeds as well.
Ad Blocker removes ads, but one should make no mistake that AdGuard provides us with a lot of filters and is completely flexible with our needs. One can allow ads from selected sites and block ads from other sites. One can even completely stop the AdGuard from blocking ads for a specific amount of time and then resume it once needed.
AdGuard offers numerous filters, and one can configure them in the Ad Blocker's Filters Section. As they are connected to AdGuard Servers, Filters get constantly updated.
In a nutshell, AdGuard blocks ads efficiently and enhances your browsing experience according to your needs.
Browsing Security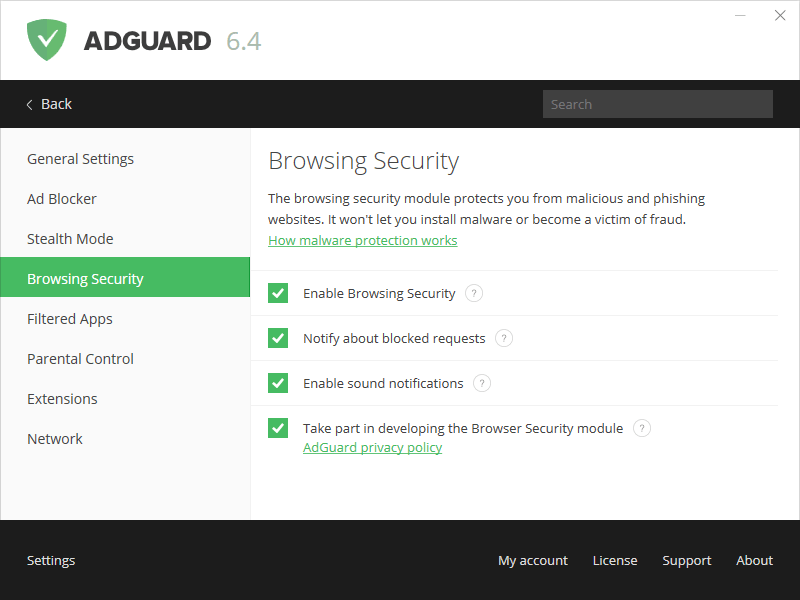 As ads are also becoming a medium for criminals to collect user's private and important information, it is very important to safeguard oneself from such websites. Ad Guard's Browsing Security module helps in tackling the security issue.
It helps the user from becoming the victim of phishing activities by instantly recognizing fake and malicious websites created solely for trapping users and acquiring their private information such as passwords, bank account, credit card details, etc.
The user is provided the freedom of selecting when to enable the Browsing Security and also how one wants to get notified for blocked requests.
Thus, along with ad blocking, it is appreciated that Ad Guard has taken considerable steps for secure browsing as well.
Stealth Mode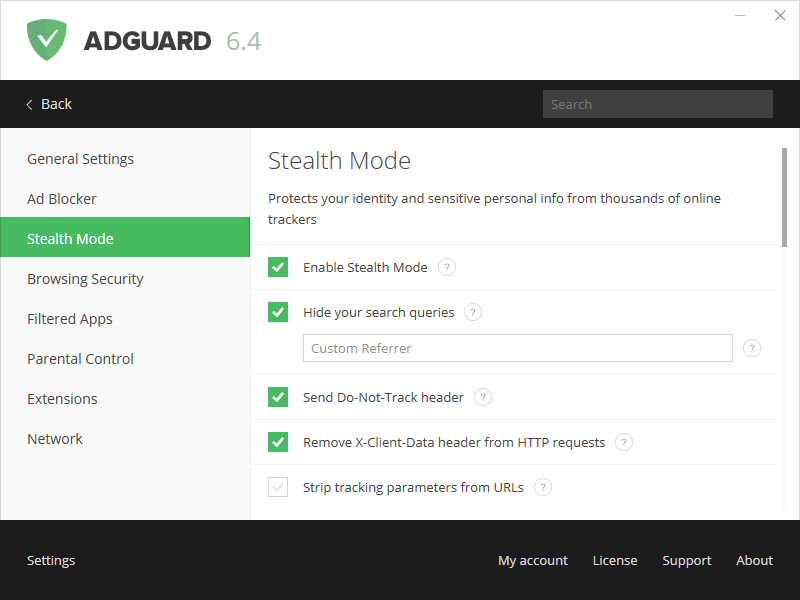 Whenever one visits a website, it may be possible that the website may collect data such as your IP, data about your browser and even the page you were redirected from and also some system details. So, trackers can easily track your online browsing history and even some sensitive information which you may want to protect.
By enabling Stealth Mode, one is able to protect one's privacy and all the personal information. In this mode also, Ad Guard provides a lot of flexibility as to how you want the mode to work. So, one can adjust according to one's needs.
There are different groups in which the Stealth Mode settings are divided namely, General, Tracking Methods, Browser API, and Miscellaneous.
The General part contains all the normal options of enabling and disabling your Stealth Mode, Hiding your search queries, etc.
The Tracking Methods contain options for how you want the cookies to self-destruct themselves. Also, disabling cache and third-party authorization header can be enabled or disabled accordingly.
The Browser API group contains the option of blocking WebRTC, PushAPI, Location, Java, and Flash.
The Miscellaneous group contains options like hiding your IP, hiding your user-agent and more.
Parental Control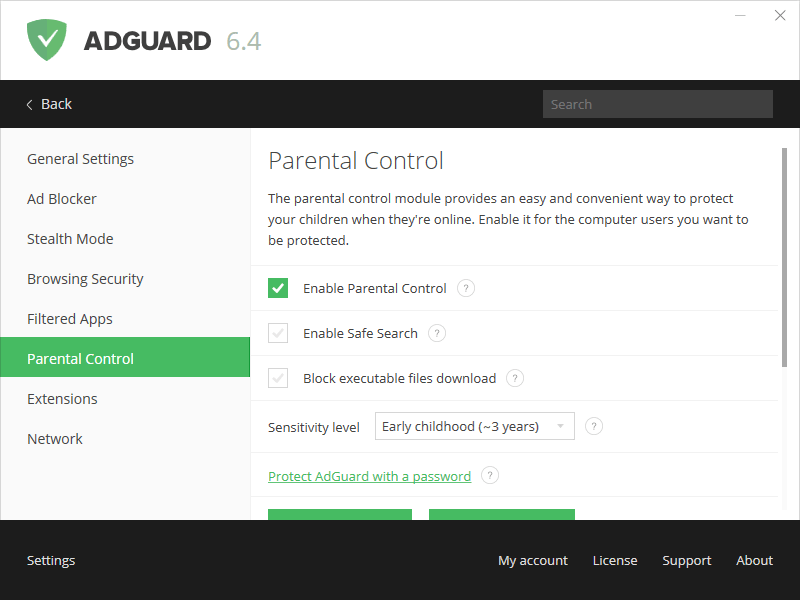 As the name suggests, Parental Control helps one protect their child's privacy when they are online. One can enable different options such as Safe Search so that the child cannot view adult or explicit content. Sensitivity Level can also be set.
Also, various sites can be blocked manually by including them in the Blacklist. Similarly, for disabling Parental Controls for websites, there is a Whitelist. Password Protection for Ad Guard is to protect it from other users changing settings.
Filtered Apps and Extensions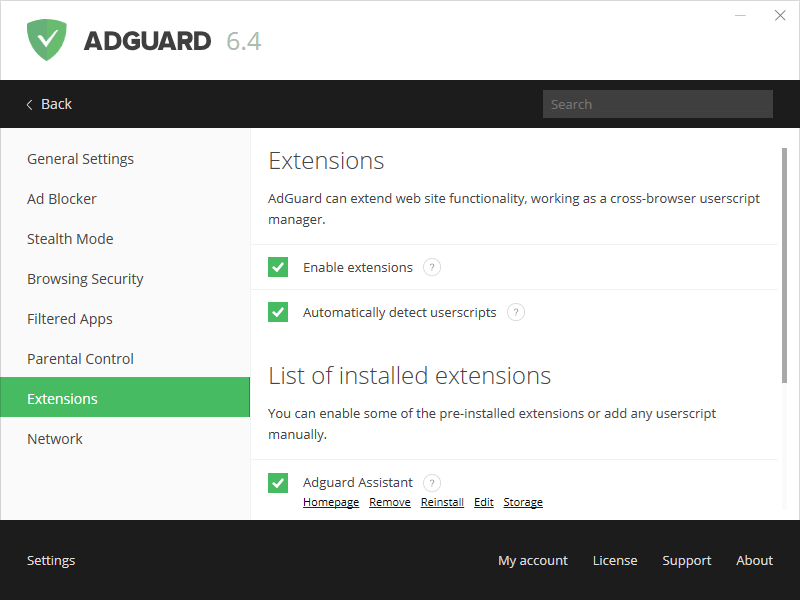 Filtered Apps is the section where you can add specific applications such as browsers which you will use for browsing. Filtered Apps automatically adjusts traffic so that you can get the best user experience for that specific application.
Extensions are one of the most interesting and special features that AdGuard has added. Users can extend the functionality of AdGuard by providing cross-browser user scripts. One can add extensions from AdGuard's list, and one can even create own JavaScript extensions and add it to AdGuard for improving the user experience and functionality.
Conclusion
If one is frustrated by the ads and pop-ups that reside all over the internet, he/she can't go wrong with Ad Guard. It's is affordable and also includes many additional features. The User Experience is simple, but one may need to go through some technical terms if he or she isn't already aware of them. Features such as Browsing Security and Stealth Mode helps ameliorate the AdGuard. Parental Controls are also a worthy addition for buyers who have a family. The free version for browsers is useful but has limited features.
The only thing that we found missing was a Live Chat Support integration in the application itself. Yes, they do provide 24/7 customer support via emails and calls but, the addition of live chat support won't harm and will only improve the user experience.
AdGuard is available for a lot of platforms other than the major ones and if you are someone who can't tolerate the ad environment on the internet, you are going to love this product. It is a worthy Guardian.